Impact investing at work, giving up at home?
At work, Francesca Spoerry was advocating for impact investing and helping major organisations rethink where they put their capital. Then she realised she wasn't applying the same principles to her own personal investments. So began a deep-dive into a world of confusing acronyms and unsatisfactory answers – and the discovery that many other impact investing professionals appeared to be equally uninformed, ill-equipped, or just avoiding the question altogether…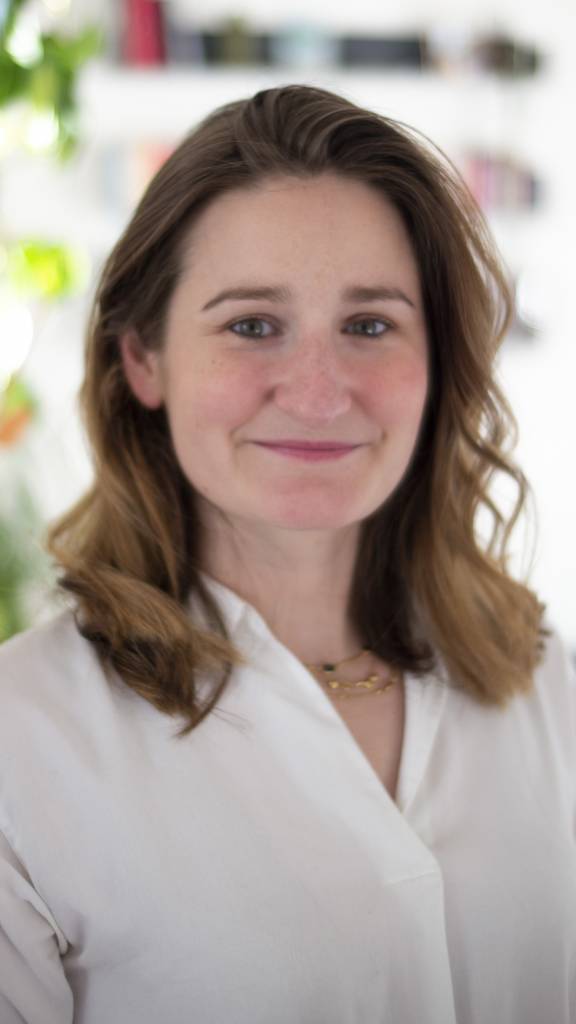 Now that you can barely open a newspaper without hearing about ethical or impact investing, I was curious if those working in impact investment are actually impact investing their own finances too.
Normally, we don't expect those working in certain industries to be doing their work outside of work hours – for example we don't expect primary school teachers to be teaching kids on the weekends. But we do expect it of some professions – for example, we expect politicians and lawyers to abide by the laws they create and defend. Impact investment falls into the latter category, since we assume that impact investors genuinely believe in the direct relationship between impact and financial return. 
This is partly because of the strong, moralistic narrative of impact investment. Impact investment is touted as a solution to our broken economic system, as a first and crucial step for a more effective, gentler form of capitalism. Impact investment is new, it's exciting, it's pushing boundaries, and those working within its confines are considered as part of a movement for change within an otherwise damaging financial system.
This is why I was surprised to recently find out that impact investors seem to struggle with the same challenges as everyone else to invest their own money. 
Impact investors seem to struggle with the same challenges as everyone else to invest their own money
My sample size is small and not representative, but the reasons given in a recent survey I conducted were familiar to me based on my previous work. Over the last six months, I've spoken to over 200 people about their personal finances. I've hosted many one-to-one sessions, as well as a dozen group sessions for corporates wanting to engage their employees on the topic of financial wellbeing. In this time I've learned that ordinary people (by which I mean those without significant wealth) are very quickly realising that their finances have a voice and can impact the world around them. But they're struggling to get clear, impartial guidance on how to invest in this new way: considering not just risk & return, but impact, too.
One respondent from a leading ESG data provider said: "I expected my workplace pension to already be invested sustainably. Once I found out it wasn't, I didn't know how to change it." Someone else working in the impact/sustainable investment sector said that they didn't invest all their money because of a 'lack of understanding on how to hold providers accountable'. Many people expressed most concern about their pensions: the administrative burden of consolidating, and the lack of suitably diversified funds for these sorts of investments. 
The fact is that even for us, it's not straightforward. Here is one finding that emerged from my survey (of a total of 30 responses):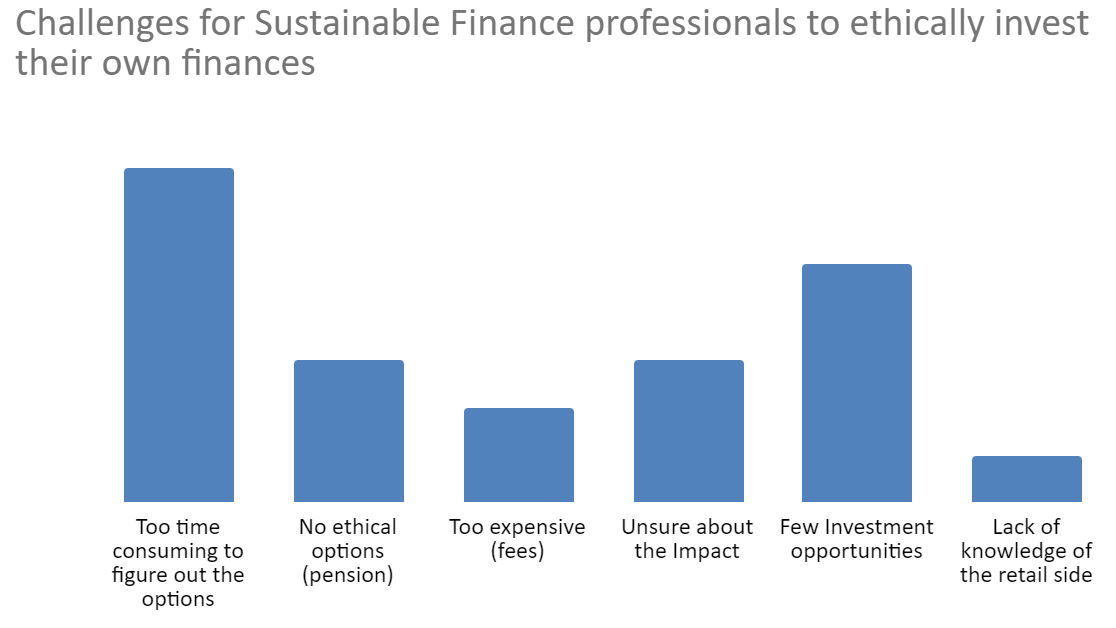 And this resonates with my experience. On the pensions side, there are still limited options, and it was time-consuming to get answers to my questions around investment strategies or shareholder engagement policies, for example. On the investment side, there are just so many platforms out there now, including Clim8, The Big Exchange, Circa 5000, that it takes time to figure out how they differ from each other. I think that those of us working in the sector have a responsibility to work through some of the main issues to pave the way for others who have less experience, understanding, and frankly, interest, of the space. 
Those of us working in the sector have a responsibility to pave the way for others who have less experience, understanding, and frankly, interest
Here are some recommendations to make it easier for everyone to align their finances with their values:
Workplaces: Employers often give staff three volunteering days per year. How about allowing staff to use those days to put their savings to positive use – that's also helping people and planet! I also offer 1-hour 'lunch & learn' sessions for corporates wanting to educate their employees about this topic.
Financial advisors: There are only a handful of financial advisors who understand the difference between ESG and impact investing (and even fewer who understand the entire spectrum of capital) – it's time to get clued up! A good place to start is to understand the five main sustainable investing approaches that your clients might be interested in, and what the differences are between them (screening, ESG integration, thematic, active ownership and impact investment).
Pension providers: People are waking up to the power of their pension, driven partly by the Make My Money Matter campaign. Now, the biggest challenge people face is to understand their pension. If you provide a pension to be proud of, train up your customer services representatives to educate people about the targets they're signing up for: like what does net-zero actually mean?
Impact investing professionals: For those of us working in impact investment, our familiarity with the subject matter means we can, and should, be asking our own financial providers the difficult questions now, so that other people can align their finances with their values, and in turn make our industry grow, too.
Header image by Mathieu Stern on Unsplash
Thanks for reading Pioneers Post. As an entrepreneur or investor yourself, you'll know that producing quality work doesn't come free. We rely on our subscribers to sustain our journalism – so if you think it's worth having an independent, specialist media platform that covers social enterprise stories, please consider subscribing. You'll also be buying social: Pioneers Post is a social enterprise itself, reinvesting all our profits into helping you do good business, better.