INTERVIEW: Development finance must mobilise trillions of dollars to fight climate injustice
The poorest people in the world are the worst hit by the climate crisis. After $130tn of private capital was committed to tackling climate change at COP26, Amal-Lee Amin of the UK's CDC Group tells us how, as impact investors, development finance institutions must help get this money to where it's most needed to fight the biggest climate injustice that we face.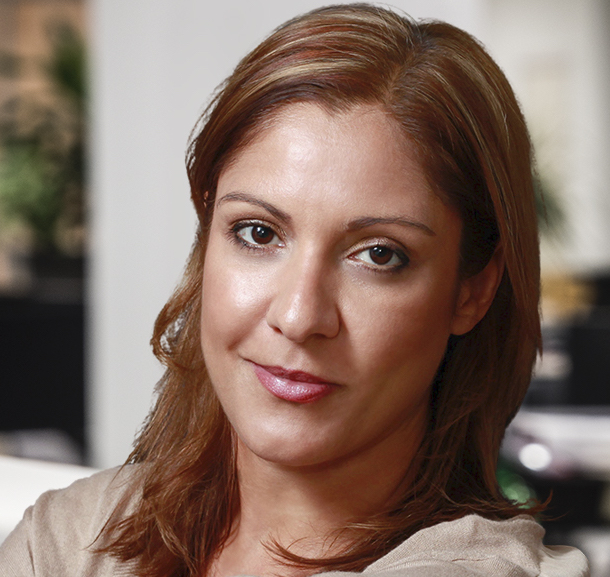 During COP26 – the UN's climate conference held in Scotland in November 2021 – all eyes were on the billions of dollars of climate finance that the wealthiest governments had failed to deliver to developing countries as promised. But the attention of Amal-Lee Amin (pictured), climate change director at the UK government's development finance institution, CDC Group, was on the trillions: the trillions of dollars needed to effectively tackle climate change and its consequences; and the trillions of dollars of private capital recently committed to achieving net zero.
At the conference, Mark Carney, UN special envoy for climate action and finance, announced that 450 financial institutions collectively managing $130tn of private capital – people's pensions, savings and investments – had joined the Glasgow Financial Alliance for Net Zero (GFANZ), committing to reach net zero emissions by 2050.
He said: "Up until today there was not enough money in the world to fund the transition… Right here, right now is where we draw the line. The $130tn is more than is needed for the net-zero transition globally.
"Make no mistake, the money is here. If the world wants to use it."
This announcement, however, carries a major challenge: making sure these trillions reach the people who need it. And this is where development finance comes into play, in Amin's view.
In an interview with Pioneers Post following COP26, she says: "The next couple of years are going to be a really important time in terms of ensuring development finance, in particular, is able to really bring in all this private capital that is now making commitments to be net zero… where it is most needed, in terms of development needs."
Amin, who had a 10-year career working on sustainable energy and climate change in the UK government before becoming chief of climate change at the Inter-American Development Bank, joined CDC Group – which is to be renamed British Investment International in March – in 2020. She is also a senior advisor at COP26.
What is climate finance?
The UN describes climate finance as local, national or transnational financing – drawn from public, private and alternative sources of financing – that seeks to support mitigation and adaptation actions that will address climate change. 
Climate finance is needed for mitigation (limiting global warming by reducing CO2 emissions), because large-scale investments are required to significantly reduce emissions. Climate finance is equally important for adaptation, as significant financial resources are needed to adapt to the adverse effects and reduce the impacts of a changing climate.
Adapting to climate change
"Climate change is the biggest threat to the poorest people in the world," says Amin. "If we don't do enough to tackle climate change, the richest countries and the richest people in those countries will be able to somehow survive on this planet. But it will be, and already is, the poorest people who are suffering most. That's the biggest climate injustice that we face."
Right now, the countries already feeling the impact of climate change – most are among the poorest in the world – need investment to adapt and become more resilient to current and future climate threats. More private investment – especially now that $130tn are available – needs to be mobilised towards climate adaptation solutions to better face climate risks such as the floods, storms, extreme heat and droughts that are already decimating communities. Development finance institutions (DFIs), as impact investors, can play a catalytic role. 
In the next few years, the focus on adaptation is going to be critical
"Certainly in the next few years, the focus on adaptation is going to be critical," says Amin. "And that's an area that has obviously very strong implications for the development finance community." Since 2020, CDC has been leading the Adaptation and Resilience Investors Collaborative (which its members refer to as 'the Collaborative') with other DFIs and multilateral development banks to accelerate private investment in adaptation finance. 
Examples of adaptation projects that CDC has invested in include Roserve, a company that provides waste water treatment for businesses likely to face water scarcity due to extreme droughts in India. CDC has also worked with a renewable energy company on a mangrove rehabilitation programme to protect a coastal wind farm from rising sea levels in Pakistan.
At COP26, developed countries committed to double climate adaptation finance by 2025 compared with 2019 to $40bn a year, a first in the UN process. But, while she welcomes this news, Amin warns that solely focussing on the amount of finance invested isn't enough – impact measurement is crucial. "You're just measuring finance that's approved… and there isn't really any assessment of whether it has delivered resilience over time," she says.
She adds: "[Focussing on input] also doesn't necessarily send the right incentives, because the incentives are to get the biggest finance numbers possible, whereas that may or may not be the most effective solution."
For example, to protect coastal areas from storms or rising sea levels, "you would probably be incentivised to do large, concrete sea walls, which may be quite expensive, when in many cases, you might be better off doing a mangrove restoration. That would be a lot cheaper, but has a lot of other benefits as well, but doesn't look as good compared to the sea wall if [finance input] is your main metric." 
One of the tasks of the Collaborative is to redefine the metrics of success, to align them with outcomes rather than initial input, and the members are committed to developing harmonised impact measurement standards.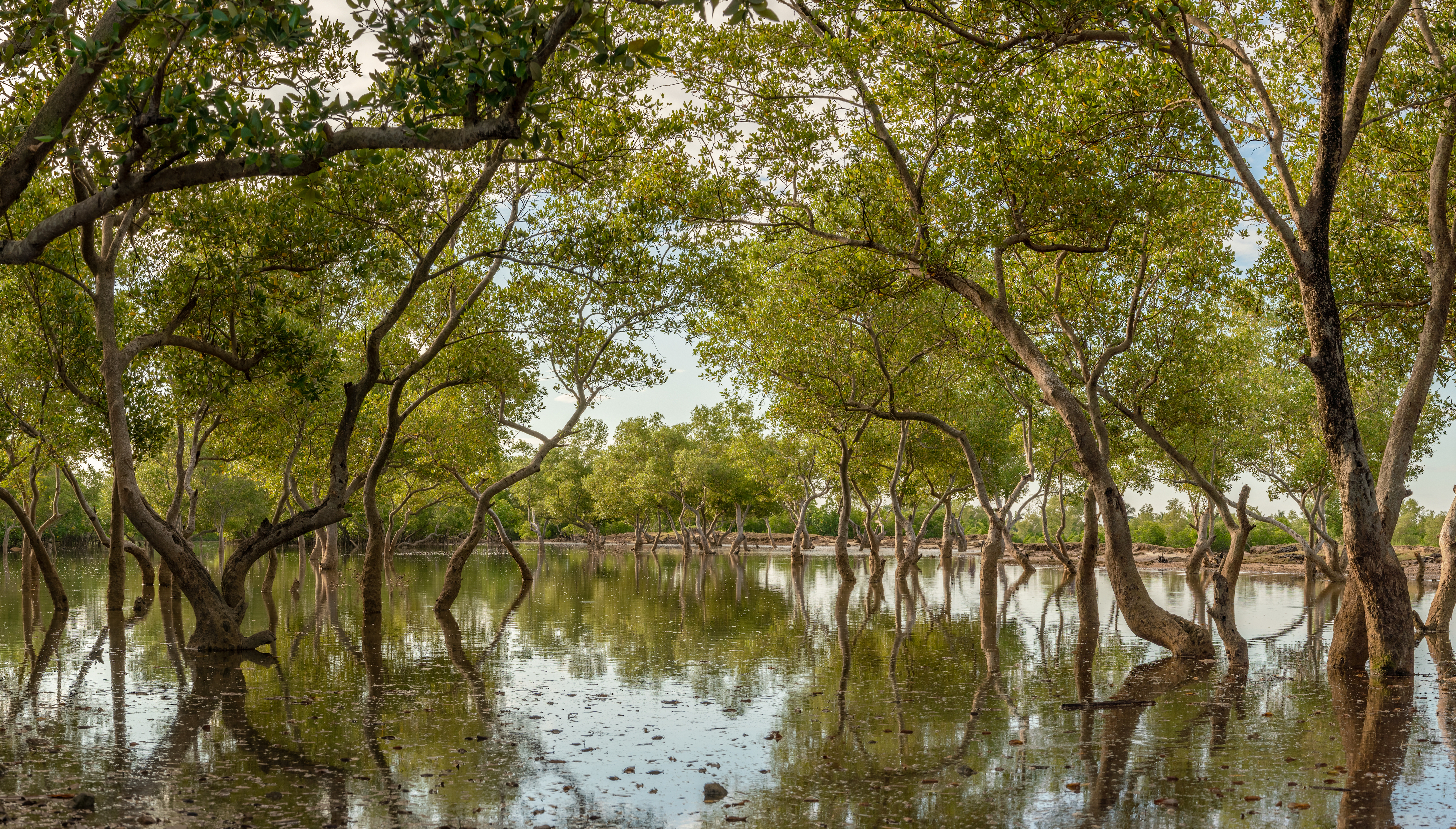 Above: Mangrove rehabilitation projects are cheaper and have a greater impact than large sea walls to protect coastal communities.
Quality, not quantity
In Amin's view, to efficiently channel the trillions of private capital to where it's needed, DFIs should put a greater emphasis on mobilising private investment – not just on how much money they allocate to projects.
"If all you care about is delivering your own climate finance target, you don't count mobilised finance towards [that target], because that's not the common methodology", so there will be no incentive to mobilise further investments from the private sector, Amin explains.  
That's why she is hoping to see a greater focus on the "quality of climate finance" – not just how much money a DFI invests, but how that money is working. First – and she says it's starting to happen – it's about deploying the most appropriate instrument for each issue. "If you're trying to mobilise private investment, then you can use some guarantees, subordinated debt or different instruments," she says. Climate adaptation needs more grant funding, whether that's from the public or private sector, because it is still at an early stage, compared with renewable energy for example, which is a much more mature sector now, Amin explains.
If you're trying to mobilise private investment, then you can use some guarantees, subordinated debt or different instruments
Climate investment should also be inclusive of the poorest countries in the world, Amin says. So far, much climate development finance has been invested in big infrastructure projects, such as solar or wind farms, in high-emitting, middle-income countries – which was probably what was needed early on to bring their emissions down, she adds. 
But now, money needs to be channelled towards low-income countries and less mature areas like adaptation, she says – and to do that, development finance is crucial. Private investors aren't used to investing in developing countries, where risk seems higher, and returns less reliable. The risk-taking ability of public-backed money (CDC's shareholder is the UK government's Foreign, Commonwealth and Development Office) means DFIs can really be additional to the market – investing in more "frontier" technologies and innovative projects, Amin explains, paving the way for private investment to follow. The private sector already invests in more mature sectors such as renewable energy, without the need for DFIs to invest alongside them.
Creating demand for the trillions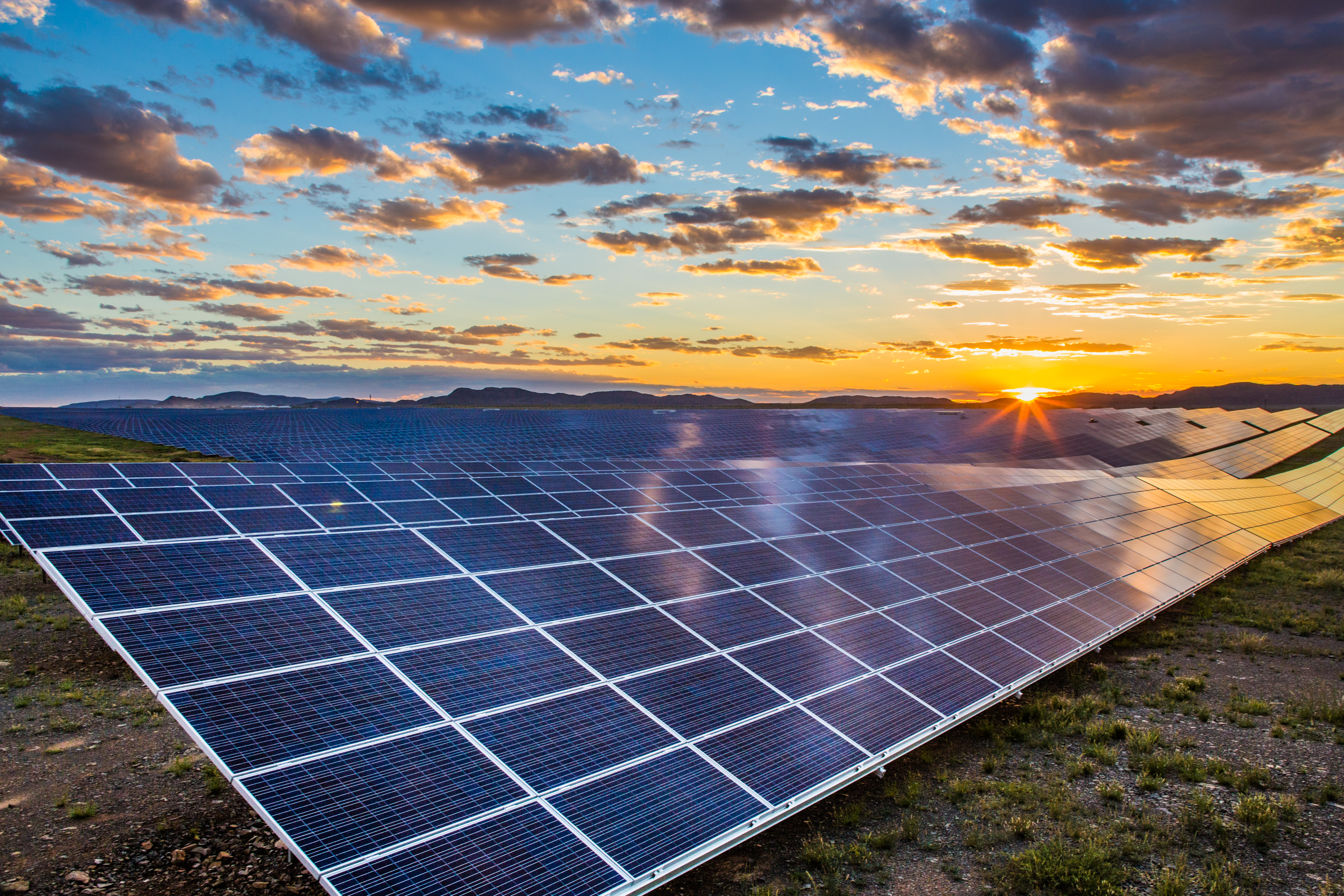 Above: CDC investee Globeleq's De Aar Solar plant in South Africa
To make sure the trillions of dollars that private investors are seeking to invest in net-zero resilient assets flow to where they're needed, there also need to be enough opportunities for them to invest in: often, investors are chasing a limited pool of projects, especially in places like Africa, Amin explains. While there is now a focus on the supply of capital available, the next step is to create the "demand for the trillions", as she puts it.
Amin points to country-led approaches as an efficient way of creating investment opportunities for private capital. 
An example is the Just Energy Transition Partnership, announced in November 2021, a first-time coalition between the development finance community (governments, DFIs and multilateral development banks) and local stakeholders which aims to help South Africa to move away from coal.
"The role of the South African government is really important there, because some of what will be needed for this transformation will [be about] policy change." Amin explains that, for example, the unbundling of the electricity industry (the separation of different activities to enable competition) has to be government-led. These changes will lead to growing interest from the private sector, and in turn, DFIs can use their resources to have a catalytic impact – for example, the private sector could fund all of the renewables that South Africa needs, while DFIs can focus on more innovative technologies like green hydrogen.
"Having almost a government-led blueprint around that, is what can help much more effective collaboration than we've seen in the past," Amin says, adding that other countries have shown interest in this approach. 
If you don't have the stakeholder approach, the sustainable livelihoods approach... then probably the programme is never going to work.
While looking at the big picture, one mustn't forget the crucial actors of change: people in communities, who need to be on board to drive change. It is unlikely that DFIs, as impact investors, will be involved in small-scale projects themselves, so that's why it is important to build partnerships with smaller, local organisations that can lead on the ground, Amin says. And when CDC invests in a big infrastructure project, she explains that it is essential that it comes with a job creation and skills-development programme so local people can directly benefit from the project.
"If you don't have the stakeholder approach, the sustainable livelihoods approach, if it's not core to the programme, then probably the programme is never going to work."
Header image: Two young beneficiaries of PEG Africa – a pan-African off-grid solar company based in Ghana, and CDC investee
Thanks for reading our stories. As an entrepreneur or investor yourself, you'll know that producing quality work doesn't come free. We rely on our subscribers to sustain our journalism – so if you think it's worth having an independent, specialist media platform that covers social enterprise stories, please consider subscribing. You'll also be buying social: Pioneers Post is a social enterprise itself, reinvesting all our profits into helping you do good business, better.