Adebowale Commission: UK social investment has 'lost focus' and needs urgent reform
The Commission on Social Investment's "bold" recommendations call for £800m new money, a fresh strategy from government and a rethink of Big Society Capital.
The UK social investment market has lost its focus, has a serious problem with inclusion and equity, and needs comprehensive structural reform, according to a report published today led by Lord Victor Adebowale, the chair of Social Enterprise UK.
The Adebowale Commission on Social Investment was launched in February 2020 to investigate the current state of the UK's social investment market and how it could better serve the growth of social enterprise.
In today's much-anticipated report, Reclaiming the Future: Reforming Social Investment for the Next Decade, the commission calls for an injection of nearly £800m of new money into UK social investment over the next decade to make it work for social enterprises.
"In our view, social investment has lost its focus – supporting the growth of social enterprise," Adebowale says in the report's foreword. 
"An urgent course correction is needed. Without reform, we will not realise the full potential of social investment. This report is an attempt to reclaim that future, before it slips away."
The commission estimates the full implementation of its suggestions would contribute to supporting 5,000 social enterprises and creating 180,000 jobs either directly or indirectly. It would also add £3bn to the UK economy and contribute more than £1bn to the Treasury in tax revenue. 
The recommendations were "bold", Adebowale says in the foreword, but "given in a constructive spirit".
Comprehensive structural reform
The commission is chaired by Adebowale and its four commissioners are drawn from social enterprise, financial services and academia. They are Jess Daggers, a researcher on impact investing and social investment; Jamie Broderick, former CEO of UBS Wealth Management UK and director of the Impact Investing Institute; Susan Aktemel, executive director at Homes for Good; and Chris Murray, director of Core Cities Group and chair of Fusion21. 
After engaging with at least 300 social enterprises, running 'witness sessions' and workshops during its 23 months of work, the commission has laid out a series of proposals to build the social investment market "around the needs of social enterprises" – which would require nearly £800m of new money injected into the social investment market over the next ten years.
The commission urges policy makers and stakeholders to undertake "comprehensive structural reform" to the social investment market, which it says no longer meets the needs of social enterprises. This includes reform of the UK's social investment wholesaler, Big Society Capital. 
The commission found there was a lack of the patient, flexible capital needed by social enterprises – with financial products often ill-suited to the social enterprise model. 
Social investors and social entrepreneurs often don't understand each other – with clear disagreements of what the aim of social investment should be, according to the report.
"There's been a bit of a drift," Adebowale told Pioneers Post in an interview ahead of today's launch. "We need to get the two things aligned, we need to get investors understanding and aligned with the mission and vision of social enterprises."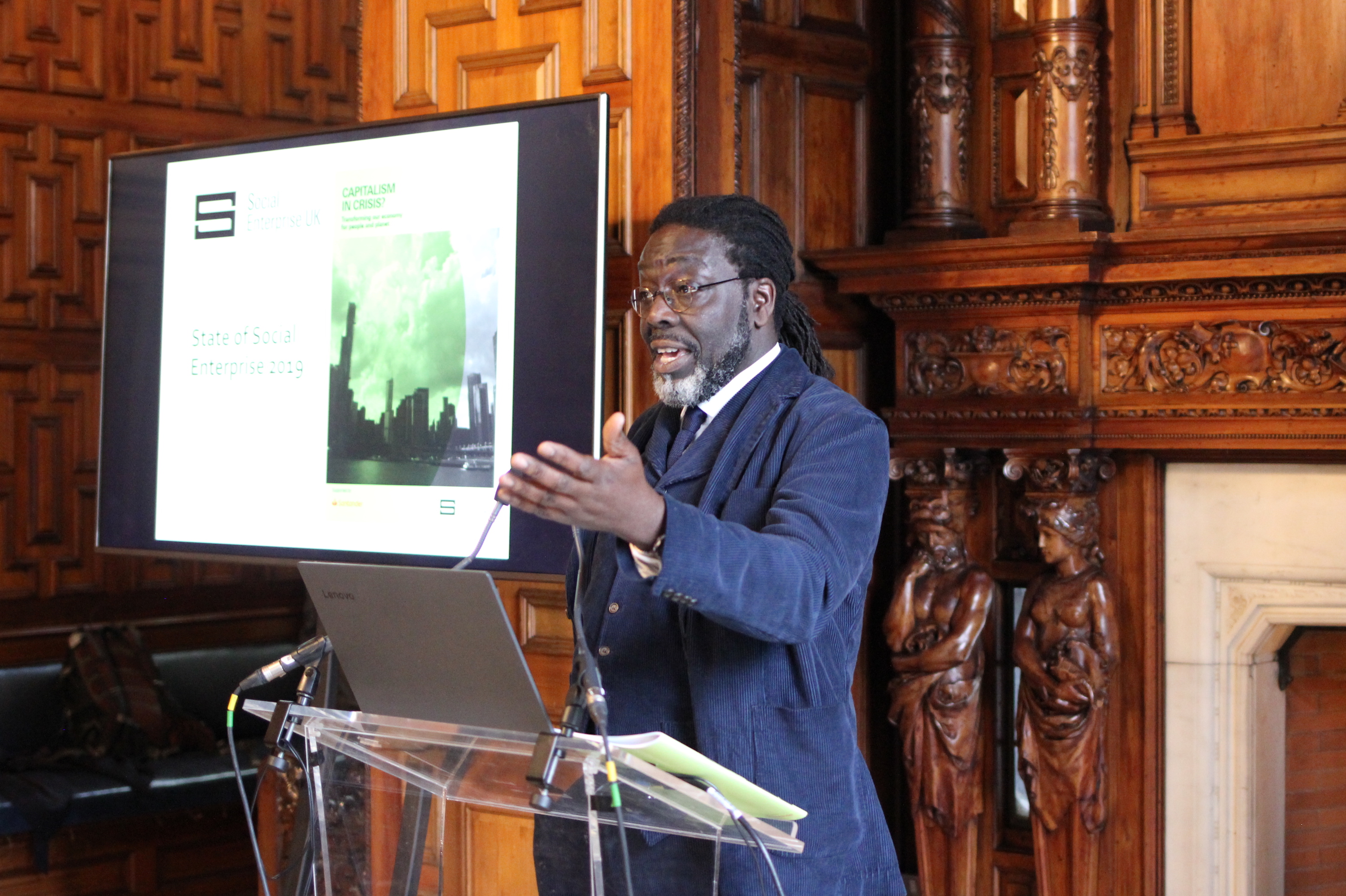 Lord Victor Adebowale: "An urgent course correction is needed."  
The report says the market needs to focus more on "enterprise-centric finance" rather than property and secured investments. While investments in social property funds are growing (they now account for 45% of the social investment market size), they are not strictly limited to social enterprise, according to the commission. 
Crucially, the commission found social investment doesn't reach Black-led and Black-focused social enterprises – and that other disadvantaged communities also face barriers. 
"What we found around black and minority ethnic communities and social enterprise leaders, frankly, was shocking, inappropriate, and we need to do something about it," Adebowale told Pioneers Post. 
What we found around black and minority ethnic communities was shocking, inappropriate, and we need to do something about it
The report highlights that Black-led social enterprises face challenges in securing support and a lack of understanding and diversity within the social investment community. "The evidence is clear," the report says, "that social investment continues to have a serious problem with inclusion and equity particularly, although not exclusively, in relation to race." 
James Westhead, head of engagement at Big Society Capital, said the institution was already moving in the overall direction the report suggested, but that he "understood the frustration that that isn't more rapid".
Seb Elsworth, CEO of the Access Foundation, said the report was a "substantive, thoughtful and timely contribution". He welcomed the call for more "enterprise-centric" finance for social enterprises saying it was "key to delivering the outcomes we all want to see", and highlighted the role of blended finance and use of subsidies as "proven modes to achieving this".
He added: "I'm pleased the commission has recognised the importance of sustaining and growing the field of blended finance, with further long-term supply of grant subsidy, which has the potential to transform the market further over the next decade in many of the ways the commissioners recommends."
How to get UK social investment back on track: key recommendations from the Adebowale Commission
Reform Big Society Capital: lower its returns expectations to lower the cost of finance for social enterprises; change the balance of its portfolio towards more flexible, patient "enterprise-centric" investment and less property or secured investment; put catalytic capital at the heart of its strategy.
A new government strategy that puts social investment at the core of the economy.
A £400m "Frontiers Fund" made available on the condition that these resources are used to support the development of more enterprise-centric finance for social  enterprises. 
£100m funding to the Access Foundation to enable blended finance to continue for smaller social enterprises.
A new £200m government-backed Social Enterprise Loan Guarantee Scheme (SELGS) that would de-risk investments and lower rates, attracting more market investment.
A £50m Black-led and focused social investment intermediary, overseen by Black social investors, intermediaries and social enterprises with the express remit of increasing finance available to Black-led social enterprises.
£44m for social enterprise-specific business support channelled through local social enterprise networks, local enterprise partnerships and chambers of commerce to tackle regional disparities.
Total funding ask: £794m
Finding the pot of gold
In total, the commission wants £794m of new money to be invested by government. It suggests this funding could come from dormant assets – assets that have been inactive for more than 15 years and where owners cannot be tracked down. A total of £745m of dormant asset money has been invested so far, including £425m used to establish Big Society Capital in 2012. A bill currently making its way through parliament is expected to unlock another £880m of such assets. 
The next few months will see a consultation on how dormant assets money should be used, and UK prime minister Boris Johnson has already hinted that not all of it would go to social investment – he said last week that using some of the money to fund community wealth funds would be "certainly an option".
James Westhead of Big Society Capital said he "absolutely welcomed" the specific calls for additional investment but he found them "a little ambitious" as the total sum of money needed almost equated the next tranche of dormant assets – which haven't been earmarked for social investment so far. 
However, Adebowale was clear that the commission only recommended to use dormant assets funds because it was an easily accessible pot of money – but that the government could find alternative sources of capital if it wanted to.
Excuse-remover
The commission estimates the full implementation of the measures would support 5,000 social enterprises, creating 180,000 jobs either directly or indirectly, including 36,000 jobs in the most deprived communities – an opportunity to "create a vehicle that delivers that 'build back better' [agenda]", Adebowale said. 
According to a Social Enterprise UK 2018 study, there were 100,000 social enterprises in the UK, turning over £60bn a year and employing 2 million people.

Commissioners Susan Aktemel, Jamie Broderick, Chris Murray and Jess Daggers
The recommendations could be put into action in as little as 23 months – the time it took the commission to conduct its work – Adebowale said, adding there was "urgency" in supporting social enterprises to tackle the "very serious circumstances" the country was facing. 
He added: "Why should Black and minority ethnic social entrepreneurs, why should areas with real economic need, wait a day longer? Here we have a solution, a proven solution. There's no excuse – we've produced an excuse-remover." 
Adebowale said there were "a good eight" out of 10 chances the recommendations would be implemented, as the government was "looking for ideas". 
Social Enterprise UK – which acts as the secretariat for the commission – told Pioneers Post it had shared the report with the Treasury and the Department for Digital, Culture, Media & Sport (which is responsible for social enterprise) ahead of its launch. The feedback it had received so far was "very supportive of the report". Adebowale said he intended to discuss the report with ministers in the near future.
Adebowale hoped to see the sector "coming together and agreeing the recommendations as valid", he said. In addition to policymakers, one of the significant organisations that he hoped to work with was Big Society Capital.
"Big Society Capital is a market maker, it's a big player. And what we're doing hopefully will be seen as actively helping it to learn about its impact, such that it can change."
What we're saying to the leadership of Big Society Capital is: we're trying to help
Westhead said Big Society Capital was "100% ready to engage with all stakeholders in how we can work together in improving the way the social impact investing market works for everybody." 
He added that it fully supported the recommendations to create a dedicated fund for Black-led enterprise, a stronger role for Access and the creation of a government guarantee scheme.
Westhead said there was already "quite a lot" going on to create different investment products such as quasi-equity. But the challenge was that the supply of capital (investors interested in investing in those products) and demand (enterprises being aware of those and asking for them) needed to be built at the same time, he added.
He said the recommendation that Big Society Capital should change its portfolio balance and de-prioritise investments in social property funds for example, wasn't realistic: BSC needed to keep its current portfolio mix to be sustainable.
"I think they believe that there is a magical result that would be achieved by changing our portfolio mix. Our experience tells us not," Westhead said.
Adebowale told Pioneers Post he was calling for reform, not revolution. "It's a shift in culture. Shifting cultures can take time, but with the right leadership, that cultural shift could happen [really quickly]. What we're saying to the leadership of Big Society Capital is: we're trying to help."
The Department for Digital, Culture, Media and Sport did not respond to Pioneers Post's request for a comment before publication.
Thanks for reading our stories. As an entrepreneur or investor yourself, you'll know that producing quality work doesn't come free. We rely on our subscribers to sustain our journalism – so if you think it's worth having an independent, specialist media platform that covers social enterprise stories, please consider subscribing. You'll also be buying social: Pioneers Post is a social enterprise itself, reinvesting all our profits into helping you do good business, better.