Japan's impact investments jump by 250% – new survey
New research published today shows a growing number of players and increased commitments by existing impact investors drive forward impact investment – plus rising interest from Japan's top banks.
Japan's impact investing market has more than doubled in 2021, reaching more than JPY1.3tn (USD10.17bn) – a 250% increase from JPY512.6bn the previous year, reveals a new report published today. 
The research, The Current State and Challenges of Impact Investing in Japan: FY2021 Survey, was conducted between September 2021 and January 2022 by the Japan Social Innovation and Investment Foundation (SIIF), an organisation that promotes impact investing and serves as the secretariat for the Global Steering Group for Impact Investment (GSG) National Advisory Board for Japan. The English version of the report is due to be published in June.
The survey, which has been published annually since 2016, is based on the responses of 77 financial firms. The actual size of the Japanese impact investing market as a whole is likely to be bigger than the numbers in the report, which only include investments confirmed by the organisations surveyed. 
Several factors have contributed to the increase, according to the study. First, the number of Japanese financial institutions practising impact investing has grown by more than 50% to 31, up from 20 the year before, with major commercial banks and asset management firms entering the market.
Existing impact investors have also doubled the amount they invest into impact – reaching JPY656.3bn at the end of 2021 from JPY322.6bn the previous year.
Finally, improving practices in impact management, measurement and reporting also mean more investments are able to prove they meet impact investing criteria and are included in the total count.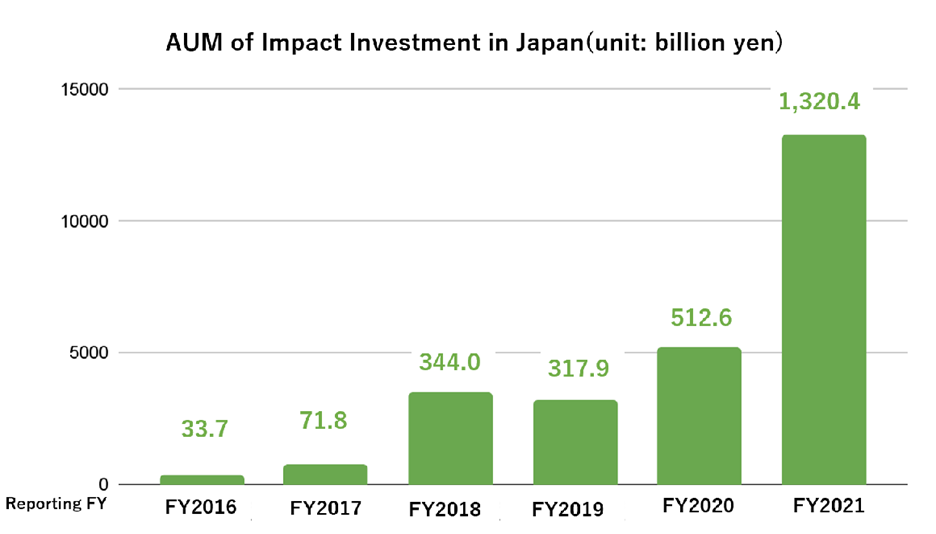 Top banks
The new figures are reported as impact investing is gaining traction among top financial players in Japan. In December 2021, leading Japanese financial institutions including the country's largest bank joined the Japan Impact-driven Financing Initiative, pledging to bolster the impact investing market in the country.
The initiative's 21 signatories – which included some of the country's financial sector's biggest names, such MUFG Bank, Sumitomo Mitsui Trust and Shinsei Bank, as well several regional banks and smaller venture capital ​​firms – committed to investing in impact and implementing impact measurement and management processes individually, as well as collaborating with each other to advance the development of the market. 
But impact investing in Japan is facing similar challenges as in the rest of the world, according to the report: this included the "immaturity" of impact measurement and management methodologies, difficulties comparing and processing impact data and concerns about impact-washing. 
The study also highlights Japan-specific obstacles, such as a "passive attitude" of asset owners towards impact investing, and a general mindset among individual investors, pension funds and insurers who underestimate the power of finance to do good.
Top image: Chureito pagoda and mount Fuji in Japan, by Dang Son
Thanks for reading our stories. As an entrepreneur or investor yourself, you'll know that producing quality work doesn't come free. We rely on our subscribers to sustain our journalism – so if you think it's worth having an independent, specialist media platform that covers social enterprise stories, please consider subscribing. You'll also be buying social: Pioneers Post is a social enterprise itself, reinvesting all our profits into helping you do good business, better.