Does accepting money from the 'bad guys' mean selling out?
If we don't try to change unfair systems – even if it means working with institutions we fundamentally disagree with – are we ignoring the root cause of the problem? Jess Thompson, founder of a social enterprise that supports refugees and asylum seekers, takes us behind the scenes on a dilemma that began when the Home Office got in touch…

Abebi, a Nigerian woman who works in the Migrateful office, called me in a state of anxiety one morning.
Abebi had spent eight years living in fear of being detained by the UK government's Home Office before she got her settled status. Now the head of detention services at the Home Office had just emailed Migrateful, the social enterprise I founded that runs cookery classes led by migrants, refugees and asylum seekers, to propose a partnership, she said.
The email read: "I understand that engagement with the Home Office and particularly Immigration Enforcement may feel uncomfortable for you and your organisation. However I am keen that those held in detention receive as much support as possible and, wherever we can, we try and find ways to reduce their anxiety. Cooking and the sharing of food and recipes helps build a bridge across cultures and provides a platform for conversations and friendships and I hope you can help me to improve the way we do this."
Abebi, like many of the Migrateful chefs, had been haunted by the idea of UK detention centres so I was not surprised that she felt alarmed to receive this email. Detention centres are a place where 'illegal' migrants are held for an undetermined amount of time, in prison-like conditions. The Guardian has reported that inside the detention centres "there is no rehabilitation, no criminal sentence, very often no time limit on the loss of liberty. Many of those incarcerated say the conditions are far worse than actual prison". There have also been allegations of sexual assault and racism inside the centres.
Migrateful's classes are led by migrant chefs who struggle to integrate and access employment due to legal and linguistic barriers. We are trying to bring about systemic change by shifting negative perceptions of migration. Decades of research have shown that interpersonal contact is one of the most effective ways to reduce prejudice and stereotyping between different groups, provided it is done under the right conditions. This is the kind of positive interaction that Migrateful's cookery classes are designed to provide. If we can change attitudes, it will hopefully lead to more citizens voting for a Home Office which is sympathetic to those fleeing persecution and seeking safety in this country.
A hostile – and ineffective – policy
In 2012 Theresa May, the Conservative Home Secretary at the time, introduced a policy that in her own words aimed "to create, here in Britain, a really hostile environment for illegal immigrants". This 'hostile environment' policy introduced legislation requiring landlords, employers, schools, hospitals and other state services to demand evidence of a migrant's right to remain in the country before providing access to these services. By making the UK so unbearable for illegal migrants, the hope was that they would choose to leave voluntarily. But a 2018 report into the effectiveness of this policy showed that it hasn't worked, because, as one asylum seeker put it: "being illegal in the UK is still better than being legal in my own country".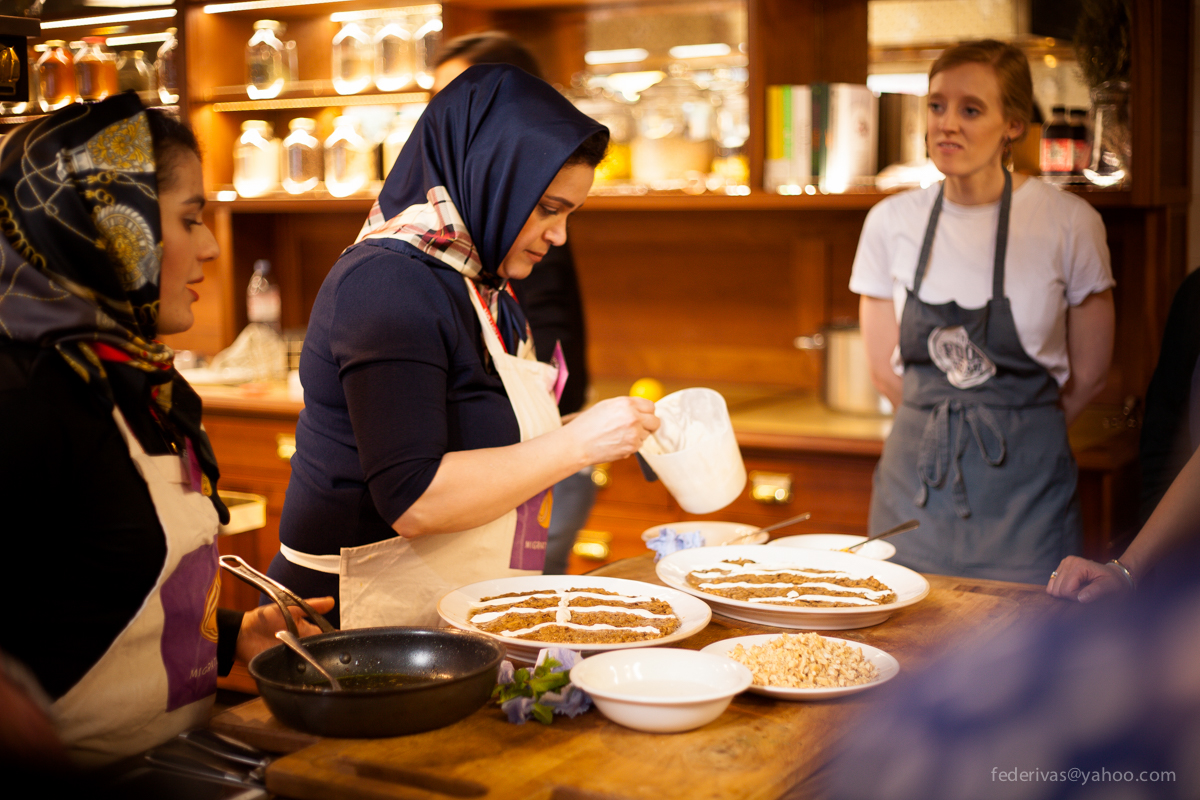 Above: Social enterprise Migrateful runs cookery classes led by migrant chef (credit: Federico Rivas)
Every day at Migrateful we see the reality of this hostile environment policy: forcing people into destitution and homelessness. Many of our chefs are asylum seekers, without recourse to public funds, unable to legally work and on average waiting 10 years to get their status.
It feels like we can only offer our chefs a plaster for their wounds in this broken system, but can never solve the root causes of their injuries
To really change lives, we need to change the Home Office's hostile approach to immigration. And to change this hostile approach we need to change the opinion of the British public who vote for these policies. As our Chinese chef pointed out to me: "For over 20 years I haven't had the right to work. Teaching Migrateful cookery classes has given me the feeling of dignity for the first time since arriving in the UK. But if only Migrateful could get the Home Office to give me the right to work. That would really change my life." I get frustrated because it feels like we at Migrateful can only offer our chefs a plaster for their wounds in this broken system, but can never solve the root causes of their injuries.
Tainted money
Back to that email. As I agonised over how to respond, I thought of my favourite milk alternative, Oatly, the company which rose to fame for its delicious vegan milk that aims to replace dairy consumption and therefore reduce carbon emissions.
Despite this laudable aim, Oatly attracted a good deal of controversy when in July 2020 it accepted $200m from a big investment firm called Blackstone. A report published in The Intercept claimed that Blackstone "partially owns a Brazilian firm that is helping transform the Amazon from jungle to farmland." Blackstone had been investing in Hidrovias, a Brazilian infrastructure company that had been accused of having links to deforestation in the Amazon rainforest – an allegation which Blackstone denied.
After an outcry from Oatly fans, Oatly defended its choice with the following statement: "We thought that if we could convince [Blackstone] that it's as profitable (and in the long-term even more profitable) to invest in a sustainability company like Oatly, then all the other private equity firms of the world would look, listen and start to steer their collective worth of 4 trillion US dollars into green investments".
Could I use a similar defence to Oatly? That, if the net positive social impact outweighs the bad, then it is ok to accept money from the 'bad guys'?
On first reading, Oatly's argument made sense to me. This investment will allow them to sell more of their milk alternatives around the globe and get closer to their mission of reducing carbon emissions. When a friend told me she would never again buy another carton of Oatly, because "they had sold out to the devil", I responded, "But Blackstone will exist whether Oatly takes their investment or not, so they may as well use their money for good, right?"
Oatly's CEO Toni Petersson's argues that changing the system from the inside is the most effective strategy to change the world. Maybe he's right and sometimes changing the system does mean upsetting the liberals by working with the 'bad guys'.
Could I use a similar defence to Oatly to justify receiving the Home Office's money? That, if the net positive social impact outweighs the bad, then it is ok to accept money from the bad guys? By running cookery classes inside detention centres we could offer much-needed therapeutic support through cooking to those being locked inside for an undetermined amount of time. For a small charity like Migrateful this significant financial offer from the Home Office to fund our work was a viable proposition to increase the scale of our impact.
When to say no
But after much deliberation, we decided it was not the right thing to do to accept this partnership offer from the Home Office. Migrateful is best placed to change public opinion so that the public no longer want to vote for a government which propagates hostile immigration policies. By taking the Home Office's money we would be limited in our ability to speak out against the areas of their policies which we feel compromise the human rights of the people we support. It would also be upsetting and confusing for our chefs for us to be associated with the very institution which they feel is harming them. In addition, Migrateful relies on our cookery class sales to fund the training and support we offer our chefs; our customers might boycott our work if they learned we took money from the Home Office, and this in turn would impact our ability to support our chefs.
If the Home Office really wanted to "find ways to reduce [detainees'] anxiety" through cooking, like its initial email stated, then why don't they just not detain people at all? What were the Home Office's intentions behind reaching out to Migrateful? Was it a PR stunt to make them seem a little kinder, to appease the liberals?
Our customers might boycott our work, and this in turn would impact our ability to support our chefs
The more I thought about it, I realised that by Oatly taking Blackstone's investment, they were allowing Blackstone to succeed in its green-washing efforts. Helping the bad guys to look kinder, so they can carry on unchallenged with their business, could potentially create more harm than good. Suddenly the argument that there is a net social impact gain from taking this kind of money doesn't stand up.
It perhaps seems naive on Oatly's part to think that they can influence Blackstone to become a green investor. Oatly's $200m investment from Blackstone is a very small percentage of the $538bn in assets that Blackstone managed at the time. Ultimately Blackstone part-owns Oatly and so it's more likely Blackstone would have the power to influence Oatly rather than the other way round. There could be the same risk if Migrateful were part-funded by the Home Office; that the Home Office would try to influence our work, and if we were relying on their funding we would not have much other choice but to concede.
System change
I believe that, if we are to achieve social change, we also need to work on changing the very system that creates the need for our existence as social enterprises, otherwise we risk sustaining the system and becoming part of the problem. If Migrateful succeeded in its mission of winning the hearts and minds of the British public so that they voted for kinder policies to refugees, there would not be such a need for our work, as refugees and asylum seekers could get what they need in society without our help. In deciding who we take funding from we need to keep this mission in mind.
That's not to say that working with the 'bad guys' can't always further your social mission. Oatly has responded on its website that the debate has become "black and white" while the deal itself was "nuanced". It's perhaps too early to make the final judgement call on whether Oatly has made the right or wrong decision. There is perhaps a small chance that we see both Blackstone investing in more green businesses, and Oatly stopping climate change, because everyone in the world stops drinking cow's milk. I agree with Oatly that the ethics of doing good in our current global system are never black and white. Trying to run a social business means treading this fine line between prioritising our social values and achieving the most impact, and there is no straightforward answer to this ethical conundrum. Migrateful is also not saying that we will never work with the Home Office in the future. It's not a flat out 'no' – every opportunity needs considering to assess whether it can further our mission.
I believe the important thing is to be brave enough to say no to opportunities that may lead to more market success but lead away from the overarching aim to make the world a better place. Social enterprises are trying to build a new economy which prioritises people and the planet, and with this bold mission I think we need to be careful not to become reliant on the 'bad guys' for our survival: doing so could start to compromise our ability to change the very system which makes our work necessary. Our end goal should be to end the reason for our existence, rather than having a vested interest in the system continuing the way it is for funding purposes.
Jess Thompson is the founder and CEO of the UK social enterprise Migrateful.
Want to contribute to this series? Contact news@pioneerspost.com with the 'awkward question' you'd like to pose, the three main points you'll cover, some info about your knowledge/experience of this topic, and at least one sample of your writing.
Thanks for reading Pioneers Post. As an entrepreneur or investor yourself, you'll know that producing quality work doesn't come free. We rely on our subscribers to sustain our journalism – so if you think it's worth having an independent, specialist media platform that covers social enterprise stories, please consider subscribing. You'll also be buying social: Pioneers Post is a social enterprise itself, reinvesting all our profits into helping you do good business, better.