Dot Dot Dot: clashes at purposeful property enterprise reveal challenges of tackling UK housing crisis
UK social enterprise Dot Dot Dot is facing allegations of unethical behaviour after some of its property guardians protested against unexpected fee increases. Laura Joffre explores what happened when the tensions between market constraints and stakeholders' expectations were stretched to breaking point.
It started so well. A social entrepreneur devises an innovative solution to respond to two of today's deepest crises: the lack of affordable housing and the ever-growing need for help for vulnerable people. Over a decade, the business helps hundreds of people. But then things start to go wrong.
Dot Dot Dot provides guardianship services in the UK for landlords whose buildings would otherwise stand empty. By living in the buildings, the guardians keep the properties secure at the same time as benefitting from inexpensive housing; in return, they commit to volunteering for good causes in their community for 16 hours a month, which fulfils Dot Dot Dot's key aim to generate support for vulnerable people. 
But this ideal-sounding arrangement turned sour earlier this year. Unhappy guardians organised a campaign following a fee increase that they deemed unreasonable, demanding that the rise was scrapped and calling for better terms in their contracts. Protesters gathered in front of the social enterprise's office in east London, and Dot Dot Dot was accused of taking advantage of the housing crisis for profit. Last month, news website GalDem published an article relaying several guardians' complaints which spoke about poor housing conditions and a "breakdown in relations" with the social enterprise.
Triple win
Dot Dot Dot, which numbers around 25 staff, operates across England, in particular in London, the south west, south east, Yorkshire and Manchester. Founded in 2011, it has been included on the Pioneers Post NatWest SE100 list of the top UK social enterprises for several years, and founder Katharine Hibbert appeared in the WISE100 list of inspiring and influential women in social enterprise in 2018 and 2019.
It describes its model as a "triple-win" situation: the building owners have their properties secured; guardians have access to discounted housing prices; and local charities and communities benefit from the guardians' voluntary activities. 
Dot Dot Dot now houses hundreds of guardians (although it wouldn't reveal the exact number to Pioneers Post) and claims that the guardians have collectively given time worth £4.3m to good causes since the inception of the enterprise, with £1.8m of that directly attributable to Dot Dot Dot's work.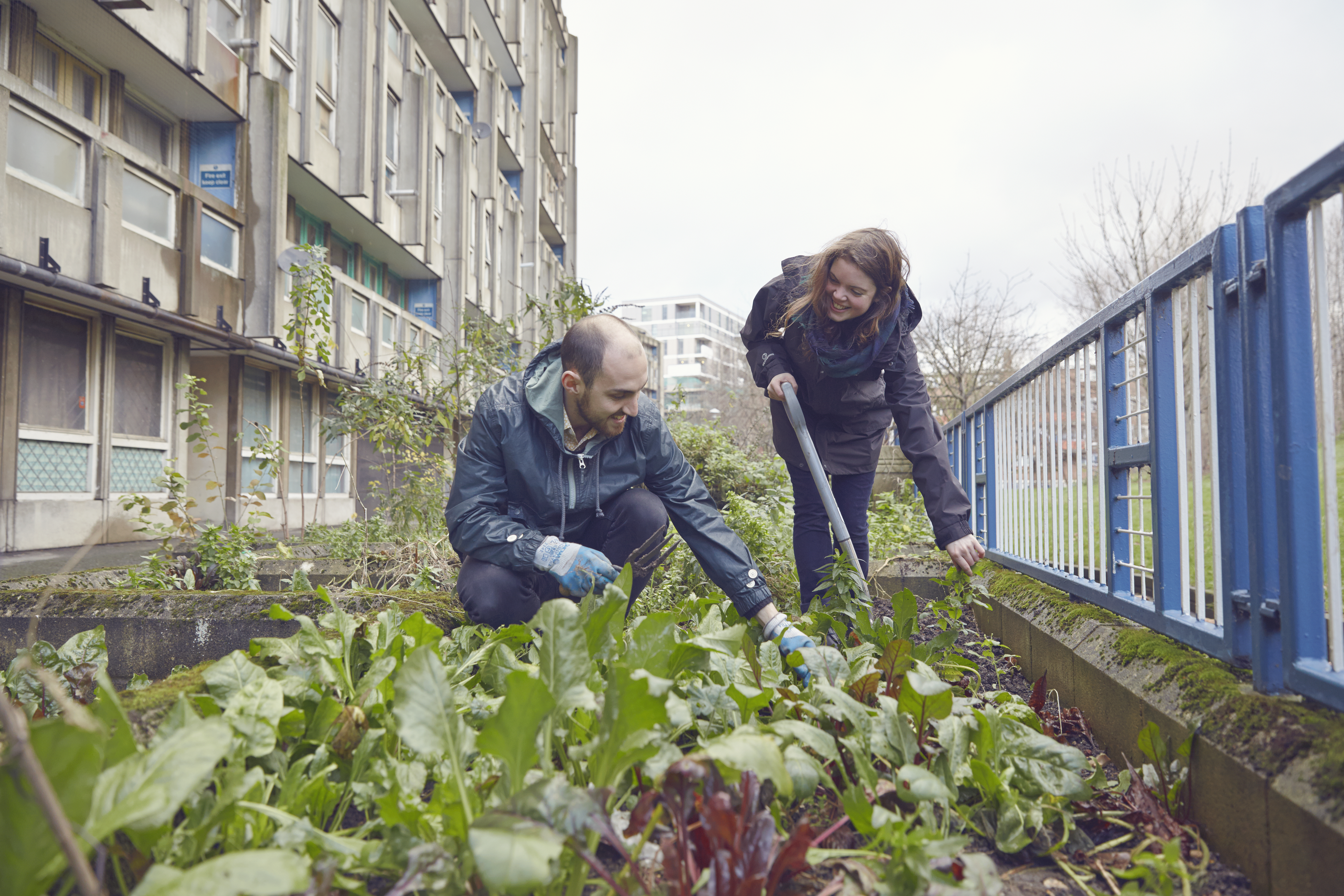 Hibbert tells Pioneers Post the need for the social enterprise's services has grown bigger in the past decade, and was laid bare during the pandemic: housing has become less and less affordable, making the demand for guardianships rise, and a "hollowing of the public sector" that would normally provide services to vulnerable people put pressure on charities that stepped in to play that role, meaning that the volunteering that the guardians provide became more urgent.
"Both needs have only grown in the last 11 years," Hibbert says. "And we've been really glad to be able to grow and develop and improve our services and approaches, so that we can meet those gaps better."
The controversy
In January this year, Dot Dot Dot informed some of its guardians that their fees were to increase six weeks later. In some cases, the fees more than doubled; in some areas the rises averaged 25%, and some guardians did not see any increase at all. 
In a statement published in March in response to the guardians' complaints, Dot Dot Dot argued that those fee rises were overdue and the adjustment was needed for the fees to be sustainable and fair for all guardians. The social enterprise gave guardians the choice to sign a new licence or find new housing.
In response, some guardians launched a campaign, organising as members of the London Renters Union, to demand the social enterprise to reconsider the increase. A protest was organised outside Dot Dot Dot's offices, with banners accusing the social enterprise of unethical behaviour. Labour MP for Poplar and Limehouse, Apsana Begum, in a letter quoted in the GalDem article, said: "The actions of Dot Dot Dot speak to the unscrupulousness of landlords who subject tenants and occupiers to unsustainable rent increases and benefit from an economic and legislative framework that they know is stacked in their favour."  
As a result of the allegations, Eastbourne councillor and social entrepreneur Josh Babarinde, who used to be a Dot Dot Dot guardian, resigned as a member of the social enterprise's board, saying he was "especially concerned" by the issues raised by the guardians. Quoted in Sussex World, he added the issues highlighted that property guardianship was "not the long-term solution to the current housing crisis that I'm committed to working towards".
 
Julius Griffin: standing in solidarity
Julius Griffin, 27, has been a guardian since the end of 2018. Spending much of his childhood in care, he has faced mental health issues. After graduating, he found it hard to find affordable housing in London, so became a guardian "out of necessity" rather than choice. But there are a lot of positive aspects to guardianship that he enjoys, and he even describes it as being "kind of cool, like a novelty": meeting like-minded people in the guardians' community, but also people from very varied backgrounds: for some, guardianship was a route out of homelessness; for others it was more of a lifestyle option.
He said the relationship with Dot Dot Dot hasn't always been great, and he felt there was a "separation between the agency and the guardians". He complains about various issues he's had in properties over the years, like leaky showers and rodent problems. He finds Dot Dot Dot is often inflexible when it comes to property inspections, but has generally been helpful when having to move from one building to another – he has lived in three different properties across London.
While not directly concerned with the fee increases, he says he stands in solidarity with other guardians. The question that always comes up, he says, is "what really are their costs? What is the justification?" Other models including housing co-operatives have proven to be cheaper and give more rights to guardians, which become members of the co-op, he argues. But he also recognises that for a company that needs to sustain itself like Dot Dot Dot, "it might be quite hard to make a profit".
Constraints and sustainability
In response to these arguments, Hibbert emphasises to Pioneers Post that property guardianship is different from being a tenant: guardians sign a contract to pay a licence fee (not a rent) each month, they agree to vacate the property within 28 days if asked to do so, and to have regular property inspections. 
The buildings the guardians live in, while meeting health and safety standards, are often in need of redecoration or have unusual set ups – some might be former schools or police stations, for example. This need for flexibility means "guardianship is not for everyone", Dot Dot Dot says. 
The reason Dot Dot Dot asks for this flexibility from its guardians is rooted in the business model of a guardianship agency: it provides a service to its "clients" – the property owners, which are often councils or housing associations. For them, guardianship needs to be "cost neutral" to the alternative of boarding up the buildings. Importantly, they need to be able to take back the property at very short notice.
We are doing what we can, within the constraints of the way the housing market works, and the fact that we have to cover our costs by trading – Katharine Hibbert
And, as a small social enterprise providing services for large clients, Hibbert says it doesn't have much leverage over the terms of the guardianship: the social enterprise has to operate within the constraints of its business model.
All of Dot Dot Dot's income comes from trade and the social enterprise does not rely on grants. The business is allowed to make a profit, but its mission is embedded in its articles of association, Hibbert explains. While it has paid small dividends to shareholders (Hibbert and one other) in the past, in recent years – "at least since 2019" – all surpluses have been reinvested to grow its impact.
But that also means the social enterprise needs to have enough revenue to be sustainable, Hibbert says. It needs to cover property maintenance, management and staff wages. With the Covid-19 pandemic hitting the business – pivoting to online and Covid-safe operations increased expenses; and, at the same time, the company had smaller revenues, in part because fewer guardians could be housed in shared accommodation, and because Dot Dot Dot provided discounts or payment plans to some guardians that had lost their income and asked for help. 
All of this meant Dot Dot Dot had to increase the fees of some tenants in March, which had stayed the same for several years.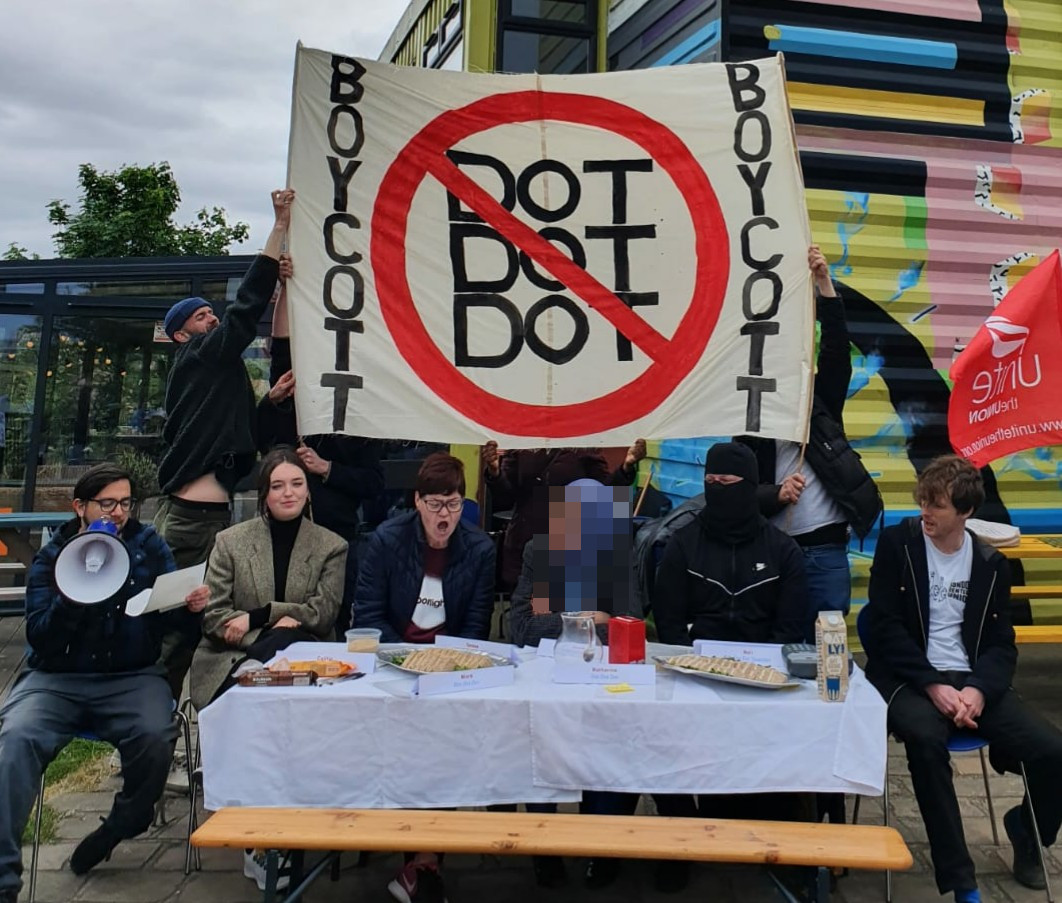 Hibbert stresses that guardians are not the target beneficiaries of Dot Dot Dot: she describes the relationship with the guardians as "a customer relationship, not a beneficiary relationship". "Because of the nature of guardianship, we are not able to house people who are vulnerable," she says.
Dot Dot Dot is very clear that its goal is to drive more people to volunteer for good causes; the ultimate beneficiaries are not the guardians, but the people who benefit from the guardians' volunteering activities.
This is consistent with the way the social enterprise measures impact: it focuses on how many hours guardians have volunteered each month, and how many former guardians are continuing volunteering even when they move on. Volunteering figures are also scrutinised by the board at all meetings.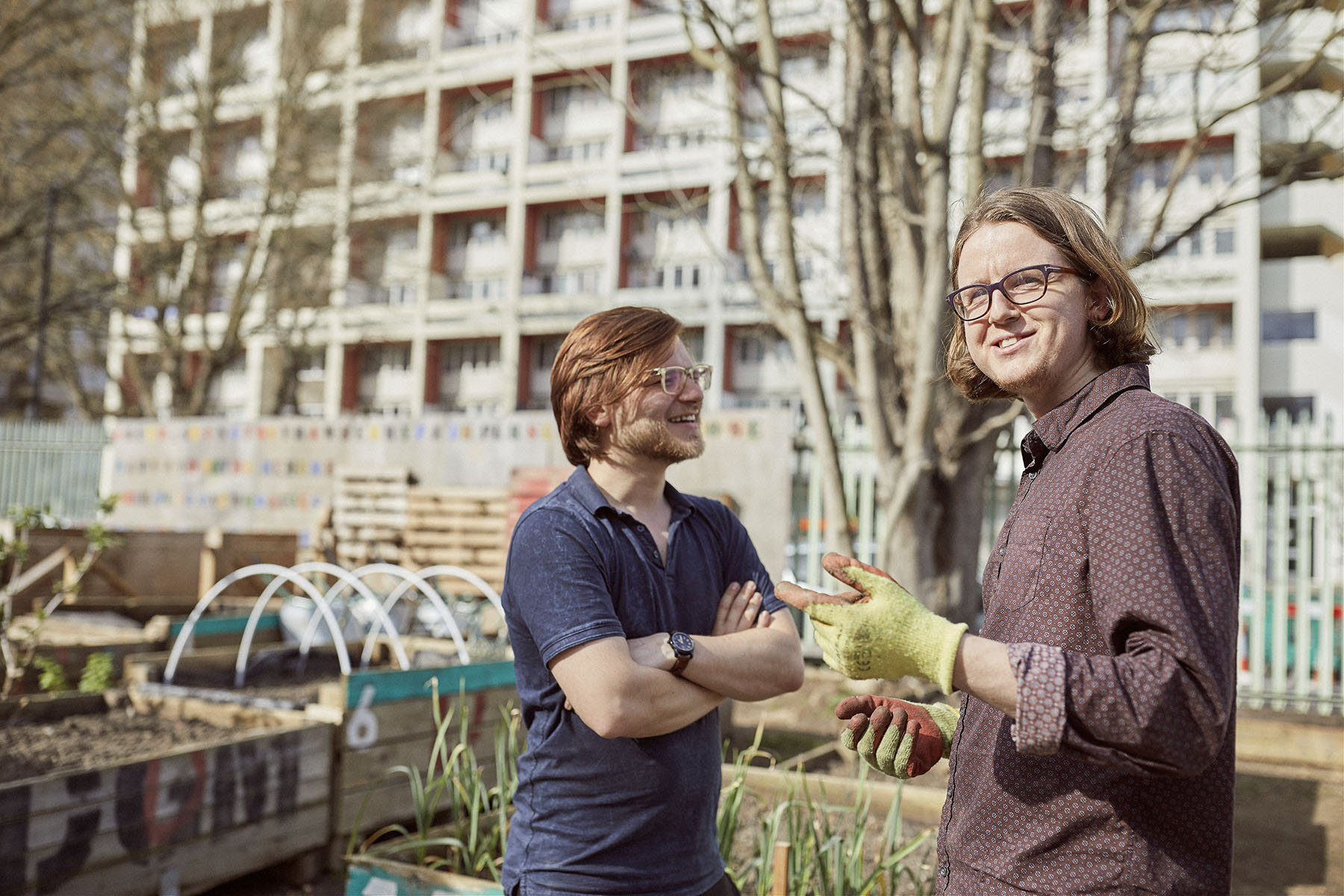 Guardians are invited to provide feedback and rate their experience, Hibbert explains. The social enterprise normally has a former guardian on its board (the position has recently become vacant, and Dot Dot Dot is in the process of appointing a replacement). Should a serious dispute arise, Dot Dot Dot is registered with the property ombudsman, which provides a legal route for guardians to air their grievances and find a solution.
Guardians involved in the campaign who spoke to Pioneers Post understood those terms, accepting that it was a trade-off to access cheaper accommodation. However, they did raise some other concerns.  
A systemic problem
Guardians told Pioneers Post about difficult communications and cold emails coming from Dot Dot Dot. Lise Marie Aké-Danho, a guardian with Dot Dot Dot since 2018, says she wishes Dot Dot Dot were more transparent and had given the justification for the fee increase. "Why don't they communicate with us?" she asks. 
In response to Pioneers Post's questions, Dot Dot Dot sent us a statement which argues that the tone of their communications aims to be "professional, concise, warm and purposeful – these are the criteria we use when judging our communications". 
"We think that professionalism and concision are particularly important when dealing with something as important as housing. We want to make sure that everyone who lives in our buildings finds it easy to understand the terms on which we are able to provide accommodation, regardless of their background and whether English is their first language," Dot Dot Dot said. 
 
Lise Marie Aké-Danho: it started well
Lise Marie Aké-Danho became a guardian with Dot Dot Dot at the end of 2018, and has lived in several properties managed by Dot Dot Dot since.
She moved to the UK from the Ivory Coast with her mother when she was 10; at 29 years old, she is now studying biomedical science. She has recently moved to Abbey Wood in south east London, one of the areas where Dot Dot Dot has had to put the rates up; but she understands her fee was already at the higher level when she moved in so didn't see an increase herself.
"It started well. When I joined, there were a lot of staff that were good and had good intentions, who actually cared," she says. Aké-Danho enjoys volunteering, something she was already doing before becoming a Dot Dot Dot guardian. But she dislikes the fact that guardians have to fill in a form each month to report how many hours they've done, as it makes volunteering feel compulsory. Dot Dot Dot says it is necessary for them to monitor this as increasing volunteering is its main mission.
But in recent months the relationship has gone downhill. "I just believe the environment, the staff members that we are dealing with now are short tempered and they do not really have much care for the guardians," she says.
The fee increases could lead guardians to become homeless, she says: "How can you be a social enterprise that says you care about people and claim you want to help with homelessness when you put people in a situation that could push them into homelessness?"
Dot Dot Dot specifies that prospective guardians must provide them with a follow-up plan, for example going to live with a relative, so they are not at risk of becoming homeless when their guardianship ends.
But Patrick Davies from the London Renters Union says communications over the fee increases have been very difficult: "I've dealt with quite a lot of different types of landlords and estate agents. But this ethical social enterprise is the only landlord I have come across that has refused to cooperate in any way." (Dot Dot Dot, however, stresses it is not a landlord but a service provider, having no legal stake in the buildings it provides guardianship for.)
I just believe the environment, the staff members... do not really have much care for the guardians – Dot Dot Dot guardian Lise Marie Aké-Danho
Dot Dot Dot's statement says: "One of the goals of our recent fee review was to create fairness in pricing across all the homes we offer – a goal which resulted in some guardians experiencing fee reductions while others who have lived in large properties for extended periods of time saw increases. 
"These pricing decisions were not an area in which we felt it was appropriate to negotiate on a case-by-case basis, because it is unfair for individuals to be paying different amounts for similar homes."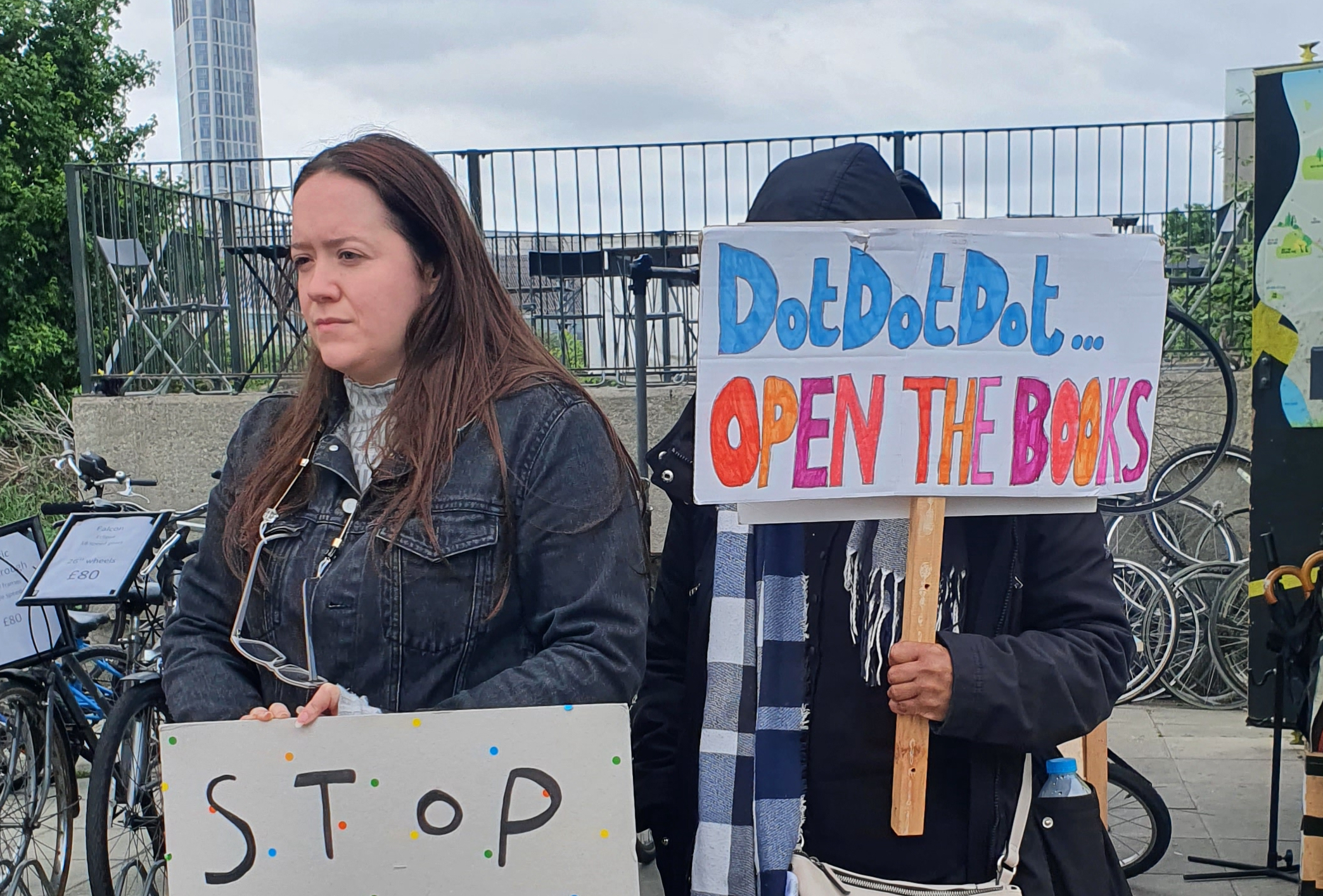 Dot Dot Dot claims its fees are about 50% to 70% of market rates for equivalent properties in the same area. But for Davies from the London Renters Union, the fee rises don't add up. Dot Dot Dot explained the fees cover its costs, which include property maintenance, managers and wages; but declined to provide a detailed breakdown to Pioneers Post of where the money goes.
Hibbert emphasises that what she can do is limited. She says: "We are doing what we can, within the constraints of the way the housing market works, and the fact that we have to cover our costs by trading." She adds: "We are doing our very best to provide housing, the housing that we think people deserve, because housing is a human right."
I'm angry too and my anger is why I started Dot Dot Dot – Katharine Hibbert
Hibbert says she understands the guardians' anger at the lack of affordable housing: "I'm angry too and my anger is why I started Dot Dot Dot". 
It is a systemic problem, Hibbert says, and she wishes that campaigners didn't point the finger at a social enterprise "that is doing its best within the constraints of the system and not generating vast profits for investors". 
She adds: "The problem is the housing crisis, so Downing Street is a more appropriate target for protests." 
Update 21 July: After the publication of this article, Dot Dot Dot asked us to point out the following: "The majority of our guardians are happy with their Dot Dot Dot experience and signed their new licence agreements. There is certainly no sense that the organisation started well and that things have ended badly - we continue to find and house great guardians, provide inexpensive housing, and make a social impact."
Top picture: Dot Dot Dot guardians protesting against the fee rises in March. Credit: London Renters Union.
Thanks for reading our stories. As an entrepreneur or investor yourself, you'll know that producing quality work doesn't come free. We rely on our subscribers to sustain our journalism – so if you think it's worth having an independent, specialist media platform that covers social enterprise stories, please consider subscribing. You'll also be buying social: Pioneers Post is a social enterprise itself, reinvesting all our profits into helping you do good business, better.