Patagonia hailed 'inspirational' as founder pledges $3bn company to planet Earth
Patagonia founder's radical decision to hand over ownership – making planet Earth its "only shareholder" – draws widespread acclaim from responsible business campaigners and social enterprise advocates.
The reluctant billionaire founder of outdoor clothing maker Patagonia yesterday announced that he has transformed the company's ownership to make planet Earth the only shareholder.
The move has been widely applauded by those campaigning for a new approach to capitalism, with Peter Holbrook, CEO of Social Enterprise UK, heralding Patagonia's "decision to become a social enterprise".
After two years of researching ways in which the company could guarantee its environmental purpose long in the future, California-based Patagonia has made a radical change to the company's business structure. Yvon Chouinard, 83, his wife and two adult children have transferred their ownership, with a value of around $3bn, to two new entities, a trust and a non-profit organisation. 
Instead of 'going public', you could say we're 'going purpose'
Every dollar that is not reinvested back into Patagonia, says the company, will be distributed as dividends to protect the planet. The company currently predicts that around $100m every year will be available for environmental protection.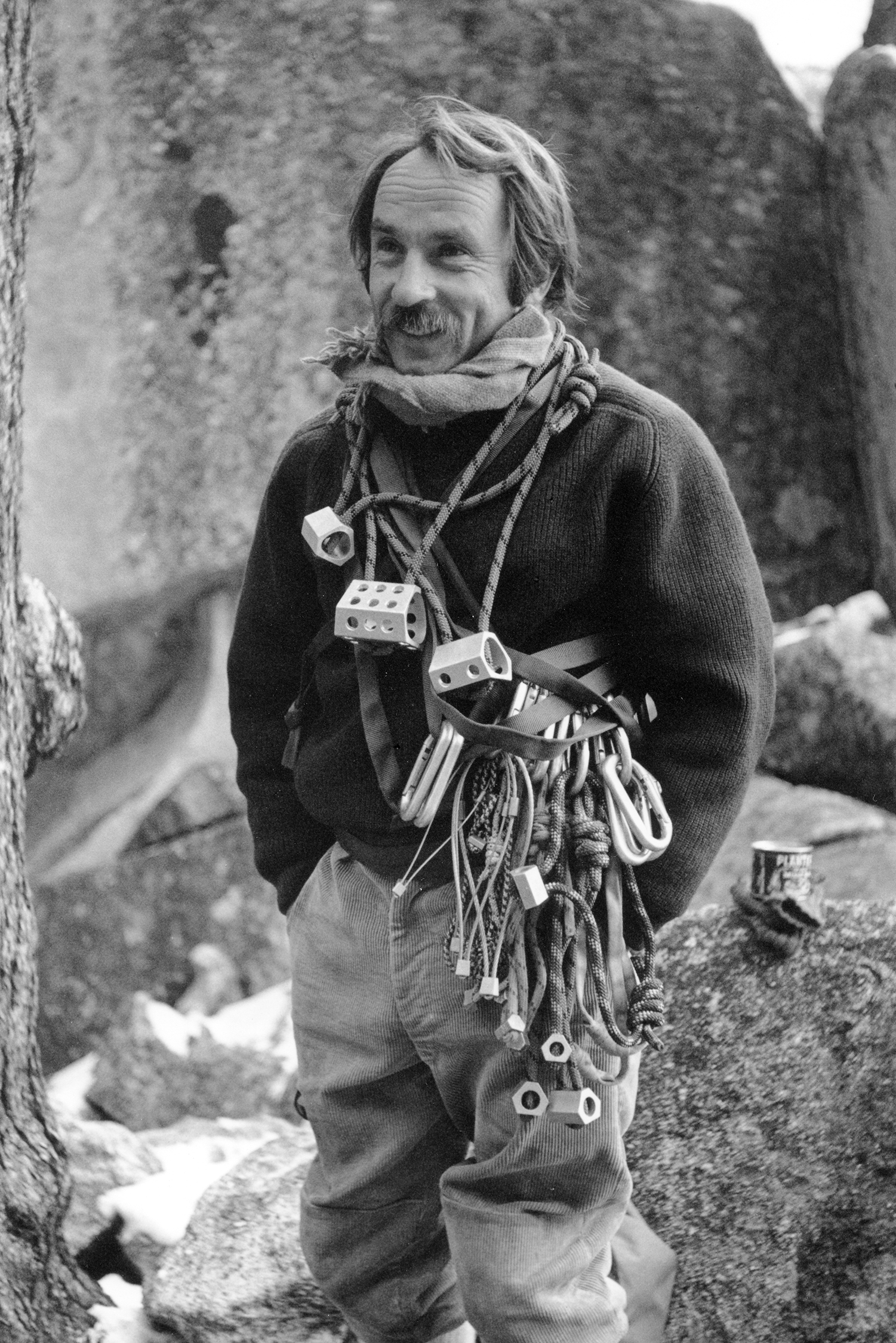 "I never wanted to be a businessman," Yvon Chouinard wrote in an open letter published on Thursday, explaining that he began his career as a craftsman 50 years ago, making climbing gear for his friends. 
But as the climate crisis became more urgent, he said, "Patagonia committed to using our company to change the way business was done. If we could do the right thing while making enough to pay the bills, we could influence customers and other businesses, and maybe change the system along the way."
But that approach wasn't enough, he said, highlighting in an interview in the New York Times: "I was in Forbes magazine listed as a billionaire which really, really pissed me off."
So the decision was made. Chouinard's open letter explains: "Instead of 'going public', you could say we're 'going purpose'. Instead of extracting value from nature and transforming it into wealth for investors, we'll use the wealth Patagonia creates to protect the source of all wealth."
Enshrining values
Chouinard and his family considered selling Patagonia and donating all the money. But, he said, "we couldn't be sure a new owner would maintain our values or keep our team of people around the world employed".
They also thought about taking the company public. "What a disaster that would have been," he said. "Even public companies with good intentions are under too much pressure to create short-term gain at the expense of long-term vitality and responsibility."
So a new approach was developed. 
The Patagonia Purpose Trust now owns 2% – all the voting stock – of the company, becoming its controlling shareholder. This specially designed trust was created to form a permanent legal structure to enshrine Patagonia's purpose and values and it will be guided by the Chouinard family. This will ensure that there is no deviation from the intent of the founder, the company said. It added that the trust will "facilitate what the company continues to do best: demonstrate that as a for-profit business that capitalism can work for the planet".
Even public companies with good intentions are under too much pressure to create short-term gain at the expense of long-term vitality and responsibility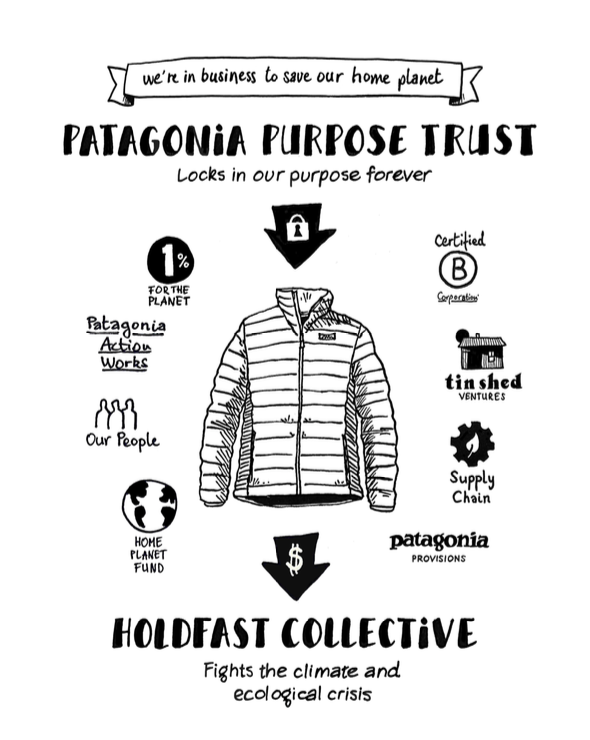 The Holdfast Collective owns 98% – all the non-voting stock – of the company. This not-for-profit entity (in US legal terms, it is a 501(c) (4), which means that it can advocate for causes and political candidates as well as making grants and investments) is dedicated to fighting the environmental crisis and defending nature. Profits that are not reinvested into Patagonia will be given as a dividend to the Holdfast Collective. The company projects that it will pay out an annual dividend of roughly £100m, depending on the health of the business.
Patagonia, which was founded in 1973, will remain a B Corp and a California benefit corporation and continue to give 1% of its sales each year to grassroots activists. 
The management team also remains. Ryan Gellert continues as CEO and the Chouinard family are still board members. 
"Despite its immensity," wrote Chauinard, "the Earth's resources are not infinite, and it's clear we've exceeded its limits. But it's also resilient. We can save our planet if we commit to it."
Raising the bar
Advocates of a new approach to capitalism praised Patagonia's move as an inspirational example of how business could be reshaped as a force for good. Among the initial reactions:
Erinch Sahan, business and enterprise lead at the Doughnut Economics Action Lab (DEAL): "It isn't an act of charity, it's an act of business design"
"The debate on business sustainability is now moving to ownership, governance and the parameters of finance – the deep design of business. 
"Patagonia's decision isn't an act of charity, it's an act of business design. Its transformation unlocks new possibilities. It allows new investments and enables new bold ideas to help save the planet. It shows we can decide how every business is owned, how it's governed, where its profits go. This is what Doughnut Economics requires, to design shareholdings, boards and approach to margins and reinvestment so that it truly benefits people and our living planet."
Luke Fletcher, partner at law firm Bates Wells and author of the Better Business Act: "It could be a catalytic moment"
"What an inspirational decision and act of leadership from Yvon Chouinard and his family. This decision will turn heads across the world and make leaders of all kinds ask: what kind of legacy do I want to have? 
 "I don't think there is a more urgent need than to reform capitalism, which is manifestly using all kinds of resources at a rate that exceeds our planet's capacities or ability to replenish itself. To do that, we will need new models of business and of leadership and we will need to find ways to scale and replicate those models as quickly as possible. You can see here how Patagonia have adopted what you might call a 'B Corp plus plus' approach – going further and faster and adding to the B Corp foundations.
 "We are advising a number of companies and business owners exploring and enacting steward ownership models, often with mission locks and transfers of voting rights and economic ownership to a foundation to protect the mission over time. That said, individual leadership is now not enough on its own. If we are to honour future generations, we need to replace the current extractive capitalist model with a truly sustainable model. I doubt we have really grasped the scale of that challenge.
 "That is why we are backing the Better Business Act campaign, because we are running out of time and we need the default approach to business to change. It's the only way we can protect our collective resources and our children's futures. In that context, Patagonia provides an example of what can be done, where there is the will. It is a living rebuke to business as usual. It could be a catalytic moment."
This decision will turn heads across the world
Peter Holbrook, CEO of Social Enterprise UK: 'Patagonia demonstrates the power of changing company structure and governance'
"Patagonia's decision to become a social enterprise proves that global brands can make the shift to build their business around purpose, while still delivering profit and aiming for growth.
"The company's board has explicitly stated that they believe by putting environmental purpose at the heart of their business, they will attract the best staff and deeper loyalty from customers.
"The scale of the climate crisis can no longer be denied and business has a vital role to play in protecting our planet. As more businesses explore how to improve their positive impact on the environment and society, Patagonia demonstrates the power of changing company structure and governance. We hope more business leaders will see this as a rallying cry and will be bolder in their pursuit of business where purpose and profit go hand in hand."
Andrew Kassoy, co-founder of B Lab, on Twitter:
"It's fair to say that Yvon Chouinard and @patagonia have raised the bar yet again on stakeholder capitalism."
Amy Clark, co-founder of Tribe Impact Capital and board member of B Lab UK, on Twitter:
"Unbelievable! Extraordinary leadership in a time of crisis. Locking in a mission in perpetuity. @patagonia's Yvon Chouinard driving in the fast lane of regenerative capitalism. Bravo!"
Photos of Yvon Chouinard and graphic courtesy of Patagonia.
Additional reporting by Laura Joffre and Anna Patton.
Thanks for reading Pioneers Post. As an entrepreneur or investor yourself, you'll know that producing quality work doesn't come free. We rely on our subscribers to sustain our journalism – so if you think it's worth having an independent, specialist media platform that covers social enterprise stories, please consider subscribing. You'll also be buying social: Pioneers Post is a social enterprise itself, reinvesting all our profits into helping you do good business, better.