4,000 UK social enterprises risk closure this winter as "horrendous" economic crisis bites – new report
Latest quarterly survey from Social Enterprise UK finds 3% of social enterprises say they're at risk of closing in the next few weeks as costs rise and turnover drops amidst calls for more help from the government.
Thousands of social enterprises are at risk of closure in the next three months as they face rising costs and a bleak economic outlook, according to a new report published today.
Membership body Social Enterprise UK has released the latest edition of its Social Enterprise Barometer, a quarterly survey intended to produce a snapshot of the state of the sector. The latest edition is based on responses collected in October 2022.
Among the 220 respondents, 3% said they expected to close in the next few months. Extrapolated to the total number of social enterprises – estimated by the government at 131,000 – this figure would result in about 4,000 of them risk closing their doors this winter.
That would make the current economic crisis worse than Covid-19 for social enterprises – which proved resilient and saw a closure rate of 1% during the worst of the pandemic.
Social enterprises appear strained across all indicators, with a greater proportion reporting decreasing cash flow and reserves, reduced turnover and fewer staff numbers compared with previous months.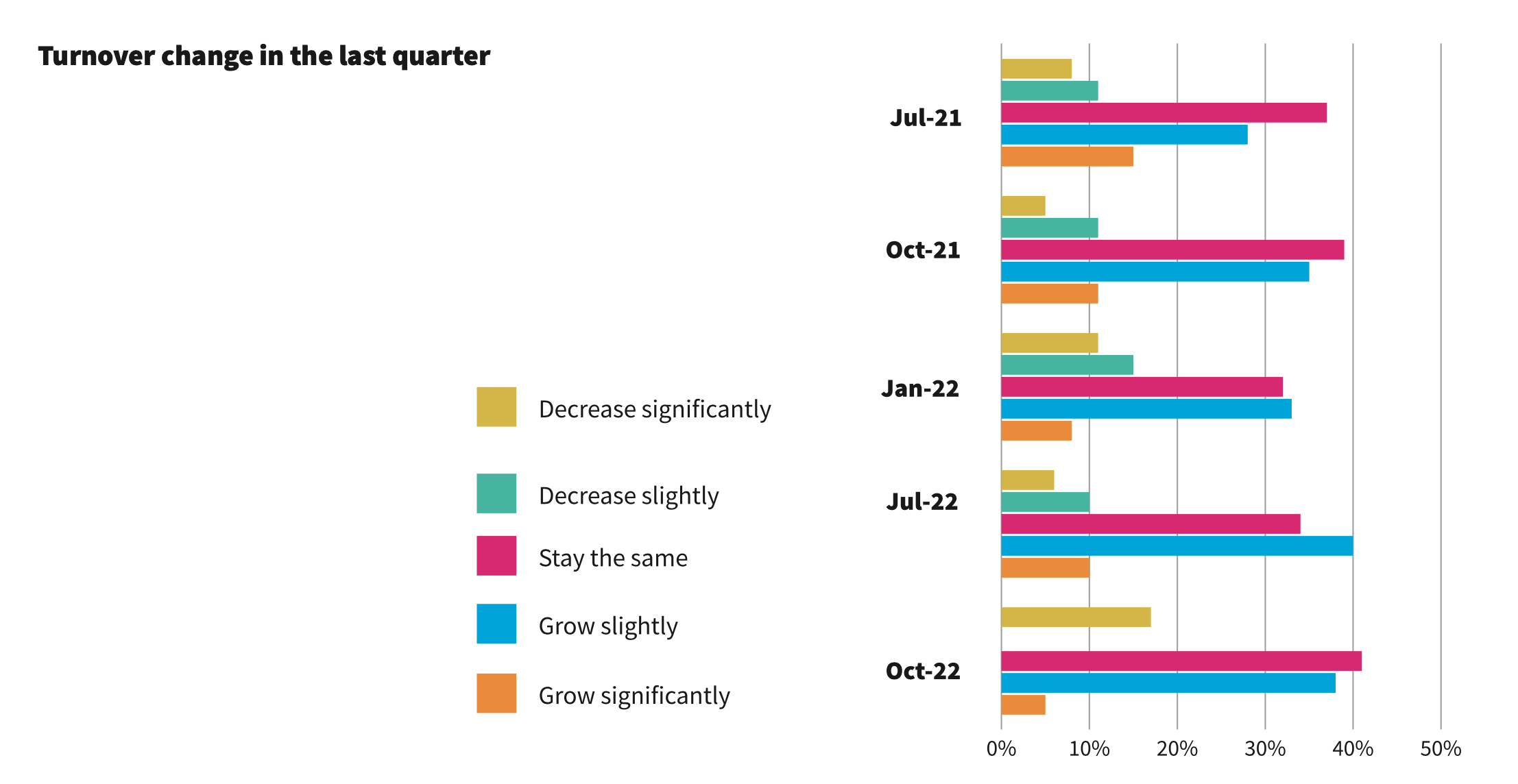 Peter Holbrook, CEO of Social Enterprise UK, said: "It's clear from this report that the combined crises surrounding energy, inflation and recession have many social enterprises concerned for their future.
"Our past research has shown that social enterprises prove more resilient to economic challenges than other businesses, so the degree of strain social enterprises are experiencing demonstrates the scale of the difficulties they are facing."
Pessimism
The social enterprises surveyed tend to be more pessimistic about their future than in previous surveys, among concerns over rising costs, energy bills and loss of government contracts: 11% of respondents say they expect their income to reduce/lose staff or close – that's nearly three times more than a year ago. 
Meanwhile, the share of respondents saying they're expecting to grow has fallen from 34% last autumn to 26% this month. Uncertainty is on the rise, with 30% of social enterprises surveyed reporting their future depends on pending funding applications, income or contracts. This is up from 22% a year ago.
The respondents are mainly concerned about access to funding and finance (for 57% of them), costs related to staff (40%) and energy prices (35%). 
It's horrendous at the moment. Contracts are drying up, grants are ultra-competitive, and no-one is buying
"It's horrendous at the moment. Contracts are drying up, grants are ultra-competitive, and no-one is buying," says the leader of a small East-Midlands social enterprise quoted in the report.
A respondent on behalf of a medium-sized social enterprise based in the south east of England quoted in the report says: "There is so much uncertainty, we just don't know. Services provided by our members become less important than putting food on the table... our membership fees become less important than heating bills. It's a really tricky time!"
Rush for funding
A greater share of social enterprises reported a rise in operational costs this quarter than earlier this year, the survey shows. In March, the barometer found that around 55% of respondents reported an increase in their running costs in the previous three months; this figure is now nearly 70% – with 28% saying costs had increased "significantly". 
For social enterprises that did not report cost increases, that was typically because they "had reduced overall costs through staff losses or reduced supply of products or services, rather than that they weren't experiencing similar high prices for inputs and borrowing costs," the report says.
The reason for rising costs often given was the energy price rise, although other factors, including the fall in the value of sterling, were also mentioned by respondents. Rising interest rates "do not appear to have caused a significant increase in problems with debt repayment yet", but are having an impact on rent and service costs, according to the report. 
To stay afloat, nearly two-thirds of respondents report seeking new grant funding, and one third are looking for new investment. Half of them say they are reducing spending on non-essential expenses, 36% are increasing prices, and 30% are reducing their profit margin. A quarter report ploughing into their reserves.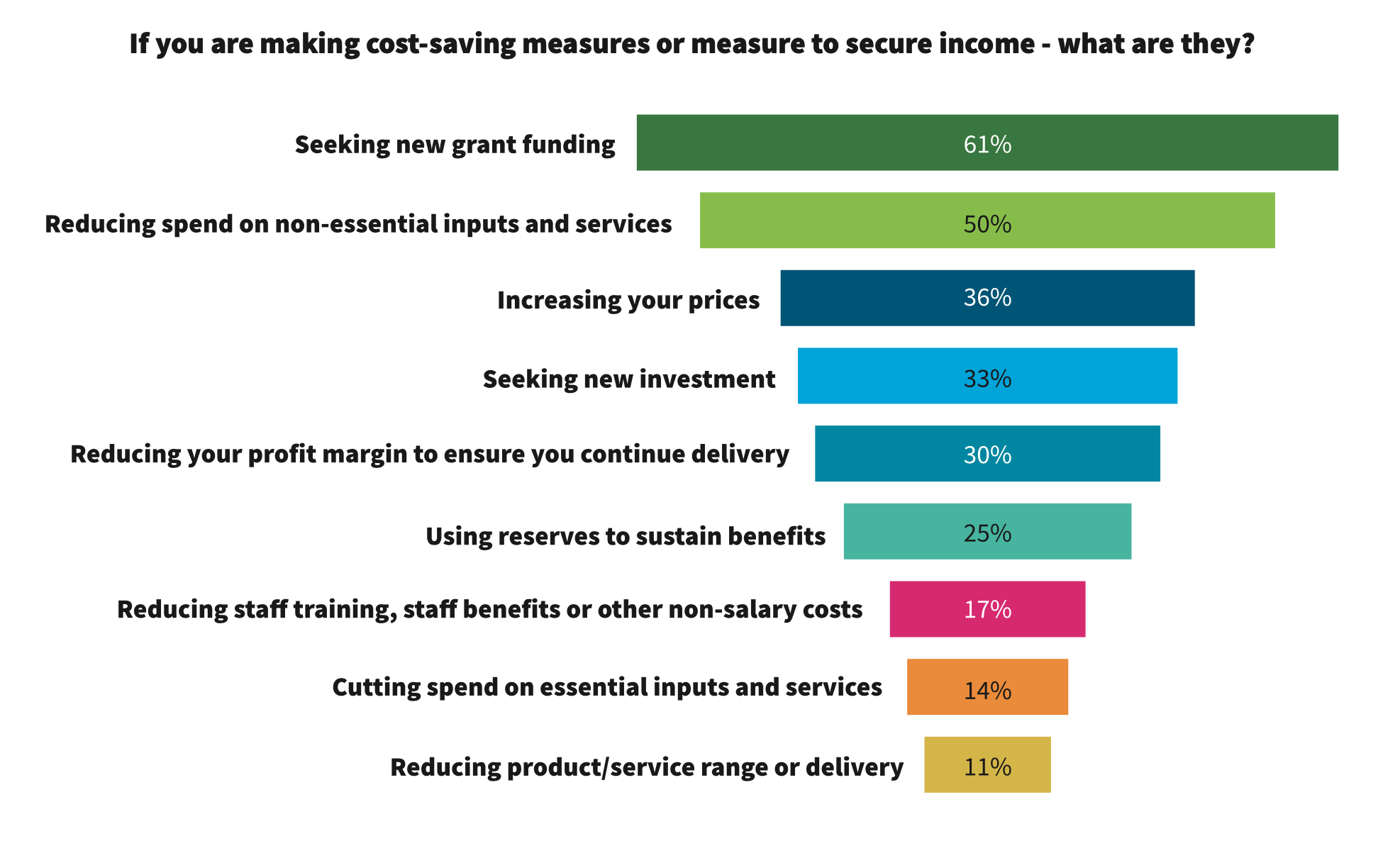 Large social enterprises – those with a turnover of more than £5m – appear to have been particularly badly hit, with 40% of them reporting a decrease in turnover, and they report being more exposed to rising costs than smaller ones. 
Regionally, social enterprises in devolved administrations have fared better than those in England, with fewer reporting a contraction in turnover and more reporting growth. The worst hit regions were London, the Midlands and the east of England.
Respondents are calling for more government support including help with cashflow, cutting national insurance and better terms and conditions for public contracts. 
Holbrook added: "Social Enterprise UK will closely monitor government support announcements as it must enable social enterprises as they tackle the issues facing our communities and our planet. It is a matter of urgency."
Thanks for reading Pioneers Post. As an entrepreneur or investor yourself, you'll know that producing quality work doesn't come free. We rely on our subscribers to sustain our journalism – so if you think it's worth having an independent, specialist media platform that covers social enterprise stories, please consider subscribing. You'll also be buying social: Pioneers Post is a social enterprise itself, reinvesting all our profits into helping you do good business, better.