Food retailer Locavore thrown crowdfunding lifeline as social investment refused amid cost of living crisis
Locavore, the UK's Social Enterprise of the Year 2021 and "shining example" of social enterprise success, resorts to crowdfunder after failing to secure social investment to help it survive cashflow crisis.
Locavore, an award-winning sustainable food retailer hailed as a "shining example" for Scotland's social enterprises, has been saved from going under by raising £74,000 through a crowdfunder set up after it was refused social investment.
The Glasgow-based community interest company, which operates four grocery shops and a vegetable box delivery scheme, launched a 'Save Locavore' crowdfunder in November 2022, saying that the cost-of-living crisis meant it faced serious financial problems after rapidly expanding the business.
Social investor Social Investment Scotland, which has previously invested hundreds of thousands of pounds in Locavore, turned down the social enterprise's application for further funding in autumn 2022, prompting the crowdfunder.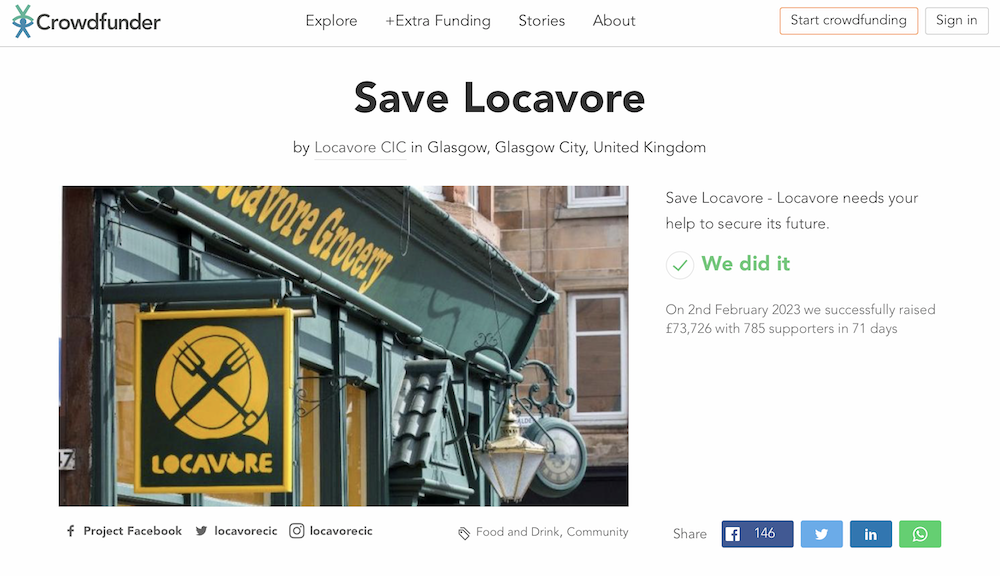 By 2 February 2023, Locavore's crowdfunder had raised £73,726 from 785 supporters, surpassing the original target of £50,000. Founder and managing director Reuben Chesters (pictured top) told Pioneers Post that he was pleasantly surprised at the level of support: "It came together surprisingly easily, which is brilliant. It's amazing to see so much support for us."
'Desperation and survival'
Chesters said that the money raised through the crowdfunder was to "buy us time". 
"It wasn't a fun crowdfunder. It was about desperation and survival," he said. "We were operating at a loss for most of last year. This is helping us through a cashflow situation. It filled a gap we wouldn't have been able to get through otherwise."
It wasn't a fun crowdfunder. It was about desperation and survival
More than 200 of Locavore's supporters have posted warm messages on the Crowdfunder platform. Comments include: "Good luck Locavore – we've been with you from the very beginning and want to see you continue to thrive!" and "We need more, not fewer people like Rueben and his team, and social enterprises like Locavore."
Locavore unsuccessfully applied to the Recovery and Resilience Loan Fund, managed by Social Investment Scotland to help charities and social enterprises affected by the pandemic, in 2022. However, Social Investment Scotland did not consider Locavore a good investment this time, in spite of being a longstanding backer of the enterprise: in 2021, for example, it gave Locavore £850,000 as part-loan, part-grant to expand the business, and it has been supporting the business since 2015.
A Social Investment Scotland (SIS) spokesperson told Pioneers Post: "Locavore is a valued customer of SIS and has been a shining example for Scotland's social enterprise sector for many years. However, the business has struggled amidst extremely tough trading conditions. SIS was in regular discussions with Locavore last year about its financial position in an attempt to find a solution. During the course of these discussions, we took many factors into consideration, including our own duty to invest public money responsibly. We left no stone unturned in trying to safeguard the future of the business, but we were not confident that further funding from SIS would achieve the required impact."
Chesters remains unhappy at Social Investment Scotland's decision, and pointed out that "a catalogue of delays" from the investor about its decision reduced Locavore's options going forward. He told Pioneers Post that he had spoken to the Scottish government about the delays at the time, and would look into making a complaint when the business was on a more secure footing.
Social Investment Scotland declined to comment to Pioneers Post about this aspect of the decision.
Ambitions to reach £9.5m turnover
The fundraising lifeline marks a rapid turnaround in the fortunes of Locavore, which was founded in December 2011. In early 2021, Locavore published its Bigger Plan setting out its ambitions to open ten shops across Scotland as well as an online shop. 
This would have seen the turnover rising from £2.6m in 2019 to £9.5m in 2022-23. Locavore estimated at the time that it would need to raise around £3m in investment to realise its ambitions.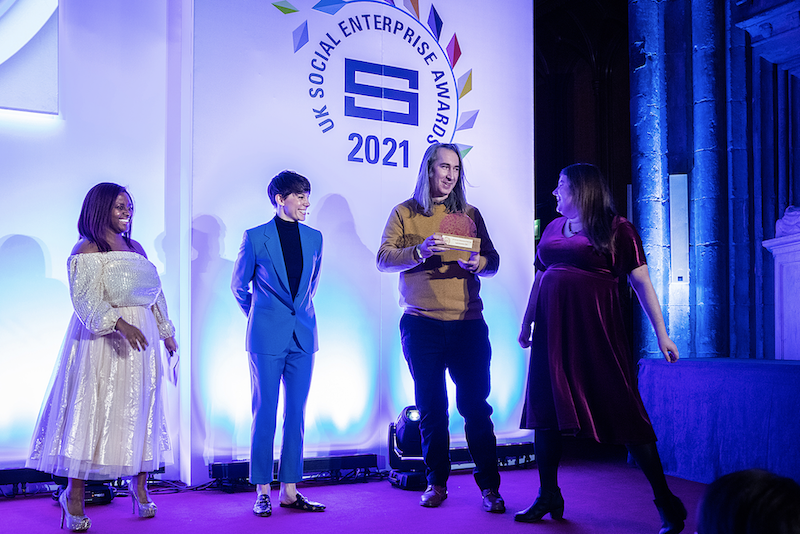 In December 2021, Locavore was named Social Enterprise of the Year at the Social Enterprise UK awards with the judges praising its phenomenal growth. And in November 2022, Locavore won the best shop prize at the BBC Food & Farming Awards.
However, Locavore said that from early 2022 "the cost of living crisis started brewing and this combined with other factors meant we knew that we had a serious cashflow problem developing". Its shops were less busy than anticipated and vegetable box orders fell. 
Locavore's managers put in place a recovery plan which included closing its newest shop, reducing staff hours, freezing recruitment and making redundancies. In 2022, Locavore's turnover was £4.6m with a deficit of £110,000. The crowdfunder, it said, was "our best shot at securing a future for Locavore and everything that we exist to achieve". 
'We need a big vision' 
In response to Pioneers Post's question about whether it was naive to embark upon an expansion in the wake of the pandemic, Chesters pointed out that other retailers had been similarly affected. "When the economy isn't good, good stuff gets disproportionately impacted and bad stuff generally thrives," he said. 
"Our Bigger Plan had already been in the background for a couple of years," he said. "We opened our Partick shop to great success."
He added that creating systems change required big goals. "We need a massive transformation in the food system. We need that vision," he said. 
And his ambitions for Locavore remain undimmed. Chesters said the social enterprise would be seeking new investment again soon. 
"Right now we are just trying to make the things we have work on a shoestring," he said. "As we get through this recovery we are hoping to build up and expand again."
Thanks for reading Pioneers Post. As an entrepreneur or investor yourself, you'll know that producing quality work doesn't come free. We rely on our subscribers to sustain our journalism – so if you think it's worth having an independent, specialist media platform that covers social enterprise stories, please consider subscribing. You'll also be buying social: Pioneers Post is a social enterprise itself, reinvesting all our profits into helping you do good business, better.