Opinion: An impact-first, participatory approach could save Dharavi from failed urban development
The Mumbai slum romanticised in the hit film Slumdog Millionaire is to be redeveloped – but current plans ignore its function as a hub of enterprise and creativity, says GreenArc Capital's Sauradeep Bhattacharyya. Sustainability-linked finance could unlock a form of development that truly benefits Dharavi's residents.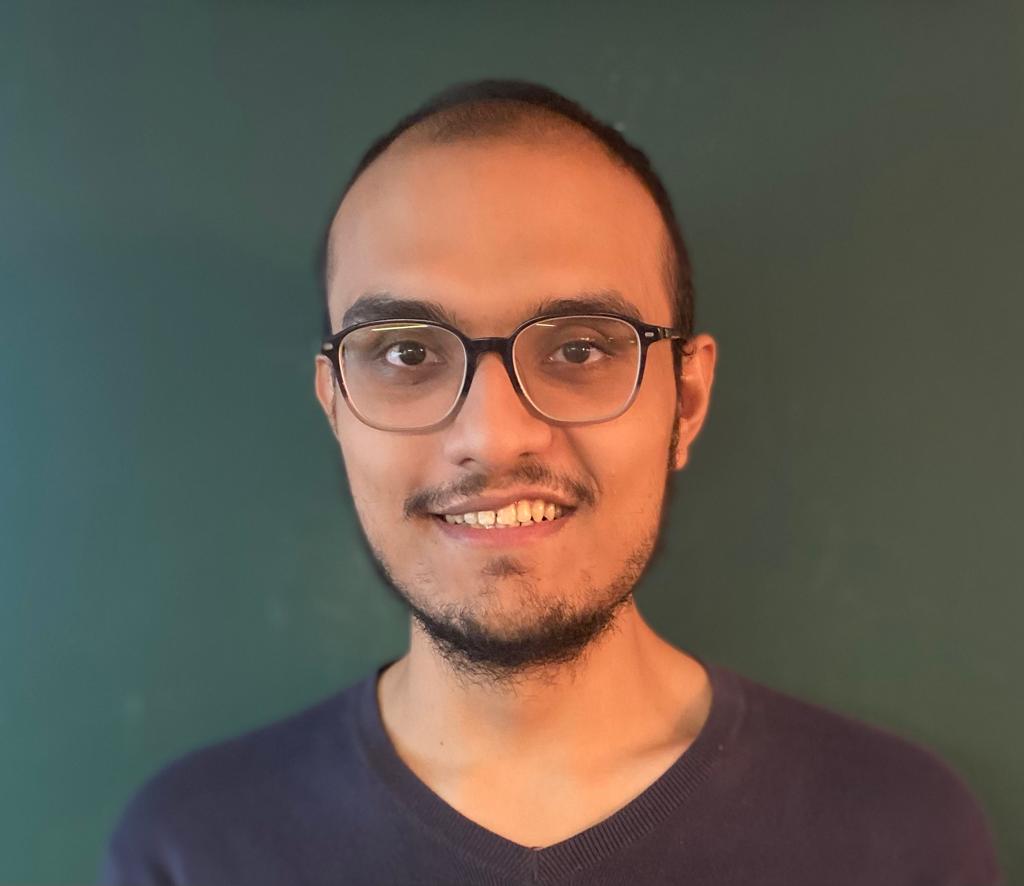 Dharavi is perceived in many different ways. Most people in the developed world know the Mumbai slum as an unplanned, dense maze of shacks, romanticised by the hit film Slumdog Millionaire. Many in Mumbai have dismissed Dharavi as a grimy space inhabited by the urban poor, burdened with the toil of their fate – an eyesore at the heart of the shining metropolis. To Indian rap enthusiasts, it is the creative bed for content creation. And for tens of thousands, it serves as a source of employment. Most importantly, to around 1m people, Dharavi is their only claim to affordable housing amid rising rent costs in India's financial capital.
Now, its future is up in the air: in late 2022, a government tender was awarded to Adani Enterprises to take on what the authorities have called "the world's largest urban renewal scheme."
Thriving, complex, diverse
Dharavi is the largest slum in India. With an area of over 2.4 square kilometres (approx. 520 acres) and a population density of over 350,000 people per square kilometre, it is also one of the world's most densely populated areas.  
To around 1 million people, Dharavi is their only claim to affordable housing amid rising rent costs
More than a third of India's urban population live in slums – a higher proportion than most other countries in the Asia-Pacific region. Based on India's last census in 2011, the slum population can be expected to continue to rise, as more people come to already densely packed cities from all corners of the country for better economic opportunities. 
Share of urban population living in slums in Asia-Pacific, 2018, by country (Statista):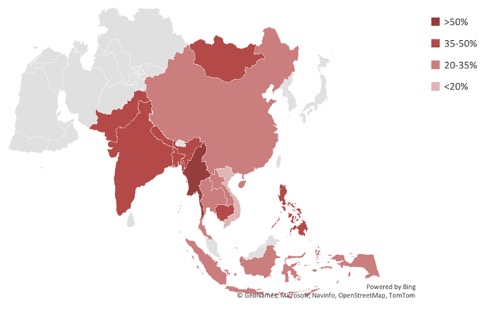 Number of slum households in India, 2001-2011, millions (Statista):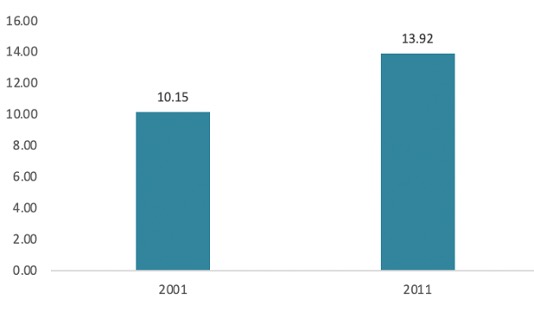 Dharavi combats the sweeping generalisations of 'squalor' that are linked to slum populations in the global South. Through its mesh of various social networks it is valuably complex and diverse in its composition. It is a thriving microcosm of human enterprise, with small industries ranging from leather, textiles, pottery and jewellery, to bakeries and recycling businesses – together creating an informal economy with annual turnover of US$1bn, according to some estimates. Most residents use their cheap homes as makeshift workspaces and get electricity, cable television and other services through non-official networks. Society here is varied with different religions, castes and occupations living together in relative harmony with a strong imbibed sense of community.
There is undoubtedly a need for development in terms of infrastructure, sanitation and hygiene. However, to achieve inclusive urban development – a target under UN Sustainable Development Goal 11 – it is pivotal that we recognise the vitality and variety of ways in which 'Dharavi-ites' have created their own environment.
Dharavi is known for its rap/hip-hop subculture – including hip-hop collective M-Town Breakers:
A missed opportunity
Redevelopment of Dharavi, in its current state, was first envisioned in 2004, by the Maharashtra state government. The project seeks to convert Dharavi into high-rise buildings and to re-house the current slum dwellers in a portion of these new residential towers. However, the programme has run into widespread opposition from slum-dwellers. (Adani Enterprises' plans have not been made public, however it is assumed they will follow the government's 2004 plan, upon which the tender was based.)
Although the redevelopment plan looks reasonable on paper, it involves a myriad of complexities. Given the social and economic fabric of Dharavi, displacement would involve residents losing more than their physical homes. Their new residences would be devoid of any of the informal social security structures and additional economic opportunities, from borrowing money from neighbours to using part of their home as an informal workshop, which they currently rely on. Thus, they would not only be losing what they now consider their 'home' but also their livelihoods and community. Any gains from the better living conditions that the redevelopment promises would, critics fear, be unravelled.
The key issue with the current proposal is that it appears to completely exclude the Dharavi residents from the decision-making processes. It also apparently excludes NGOs in Dharavi, which have experience in working with residents and upgrading informal settlements, and are therefore well-versed with the needs of the residents. This is a missed opportunity in empowering participation in Dharavi redevelopment.
Their new residences would be devoid of any of the informal social security structures and additional economic opportunities
Another point of concern is that, in order to attract private investors to the development project, the state has capped a very high floor space index (or FSI, the ratio of commercial to non-commercial space), which means more space to be sold by developers, and less space for Dharavi residents to be rehoused.
The land that Dharavi occupies has an estimated value of over US$1.3bn, due to its prime location near Mumbai's new central business district. Demand for valuable urban real estate has seen commercial players setting high FSIs. Fears have been expressed that this would essentially involve stripping residents of their living and working spaces, and cramming them into high-rise apartment blocks. High costs of maintenance associated with high-rises, including electricity costs from elevator operations and other ancillary costs, may also make it unsustainable and a burden for residents in the future.
A new game plan: participatory design
For sustainable redevelopment of Dharavi, it is imperative to ensure participation in the decision-making processes, by informing residents and giving them a say in their future relocation. But the status quo relies heavily on attracting private investors first, considering residents' needs second. For traditional private investors, financing is dependent solely on the profitability of the project.
This is where sustainable finance and the emerging wave of sustainability-linked lending in the country can provide a solution. Social and sustainability-linked lending for affordable housing in India has seen a pickup recently with the 'Housing for All' initiative launched by India-based mortgage lender HDFC. This initiative has secured a US$1.1bn syndicated facility to finance affordable housing in India.
This news is especially heartening in the context of redeveloping Dharavi. If private capital is channelled to the Dharavi Redevelopment Project through such a structural shift in financing, it would incorporate residents' voices into the decision-making matrix, making redevelopment feasible for the government as well as the residents. This alternative strategy would provide slum residents with funds to undertake infrastructure upgrading, acquire titles to the property they occupy and facilitate rehousing when required. This would catalyse 'de-slumification' in tandem with economic development, precluding the need for demolishing whole communities.
This would catalyse 'de-slumification' in tandem with economic development, precluding the need for demolishing whole communities
The game plan we propose (drawing on the expertise of many others) would involve dividing Dharavi into residential blocks based on surveys of population, households, structures, ownership and topography while also instituting committees to supervise the redevelopment of collectively managed land. This could be done by the State in collaboration with NGOs like SPARC and PROUD who have experience with housing the urban poor, and who could also potentially serve as ideal beneficiaries of the private debt acquired, to ensure empowered participation. The relatively high average literacy rate of Dharavi (at 69%) also makes participatory design feasible here.
Analysis of green, social and sustainability-linked debt market in India (Climate Bonds Initiative):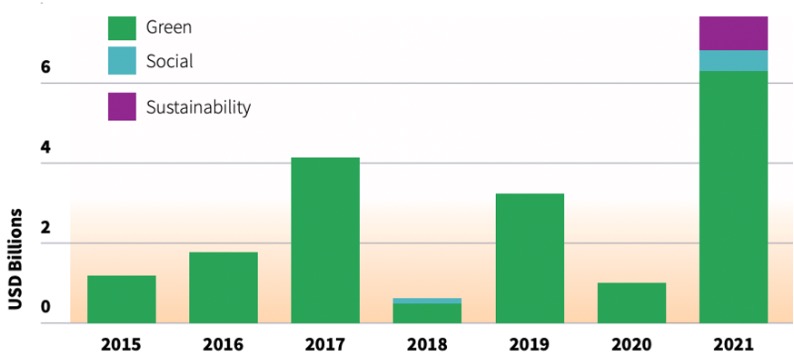 Rise of social and sustainability-linked debt issuance in India, 2018-2021 (Climate Bonds Initiative):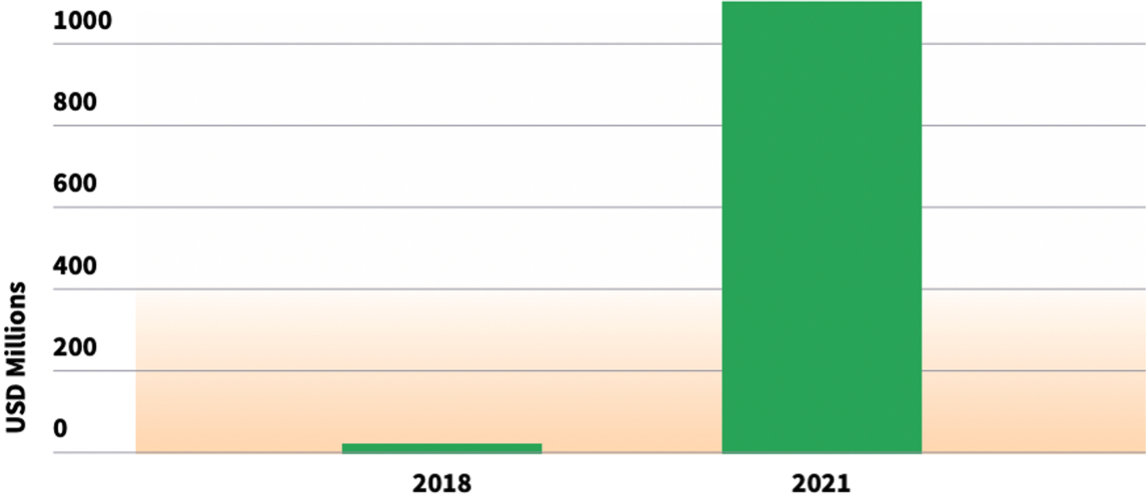 Defining social return
A key feature in sustainability-linked lending frameworks is the quantification and tracking of sustainability outcomes. This is primarily to ensure accountability in the use of funds. In the setting of Dharavi, measuring the sustainability and impact of funds deployed would involve quantifying and reporting on whether the residents are actually better off following redevelopment. For example, checking if they have access to better living conditions (improved sanitation and hygiene facilities, etc) as well as continued or improved access to their livelihoods and communities. This would constitute the social return for any sustainable finance invested. Defining social returns alongside financial returns is not only useful for sustainability-linked lenders looking to quantify their impact, but also for borrowers/developers, who can attract more sustainable finance from institutional lenders based on their sustainability score.
One approach to do this is to identify key social and economic indicators that represent the targeted impact objective. There are many established and recognised principles and frameworks to align these indicators with, including the UN Sustainable Development Goals and the Impact Management Platform's five dimensions. The development outcomes can then be assessed relative to international and national benchmarks to ensure that we view the impact in the context of where it is being created. A key element of an impact framework is calculating the additionality of such a project – ie, because of the financing provided in this way, certain outcomes were achieved that otherwise may not have been. One of the ways that quantitative evaluation of additionality could be enabled is through a weighted evaluation of the societal and economic effects that occur with and without the project conditions as captured by key indicators. Technically, this would look like revamping the Battelle Environmental Evaluation System with social elements.
In the context of Dharavi's redevelopment, such a framework of impact measurement would be pivotal in invoking a participatory, design-based development system where FSIs would need to be complemented with impact and sustainability scores. This would create a solution suited for both developers and residents.
The Global Steering Group for Impact Investment has stressed the particular need for impact capital to fund slum upgrading in the global South, as public funds fall short to meet the US$6tn needed to lift 1bn people out of slum conditions. They have also highlighted the purchasing power and benefit to tax revenue that can be achieved by unlocking the potential of slum redevelopments.
Dharavi could offer a great test case to measure sustainability and impact in project financing to transform these urban liabilities into assets. Given the enormous risks associated with unregulated slum redevelopments in terms of human rights violations, loss of livelihoods and non-inclusive growth, it is imperative to adopt a more focused strategy in the creation of financial instruments and solutions that direct sustainable private capital investments into slums. If capitalised well, this is an incredible opportunity for purpose-driven investors to deliver impact at scale, while meeting their financial return objectives.
Top picture by Ron James on Pixabay
Thanks for reading our stories. As an entrepreneur or investor yourself, you'll know that producing quality work doesn't come free. We rely on our subscribers to sustain our journalism – so if you think it's worth having an independent, specialist media platform that covers social enterprise stories, please consider subscribing. You'll also be buying social: Pioneers Post is a social enterprise itself, reinvesting all our profits into helping you do good business, better.