New African strategy praised for recognising significance of social enterprises in informal economy
African expert hails continent's first social and solidarity economy strategy for acknowledging those social entrepreneurs who are most isolated from policymakers, but most connected with their communities. This is the first step to supporting them, says Kerryn Krige at SEWF Policy Forum.
Africa's first strategy for the social and solidarity economy is "transformational" for policymakers because it recognises that most social entrepreneurship happens in the informal sector.
This week's online Social Enterprise World Forum (SEWF) Policy Forum opened with a panel discussion about how social enterprise is being recognised around the world by bodies such as the European Union, International Labour Organization, the Association of Southeast Asian Nations Secretariat and the United Nations.
One of the speakers, South African Kerryn Krige, senior lecturer at the London School of Economics, pointed to the African Union's ten-year strategy for the social and solidarity economy, which covers 2023-33 and which was agreed by social economy organisations, governments and workers' organisations at the end of 2022.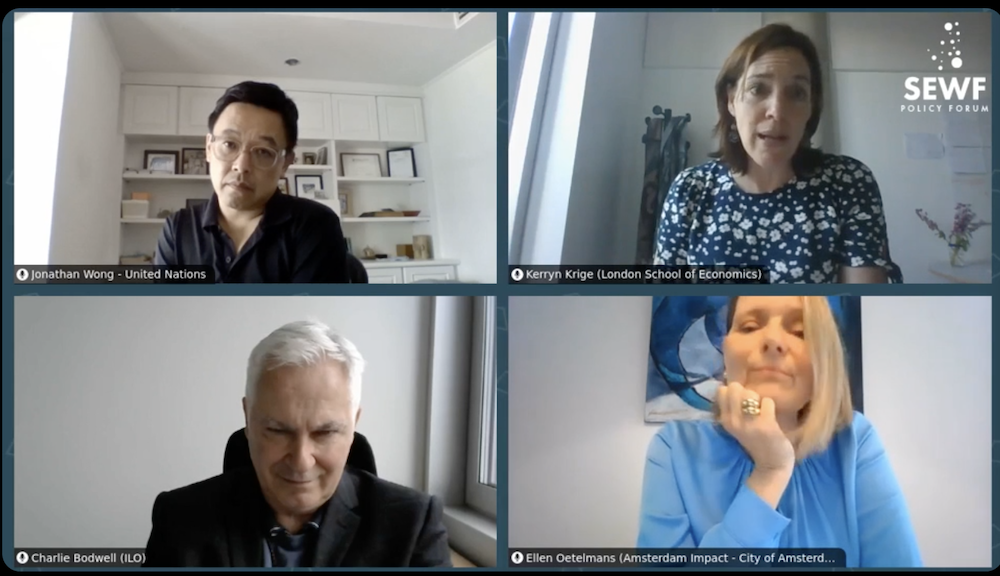 She praised the document for acknowledging that social entrepreneurs in Africa often run tiny, unregistered enterprises. This, she said, provided the starting point for supporting them more effectively.
The informal economy is where the majority of social entrepreneurship happens. As policymakers, acknowledging this is transformational
"The informal economy is where the majority of social entrepreneurship happens," she said. "As policymakers, acknowledging this is transformational… Our role as policymakers to support them. It's a profound shift in our thinking. The strategy really does deserve a pat on the back."
Bridging tradition and modernity
The African document, The Social and Solidarity Economy in the African Union: ten-year strategy and implementation plan (2023-2033), states that not all social economy organisations are registered. It adds: "Many are community-based micro-enterprises that bridge formal and informal sectors, tradition and modernity." 
They include women's self-help groups, community-based irrigation systems, burial societies and alternative finance schemes.
These social entrepreneurs, emphasised Krige, were deeply embedded in their communities and had people's trust, especially in places where government services didn't reach.  
"Now we have to understand the nuance of what social entrepreneurship looks like across the continent," said Krige. "Then develop the pipeline of support."
The people we really need to be hearing from are invisible to us
She added that she was fed up of hearing about how much money was available for Africa through impact investment: "The majority of social entrepreneurs are isolated and excluded… We need to support micro-enterprises and shift the conversation away from big-scale impact investment."
Reaching out to these grassroots social entrepreneurs would be a challenge, she emphasised. "How much effort do we put into hearing from the folk that are hard to reach? We talk on behalf of them rather than with them. The people we really need to be hearing from are invisible to us. We really need to keep putting extraordinary effort into constantly engaging, so these invisible people become visible and can thrive."
The African strategy is currently not available publicly online. We will share it with Pioneers Post readers when it is.
Header photo: A woman selling fried fish on the streets of Lilongwe in Malawi. She is part of a co-operative supported by the ILO. Photo by Marcel Crozet/ILO, reproduced under this Creative Commons licence.
Thanks for reading our stories. As an entrepreneur or investor yourself, you'll know that producing quality work doesn't come free. We rely on our subscribers to sustain our journalism – so if you think it's worth having an independent, specialist media platform that covers social enterprise stories, please consider subscribing. You'll also be buying social: Pioneers Post is a social enterprise itself, reinvesting all our profits into helping you do good business, better.