New Hong Kong Institute of Philanthropy aims to raise Asia's voice in global giving
Inauguration of "think-fund-do" tank backed by the Hong Kong Jockey Club follows launch of Asia Community Foundation, as region's philanthropic movement steps up a gear.
A new Institute of Philanthropy launched this week in Hong Kong with a mission to influence philanthropy across the world and promote Asian perspectives.
The "think-fund-do tank" was announced by the Hong Kong Jockey Club on Monday at the opening of its Philanthropy for Better Cities Forum.
Speaking at the launch, chief executive of the Hong Kong Special Administrative Region, John Lee (pictured), said: "Hong Kong is determined to play an increasingly important role in advancing philanthropy and the social impact it can make.
"The establishment of the Institute of Philanthropy will, I am confident, go a long way towards realising the Hong Kong SAR government's goal of building Hong Kong into a leading international centre for philanthropy."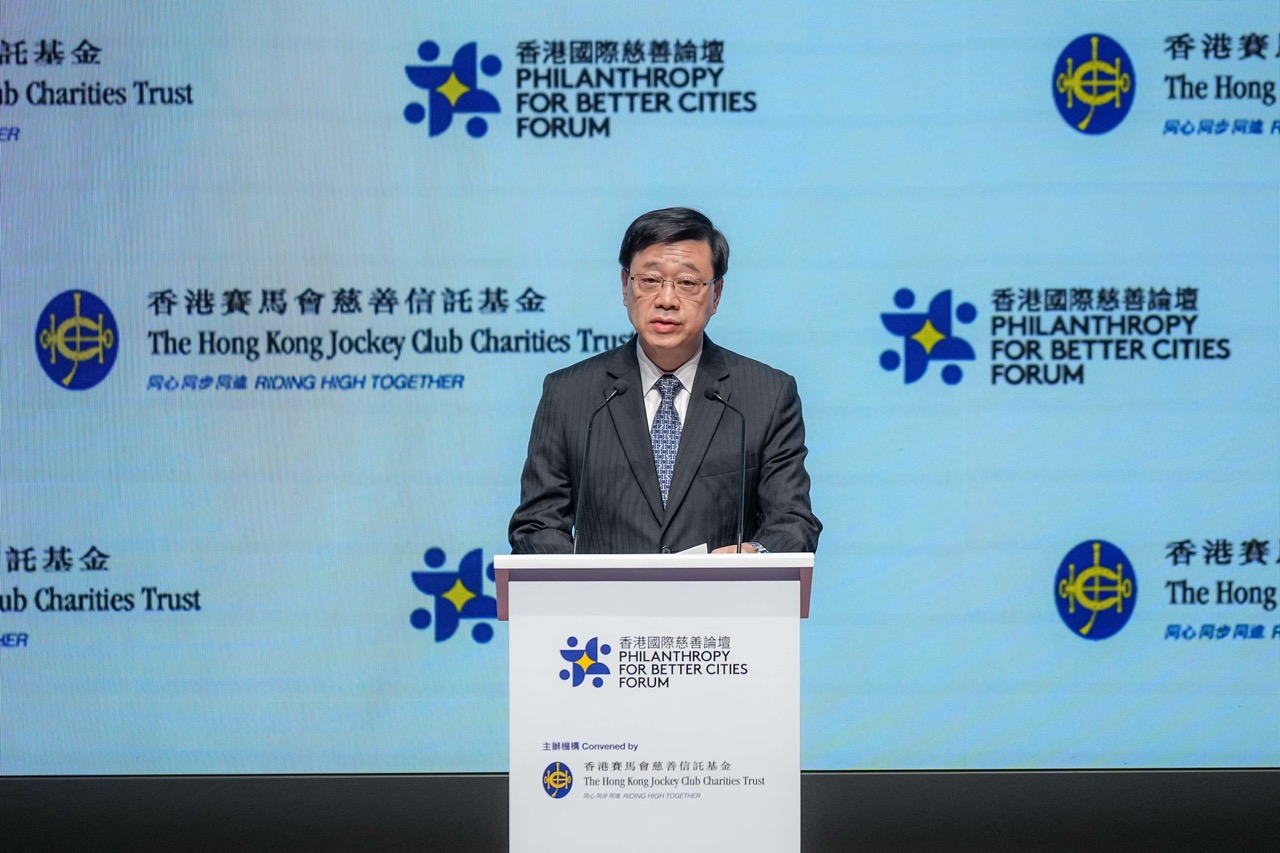 The institute is seeded with HK$5bn (nearly €600m) from the Hong Kong Jockey Club and is described as a "think-fund-do tank for China and Asia, promoting philanthropic thought leadership at local, regional and global levels together with fellow foundations, philanthropic stakeholders and other institutions". 
Winfried Engelbrecht-Bresges, CEO of the Hong Kong Jockey Club, said the Institute would be "a place to bring the best ideas and minds together". He said it would publish ground-breaking research and build the capacity of professionals in the philanthropic and non-profit sectors. 
He added: "We see it also providing a much needed Asian voice in the global debate on philanthropy."
We see the Institute of Philanthropy providing a much needed Asian voice in the global debate on philanthropy
The Hong Kong Jockey Club is a racing business that channels income from its betting and lottery activities to charitable causes. It is Hong Kong's largest single taxpayer and in 2022-23 gave HK$7.3bn (nearly €900m) in donations. 
The importance of the Asian perspective
Naina Subberwal Batra, the CEO of Asia's network for social investors AVPN, wants to see the Asian perspective considered more in global conversations about philanthropy and social investment. In the summer, she spoke to Pioneers Post about how Western philanthropists should look to Asia for new models of giving.
She told Pioneers Post: "The Hong Kong Jockey Club is a longstanding, valued member of AVPN and we have enjoyed many impactful collaborations with them. We are so pleased that they have established the Institute of Philanthropy and we see this as the Hong Kong Jockey Club's commitment to building and strengthening the ecosystem in the region to drive the much-needed impact on the most pressing issues in the region."
At the start of 2023, Pioneers Post identified China's Greater Bay Area, which includes Hong Kong, as one of the places to watch this year for the development of impact investing. 
Asia Community Foundation launches in Singapore 
The launch of the Institute of Philanthropy comes a few days after the Asia Community Foundation opened in Singapore on 8 September. This funding platform, incubated by the Asia Philanthropy Circle, offers a vehicle for philanthropic donors across the region to invest in non-profits.
The foundation aims to administer S$150m (€100m) a year by 2030 and includes among its partners the Bill & Melinda Gates Foundation. 
Laurence Lien, CEO of the Asia Community Foundation, said there had been an increase in ultra high net worth people and family offices wanting to contribute to philanthropic causes in Singapore and the wider region. "More of these individuals and families are prioritising philanthropic efforts that are not just aligned with their personal values and goals, but also ones that are sustainable with a long-lasting impact on communities at large."
He added: "We see potential in driving strategic philanthropy in Asia from Singapore in tandem with the nation's goal to position itself as a regional philanthropic hub."
Header image: The Institute of Philanthropy is launched at the opening ceremony of the Philanthropy for Better Cities Forum
Thanks for reading our stories. As an entrepreneur or investor yourself, you'll know that producing quality work doesn't come free. We rely on our subscribers to sustain our journalism – so if you think it's worth having an independent, specialist media platform that covers social enterprise stories, please consider subscribing. You'll also be buying social: Pioneers Post is a social enterprise itself, reinvesting all our profits into helping you do good business, better.