VC investment into impact startups plummets worldwide in 2023 – Dealroom research
Latest figures launched at ImpactFest show downward trend in impact venture capital funding continues to gather pace since 2021's high point.
Global venture capital investment into impact startups is predicted to drop by 36% this year, a further decline from 2022, the latest figures from startup data platform Dealroom reveal. 
Impact Startups 2023, launched today at ImpactFest in the Netherlands, bases its findings on the Dealroom Impact database, which gathers information on more than 17,000 "impact startups". Impact startups are defined as companies that address one or more UN Sustainable Development Goals (SDGs) at the core of their business and have the potential to scale.
The report shows that impact startups have raised just over $41bn so far this year with a projected total of $48.1bn. This is down from nearly $75bn last year and indicates a drastic global slowdown in venture capital funding for companies involved in climate tech, renewable energy, circularity and social justice. The report authors point out that the trend is worrying because none of the 17 SDGs is on track to be achieved by 2030.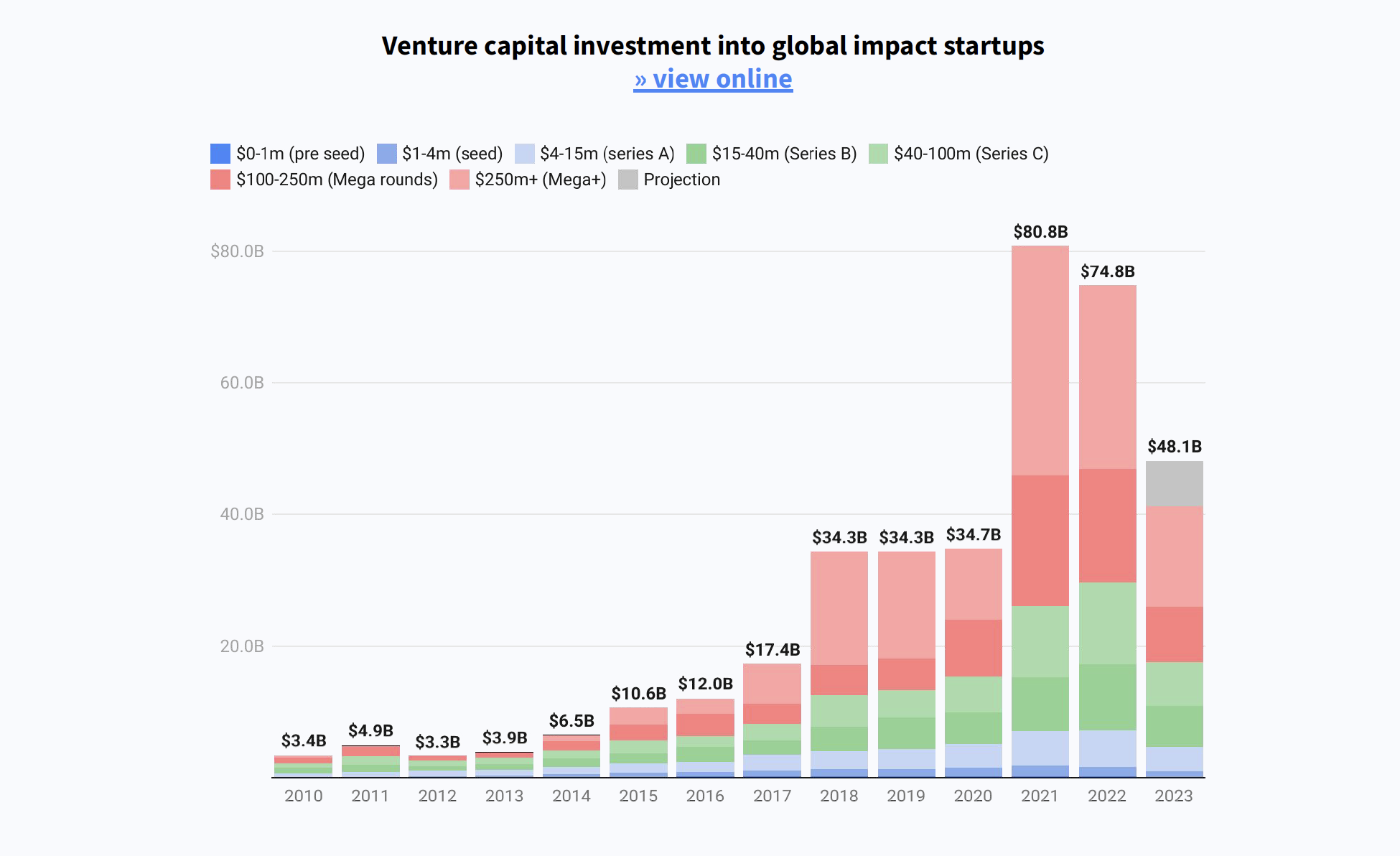 The slowdown comes amidst a decline in the venture capital market in general, a trend that was also seen in the 2022 report. However, Coos Santing, programme leader of ImpactCity, The Hague's municipal initiative to support impact enterprises and organiser of ImpactFest, told Pioneers Post that, whereas last year "impact was doing better than the majority of the market", this hadn't been the case in 2023.
What has remained constant in the past few years is that climate tech and affordable energy, despite experiencing a 35% drop in venture capital investment, are still the most funded SDGs, while startups addressing people-related UN SDGs are underfunded. 
We need to put more funding towards entrepreneurs and funds in Africa, Latin America and Asia
Lorenzo Chiavarini, venture capital research lead at Dealroom, said: "If we were talking about fintech, and there was less money in that, we can survive. In climate we have an objective, and we cannot [afford to] miss one or two years, so we need the money now." 
The report shows that impact startups are now worth a combined $2.4tn. 
Less VC interest in Global South
The data from the report also shows that low and middle income countries are attracting just a 5% share of global impact funding, despite housing over 50% of the global population and being the most exposed to the effects of climate change. Despite this, very few climate-focused funds establish themselves in low-income countries.
Santing said: "This report has been really helpful for us [because it has shown us that] the real problem is not here in Europe. We need to put more funding towards entrepreneurs and funds in Africa, Latin America and Asia. It's important that we don't just make this a local thing, but think about it internationally from day one."
When asked why there had been such a large drop in impact venture capital investment, Santing said that some investors were "still in [the market] for the financial returns" and weren't willing to take risks. 
"We should all be risk-takers. We should really dare to risk a little bit more, especially if we want to achieve SDGs," he said.
The report revealed Europe has surpassed the US as top funder of impact startups this year, with the Netherlands performing highly compared with the European average.
Santing, who is based in The Hague, added: "We are able to reach our targets but if the rest of the world isn't able to do so, then what's the point?'
Our reporter, Estelle Uba, is in The Hague this week, reporting from ImpactFest
Thanks for reading our stories. As an entrepreneur or investor yourself, you'll know that producing quality work doesn't come free. We rely on our subscribers to sustain our journalism – so if you think it's worth having an independent, specialist media platform that covers social enterprise stories, please consider subscribing. You'll also be buying social: Pioneers Post is a social enterprise itself, reinvesting all our profits into helping you do good business, better.