HCT's Dai Powell named social enterprise leader of the year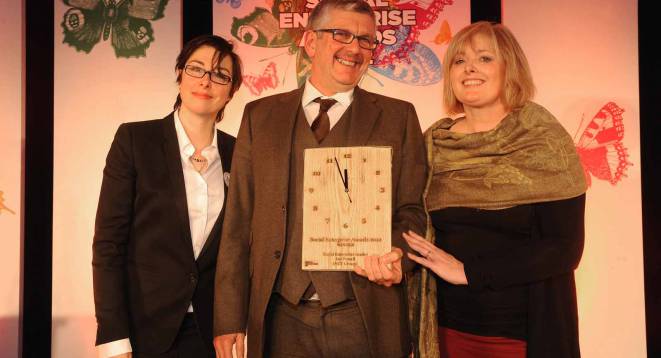 Dai Powell, chief executive of community transport organisation HCT Group, was named Social Enterprise Leader of the year at the UK Social Enterprise Awards 2012.
The awards, now in their 14th year, are organised by Social Enterprise UK. The winners were presented with their Elvis & Kresse-made awards by comedian Sue Perkins on the evening of 12 November.
Lifetime achievement awards were presented to founding chair of the Social Enterprise UK Baroness Glenys Thornton and founding Social Enterprise UK CEO Jonathan Bland.
The other winners were:
Start-up social enterprise: Bristol Together CIC. Buys and refurbishes empty, substandard properties. First year sales revenue of £2.3m will be reinvested into buying further properties.
UK social enterprise: East Belfast Mission. Provided 24,500 meals to older people and homeless people during last year. Also accommodated 57 homeless people and helped more than 100 people back into work.
Social enterprise supporter: International Network of Street Papers. This four-person Glasgow-based team supports 120 street paper social enterprises in 40 countries.
Youth-led social enterprise: Music Theatre 4 Youth. Has engaged 2,000 young people in musical theatre over the past seven years.
Evidence of impact: HCT Group. Measures its impact using a scorecard which is reviewed twice a year. In 2011/12 HCT Group provided nearly 300,000 passenger trips for disadvantaged people and community group members, a 16% increase on the previous year.
Social entrepreneurs: Jayne Hulbert and Jayne Cresswell, The SWEET Project. Deliver work experience placements to social work students and family and child protection support for at-risk families in Birmingham. The organisation is likely to be replicated in other cities.
Social enterprise town: Alston Moor, Cumbria. There's a hot-bed of social enterprises and community-owned businesses in this small rural community with an annual turnover of £1m.
Social enterprise champion: David Adair, head of community affairs at PwC. David's vision led to the development of The Fire Station social enterprise hub in London which is now home to several social enterprises.
Finance/investment deal: Social Investment Scotland. Has invested more than £43m in 180 social businesses since 2001. This year it invested £15m in the first Scottish windfarm to be developed by a commercial company in partnership with a community.
Employee/volunteer: Gillian Gilsenan, resettlement worker for Vision Housing. Gillian was supported by Vision Housing in 2011. Once she was resettled, she became a volunteer and is now a full-time paid employee and board member.
Social enterprise transition: Accelerate CIC. This organisation provides a clinic for people with chronic wounds and unmanaged lymphoedema and has successfully developed from being a small NHS service to an independent business.
Best new product/service: Glasgow Credit Union. The UK's largest credit union with 30,000 customers now provides consolidation loans as well as encouraging its members to save.
International social enterprise: Shenzhen CANYOU Group. The biggest social enterprise in China employs people with disabilities and helps them start businesses or find jobs.