Good Deals 12: 'City must discover public purpose'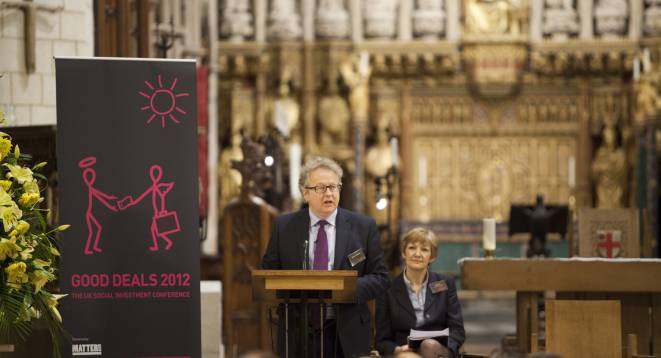 'Business is about the common good and humans flourishing.'
This is what former lawyer and City critic James Featherby told the audience at the inaugural Good Deals lecture on Wednesday evening.
Speaking in Southwark Cathedral, Featherby laid out his ideas for reform of the City of London following the devastating financial crisis of 2008 and 2009.
He thanked the audience – 'the social investment and social business universe' – for reminding us what good business was about.
He said: 'You have reminded us that business is not about the struggle between capital and labour. It's not about a compromise between development and the environment. And it's not about putting a respectable veneer over the face of self-interest and ambition.'
He emphasised that City institutions needed to focus on their real purpose rather than seeing customers simply as revenue streams.
'I believe that it's only by rediscovering public purpose that the City can find the direction, momentum and passion it now needs to find a new way forward,' he said.
In the discussion after the lecture, Featherby suggested that it might take a long time for people like those in the Good Deals audience to influence the cultural change that they wanted.
'There's something very exciting about the people who put this stuff into practice,' he said. 'In your business you might change the lives of 100 or 1,000 people but if what you are doing is an inspirational model it will inspire many more – maybe not in your generation but in generations to come.'
Speaking from the audience, Nigel Kershaw, chief executive of Big Issue Invest, said: 'I think this room is full of wonderful people trying to reform business, but the change needs to take place in the hearts and minds of individual people – that's where the power is.'
Good Deals continues throughout Thursday. Follow the latest news on Twitter @PioneersPost, #gdeals12