21st century citizenship the RSA way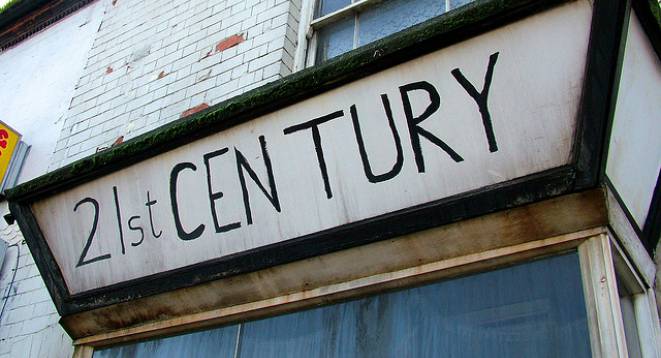 Instilling a concept of 21st century citizenship in the public mind is where we should be headed says Matthew Taylor, chief executive of the RSA. But how do we encourage it and what does it really mean in terms of policies and actions? David Floyd interviews Matthew Taylor about posing questions and slagging off your own team.
"We argue that we need citizens who are more resourceful – so better able to meet their own needs - more entrepreneurial and more altruistic, willing to give back to the collective good. All of our work, one way or another, revolves around how we foster that kind of 21st century citizenship."
So says, Matthew Taylor, chief executive of the Royal Society for the encouragement of Arts, Manufactures and Commerce (RSA). In a recent blog post, Taylor, a former head of the Number 10 Policy Unit under Tony Blair, noted that, "The best description of the Society – favoured by its most distinguished historian – is an organisation that sticks its nose into anything interesting." 
The current economic circumstances provide the organisation, whose works ranges from research, to sponsoring academy schools and piloting new approaches to public service delivery, with plenty of interesting things to stick its nose into. 
For instance, local authorities are desperately search
ing for ways to do more with less money and Taylor believes 21st century citizenship could provide part of the answer. "If the public made wise and responsible decisions all the time we could probably halve the public sector and improve outcomes but, this is the big question, is it possible to foster more pro-social ways of thinking and being? Do we know what those ways are? And can it be done to scale?"
Taylor cites rubbish collection as an example of a public service that has been fundamentally changed through pro-social co-production (people doing some stuff themselves so that public services have to do less). He says,  "50% of household waste is now recycled because we are willing to manage our own refuse. If we all put our rubbish into a sack together and the local authority had to separate it out, it would be unaffordable and much more wasteful. Now, what is the kind of equivalent in health, education, social care, and all the other public services, of that kind of shift?"
While he's enthusiastic about a bigger role for citizens in citizens in service delivery, Taylor is dubious about whether the government's shift towards payment-by-results models for back-to-work services and, as announced recently, probation will have a positive impact. 

He explains, "It's based upon an ideological presumption that the private sector has got some kind of secret capacity for innovation which is absent in the public sector. I don't think there's any evidence that that's true."
This is not because he's opposed to the private sector having role in delivering public but because he feels models such as the Work Programme end up promoting, "skimming and parking, skimming the easiest clients and parking the hardest clients" with the result being, "there's not much innovation taking place." 
For Taylor another key challenge for payment-by-results models is, "how do you get innovation to spread across the system?" 
He cites an example from mainstream commercial markets. "Look at
something like mobile devices. You get a lot of innovation in that sector because when I produce a new mobile device, a competitor the second I produce it can open it up, take it apart, look inside it and then improve it."
That doesn't work so well with person-to-person services, "Often what's happening within Work Programme and areas like that is, if there is any innovation, companies are desperate not to share it with (their competitors elsewhere in) the sector. You've really got to have a transparent glass box that people can look into and see where the best stuff is and try to improve it."
Taylor suggests some services might be measured more effectively using a 'mystery shopper' model. "You would say to a provider – or a consortium of providers – we're going to send people round on an incredibly regular basis who are going to pretend to be unemployed and see what you offer them. So you provide welfare to work services in this area and it's completely up to you how you do it and what your client mix is, you've just got to use the money you've got to (promote) the work opportunities for the community as a whole."
This enthusiasm for innovative, less bureaucratic approaches to social change is part of what makes both Taylor, and the RSA as an organisation, keen supporters of social enterprise. "What do entrepreneurs want? They want autonomy. They want the ability to be in charge. They want the possibility to grow it themselves and make a difference, make an impact. What drives people with social concern is the desire to make the world a better place. That's what interesting about social enterprise, that combination of motivations."
The RSA supports a thriving Social Entrepreneurs Network, drawn from amongst in 27,000 fellows, who meet on a monthly basis and also runs Spotlight, a quarterly series of events that draws on case studies of fellow-led social enterprise to provide support to others. 
Taylor's enthusiasm for social enterprise is not entirely unqualified. "Someone once said about George Orwell that he was the season ticket holder who spent every Saturday afternoon slagging off his own team and that's always been my mindset."
"I think social enterprises are great but put me in a group of social entrepreneurs and my first instinct is to challenge them and say 'why do you have to be a social enterprise, why can't you just be an ordinary private company?', 'what makes you different from being an arm of the local authority?'. I want to ask these questions. But I think the social enterprise sector is not ossified, it's more willing to have these conversations: that's what's great about it."