More than cupcakes at the Social Leadership Awards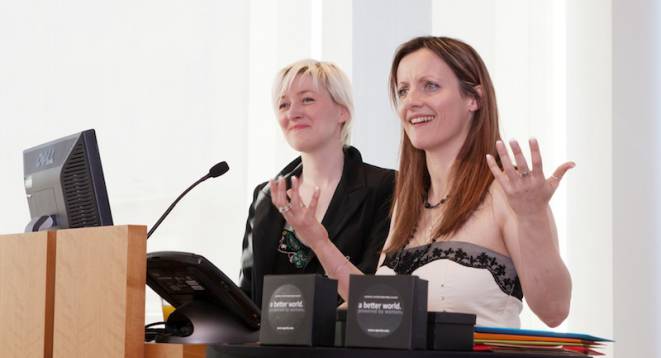 Female entrepreneurialism is about more than cupcakes and kitchen table ventures. These were the sentiments of Servane Mouazan, founder of women's network Ogunte, as she presented the 7th Ogunte Women's Social Leadership Awards on Tuesday night. Read the story and then listen to the audio.

In a Holborn room overlooking London's pastel-coloured skyline, Servane Mouazan 
championed the women slicing into the core of social problems and "injecting innovative change". 
"We're not about cupcakes and massages and glossy magazines, there is some serious stuff going on and women are at the forefront of identifying issues for communities. And, not just with children and education, but in technology and all sorts of arenas," she told a booked out event of 75 women and 10 men.

Conversations in every bar or social networking site in 2013 are increasingly centred around us feeling financially poor and experiencing a stronger pull towards finding work that means something (hopefully without becoming even more skint). And, significantly, the top two award-winners were driven by these issues. 
Brighton-based Benita Matofska, who won Women's Social Leader of the Year, passionately believes we can feel less poor, and have our needs and wants met more economically through growing the 'sharing economy'.

She founded the sophisticated website 
compareandshare.com
 which aggregates sharing opportunities. She's started with car journeys and is building to house swaps and shares, tools, games, food and more. 
"We became obsessed by ownership in the eighties and having better than everyone else, but in the future we are going to have to share more to survive as resources become more scarce," she told me. 
She wants Compareandshare to do for the sharing economy what Ebay has done for the second hand market.
"I think what Benita has honed in on is the next big thing for society, her stats show that the sharing economy is already saving us millions of pounds," Mouazan said.

The panel of 10 judges from around the world chose Sofia Bustamante for the People's Vote Award.
 

Her venture, London Creative Labs (LCL), trains people in deprived areas to become community careers coaches and helps others start their own social and ethical businesses, so they drive money into their local economy in a positive way. She's currently based in Brixton and often works with social housing tenants.
"We encourage people to see what's needed in their community and then look at what they can offer.
The change in people has been unbelievable," she said. 
She talked about a recent LCL graduate being paid and contracted by her local job centre to provide career coaching and about the guy who got his comic published after LCL helped him discover and sell his skills. 
"These awards often give us a lot of insight into society," said Mouazan. "And, what we saw this year was that our finalist were very focused on new ways to manage the economy and around seeing people as assets in their communities, not liabilities." 
She purposely chose the 4 June, to mark the 100th anniversary of suffragette Emily Davison throwing herself in front of the king's horse – and dying - for women's rights.

We might not see such acts these days, but women are behind the scenes, deeply changing the fabric of society and they need to champion themselves more readily, talking about the solutions they know that can serve society and the planet, she said. "We need to hear them."
Check out the audio here: 

Servanemouazan.m4v
The full list of finalists can be found
here.