The Social Pitch Contest to spice up Social Enterprise World Forum 2013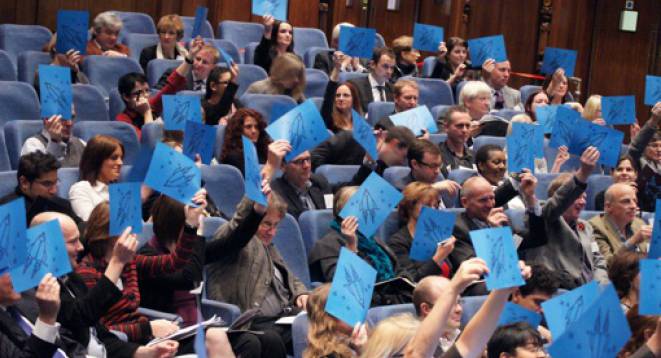 The Social Enterprise World Forum launches a Social Pitch Contest as part of the globally significant social conference, which is shaping up to be a hotbed of social action.
At the Social Enterprise World Forum, an annual global gathering of the social sectors and being hosted in Canada this year, speakers and attendees will come together to discuss the use of markets and innovations to solve the world's most complex challenges.
A portion of every delegate fee and financial partnership from SEWF 2103 will be put into the pot to add up to $20,000 for the SEWF Pitch Contest, making every d
elegate a 'social investor'. 
The goal of the prize money is to help one social venture that needs cash and support to get to the 'next level' of social impact. 
Dan Overall, Executive Director of SEWF 2013 said: 

"While SEWF 2013 will be an event of inspiring and insightful discussions, we have always been mindful of wanting that talk to lead to action and impact. 
The fact that we could, in the process, forge an international collaboration that brings the thrill and success of the Good Deals UK social venture competition to Canada, is icing on the social impact cake."  
SEWF attendees will have the chance to pitch to a live audience or act as a social investor for the day, casting judgment on the social venture to be awarded the $20,000.
Leading up to the conference, ten quarter-finalists will be picked, profiled on the SEWF 2013 website, and attend a pitch mini-boot camp on 2 October, where quarter-finalists will hone their pitching skills to m
ake it into the final four.
At the conference itself, the four semi-finalists will pitch their ideas at the "Learn and Lead" Lunch on 4 October. It will be up to attendees to deliberate – with advice from a panel of experts – and vote for the winning venture. 
The tension is set to rise
as the deciding votes are cast, with the contestant scoring the lowest number of votes eliminated at each round. The last remaining contestant will receive the $20,000 prize money.  
Tim West, founding director of Matter&Co and founder of Good Deals, will be the emcee for the mini-boot camp and "Learn and Lead" lunch. He said: 

"We're extremely excited here at Good Deals HQ in the UK about helping create a fantastic pitching contest for SEWF 2013.
"SEWF 2013 is shaping up as a truly world class event. The chance for some inspirational social ventures to pitch their real business opportunities in front of a live audience to win a substantial investment will not only be great to participate in – it will also help us all to learn so much about the realities and challenges of growing brilliant businesses with a social mission."
Qualifying SEWF 2013 delegates may request an application form by emailing a request to info@tricofoundation.ca. Application forms will be emailed to delegates who have indicated they would like to pitch. The closing date for applications is 5.00 pm MDT August 9, 2013.
Good Deals, in conjunction with 
MaRS Centre for Impact Investing
,

has helped to formulate the rules and process for contest. 
Details of the 2013 Good Deals UK conference held in October are being announced soon.