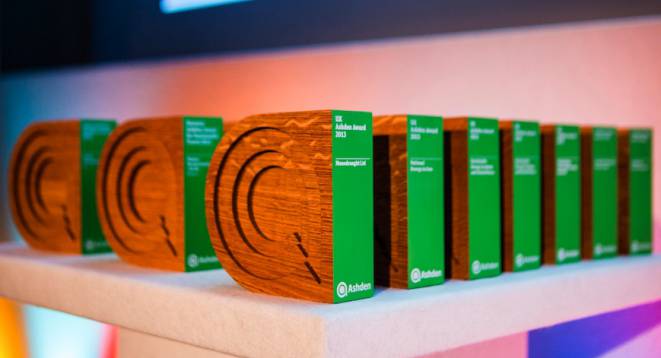 Winners of the Ashden Awards 2013 were announced on 21 June at the Royal Geographical Society in London, honouring those leading the way in the renewable energy revolution. 
The Ashden Awards 14 winners across five categories were recognised for their outstanding projects tackling climate change through local sustainable energy sources. Their innovative technologies and creative approaches promise to revolutionise their sectors and change the lives of people across the globe. 
As Ashden's founder director Sarah Butler-Sloss said: "what's good for the planet is good for people, good for business, and good for economies too."
Indeed, business-like approaches characterise many of the Ashden winners, proving that even in times of austerity renewable energy and energy efficiency open economic opportunities of their own. 
The winner of the UK Gold Award, the Sustainable Energy Academy, is a clear example of such economic logic allied with a commitment to improving people's lives. The scheme tackles the problem of hard-to-insulate solid-walled houses by using old technologies in new ways.
Not only will the project aid some of the 6 million people living in fuel poverty in the UK, saving an average household approximately £400 per year, but will also prevent many of the 25,000 premature deaths which the Office for National Statistics believes to be caused by cold homes every year. In 2010 the chief medical officer estimated that every £1 spent on energy efficiency saves the NHS 42p. 
Like another UK winner Monodraught, which combats heating waste in commercial properties, the Sustainable Energy Academy tackles the draughty buildings which account for more than a quarter of the UK's CO2 emissions. 
Internationally too investment in renewable energy will boost economic growth.
Azuri Technologies
distribute solar lighting and phone chargers to Kenyan homes off the grid, financed by the innovative use of a pay-as-you-go interface via scratch-cards. Families then have the opportunity to upgrade to larger systems, enabling them to progressively move out of poverty. 
Fellow winner WWF – DRC trains local businesses to build and sell stoves which halve the amount of charcoal needed, providing both sustainable business for seller, and a cleaner, safer cooking tool for the consumer. So far the scheme has produced 45,000 stoves, saving Goma's residents $6m in 2012 alone, and helping to reduce the 4 million deaths caused worldwide by household cooking smoke every year. Similarly,
ImpactCarbon
funds small businesses to produce cleaner cooking stoves. 
Installations of energy management technologies on Flanders tramcars over Project Meetram have led to a 20% decrease in their energy use, saving operator De Lijn around €200,000 a year and winning the scheme the Eurostar Award for Sustainable Travel. 
As leading environmentalist Jonathon Porritt claimed at the ceremony, "It's not just about technology and CO2, its about all the additional societal, personal and economic benefits". 
With such innovative technology and economic drive it is no surprise that the energy revolution is moving quickly, and the progress made is, in some cases, astounding. 
When the first Ashden awards were presented in 2001, the Kigali Institute for Science and Technology had distributed barely 100 efficient ovens. This year
D&G Green Enterprises
won the Small Island Developing States Award for the production of 33,000 charcoal-reduced ovens over the past three years, despite repeated hurricanes which led to the forced re-location of production into tents. 
As well as the expanding scale and reach of energy technologies, increasingly the power for environmental revolution is being placed in the hands of ordinary people. 
A common theme of many of the winners is a desire for energy security. Small islands often find themselves heavily dependent on expensive fuel imports, but Cabeólica in Cape Verde on the West Coast of Africa avoids 22,000 tonnes of diesel imports per year through the use of wind farms. 
Meanwhile, other winners such as
National Energy Action,
which has provided over 16,000 people with energy efficiency qualifications, and
Sustrans
, which encourages people to walk or cycle instead of drive, gives the wider community the tools with which they can reduce their own energy consumption.
The same can be said of Hollybush Primary and South Farnborough Infant School, which foster good energy habits in their pupils from an early age and received the Ashden School Awards.
The Wadebridge Renewable Energy Network
(WREN) has the ambitious self-sustaining aim of energy autonomy for the town of Wadebridge in Cornwall by 2020, and with 1 in 10 citizens of the community members of WREN, it is truly a project empowering its subscribers to change. As its chair Stephen Frankel claims, "Ordinary people can create a wise energy system from the bottom up," nor need they rely on a distant oligarch for their energy supply. 
The Ashden Awards recognise the work enabling an ongoing energy revolution with unprecedented scale. Increasingly it is a revolution led not by the government, but by determined individuals and small organisations working quietly on a local level. The announcement of the Ashden Awards is the moment in which their work is put on display and their projects used to inspire action in others. 
Porritt declared that the awards were all about wanting "to work with the quiet revolutionaries and be noisy on your behalf".