Good Deals 13: Women show social change requires a troublemaking spirit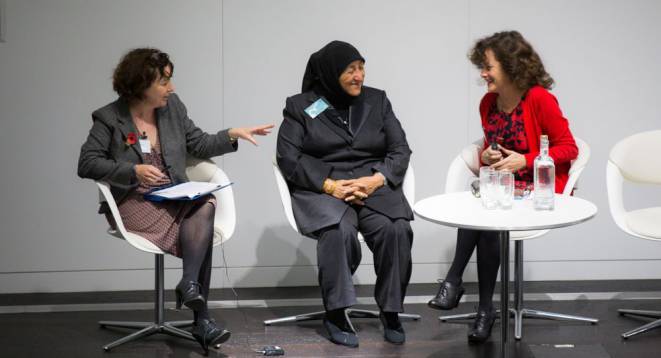 Dr Sakena Yacoobi, executive director of the Afghan Institute of Learning (AIL), the first organisation to give human rights and leadership training to women in Afghanistan, and Sophi Tranchell, CEO of Divine Chocolate, the social enterprise and catalyst behind the FairTrade movement received Pioneer Awards at Good Deals 13 today. 
In a conversation mediated by Jane Garvey, host of Woman's Hour on BBC Radio 4, both women shared their experiences of creating change in a diverse but intimately connected world.
Two paths met when Yacoobi made a powerful case for the power of education to create change in Afghanistan, and Tranchell explained the impact of the chocolate industry on education levels in the rural setting of Ghana where smallholder farmers grow and prepare cocoa beans. 
As a little girl, "I was a troublemaker," said Yacoobi, "I struggled with why some people were rich and some poor, why some were the 'minority.'" As a Shia in Herat, Afghanistan where there is a ethnic divide between Shia and Sunni Muslims, Yacoobi said she was told, "don't say you're a Shia or you'll have a tough time surviving."
Perturbed and determined to understand the troubling realities that marked her childhood, Yacoobi said education found its place at the core of a mission to create change.
After receiving a university education in the US, supported by her father, a self-made man who could neither read nor write, Yacoobi returned to Afghanistan where she dedicated her life to educating women and men, both young and old through the AIL.
"Education brings with it a slow process of change" she said. In Afghanistan the illiteracy level is 80%, the second lowest levels of literacy in the world. But "people in Afghanistan are learning, they are changing and gaining an understanding of their rights," she said.
With a similar trouble-making spirit, Tranchell described how she began her journey, stubbornly refusing to accept what she was told. 
"We set out to change the way the chocolate industry works, one of the world's most mature and competitive markets," she said. "We were told, you can't do it differently because consumers won't buy your chocolate, and we've proved that that's not true," she said.
"We are the threat of a good example," said Tranchell, and a prick that has been felt by the chocolate industry despite its size and maturity. In 2009 Cadbury began to make FairTrade chocolate, and now 12% of the market has a FairTrade mark. 
Divine is different because it is 45% owned by the Kuapa Kokoo co-operative run by its 65,000 Ghanian members in 1,400 villages across the cocoa belt, who are paid a guaranteed FairTrade price, and additional sums to support the organisation develop education and income generation programmes.
"Chocolate companies are rich, and cocoa farmers are poor, and this goes on because we don't question what goes on at the end of the value chain," said Tranchell.
"When we buy chocolate below the cost of production, we don't pay the real price, and people who farm the beans have to make choices we wouldn't want them to make, they won't send their children to school" she said.
Anne McPherson, managing director of Diversity in Business at RBS, and Rebecca George OBE, senior partner at Deloitte, presented Dr Sakena Yacoobi and Sophi Tranchell with bespoke awards posters, designed by Matter&Co, and thanked them for their inspiring work and spirited determination to create change.