B Corps: James Perry urges UK businesses to join the party
The B Corporation movement believes that businesses can benefit shareholders at the same time as tackling some of the world's deepest problems. And it's not greenwash, says James Perry, who this September will help coordinate the launch of B Lab UK, the UK's B Corporation support body.
Britain led the world in industrialisation; it set up the first co-operatives; it founded one of the biggest and best systems of welfare; and it helped build the foundations of the digital economy through the internet.
Today we are leading again – by building a new economy that ends the binary divide of 'public' and 'private' and instead looks to combine capital with care, and profit with purpose.
The UK has one of the most sophisticated and inspiring social enterprise landscapes in the world. The mantle of the Quaker entrepreneurs and the Rochdale pioneers, using the power of business as a force for good, has been taken up by the UK's 10,000 community interest companies, its current co-operative economy (worth £37bn with 15 million members), and its vibrant social enterprise sector brilliantly led by Social Enterprise UK et al.
And yet… and yet. Social and environmental problems persist. The role of business in society is being questioned ever more stridently, due to its failure to offer a convincing answer to so many questions – the payment or non-payment of tax, supply chain practices, environmental degradation, employment practices, bonuses and so on.
It is becoming increasingly clear that government and charities cannot singlehandedly solve the world's problems either, especially not in the context of the capital that is available to them.
Bruno Roche, the chief economist at Mars, puts it rather elegantly when he describes the three inputs that business relies on: land, labour and capital. 
He says that Marx valued labour at the cost of the others. The Greens value land at the cost of the others. And modern shareholder capitalism values capital at the cost of the others. He uses this analysis to illustrate how neo-liberal economics is an extreme position, and he argues that the economy needs to evolve so it values all three of these things in harmony – or, as he puts it, in 'the economics of mutuality'.
Enter the B Corps
The B Corporation movement is a positive response to all of this. We describe it as what Fair Trade certification is to coffee – B Corp businesses are certified to meet rigorous standards of social and environmental performance, accountability and transparency.
At its heart, it is an alternative vision for the role of business in society. It is an assertion that businesses can benefit shareholders while also solving social and environmental problems. If this can be done, then these firms' solutions can be scaled up, because they can attract and efficiently allocate capital. 
At the heart of B Corporation movement is an alternative vision for the role of business in society
Before the B Corp came along, the world was – in this sense – bifurcated. If you want to make money, go into business whose only role is to maximise profits. If you want to do good, you must constrain your balance sheet as an assurance that you are doing good, that you are not using 'doing good' as a greenwash as you use the balance sheet for your own private interest. 
So how do we know that the B Corporation is not just a greenwash? The B Corporation system has three core components:
The legal test – the company must change its constitution to state that it is no longer operated for the exclusive benefit of shareholders. Instead, the business is operated for shareholders only as an equally ranking stakeholder alongside the equally ranked employees, communities and environment.
The performance test – the B Corporation impact assessment is a quality system for the social and environmental performance of a business. It measures 'the other two bottom lines', and is structured to mirror the legal test, with five sections: governance, workers, communities, environment and your impact business model. To certify as a B Corp a company must achieve a minimum score of 80 out of 200.
The declaration of interdependence – a public commitment to all stakeholders.
How it has transformed our company
I'm a co-founder of socially responsible ready meal company COOK, which certified as a B Corp in 2013. It has transformed our company. While we were always trying to do 'good business', the power of changing the directors' duties has been seismic. It has changed the business strategy. Our long-term goals used to be expressed only as a page of financial projections. No longer.
The true power of becoming a B Corp has been its cultural effect
The experience of implementing the B Impact Assessment resulted in a deep change management programme. We fixed the roof in hundreds of areas. 
Some of these are eye-catching, such as introducing a profit share scheme for all employees; significantly expanding a programme to offer employment to offenders on day release with a view to giving them jobs; entering into a partnership with a homeless charity where we feed 52 vulnerable people per day (in a day centre context, with support); working with charities to employ disadvantaged young people across the country in our shops; becoming one of the only living wage employers in the manufacturing and retail sector; and operating a 'one-feeds-two' programme over Christmas, which resulted in 200,000 free school meals for children in Malawi to promote school attendance. 
Many of our changes were not as eye-catching though. For example, introducing a decent whistle-blowers' policy; changing our building specifications to reduce our carbon footprint; changing our sourcing policies to meet sustainability criteria; and introducing gender and ethnic balance as a key performance indicator.
But the true power of this has been its cultural effect. It frees the 650 people who work for COOK to see the business as a platform to effect the change that they want to see in the world. People's engagement is transformed and their creativity unlocked because the business is being run for this purpose. None of the ideas mentioned above came from the board. They all came from the employees. I was chatting to one of our shop managers who told me that having two women on day release from prison for the day on work experience had changed her life.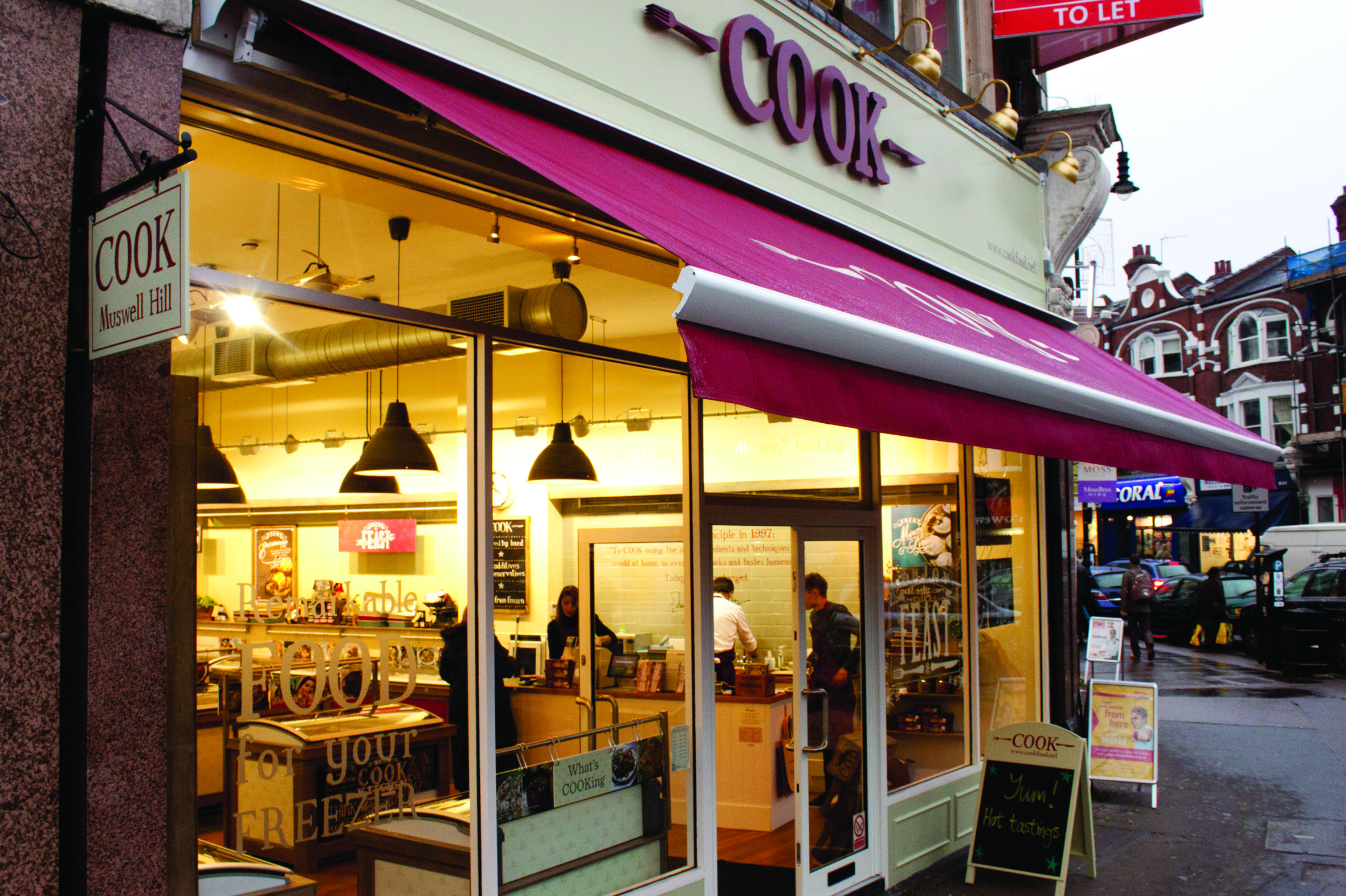 A COOK shop in London. Photo credit: COOK
COOK would not say it is particularly special – it only scores 80/200 in the B Impact Assessment, which is the minimum score required to certify as a B Corp. We struggle to get there. There are also more than 1,200 B Corporations in the world which score more highly than COOK – these are based in 38 countries, in 121 industries, ranging from owner-managed businesses to Natura, Brazil's largest cosmetics company with revenues of $2.6bn.
And there are any number of co-ops, CICs and social enterprises which can sing a song more beautiful than the one I sing above – songs of infinite value. 
So the B Corporation movement wouldn't say that it's some sort of 'golden bullet' to the problems that face our economy. But we believe that B Corps bring something of integrity that is distinctive to the existing, inspiring movements that lead the UK social economy and are trying to deal with the mountain of social and environmental issues we face. B Corporations offer a different route to scaling the mountain and our goal is to join hands with each of those movements.
When B Lab UK launches in September 2015 (which I am helping to coordinate the launch of), we hope we will bring some new energy and momentum to the UK social economy, to the benefit of us all. Capitalism must and will evolve for the better. A growing army of inspiring, talented people are busting a gut in many different parts of the system, in many different ways, to re-purpose our unjust system.
Photo credit: COOK