Marketing unwrapped: top tips from Divine Chocolate
Top tips on marketing for social enterprises from Charlotte Borger of Divine Chocolate: take people on a journey and use your chutzpah. Read on for more.
Charlotte Borger, the communications director at Divine Chocolate, has shared some of her beliefs about marketing with a crowd made up of social enterprise leaders in Edinburgh.
Borger has been with Divine since 2003 and has overseen a sea change in their marketing that has seen a switch from primarily pushing the ethical side to making the quality of their product centre stage. As Borger put it herself: "People don't want to buy ethics in a wrapper; the challenge was combining the allure of chocolate with the appeal of making an ethical purchase."
Early marketing of Divine traded heavily on it being an ethical business and the measure of its success can be seen in the way the chocolate industry changed, with Cadbury's, Nestlé and Mars hurrying to catch up and be able to sport Fairtrade logos on their products. With these companies now competing at trading with marketing of a more ethical bent, Divine started to change tack.
Divine has been provocative from the start, with early incarnations of its chocolate bars sporting a purple wrapper that clearly targeted some of its biggest rivals. Along the way there were some dubious marketing decisions too. At the NatWest SE100 Insight Event Borger admitted that a campaign that disrupted the idea of using women to sell products backfired slightly.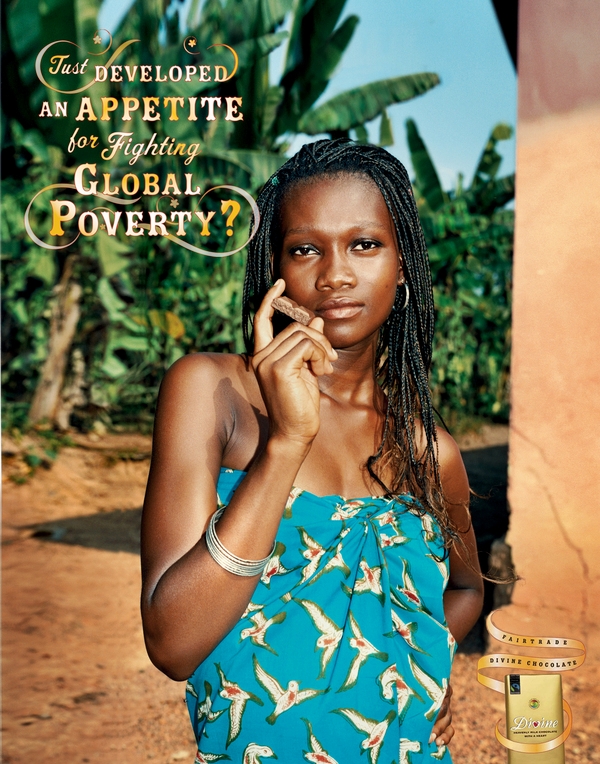 Divine Chocolate ad campaign
The company was criticised for appearing to use models, when in fact the women in the ads were part of the Ghanaian Kuapa Kokoo cocoa farmers that own 45% of Divine. The bar itself was gold wrapped and relegated to a corner of the page ads. Borger admitted that the idea hadn't really worked. Divine's packaging now utilises traditional Adinkra symbols from Ghana that helps it stand out from other premium brands such as Green & Blacks and Lindt.
Borger also sounded a note of warning about using third party marketing and design agencies. Noteworthy gaffs from them (with Divine's company name obviously at the forefront of their mind) include pitching the idea of seductive looking nuns with chocolate around their lips. This did not go down well with Divine's managing director Sophi Tranchell, who is a Catholic. Another agency pitched the idea of a chocolate Jesus with chunks bitten out of him.
Borger summed up her talk with some tips about what she'd learnt during her time with Divine. She urged social enterprises to: 
•    offer competitive products that are strong and distinctive, 
•    take people on a journey
•    do what other people can't or won't  
•    collaborate, put people first, be social 
•    use your chutzpah. (Divine supported Ghana during the football World Cup in 2010, with Borger adding: "Sometimes it's good to just behave in a way that other companies don't.")
She also urged social enterprises to promote each other, in particular mentioning that Divine often use the Buy Social hashtag on Twitter.
The NatWest SE100 Index is an online listing of social ventures, ranked and scored according to their growth and social impact. The live market intelligence platform is designed to provide a substantial data resource for investors, commissioners and policymakers as they seek to understand the landscape of the social economy and identify top performers across the UK.
To find out more about the 2015 NatWest SE100 Awards and be in with a chance of winning a share of £32,500 for your social venture, click here.