Investors for impact as risk-takers: defining feature, or distant aspiration?
Earlier this month, a new Charter of Investors for Impact was launched, setting out ten defining principles that describe an investor that prioritises social or environmental impact. In a discussion at the EVPA Annual Conference, social investors and venture philanthropists agreed that taking risks should be core to the DNA of those investing for impact – but is it clear who's ready to take those risks?
If a social business is a car, and its CEO the driver, then investors for impact are co-pilots – feeling the bumps along the way and looking out for possible dangers ahead. If the car crashes, the co-pilot will be affected too – while other investors standing on the roadside would likely "take the wheels off and take the battery out" to recuperate their money.
This was the analogy shared by Wouter Vandersypen, executive director at Belgium-based impact investment fund Kampani, to demonstrate the additional non-financial support provided by investors for impact – those whose primary focus is achieving social impact, with financial returns a secondary objective. "The commitment that you have as an investor is really dramatically different," he said.
Investors for impact are co-pilots… If the car crashes, the co-pilot will be affected too
Vandersypen was speaking at the EVPA's annual conference earlier this month, which saw the launch of a new Charter of Investors for Impact. Signed by nearly 200 individuals to date, the charter sets out ten principles that define such investors, aiming to help clarify what they can and cannot deliver and ensure they are better positioned to collaborate with others, bring newcomers on board and continually improve how they work.
The principles range from 'putting beneficiaries at the centre of the solution' to 'tailoring financial support' to 'upholding high ethical standards'.
But it's the notion of taking risks usually avoided by others that best represents the DNA of investors for impact. This was the conclusion, at least, of an audience of social investors and venture philanthropists at the EVPA conference, who voted for the most important of the ten principles following an in-depth discussion of the charter.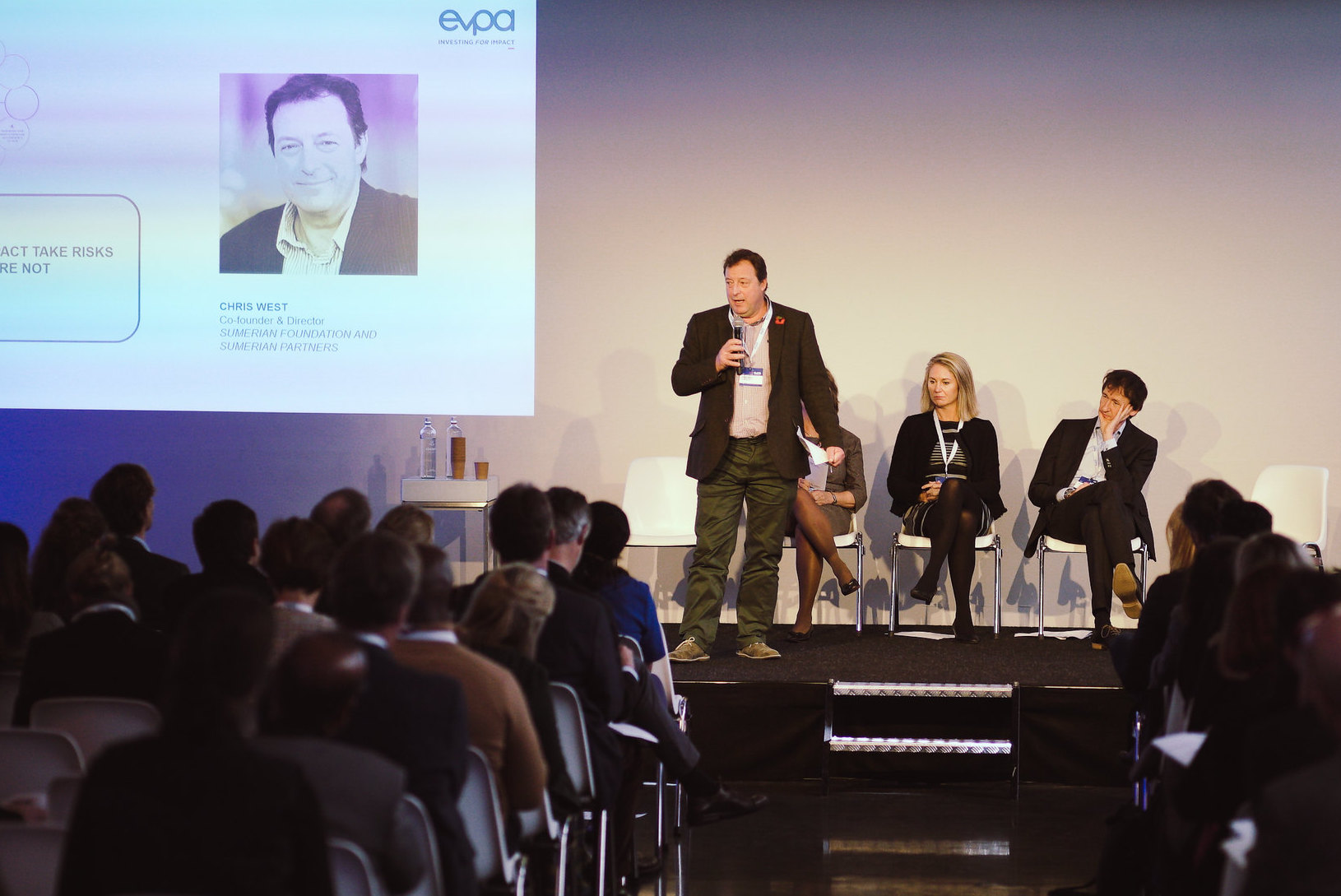 Above: Chris West speaking at the EVPA Annual Conference in The Hague (credit: Spring Roll Media/EVPA)
Introducing the topic of risk, co-founder of UK-based Sumerian Foundation Chris West said that even investing in commercial startups was "inherently risky", given the high proportion that don't survive. Backing social businesses, of course, entails even more uncertainty.
"They are trying to do some really, really difficult things… They have high operating costs, they have to market their services and products to people who've never had them before, or had them free. They need to create distribution channels for services and products that probably weren't there before. In some countries the infrastructure is weak… essentially they're high risk, high cost, low margin."
The financing gap faced by such businesses, West added, is "perfectly suited for those prepared to take long-term risk and have a primary motive on generating impact." Social investors could provide concessional, patient or flexible capital, tailored to the needs of the organisation. Crucially, the finance is best "structured by people who are doing it because their primary motive is impact."
Such capital needs imply a clear role for certain funders, such as trusts and foundations or public sector bodies, with a higher risk tolerance.
But West argued these types of funders – the ones that "hold society's risk capital" – "actually deploy their capital in ways that minimise risk" by prioritising short-term grants of limited size, and with restricted purposes. "Those types of instruments actually constrain the recipient to not achieving their objects," he said. Too many charitable foundations still practise what one might call "dinner table philanthropy": more focused on inputs (that is, how much they're giving) than on outcomes. "It's that mindset we need to focus on."
There are signs that thinking is shifting. The Fore, a new trust in the UK, aims to provide "transformational funding": grants of up to £30,000 that have no specific requirements, in an effort to move away from what CEO Mary Rose Gunn calls a "criteria laden" funding system – one that even drives mission drift since organisations have to "contort themselves" to meet funder demands. Others, such as the Switzerland-headquartered C&A Foundation or the UK's Impetus, are also known for a strong focus on outcomes.
Funders that hold society's risk capital "deploy their capital in ways that minimise risk" 
If trusts and foundations can overcome structural challenges (related to staff skills and capacity, and fiduciary caution on the part of trustees for example), it could open up rich opportunities to collaborate with others in providing blended finance. But some may still wonder if they can justify potentially subsidising another, more commercial, funder's financial return.
"I think we need to counter that argument by demonstrating that if we don't create the right blended capital structure – based on balancing the varying risk-return objectives of different funders – then these organisations will be unable to achieve their impact potential," said West.
His response alludes to another principle of the charter, which holds that investors for impact should mobilise more resources by encouraging others to adopt a similar approach. For West, it's about convincing others to shift away from traditional ways of working and towards more appetite for risk.
In some cases, that also means moving away from the most obviously appealing areas of funding.
"Everyone likes 'new', but the real hard task in this is getting from new to scale, and that grunt work, those 10, 12 years of doing all the 'unsexy' stuff – changing the business model, the distribution channels, the supply chain, the affordability issues etc. – are key." Too much money, he continued, is spent on acceleration and incubation stages. "I don't see a lot coming out of these incubators that ever gets to scale, because that missing layer of risk-tolerant capital, of 'investing-for-impact' money is simply not there."
Find out more about the Charter of Investors for Impact.
Pioneers Post was a media partner at the 2019 EVPA Annual Conference. Our reporters' travel costs were covered by the organisers. Header photo by Marcelo Moreira on Pexels.