How to: transform your sales and boost your impact
Learning how to sell is a challenge most social entrepreneurs don't anticipate. In an exclusive extract from their new book Sell Well, Do Good, sales experts Dr Roy Whitten and Scott Roy of Whitten & Roy Partnership redefine selling in a way that aligns with the values of social enterprises and, at the same time, makes it a fulfilling process for social enterprises' salespeople. PLUS: Get your own free copy of the e-book.
Some social entrepreneurs start their businesses knowing that selling well is essential to the success of their mission. Eduardo Bontempo brought ten years of investment banking experience to his leadership of Geekie. "When we launched our product in 2017, we saw right away that it was innovative and had a market. So, it made sense for us to invest in a sales team. The economics of the business were promising, but we needed a sales approach that aligned with the methodology of our educational product."
Other social entrepreneurs learn an interesting lesson: if you're first to market with a great product, your early success may conceal an inadequate sales strategy and capability. "When you did the discovery process with us in Mexico," said Esther Altorfer of Sistema.bio, "it forced us to look in the mirror about the way we were selling. But we didn't put that learning into practice; we were in the middle of an expansion into Kenya, and we thought we were doing okay because we were succeeding there."
She laughed and shook her head. "In all our years in Mexico, we had only sold 1,000 biodigesters. In our first year in Kenya, we sold 1,200! We were like, 'We know how to do this!' However, the following year, a drought hit Kenya, and sales fell well over. We didn't know what to do in hard times."
If you're first to market with a great product, your early success may conceal an inadequate sales strategy and capability
Learning how to sell is a challenge that most social entrepreneurs don't anticipate. Their education, at some of the best universities in the world, focuses on needs analysis, design, manufacturing, finance, and the development of supply and value chains. The closest they get to any formal education on the science and art of sales is usually a class in marketing. As many social entrepreneurs are now realising, marketing is necessary, but it is not a substitute for sales.
Lizz Ellis, CEO of iDE Global, stated it plainly: "If you have goods, services, and products that are meant to create social impact, you won't be able to have that impact unless you have a solid sales strategy that you can execute on."
John Stone also doesn't mince words: "You've got to become profitable enough to be stable and self-sustaining, or you'll forever be dependent on annual renewals of your funding, and you'll fail in your social mission. The key to successful social entrepreneurship is selling."
Don't just improve – transform
We found that social entrepreneurs routinely make two fundamental mistakes. The first is to think that if you get the product and marketing right, selling will happen on its own. The second is to believe that you can hire sales managers who will know how to set up your selling system. Months into setting up their business, social entrepreneurs can wake up to a sales nightmare because they failed to pay as much attention to sales strategy and execution as they did to design, supply chain, and funding.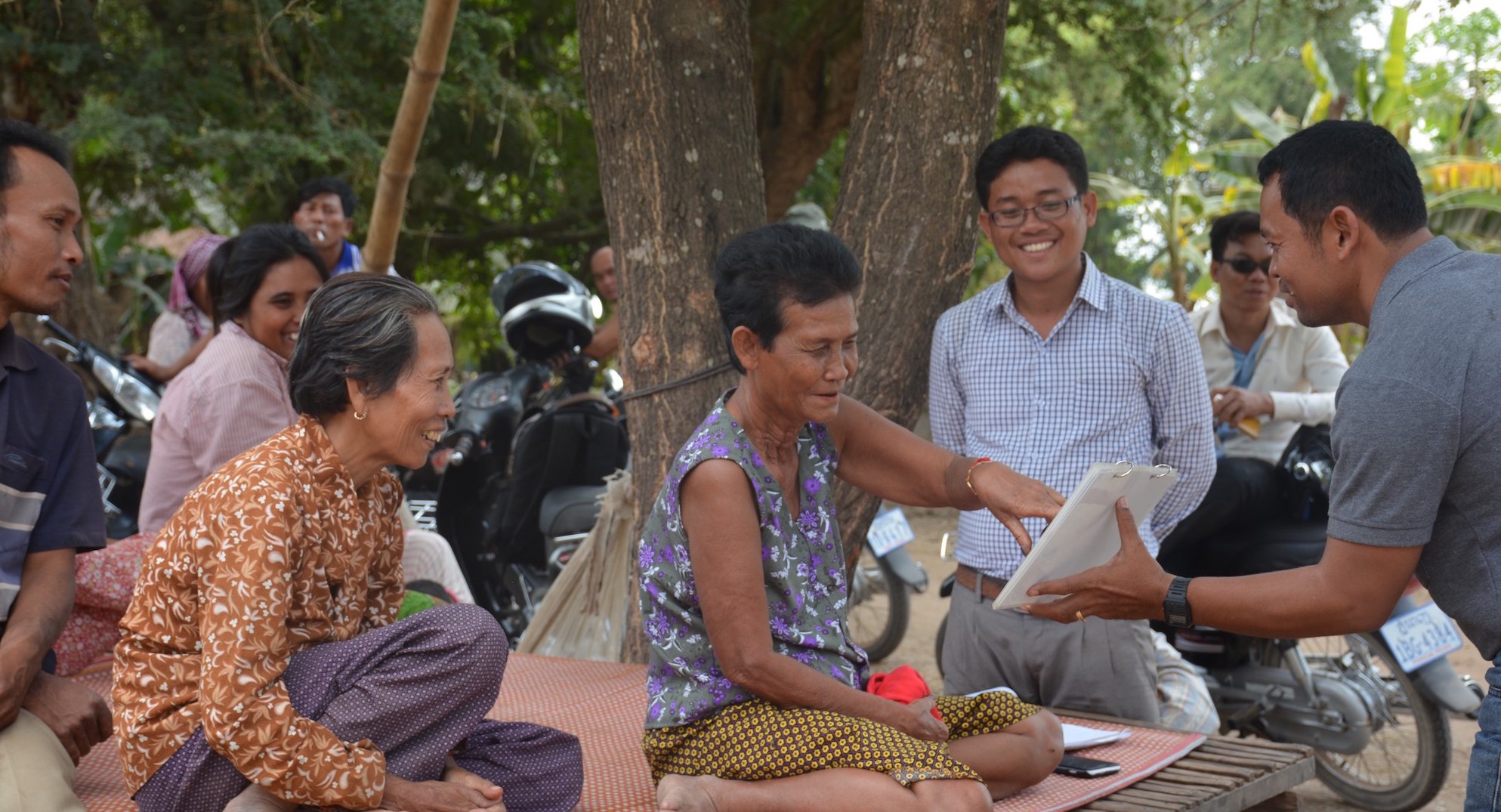 A sales presentation in Cambodia. Photo copyright Jennifer Wang
If you're going to do good, you've got to sell well. Not only do you need a selling system that works, you need one that aligns with the integrity of your mission. And you need to develop a sales force that does their work ethically, proudly, and skillfully—right down to the step-by-step details of how a sales agent empowers customers to think clearly, buy wisely, and commit to new behaviour. Nearly always, this requires more than mere improvement; it requires a transformation.
The closest social entrepreneurs get to any formal education on sales is usually a class in marketing... marketing is necessary, but it is not a substitute for sales
Recently, the word "transformation" has become popular in business circles. Unfortunately, as popularity rises, the power of a fresh word diminishes with overuse. We knew that the word had eclipsed its expiration date when one of our commercial customers referred to a 30% reduction in sales staff as a "cost transformation." Let's explore for a moment what a transformation really means. Then, we can address how it's done.
We first encountered the concept of transformation during the 1960s when it was applied to personal development in what has become known as the Human Potential Movement. It described a radical shift in human thought and behaviour—a profound and permanent change from the norm.
In the late 1990s, transformative learning became its own field of study.  Today, it draws on a wide range of thought and practice: from ancient wisdom to modern neuroscience. It focuses on how human beings undergo fundamental, permanent change—as individuals, in groups, and in institutions. When applied to the field of sales, it requires addressing both context (what people believe about selling) and content (how they actually do it). It offers a unique understanding of how social entrepreneurs unconsciously utilise an outdated approach to selling and why that just doesn't work for socially-minded organisations. And, in Mike Roberts' words, it offers a way to "engineer" a selling system that delivers impact year after year.
If you're first to market with a great product, your early success may conceal an inadequate sales strategy and capability

All of our clients, in both Western and emerging markets, utilise a simple formula—R=A+C+E ™—to create the conditions in which a transformation in sales can occur. This process requires addressing four fundamental elements to transform selling systems in a way that is simple, practical, and integrated:
Results. Focusing on the sales results they're seeking and the activities that will create them. Transformation is about getting results and getting them in a way that people are proud of and want to keep doing. 

Attitude. Noticing their state of mind as they work. At any given moment, are they really committed to what they're doing, taking full responsibility for their targets, and maintaining a mindset that gives them greater access to their natural brilliance, boldness, and ingenuity? 

Competence. Mastering the art of having conversations that move things forward: selling conversations that 
engage customers, build trust, and generate commit- ted action; and sales management conversations that keep everyone thinking deeply, collaborating fully, and developing their expertise.
Execution. Doing the right thing at the right time with the right people: a sales and management system that actually develops the customer's decision intelligence and that the sales force actually wants to be a part of.
When you successfully address all four of these elements, you experience two fundamental transformations that empower your sales force to sell in a way that genuinely promotes the wellbeing of everyone involved and increases revenue and profitability.
First, you transform the way you sell. Second, you transform the people who do the selling to free their ability to adopt new practices and keep themselves from 
defaulting to old behavior when the pressure is on. This is absolutely critical for any sales team and especially for the newer teams that often operate in emerging markets.
CLAIM YOUR FREE BOOK!
Sell Well, Do Good by Dr Roy Whitten and Scott A Roy is available to order through Amazon. Pioneers Post has partnered with the authors to give away 50 free e-book copies to our readers. To claim your free e-book, email David via davide@wrpartnership.com at Whitten & Roy Partnership with your details. The first 50 readers to respond will be sent a unique download code. 
Header photo: Kola Masha, managing director of Nigerian social enterprise Babban Gona, which is part-owned by the farmers it serves, and which transformed the way it sold its services so that sales agents listened more to the farmers and found out more about the problems they were facing. Photo copyright Kola Masha.
Thanks for reading Pioneers Post. As an entrepreneur or investor yourself, you'll know that producing quality work doesn't come free. We rely on our subscribers to sustain our journalism – so if you think it's worth having an independent, specialist media platform that covers social enterprise stories, please consider subscribing. You'll also be buying social: Pioneers Post is a social enterprise itself, reinvesting all our profits into helping you do good business, better.