Timpson model proves there is honour among thieves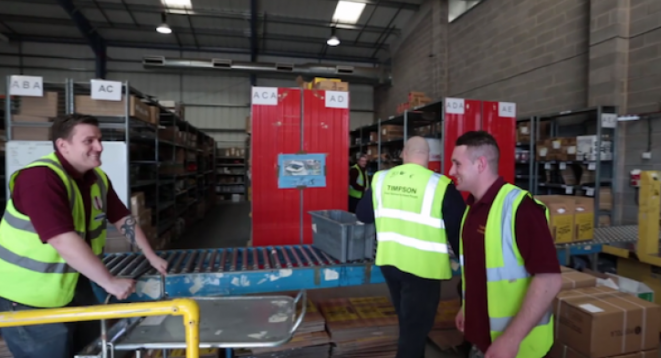 Timpsons have a stream of employees coming from 80 plus prisons in the UK. Sophie Hudson spoke to Dennis Phillips, welfare manager and ambassador for the Timpson Foundation and discovered its ex-offender employment model is proving good for business.
Not many people in charge of a human resources function at an organisation are able to say the following sentence: "Of the lifers I've got working for me, they are absolutely role model colleagues".
But this is exactly what Dennis Phillips, welfare manager and ambassador for the Timpson Foundation, proudly says to Pioneers Post during an interview about the company's work with employing offenders. 
People think we're mad that we have a recruitment process where we're just looking for a personality. But that's made the business very successful, so I think we've got that right.
Since 2002, through the foundation, Phillips has been working with prisons across the UK to train and recruit employees into the family-run Timpson business, which specialises in key cutting and shoe repair, and also offers a number of other services, including engraving, photo processing and dry cleaning. 
The organisation today works closely with around 80 prisons across the UK. More than 300 offenders work either in one of its six academies based within prisons, or at the business itself in some capacity, meaning that eight per cent of the workforce have come through the foundation. Perhaps the most important statistic here though is that there is a 76 per cent retention rate among these employees. 
"When you think that the general reoffending rate currently is around 50-60 per cent, we actually put that to shame," says Phillips. "You've got to remember with all these colleagues they have come through a difficult time in their lives and have really found it difficult to get back into society. If you can actually retain 76 per cent of them, that's an amazing result."
He says the key to this retention rate is three areas being covered when a prisoner is released: support from family and friends, somewhere to live, and employment. "If you cover those three areas, the likelihood of them reoffending is reduced drastically," he says. 
Good for business
Phillips is adamant though that Timpson's work with prisons is not just a nicety, but that it has in fact helped the Timpson business as well. 
"We are a business, not a charity," he says. "We've got some fantastic superstars who have come through the Timpson Foundation who fit into the business…Clearly the foundation has proved that the employment of offenders has been good for business."
And because of this, he, and others at Timpson, are certain that it could work for other organisations too. This certainty has partly manifested itself in James Timpson, the chief executive, becoming chair of the Employers Forum for Reducing Reoffending - a group of local and national employers that provide job opportunities for offenders, which other organisations can join in order to also become involved in this kind of work. 
Phillips says that as well as working with other organisations through the forum, Timpson is also working with the Cabinet Office, advising government on how all of this can work best for businesses. 
"The Cabinet Office wants us to expand this to get other businesses to engage and to eradicate what I see as the clear discrimination that business shows towards offenders," he says. "I know that's quite frank but that's as I see it. Clearly business does discriminate. They look at an application form, they will see that the box is ticked, that this person has got a criminal conviction, and that application form for a lot of businesses will go straight in the bin."
Phillips says that on its job application form, Timpson encourages people to declare any criminal convictions they have, telling them that if they do so, it will be talked about at interview. He says that a good start in improving the recruitment of offenders to more organisations would be for other businesses to do something similar on their forms. 
"My other advice to businesses would be to try and get a full understanding of the whole process and the individual," he says. "Go into a prison, speak to the prison staff, speak to resettlement teams, sit round the table, speak to some offenders and you'll find they are actually normal people and all they want you to do is give them an opportunity."
Talking it through
But is there a line for Timpson when it comes to who it is willing to give these opportunities to?
Phillips says there are certain offences that he "will not allow". He includes anything related to a sex offence, arson because of the insurance implications, and anyone who is under the influence of drugs, a methadone substance or similar. And prolific offenders, he says, have got to be able to look him in the eye and convince him that they are not about to commit anything else. 
"Apart from that I have an open mind, and I'm proud to say I've got lifers working for me," he says. "I want someone, if they've committed a criminal offence, to sit down and talk to me about it. That's all I want."
But he says he never forgets that there has also been a victim within all of this. "It's not all about the offender," he says. "I have a real problem if someone doesn't show remorse…We don't feel sorry for them, because they choose their path in life and they are in prison for a reason."
Despite these efforts, which include a risk assessment being carried out for every colleague that comes into the business through the foundation, things have occasionally, and perhaps inevitably, gone slightly wrong over the past decade or so. 
"We have had issues, only a few, only a small percentage that have caused problems and not fitted within the business," says Phillips. "The odd theft, minimum amount of cash stolen, desperate measures. But as far as I'm concerned it's all positive and we learn from that and move on… We never rethink the whole thing, it's part of our culture."
He adds that James Timpson understands that things "can go wrong", and points out that equally big mistakes can be made by employees recruited any other way. 
Finding a personality
Overall, Phillips sees the Timpson recruitment process, whether it be taking place in prisons or through a job centre, as "simplistic". 
"We're simply looking for people with fantastic personalities," he says. "If we can see them fitting in in one of our shops, with a personality that can gel with the colleagues that they work with and the customers, and they can all have a good time, it's as simple as that. 
"People think we're mad that we have a recruitment process where we're just looking for a personality. But that's made the business very successful, so I think we've got that right."
Discover what UK bakery chain is learning from Timpsons in the filmed interview with Dennis Philips here.