World strong man to create social gym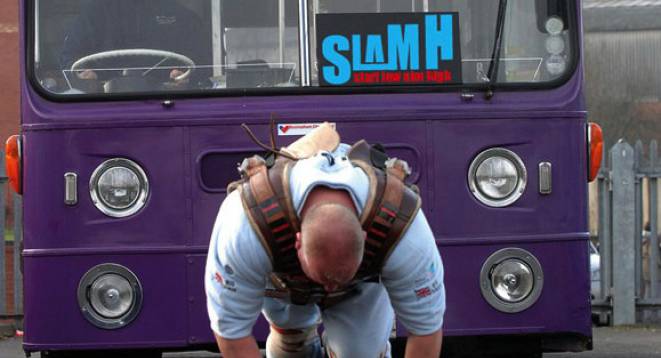 He's joined police forces across the country to tackle knife and gun crime, he runs anti-bullying programmes in schools, and now he wants to launch a social enterprise leisure centre to rival Virgin, Fitness First and David Lloyd Leisure. 
Dave Gauder, aka Big Dave, is a former world strong man with 26 world records for strength and endurance to his name. Retired from the global circuit of strength contests, he now runs social enterprise Ask Big Dave, set up to support the lives of disaffected youths through physical training programmes, mentoring and advice. The community interest company weighs in at number 33 on the UK's social enterprise index, the RBS SE100 index.
His latest venture is an inclusive leisure centre in Birmingham. Despite his might, it has been a challenge to scale his training programmes within the commercial leisure industry. Gauder found that few commercial gyms were willing to run his SLAM-H training programme for young adults on probation. "There was a lot of opposition to the idea because it involved working with ex-offenders," he told Pioneers Post. 
Undeterred, he has set the plans for his own leisure centre in motion. The plan for the centre has been met with widespread support across Birmingham. The Birmingham Voluntary Service Council (BVSC) has pledged to support the transformation of a dumping ground in Kings Norton, Birmingham, into Big Dave's Centre of Opportunity. 
Gauder's plans would see the desolate 11.5 acres of space in Kings Norton, one of the UK's most deprived areas, converted into a multi-purpose leisure centre and training ground open to all, with programmes tailored to people facing diverse challenges from obesity and physical disability to recent release from the criminal justice system.
"I feel it has the potential to become a real asset not just for the Kings Norton area, but for the whole of the City of Birmingham. BVSC will be happy to work with Big Dave to turn this vision into a reality," said Brian Carr, chief executive of BVSC in a letter of endorsement for the project. 
The project has also won widespread support from private, public and voluntary sector supporters. To date, G4S, the Birmingham Sollihull NHS Foundations, SkillsFirst, a range of learning and disability centres, probation and prison services, colleges, charities and health organisations are behind the push to bring the centre into being.
In an interview with Pioneers Post, Gauder gave a glimpse of what the centre would look like in full swing. Ex-military personnel hired as fitness trainers will be getting people into shape, children on school trips will be racing around assault courses built into the "wild country" outdoors. Older people from the community will be chatting over tea in the café as they wait for a nutrition session or fitness class to start. 
Not disheartened by the barriers to entry he found in the conventional leisure industry, and bolstered by the widespread support for the project, Gauder is set to join the ranks of the fast growing social enterprise leisure industry.
Gauder's vision and determination, and the support he has won so far are set to bring the project into being: "I can bring Birmingham one of the largest social leisure centres in the country. Watch my smoke!"