The heart and Seoul of social enterprise is in South Korea
Next week over 600 social entrepreneurs, policy-makers and social enterprise enthusiasts will pour into Seoul's busy, neon lit streets to attend the eighth annual Social Enterprise World Forum (SEWF). Despite the fact that Korea, Hong Kong, Taiwan and numerous other Asian countries have all accelerated their social enterprise development in recent years, this is the first time the Forum has been held in the continent. 
Ellie Ward explores the setting of the next SEWF and looks at how social innovation and the social enterprise model have become a core element of South Korean society. 
An Asian Tiger making its mark on the global economy
In recent years South Korea has emerged as an international economic powerhouse and a leading exporter of cars and electronic goods. It has been described by the World Bank as an "exceptional example of an aid recipient turned high-income country".
South Korea is one of the four Asian Tigers along with Hong Kong, Taiwan and Singapore. These four countries have free and highly developed economies which grew rapidly in the second half of the 20th century. They all share similar characteristics including a focus on exports, an educated populace and high savings rates and have managed to make remarkable recoveries following the 1997 Asian financial crisis. 
An analysis of the crisis 10 years on published in the Economist describes South Korea as "one of the most diligent countries in implementing post-crisis economic and financial reforms" and as a result "its financial sector is one of the region's strongest, combining greater openness with better regulation". 
Country facts and global development indicators (World Bank):
Population (2013)
50.22 million
GDP 

(2013)

US$1.305 trillion
Life expectancy (2012)
81 years
Primary school enrollment (2013)
103% (gross)
As a result of this data, the World Bank rank South Korea's economy as the 15th largest in the world. The International Monetary Fund (IMF) forecast that the country's Gross Domestic Product (GDP) will increase by 3.8% in 2015.
Seoul: the ideal social setting
South Korea's fast-paced, metropolitan capital has a population of over 10m – which is more than that in New York and London and means that it is not short of social issues to deal with. Overcrowding, rising pollution levels and inadequate housing provision are some of the key issues facing the Seoul City Government (SMG). 
The technology savvy urban population have been mobilised though and in backing Park Won Soon, the 'politician without a party', they have shown their support for more innovative projects to deal with their social and environmental dilemmas. Park Won Soon – a newcomer to the South Korean political arena and a man with liberal values reflective of those at the heart of the Occupy Wall Street social movement – was elected Mayor of Seoul in October 2011.
He reached out to the new spirit of the younger generation.
Robin Murray, senior visiting fellow at the London School of Economics and fellow of the Young Foundation, has met Mayor Park on numerous occasions. Murray remembers the innovative Mayor's debut into the political arena – which in retrospect seems a natural transition from his previous work as a lawyer who helped restore a multi-party political system in 1987. 
"Because he was a key legal figure in bringing an end to the dictatorship, the new authorities, although they weren't dictators themselves found him a bit of a challenge, but he is such a gentle person," Murray says.
Mayor Park's election campaign was based around promoting a fairer, more open society. Murray explains: "He was all into this modern idea of crowdsourcing and using new technology, Twitter and Facebook. The people supported him informally in a completely different model of political organisation so despite the fact that the old systems – the press and the mainstream media – were utterly against him, he reached out to the new spirit of the younger generation."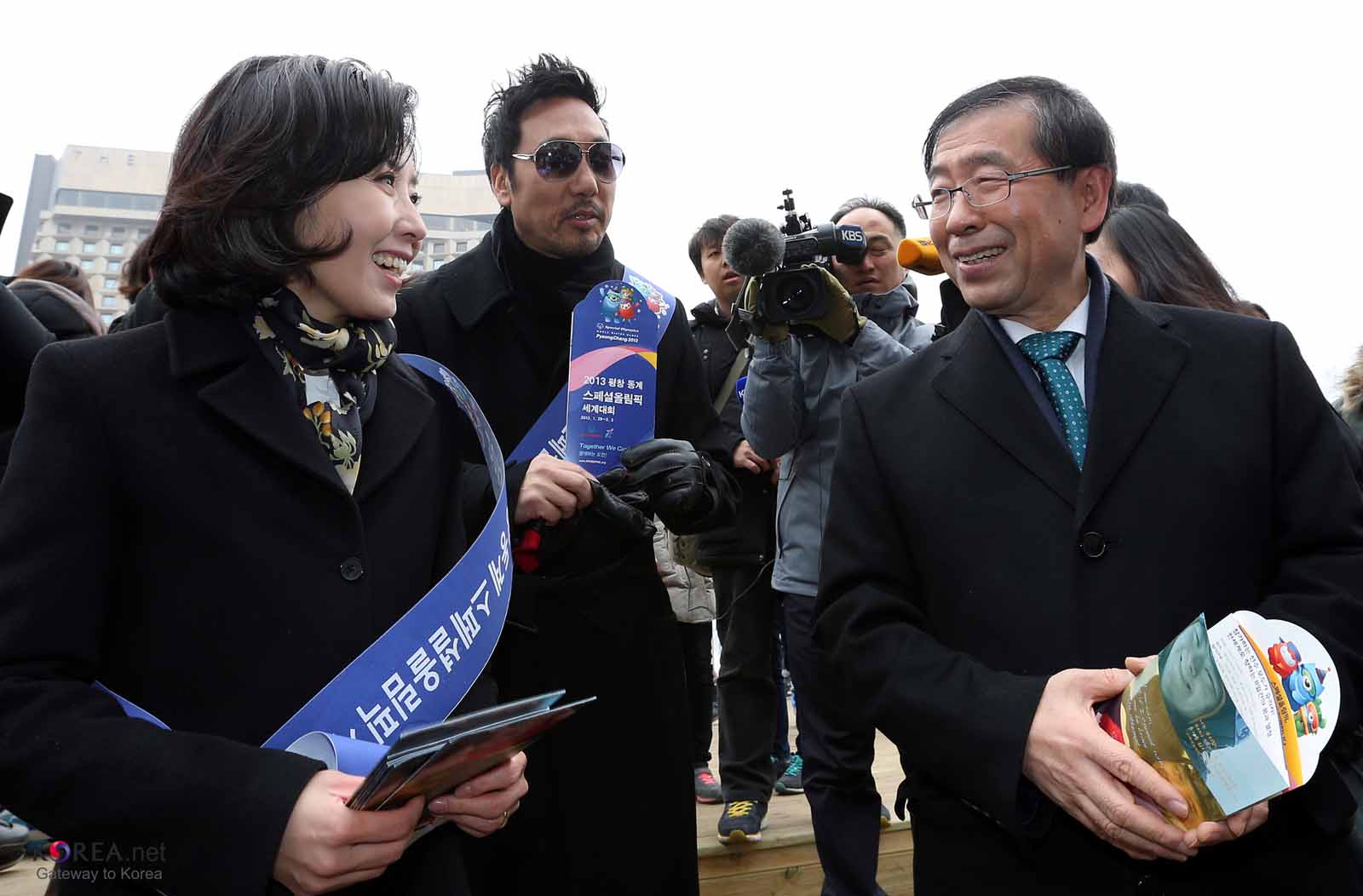 Chairwoman Na Kyung Won (left) and Seoul Mayor Park Won-soon (right). Photo credit: Jeon Han, Republic of Korea
Once elected one of the key policies Mayor Park introduced was Cheong-Chek – or the Listening Policy – which has introduced a number of communication tools to encourage political engagement and ensure that the public are involved in policy-making processes at all levels.
Hwi-Jin Han works as a policy advisor for the Seoul City Government, specialising on housing and transport infrastructure. He is currently based in the UK and has spent a year working at Nesta Impact Investments to learn more about how social issues are being tackled in the UK as part of the Social Innovation Exchange scheme.
"Through the Listening Policy the Seoul government have developed several online tools to encourage citizens to talk to government anytime, anywhere. The Social Media Centre has been set up to encourage people to freely express their thoughts on social issues on Twitter and other social media platforms. When tweets are received, they are categorised and sent to the relevant government departments and then the departments respond to the citizen," he says.
The Mayor has also worked to increase face-to-face interaction between policy-makers and the public. Han says: "Meetings with the public used to be carried out at the last stages of policy making, meaning that the general public had little or no influence, but this is changing so that citizens are being encouraged to be more involved in the whole process."
The Mayor himself is also keen to escape the four walls of his office and talk to the people who elected him. He runs a mobile Mayor's office on a regular basis to listen to different communities all over Seoul. Murray says: "Park acts almost like a mediator, an animator, an identifier – a municipal psychoanalyst even – of particular problems and in doing so brings everyone diplomatically around him."
High expectations for innovative solutions
The SEWF 2014 hopes to spark further innovation, encourage the sharing of good practise and find practical solutions to social problems. Joanne Seagrave, events and marketing manager at CEIS, says: "Korea is a fascinating country, with a unique history of transition from developing nation to a major international economic force. The "can do" approach has also been applied to social enterprise, with national government policy to support and develop the sector, accreditation of social enterprises by the Social Enterprise Promotion Agency, wage subsidy for disadvantaged employees and complete clarity on the number of social enterprises in Korea (due to accreditation).
"Key themes during the SEWF conference will include social enterprise as an employability solution, social care and health innovations in social enterprise...as well as social investment, social innovation, education and creating supportive social enterprise ecosystems," she says.
Robin Murray reminisces about a conversation he had with a Japanese business leader who told him, "Of course you in the west are very good at making speedy decisions but you often have a great deal of problems implementing them. Whereas we take a long time making decisions but implementation is super speedy because everyone is on board and knows what they are doing."
The agenda is set and the flights booked – the SEWF's three days of debate and discussion which will involve the unique standing points of delegates from all over the world look set to deliver alternative solutions to universal pressing social issues.
The Social Enterprise World Forum (SEWF) was developed and first launched by CEIS – a leading authority in the social enterprise sector and the largest Third Sector business support provider in Scotland. This year the SEWF has been organised by the Work Together Foundation and will take place between the 14th and 16th of October in Seoul, South Korea. The Pioneers Post team will be there to cover all of the action thanks to the support from the British Council.
Photo credit: Philippe Teuwen