Inside Downing Street: impact investors summoned to No.11
Claire Braithwaite from ClearlySo provides Pioneers Post with exclusive insight into what happened when social investors and entrepreneurs were invited to Downing Street to rub shoulders with the likes of Cabinet Office minister Francis Maude and BBC dragon Deborah Meaden in the name of impact investment.
Thursday 16 January
One hundred angel investors are summoned to 11 Downing Street for an event held by the Cabinet Office social investment team. The evening was organised to encourage more angels to get involved in social impact investing and to recognise the growth of this market over the past few years.
Playing host was minister for the Cabinet Office Rt Hon Francis Maude who, in his speech, highlighted the importance of more angel investors starting to make impact investments in their portfolio to the UK.
Recognising the role of angel investors in supporting the growth of start-ups, he talked about the need for innovation in the health and wellbeing sectors, amongst others, and about the role angel impact investing has in supporting the development of businesses that make a positive impact on society.  ​
​The MoneySavingExpert, Martin Lewis, who himself developed a successful business with a mission to support consumers and help people save money, went on to talk about the role business plays in improving people's lives. He explained that impact investing represents an evolution in business culture and an important "sea change".
First up to be interviewed by Martin was CEO of Third Space Learning –  an online education platform that makes it possible for every child to access one-to-one tutoring support – Tom Hooper. Last year, Third Space received investment from impact angels including Clearly Social Angels member Meganne Houghton-Berry.
The Clearly Social Angels are a group of active and experienced UK-based investors who meet in London every month to explore some of the nation's most innovative social entrepreneurs in need of investment, often providing these individuals with the capital needed to get their business off the ground.
Social entrepreneur Tom reminded the audience that enterprises such as his own are first and foremost businesses – he stressed the importance of encouraging ambition in order to maximise impact as the business grows. 
Meganne also joined Tom on stage, sharing her perspective as an impact investor and her intention to use cash from exits to invest in new ventures – creating a virtuous circle. While a gift to charity would have a one-off impact, the funds she dedicates to impact investing will continue to have impact over time.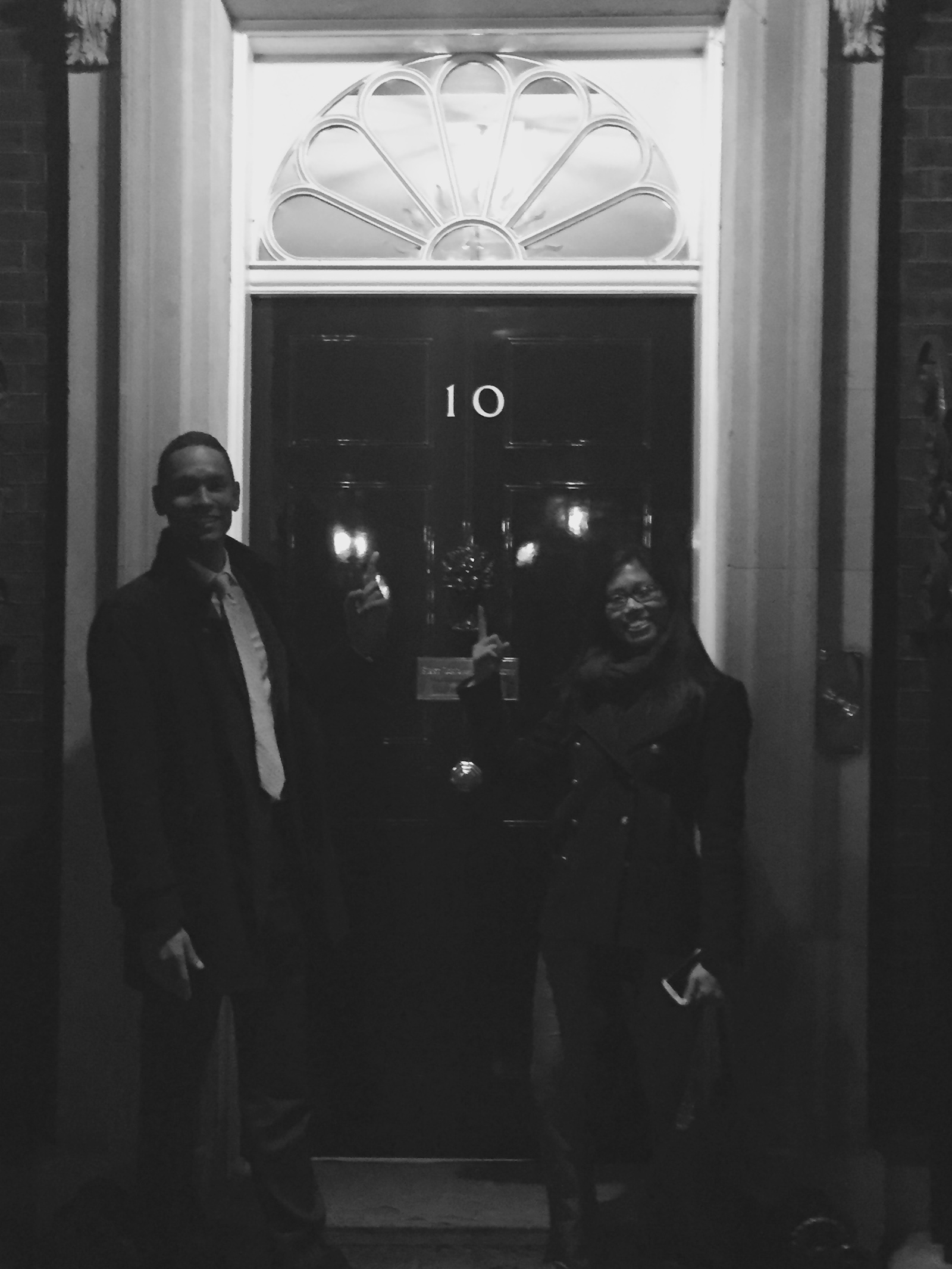 Mike Mompi and Katrina Cruz from the ClearlySo team stop by No.10 for a quick snap. Photo credit: ClearlySo
​Bringing a different perspective was ​Andy Walsh from FC United of Manchester, a community-owned social enterprise football club, which has raised over £6m for its new stadium through a mixture of community share issues, ​grants and most recently a loan stock offer​ with social investment tax relief (SITR).
The club has a vision for creating a new ownership structure that transforms the current culture of football away from a model that has led to multiple club bankruptcies, high wages for players and directors and a poor deal for fans.
For the club, using an IPS community benefit structure has allowed it to build a business model that addresses the problem it set out to solve and where the club's supporters are also its owners. The club's pioneering vision is now being replicated by other football clubs, such as Portsmouth and Chester.  ​
​Rounding up the evening was businesswoman and renowned Dragon, ​Deborah Meaden​. Deborah brought a very personal perspective to the night, talking about what she recognised as impact investing within her own portfolio and the importance of making investments based not only on promises of returns, but because you want to support the way that the company approaches business and treats its stakeholders – including the community around it.  ​
Deborah urged the audience to make a commitment on the evening to actions they'd take forward into their investment activities.
​As Clearly Social Angels is the largest impact angel network in the UK, it was truly encouraging for us to see such a diverse group of investors (and not just from London – it included a significant contingent from the UK regions including the North) coming together for the evening to find out more about impact investing.
This summer we will be celebrating the network's third birthday – the movement has come a long way from those days when a few brave souls came together to explore how we could build an investment group around the idea of impact investing. 
It's exciting to think about where we could be in another three years – when more and more individual investors factor social and environmental impact considerations into their investment decisions, huge opportunities will be created for entrepreneurs setting out to solve social and environmental problems through extraordinary business.
Claire Braithwaite is the chief financial officer and chief operating officer at ClearlySo – an intermediary that raises investment for businesses focused on creating social or environmental impact. 
Header image: Mike Mompi and Katrina Cruz from the ClearlySo team. Photo credit: ClearlySo