Time to reflect: 2015 Budget looms in the UK
Iona Joy, head of the charities team at New Philanthropy Capital, reflects on the coalition's mixed track record in serving the UK's charity and social enterprise sector. She explores the good investment readiness initiatives, the bad news that more and more cuts have put further strain on the sector and the rather ugly ministerial mystery.
The budget is looming. Next Wednesday the chancellor will stand up to deliver his fifth budget speech, the final of this parliament.
If this were earlier in the election cycle, I might harbour some optimism about what the speech could hold for the worlds of social investment and the charity sector. But this budget falls just before the election, so any promises will be in tatters if a different party stands at the dispatch box in a couple of months. 
So it feels like a good time to review the coalition's past record, and make a case for finishing unfinished business regardless of the party that wins in May.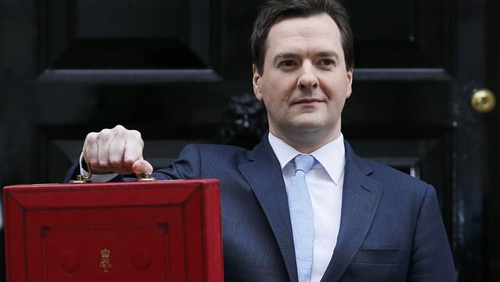 George Osborne. Photo credit: Lee Davy
Some of the most recent developments have been pretty positive. The very popular Cabinet Office's Impact Readiness Fund tells us something important about the appetite among charities and social enterprises for collecting evidence about how they work and what they achieve (especially if this helps them compete for contracts or obtain social investment). 
The Fund attracted £7.5m of applications to a pot of just £1.5m, all put together in very short order. This fund complements other capacity building funds such as the Investment and Contract Readiness Fund and Big Potential, both of which focus on getting charities and social enterprises more business-ready. 
It fills a gap in support for which NPC has long argued—to help charities and social enterprises build capacity in evaluating how they work and learn to work even better. 
At its best, improved measurement of this sort will help voluntary sector organisations identify the social value they offer, and win more contracts off the back of that. 
And if this is what happens, further funds from the Cabinet Office to improve impact measurement would strengthen the sector further. Any announcement to this effect would be extremely welcome. 
As an Impact Readiness Fund-approved provider, I must declare an interest—of course NPC wants more work. Not for gratuitous expansion, but because so many charities have come to us for help yet lacked funds and software needed to set up good measurement systems. 
Data: the key to a commissioning revolution?
Opening up government data – appropriately anonymised and regulated, of course – can also help charities show their impact, and the Ministry of Justice's Data Lab work shows how that might happen. 
Designed with NPC, the Data Lab allows charities working with offenders to access data on the impact they are having in reducing re-offending in a simple, easy-to-use way. In our manifesto earlier this year, we called for this sort of initiative to be rolled-out in every Whitehall department. It has the potential to revolutionise the way government and charities pool resources in the interests of some of the most vulnerable.
By now you are probably detecting a theme, or even an obsession: with evidence, data, and impact measurement. But there's another side to this. If charities are able to provide better evidence of their impact on the ground, then surely it's fair to ask when they will finally be made more welcome at the commissioning table?
2012's Social Value Act was an attempt to codify a commissioning process, which would take into consideration the social value brought by providers when deciding on bids to provide services. 
This was extremely welcome, but last month's review of the Act showed up the bumps in the road. It found that commissioners didn't always have a robust sense of what 'social value' involved, and it recommended new work to clarify this (a further declaration of interest: NPC manages the project suggested to lead this work). Evidently the intent behind the Act is right, but the execution is still flawed.
The minister mystery and constant cuts
The Coalition has done a lot to put social investment on the map. Finalising the creation of Big Society Capital (BSC) has lent considerable financial muscle to its development as a credible source of funding for investment. 
Its existence is, overall, good for the sector, so long as it can successfully balance requirements to make a financial return with the social side of its mission.
But forgive me if I'm looking for a bit of last-minute redemption. Not everything has gone well. The churn of civil society ministers has been unhelpful, for example—to this day I'm unclear why Nick Hurd had to leave a post he understood so well, and to which he was so committed.
And even while some creative thinking has gone into boosting social investment markets, charities will continue to struggle if cuts across central and local government leave them unable to innovate and grow.
Loss of revenue in the sector—which the most up-to-date estimates from NCVO place at well over £1bn—is a substantial threat to the best of its work.
I doubt there'll be many rabbits pulled out the chancellor's hat this week. But he will talk about the need to grow the economy. Indeed, he'll probably talk of little else. I just hope this corner of the charity sector is included in his thinking.
Photo credit: Ales Krivec