Budget 2015: £75m bank fines should have gone to community finance
Chancellor George Osborne yesterday announced that  £75m of Libor fines would be given to charities that support military veterans.
In the final budget of this parliament, Osborne said that the money – from fines imposed on banks that tried to manipulate the financial markets – would support "charities for regiments which fought in Afghanistan". They would also "contribute towards a permanent memorial to those who died in Afghanistan and Iraq". A further £25m would be used to "support army veterans, including nuclear test veterans".
However, without undermining the importance of these organisations, leaders from the community finance sector responded that if a proportion of the fines were channelled to catalysing institutions in their sector, more sustainable change around financial inequality could be achieved.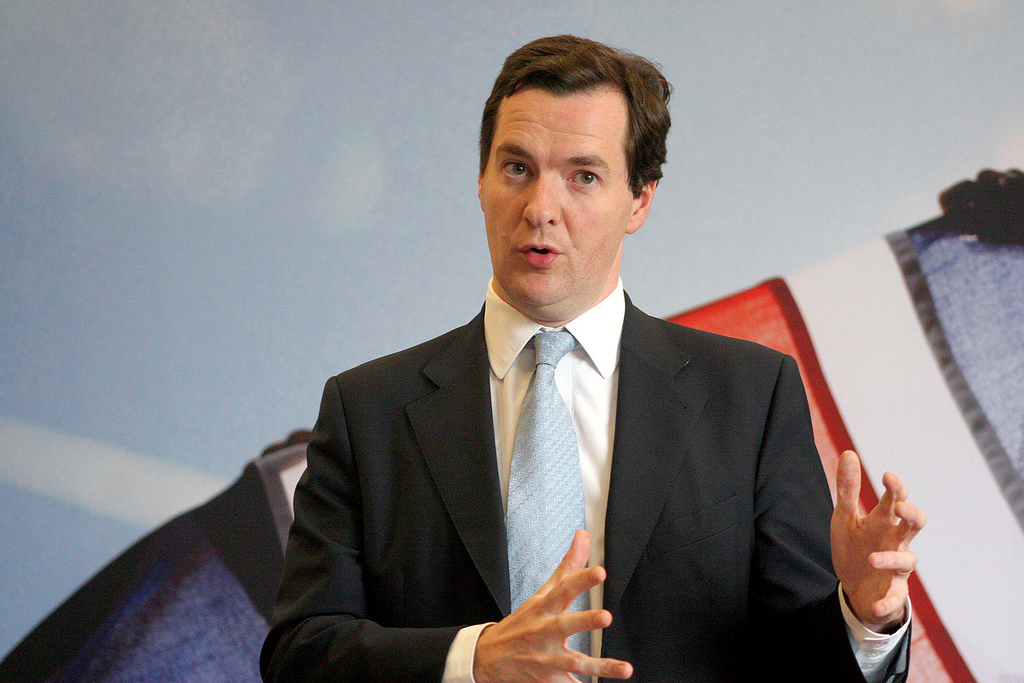 George Osborne. Photo credit: AF, Flickr
David Barclay from community campaign group Citizens UK told Pioneers Post: "There's a strong political argument for this."
Fines "represent the brokenness of the current financial sector", he said, and therefore should be used to create a Community Finance Foundation which would support credit unions and community development finance institutions to provide more loans and other financial services, such as savings, to people and businesses who are excluded from mainstream finance.
In agreement, Peter Kelly, business development and marketing director at Unity Trust Bank said: "Most banks are either unwilling or unable to serve the most vulnerable in society and many viable small firms are unable to access the funding they need.
"Not for profit organisations such as credit unions and Community Development Finance Institutions (CDFIs) are playing a vital role in providing affordable finance to these underserved markets.
"The contrast between the poor behaviour of the banking industry and the ethical stance of the community finance sector could not be more stark and the business case for using a portion of these fines to reach out to those that have no alternative but to use high cost lenders is a no brainer. I would urge government to take this opportunity and allocate funds that promote the sustainability of the community finance sector," Kelly concluded.
Earlier this month, Pioneers Post reported that the Financial Inclusion Committee, led by Sir Sherard Cowper Coles found that there are just under two million people in the UK without a bank account and that demand for community finance was increasing. 
At the Community Development Finance Association (CDFA) annual conference, Coles said that he could "see the political attractions" of channelling a proportion of the fines into community finance, but that the sector "deserves better than this – better than gesture politics".
"I think the key word in this is sustainability," he said. 
Steve Walker, CEO at ART Business Loans, supported the idea. He said that a fund set up with money from the fines would "create sustainability". Fines could be used to "form the base of a fund that could support the social economy" and "provide finance to those the banks are currently leaving behind," he said. 
However, Stephen Bubb, CEO of Acevo, had an alternative plan. Before the budget statement was made yesterday, Bubb wrote in a letter to the chancellor that Libor and commercial fines should be used "to build social infrastructure": 
He urged the government "to use the proceeds of Libor fixing and fines from banking malfeasance and other consumer scandals to extend local sustainability funding a further three years to support voluntary sector infrastructure".
Other announcements made by the chancellor included raising the national minimum wage by 20p, which was met with mockery from the leader of the opposition Ed Miliband. 
This was the last chance in this Parliament for the chancellor to create a powerful legacy for social enterprise
One topic noticeably not mentioned by Osborne was social investment tax relief (SITR). CEO of New Philanthropy Capital, Dan Corry, said: "The social investment tax relief and the increase in the threshold announced in the Autumn Statement – and due to come in later this year – were not given an airing this time." 
Corry said that "it would be surprising if even a change of government altered" the SITR proposals, which gives individuals investing in qualifying social organisations a reduction of 30% of that investment in their income tax bill for that year.
"Whether it heralds the profound shift the social investment lobby wants, in the funding of social causes, or turns out mainly to be another tax efficient way of hiding income, remains to be seen," he concluded.
Peter Holbrook, CEO at Social Enterprise UK, said: "This was the last chance in this Parliament for the chancellor to create a powerful legacy for social enterprise, so we regret that nothing explicit was said about support for the sector.
"What makes this a disappointment is that the government's own statistics suggest that six per cent of all SME employers are social enterprises yet there is little in the budget that explicitly supports this growing sector."
With just 48 days to go until the general election in the UK and the possibility of a hung parliament looking increasingly likely, uncertainty within political circles will be a challenge for the social sector in upcoming months.
Photo credit: Abariltur