Michael Porter shakes up global social progress measurement
GDP should not be the sole indicator of global development – it is time to embrace a holistic measurement framework that truly measures all aspects of societal development. Harvard Business School economist Michael Porter introduced the Social Progress Index, which does exactly this, at the 2015 Skoll World Forum in Oxford last week.
At the 2015 Skoll World Forum for social entrepreneurs Michael Porter put one of the most talked about discussion points in social enterprise firmly on the agenda – social impact measurement.
As one of Harvard Business School's most highly esteemed economists and a critically acclaimed author, advisor, speaker and teacher, it was no surprise to see that Porter's session at the Forum drew in a big crowd. 
Porter used the platform to explain why the world's fixation on GDP is unhelpful and actually stunting the development of social progress, and indeed economies, all over the world. 
In alignment with the article by CEO of the Social Return on Investment Network Jeremy Nicholls published on Pioneers Post this week, Porter said that specific social progress methodologies need to be used to promote more accountability in the social sector.
Social Progress Index
Michael Porter is chair of the advisory board for the Social Progress Imperative, which is the organisation that has pioneered the Social Progress Index to track social and environmental development.
The Index ranks countries on their social progress and aims to fill the gaps left by only focusing on GDP – which does not take into account factors "like access to electricity, health, property rights, and religious tolerance" and thus fails to portray a complete picture of human and societal development.
Porter told the Forum: "We have to bring the same rigour of measurement to social progress as we long have to economic progress if we're going to achieve these dual goals of development."
He said that in the field of social development, outcomes must be embraced "much more aggressively". Again, supporting Nicholls' idea, he argued that it is not simply enough to prove that you're trying, you have to be able to prove you're improving the social and environmental landscape of the country you're working in. 
Porter's 3 key points on the Social Progress Index
When we measure social progress we should do that exclusively, we shouldn't mix in economic variables. A lot of the previous development efforts have combined economic and social, but that obscures what's going on, rather than clarifies it. The Index is fundamentally only about societal improvement, based on outcomes, not how much we try or how much money we spend. 
We try to create a holistic framework that applies to every country. There's a wide set of attributes and aspects of society that matter. We need to capture as many of those as possible, rather than looking at issues around social progress in silos, where everyone works on their singular issue, rather than sees holistically how all the pieces of society fit together.
We need to be specific enough that it is actionable. We must be measuring things that we can imagine actually changing because we're measuring at a concrete level. 
Social Progress Index framework
The Social Progress Index takes a three-pronged approach based around the following key questions:
Are we meeting people's basic needs in the society/country/region?
Are we creating the foundations of wellbeing and a better life? This includes access to basic knowledge, information and communication.
Is there opportunity for any citizen in society to reach their full potential?
Promoting sustainable development
Joining Porter on the Skoll panel chaired by CEO of the Social Progress Initiative Michael Green was co-founder of Partners in Health Paul Farmer, commissioner for the Independent Commission for Aid Impact Diana Good and president of the Municipal Pereira Passos Institute Eduarda La Rocque.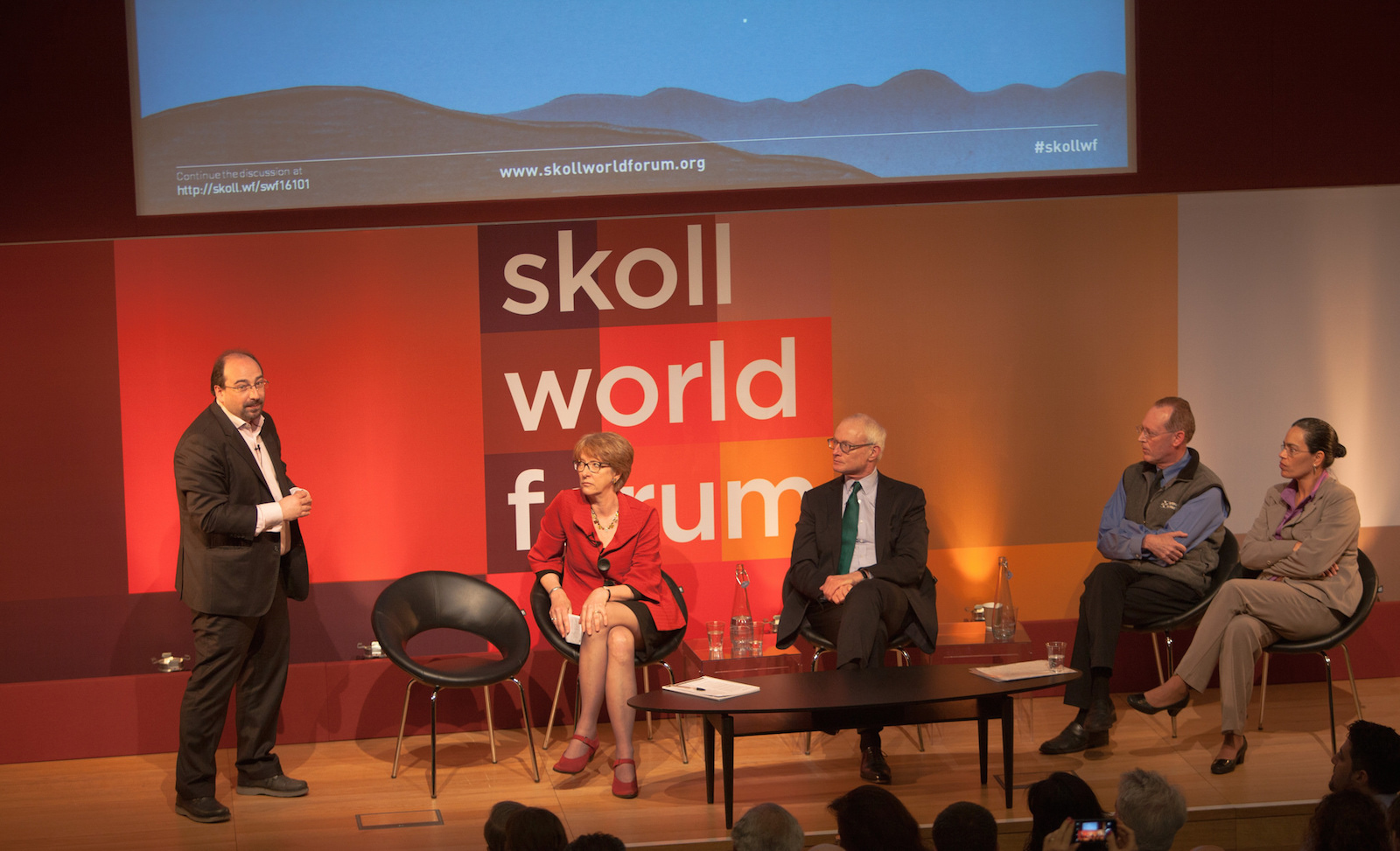 Michael Green and the panel. Photo credit: Skoll World Forum
The Independent Commission for Aid Impact is the watchdog of the UK government's Department for International Development (DFID) – working to ensure that taxpayer's money creates long-term, sustainable development.
Good supports Porter's emphasis on the importance of focussing on outcomes, rather than on efforts and money spent. 
"One of the things we're constantly saying to the UK government is that they have to focus on what they're seeking to achieve... That involves recognising what your real strengths are and knowing when to step back and allow others to step in," she said.
Good continued: "When I kicked off in the development world, I met a Zimbabwean farmer who walked very slowly across the village and singled me out. He said to me 'do you people realise that you people only have jobs because we're still poor?'"
She said that if you cannot show that the work you're doing is having an impact, you really have to question why you're doing it at all. The future of development needs to be about "holding back, genuinely collaborating and focussing on how to achieve the biggest impact".
The Social Progress Index is available to view online here. Currently holding top position in the global rankings is Norway, with the UK coming in 11th and the US 16th.
Header photo credit: Skoll World Forum