Social Enterprise UK puts on biggest awards bash to date
Vi-Ability, a social enterprise dedicated to community regeneration and reducing youth disengagement with society, has been named Social Enterprise of the Year at the 2015 Social Enterprise UK (SEUK) Awards.
The awards, which were held at the Underglobe beneath Shakespeare's Globe Theatre on London's Southbank last night, recognised outstanding achievements by social enterprises from across the UK.
Kelly Davies, founder and CEO of Vi-Ability, said: "Winning the Social Enterprise of the Year Award is absolutely fantastic. We see it as a platform to build from... and to continue to inspire other people to get involved in social enterprise.
"If I was to offer social entrepreneurs some advice, it would be to smile a lot, even though you might find it testing at times, and to dream big."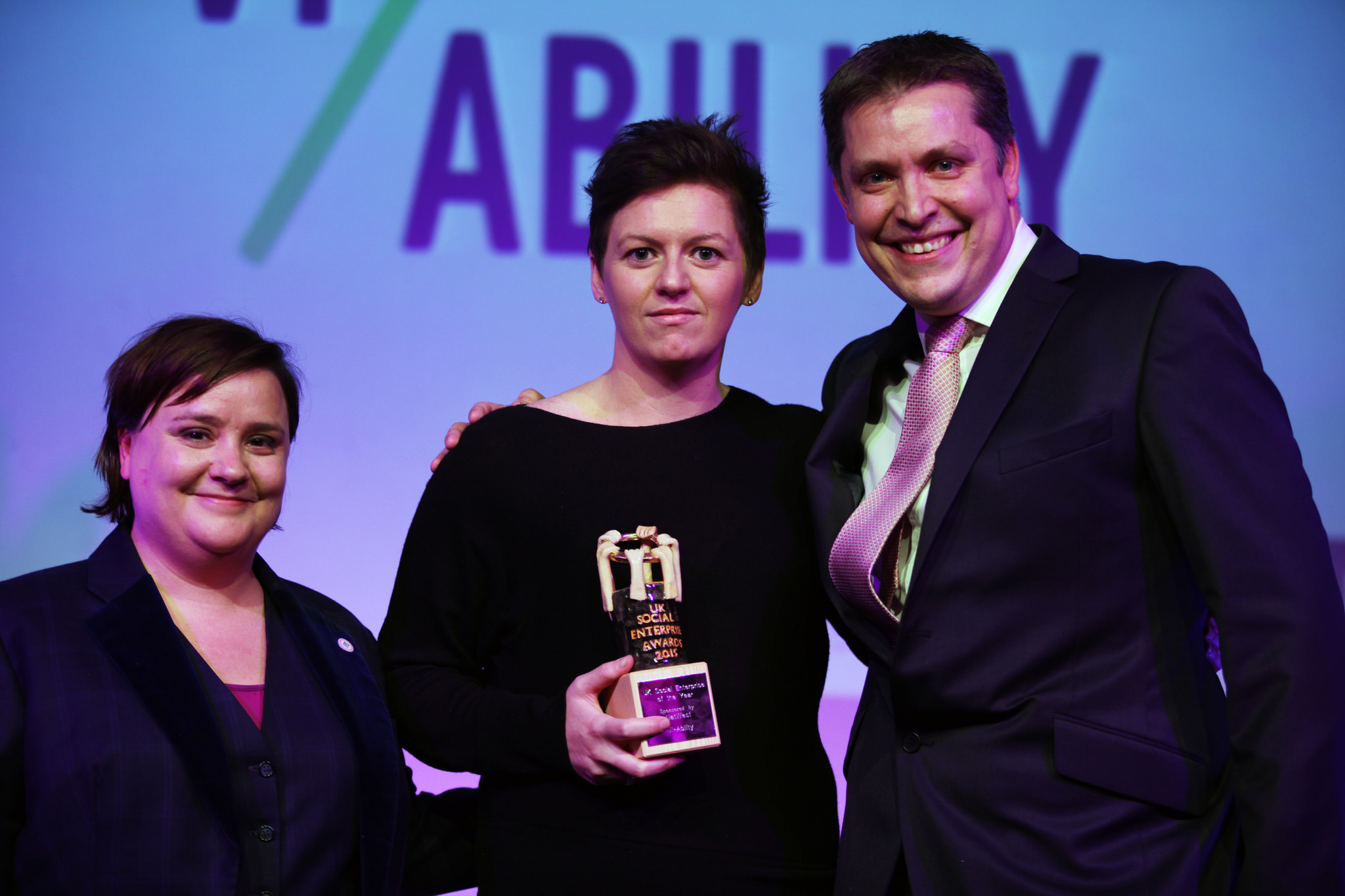 Susan Calman, Kelly Davies and Mark Parsons from NatWest
Davies and other winners throughout the night were welcomed onto the stage by host and comedian Susan Calman, who gave a special shout out to her fellow Scots when kicking things off.
Over 400 guests came to celebrate all the social ventures nominated, making it the biggest awards ceremony hosted by SEUK to date. Everybody was treated to a feast cooked up by the team at London Bridge-based social enterprise Brigade and a number of other goodies from social enterprise suppliers, including macaroons courtesy of Miss Macaroon.
CEO of SEUK Peter Holbrook CBE said: "Social enterprises are needed more than ever to tackle the social and environmental problems facing Britain.
"Congratulations to the winners – the competition was fierce. Every year the awards are a celebration of the social enterprise sector, but this year was truly remarkable. It was the largest awards we've hosted to date and a wonderful evening for the UK's social enterprise business community."
Another of the winners on the night was the WildHearts Group, which is a Glasgow-based office and business supplier that uses its profits to fund the work of the WildHearts Foundation.
It has transformed the lives of more than 50,000 people in 37 developing countries through microfinance, and has taught entrepreneurial and employability skills to more than 25,000 British young people.
After being given the Independent on Sunday's Readers Choice Award, sales director at Wildhearts Colin Downie said: "It's the perfect endorsement for everything we've been striving for over many years. This award is not just for our team but for our customers, who literally put their money where their mouth is."
Following the prize giving a moment of eccentricity ensued as Lorraine Bowen, who rose to fame on the TV show Britain's Got Talent, took to the stage to perform her song about cooking crumble. Whilst some got up onstage to dance with the performer, others retreated to the bar to continue celebrations into the early hours.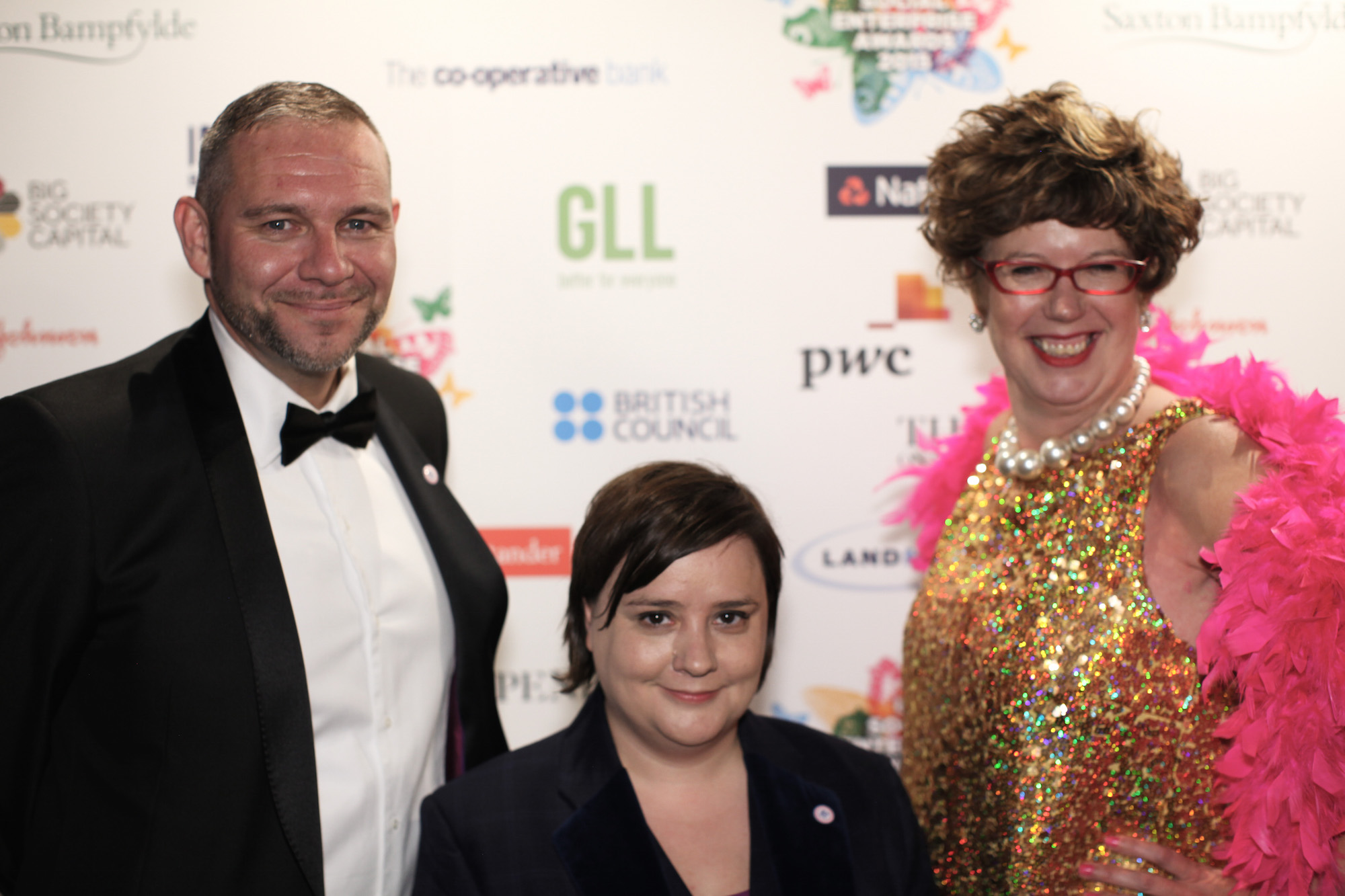 Peter Holbrook CBE, Susan Calman and Lorraine Bowen
Full list of the 2015 Social Enterprise UK Award winners:
Independent on Sunday Reader's Choice Award: WildHearts In Action
Social Enterprise of the Year: Vi-Ability
One to Watch: Penrhys Partnership – Big Click
Social Impact Award - SolarAid/SunnyMoney
Buy Social Market Builder: Merthyr Valleys Homes
Investment Deal of the Year: Resonance/Fare Share
Health & Social Care Social Enterprise: Leading Lives
Consumer Facing Social Enterprise: The Phone Co-op Limited  
Education, Training & Jobs Social Enterprise: Creative Alliance  
Environmental Social Enterprise: Instant Neighbour
Inspiring Youth Enterprise Award: The Aim Sky High Company
Women in Social Enterprise Award: Julie Hawker at Cosmic IT
International Impact: Zaytoun CIC
Photo credit: SEUK