Global social innovation round-up #27
University of Northampton is a blueprint development for others to follow, says minister
The development of the University of Northampton's new £330m campus – which will provide academic facilities for 15,000 students, residential facilities for 1,200 students and leisure facilities open to the community – should be seen as a blueprint for similar major construction projects across the UK, said the minister for civil society.
By agreeing social impact plans with suppliers, appointing contractors who commit to employ a percentage of people from the local area (including apprentices) and setting up student work placements with supply chain providers the university sought to maximise the positive social impact the construction project could have on the local community.
On a visit to the university's Innovation Centre, Rob Wilson MP said: "This approach is something which the government is trying to encourage a number of organisations to take up. What the University of Northampton is doing is making a massive difference in terms of skills, and I believe is the first university in the country to do this. What I will be doing is keeping an eye on what the University of Northampton has done, and is doing, and making it a case study so it can be repeated elsewhere in the country."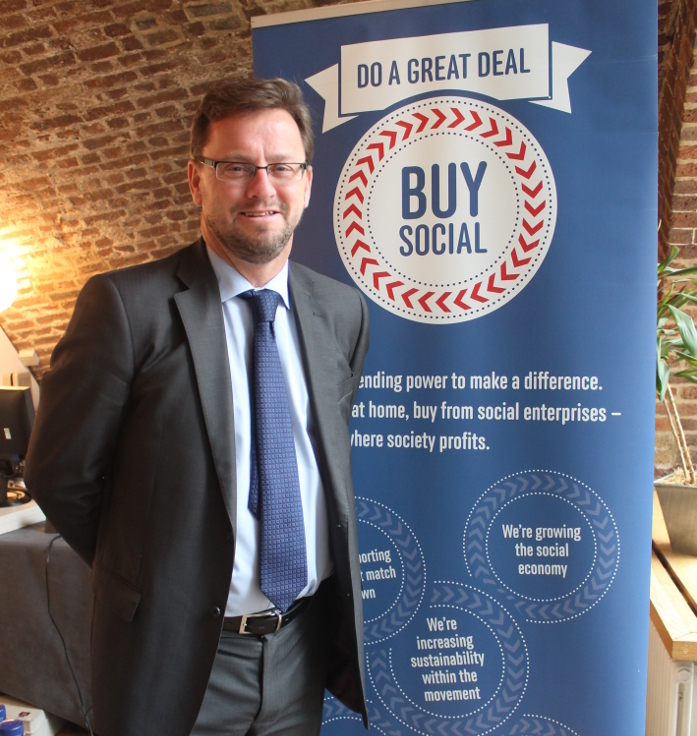 Rob Wilson MP at the launch of SEUK's 2015 State of the Sector Survey. Photo credit: SEUK
Flower powered social enterprise scoops Tata's top prize in India
HelpUsGreen, a social enterprise that recycles the waste from places of worship in India into products such as bio-fertilizer, incense and bathing soaps, has been named the winner of the 2015/16 TATA Social Enterprise Challenge. The venture was set up to reduce the amount of flowers that are dumped into rivers. The pesticides and chemical fertilizers used to grow the flowers make them highly toxic to fragile river ecosystems.
The TATA Social Enterprise Challenge was founded in 2012 by the TATA group and the Indian Institute of Management (IIM) Calcutta. It aims to find India's most promising social enterprises and raise awareness about social entrepreneurship throughout the country. Winners of the competition receive a cash grant, mentorship support and are given the opportunity to pitch for further funding and business incubation at IIM Calcutta.
The 2015/16 first runner up was Jeevtronics – a social venture that designs and implements affordable medical devices for underdeveloped and rural areas. It has so far patented a hand-cranked defibrillator, which has a built-in power generator that enables it to work in off-grid rural areas, mini ambulances and disaster relief camps, among others.
Big Society Capital invests £15m in affordable housing in the UK
Social investment wholesaler Big Society Capital has invested £15m into Funding Affordable Homes (FAH), which is a company founded by merchant bank Salamanca Group that provides affordable property for housing associations and local authorities.
Big Society Capital's senior investment director Anna Shiel told the Daily Telegraph: "Housing is attractive for social investors, because it can combine a reasonably stable financial return with the potential for strong social impact - addressing poor housing can have a profound impact on people's lives."
FAH offers a return of 8%, part of which will be paid as a dividend. These returns will come from both the rising value of the property built and from rents over approximately 30 years.
New social investment intermediary opens its doors in Canada
VERGE Capital, a social investment intermediary that aims to help connect social entrepreneurs to like-minded investors in London, Ontario, declared itself open this week.
VERGE received $375,000 from the Government of Ontario last year as past of a $4m investment in 11 different projects all designed to support social enterprise development in the province. It also received $885,000 through grants and in-kind contributions from partners and private investors. The first two ventures to receive support from the newly opened intermediary are a grocery store that will offer employment and training programmes for people with disabilities and a laundry service that provides low-income and homeless individuals a place to wash their clothes for free.
UK-based social enterprises – HRH The Prince of Wales' charity wants you
Applications for Business in the Community's (BITC) 2016 Responsible Business Awards are now open to businesses of all sizes – from SMEs to multinational companies – that are taking practical action to address social and environmental issues.
BITC is one of 'The Prince's Charities', a group of not-for-profit organisations for whom HRH The Prince of Wales is the president. 2016 marks the 19th year of the BITC Responsible Business Awards, which recognise a wide range of positive business activities, from investing in the wellbeing of employees, helping develop the skills of young people and supporting rural communities to using natural resources more sustainably.
The closing date for entries is 12th February 2016. Please click here to find out more.
Lloyds Bank teams up with the School for Social Entrepreneurs
Throughout the rest of January, February and March Lloyds Bank are teaming up with the School for Social Entrepreneurs to host taster sessions around the UK for those interested in taking part in the Lloyds Bank Social Entrepreneurs Programme.
The programme offers participants financial grants provided by the Big Lottery Fund for between £4,000 and £15,000 depending on the stage at which a business is at. Participants are also offered business mentorship and training to help them develop their business idea.
To find out more about the taster sessions, please click here.
Photo credit: Yoshikazu Takada