Community transport has potential to save taxpayers £1bn
Community transport schemes have the potential to make savings of up to £1.1bn a year for the public purse, concludes a new report from ECT Charity, one of the UK's leading community transport providers.
The Why Community Transport Matters report is an amalgamation of two studies that aim to help community transport organisations around the UK better demonstrate the social value of the services they provide.
Anna Whitty, CEO of ECT Charity, said: "The next few years are going to be tough for the UK as budgets for public services continue to be cut. It is time to look at things in a different way and community transport is an important – but often invisible – part of the solution.
"Telling our story isn't enough – we have to demonstrate the value of the benefit that we provide, especially when we are trying to convince councils, commissioners and government policymakers that community transport is a worthwhile investment."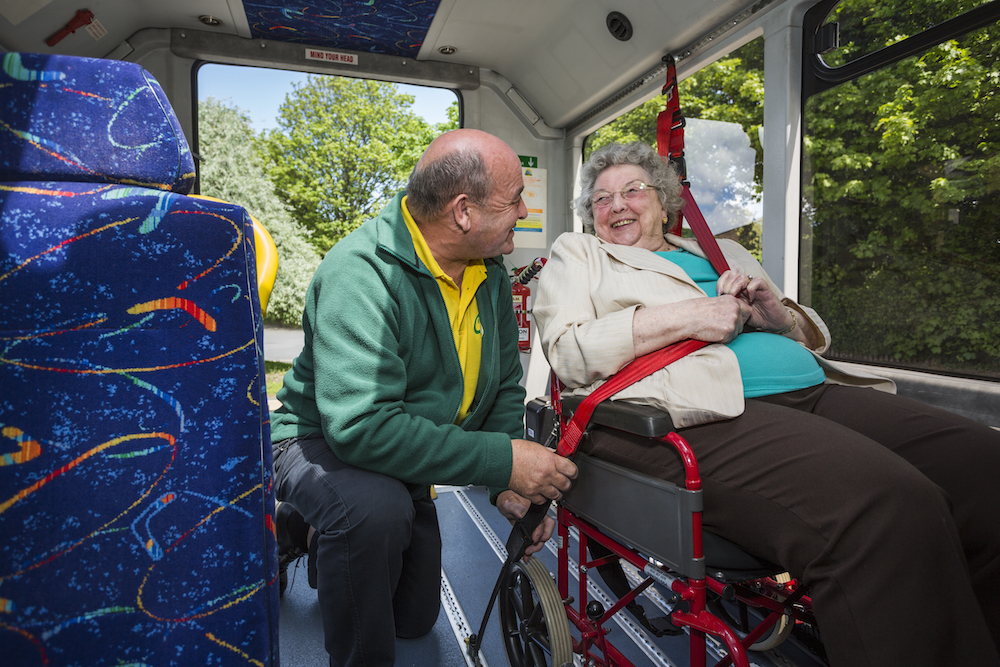 ECT team member with a customer. Photo credit: ECT Charity
ECT Charity is both a charity and a social enterprise that enables thousands of individuals and groups who have difficulty using local transport to lead active, independent lives by offering them transport services designed to meet their needs. In the first study carried out for the Why Community Transport Matters report, ECT Charity worked with Deloitte to research the economic cost of loneliness and isolation – and the role of community transport in reducing this.
The Shadow Secretary of State for Transport Lilian Greenwood said: "Upon reading this report, there will be no doubt in anyone's mind as to the potentially huge benefits that community transport can deliver in communities and to public services all over the UK."
According to the report one third of older people and half of over-80s say they are sometimes lonely. It also explains that 'loneliness can lead to depression, anxiety and mental decline, as well as increased levels of drinking and smoking'. As a result lonely and isolated individuals need more support from health and social care services, as well as family members. ECT Charity and Deloitte estimate that the financial cost to the UK of these effects today is around £2.1bn every year.
We have to demonstrate the value of the benefit that we provide
Community transport services are able to provide older people at risk of isolation with the transport they need to access social opportunities and health services. Improving access to GPs and healthcare facilities can result in early diagnosis and treatment, which in turn leads to reduced mortality rates, improved health outcomes and reduced health inequalities. This access also reduces non-attendance for health services by ensuring those with transport difficulties do not miss their scheduled appointments.
The second study included in the report, A Practical Method for Measuring Community Transport Social Value, aims to help community transport organisations make a compelling case to commissioners on the value of their services. In this section of the report ECT Charity has published a practical, shareable method for community transport organisations – both large and small – to work out the social value of the benefits that they provide individually or collectively.
The approach enables specific outcomes and types of services to be valued. It is designed to be useful in applying for tenders or grants whose outcomes match those the community transport sector can fulfil.  
The Why Community Transport Matters report concludes that community transport schemes have the potential to make savings of between £0.4 billion and £1.1 billion a year for the public purse, as well as reducing pressure on public services and helping older people to remain active members of society.
Bill Freeman, CEO of the Community Transport Association, said: "Community transport, in all its forms, has the potential to offer a more reliable and resilient way of addressing a growing number of transport needs and contributing to areas of public policy where access and inclusion are significant challenges. It is vital that the sector can demonstrate the quality of its services, but also that they add value, so there is something that is a broader benefit beyond the simple fulfilment of the contract."
Whitty concluded: "We hope that, if you are a community transport manager, this report might encourage you to make use of the methodology to start measuring your social value. And, if you are from a local authority or clinical commissioning group, maybe these ideas will help you to look afresh at the community transport organisations in your area, and support them to help you achieve your aims of improving the health and wellbeing of the people in your community."
To read the Why Community Transport Matters report in full, please click here.
Header image: ECT Charity bus service in Cheshire
Photo credit: ECT Charity