UK cooperative invests £500k into community transport services
The UK's only customer owned ethical phone company has invested £500,000 into community transport social enterprise HCT Group providing an example of a social enterprise investing its excess capital into another social venture.
The deal demonstrates that investment into impact is coming not only from financial institutions and angel investors, but other social enterprises as well.
Vivian Woodell, chief executive of the Phone Co-op, said: "We like to ensure that the way we invest surplus cash means that it is working in support of our values, so that it is not just us who earn a return but society as a whole. This is why we have chosen to invest in HCT Group – a social enterprise that runs bus services across country."
What is remarkable about this deal is how differently and more easily things get done when organisations trust each other.
The deal was supported by impact investment advisory firm ClearlySo – who provided support on structuring and pricing the HCT Group's transport services and ensured they were connected with the right mix of funders who value its social impact and will help it grow.
CEO of ClearlySo Rodney Schwartz said: "It just doesn't get any better than this. One successful impact-focused business invests in another. What is remarkable about this deal is how differently and more easily things get done when organisations trust each other – the hallmark of organisations with a social impact focus. 
"This is an important deal because it shows how impact investment is opening up and bringing together a range of new investors."
The HCT Group was set up in 1982 with the formation of Hackney Community Transport, providing low cost minibuses for local community groups – a service it still provides. It now also competes for commercial contracts in the marketplace which has allowed the Group to grow from a handful of volunteers and a couple of minibuses, with a turnover of £202k in 1993, to a large scale social enterprise with 800 employees, a fleet of 500 vehicles and a 2013/14 turnover of £43.7m.
Dai Powell, chief executive of the HCT Group, said: "We also want a world where co-ops and social enterprises buy from each other, invest in one another, building a new business ecosystem based on values and ethics.
"We'll be able to put the Phone-Co-op investment to good use, growing our business and increasing our social impact.  When you borrow, you are, in effect, buying money.  When we borrow, we want to buy social."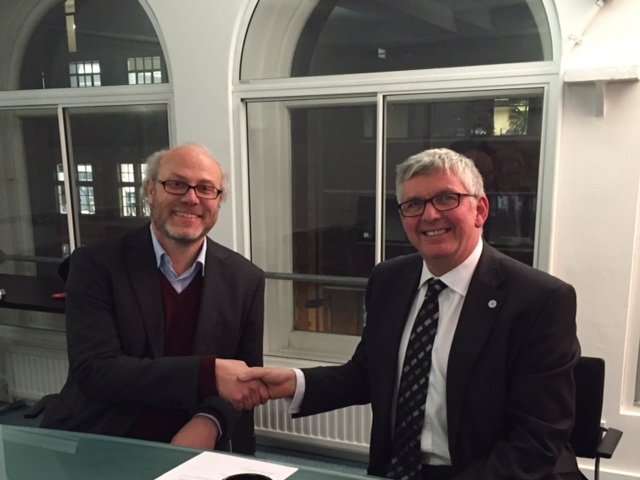 Dai Powell and Vivian Woodell shake the deal. Photo credit: ClearlySo
Header photo: Darren Johnson