Global social innovation round-up #29
Two social impact bonds launched in the US
Two pay for success programmes (commonly referred to as social impact bonds in the UK) have been launched in South Carolina and Connecticut in the US this week.
In South Carolina Republican governor Nikki Haley announced the launch of the US's first 'pay for success' project focused on improving health outcomes for mothers and children living in poverty. The initiative will expand Nurse-Family Partnership, an evidence-based home-visiting programme that pairs vulnerable first-time mothers with specially trained nurses to support healthy pregnancies and positive child development.
In Connecticut Democratic governor Dannel Malloy and White House national drug control policy director Michael Botticelli announced the 'Connecticut Family Stability Pay for Success Project'. The initiative will serve 500 families struggling with substance abuse by expanding the work of Family-Based Recovery over the next four and a half years. Developed at the Yale Child Study Center, Family Based Recovery is an intensive, in-home parent-child programme designed to support families with young children at risk for abuse and neglect, poor development outcomes, and removal from the home due to parental substance use.
Both pay for success projects were set up with the support of the intermediary Social Finance US, which partnered with state governments, service providers and impact investors to design, structure and manage the two programmes.
Tracy Palandjian, CEO and co-founder of Social Finance US, said: "Pay for success is about driving resources to effective programmes that serve some of society's most vulnerable… It is no surprise that pay for success enjoys strong bipartisan support. The announcements we see today in South Carolina and Connecticut exemplify smart government at work."
National Homelessness Property Fund Launches with £30m Investment in the UK
Social investment company Resonance and one of the UK's leading homelessness charities St Mungo's have joined forces to launch the National Homelessness Property Fund (NHPF). The Fund will be investing in residential property which will be let to individuals and families who have been homeless, or are at risk of homelessness. Properties will be managed by St Mungo's social lettings agency Real Lettings.
So far Oxford, Milton Keynes and Bristol councils have each invested £5m into the NHPF, with matched investment of £15m from Big Society Capital. The Fund will aim to raise further investment in mid-2016 and achieve a total size of £60-100m over the next two years.
Students prepare to mobilse for social causes
Next week Student Volunteering week will see students and staff from over 100 colleges and universities celebrate and raise awareness of not-for-profit work throughout the UK. The event is organised by Student Hubs and the National Union of Students and is now in its 15th year.
More than 10,000 students are expected to take part in over 500 events across England, Ireland, Scotland and Wales throughout the week. Activities will include providing support at homeless shelters in Essex and renovating the community running track in East London's Victoria Park.
To find out what's going on near where you live, please click here.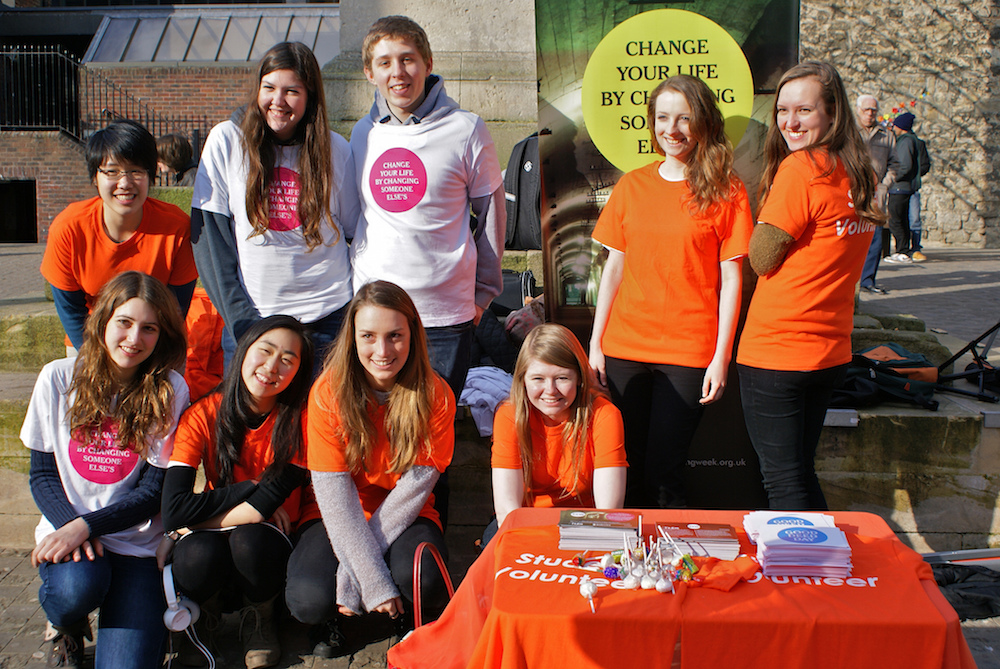 Students taking part in a previous Student Volunteering Week event. Photo credit: Student Hubs
USAID backs Miller Centre for Social Entrepreneurship
The United States Agency for International Development (USAID) has awarded the Miller Center for Social Entrepreneurship at Santa Clara University in the US and New Ventures India a $767,000 grant in an effort to lift one million of the 289 million people in India without electricity out of darkness.
The Energy Access Investment Readiness Program is a public-private partnership that aims to enable delivery of clean, off-grid power to people across India. As part of the programme New Ventures India will facilitate the investment of $41 million of impact capital over three years to support local social enterprises that are able to deliver clean energy. Already, close to $5 million has been committed to the programme.
The Miller Center's Global Social Benefit Institute will train social entrepreneurs in India to help them become investment-ready and able to increase the reach of their businesses and resulting impact.
Ambitious social enterprises – the Prince's charity wants you!
A social enterprise support programme run by HRH the Prince of Wales' charity Business in the Community is looking for ventures that are ready to grow. The programme targets social enterprises that can demonstrate trading activity and gives entrepreneurs free access to practical business support, such as improving business strategy, marketing and branding support or practical advice on winning contracts and new business.
Previous social enterprises who have been supported by the programme include Bikeworks, From Babies With Love and K10, the apprenticeship training agency, which has placed over 500 apprentices into work.
To find out more, please click here.
Three-quarters of UK social enterprises pay the Living Wage finds new survey
According to a new report from Social Enterprise UK 74% of social enterprises pay the Living Wage. The wage is defined as 'a wage which is high enough to maintain a normal standard of living' and is set by the Living Wage Foundation. It is currently £9.40 per hour in London and £8.25 in the rest of the UK.
Of those social enterprises surveyed approximately 20% do not pay the Living Wage. The main reason cited for this was the need to compete with ordinary businesses in open markets, with some respondents saying they would need to reduce the number of employees if they paid the Living Wage. 52% of those who do not pay the Living Wage said they didn't because they are small and / or starting-up.
Peter Holbrook CBE, CEO of Social Enterprise UK, said: "In an economic recovery dominated by low-pay and with ever rising inequality it is heartening to see that the vast majority of social enterprises see paying the Living Wage as essential to their mission as responsible businesses.
"Of course there are legitimate concerns to paying the Living Wage and adopting it is not the silver bullet which will break down structural imbalances in the economy. Many social enterprises are operating in sectors where wages are notoriously low and competition is fierce – and paying the Living Wage may well disadvantage them or leave them unable to compete.
"The public sector has an important role to play to help foster an enabling environment by specifying in their contracts that workforces are paid the Living Wage. Camden Council's Carers' Services is a great example of where this already happening."
Header image: South Carolina State House, USA. Photo credit: Ron Congswell