Global social innovation round-up #30
Triodos Bank boasts significant growth in 2015 annual report
Triodos, one of the world's leading ethical banks, has released its annual figures for 2015. The Netherlands-based institution reports a 16% growth of assets under management to €12.3bn. Key areas of growth highlighted in the report include lending to the solar energy industry, which grew by 905% to £18m and loans to housing associations, which grew by 15% to £205m. Overall the bank's customer numbers increased by 4% – by the end of 2015 Triodos Bank had 48,000 customers in the UK.
Peter Blom, CEO of Triodos Bank, said: "As a financial institution, focused on delivering a positive impact on people and society and respecting the planet, we see entrepreneurs everywhere who take action to craft the world of tomorrow.
"While society continues to struggle with environmental, social and economic problems, we notice it is no longer governments, but individuals, entrepreneurs and communities who fuel the energy transition, use technology to connect more people in more places to basic financial services and together make the shift to a more ecologically balanced and a fairer economy. With our resilient result we are able to finance an increasing number of these initiatives and growing our positive impact."
From CEOs to managers, companies need to be thinking about innovative ways of building social value into their business
Big Society Capital seeks corporates behaving socially
Social investment wholesaler Big Society Capital has launched its second Business Impact Challenge, which aims to support partnerships between corporates and social enterprises or charities.
The Challenge is looking for 'high-impact investments that generate both strong business and social value in the UK'. The winner of the first competition last year was a partnership between Interserve, Catch 22 and ClubFinance. The three organisations created a Public Services Lab 'to support community organisations, charities and social enterprises to deliver on public service contracts at scale'.
Entries for the 2016 Challenge will be judged by a panel chaired by Lord Davies of Abersoch (former chairman of Standard Chartered and Minister of State for Trade and investment).
Lord Davies said: "From CEOs to managers, companies need to be thinking about innovative ways of building social value into their business. Those that have done so successfully have not only had a positive social impact but have made commercial gains as well. We now need to see more businesses taking this approach.
"Charities and social enterprises have expertise in responding to social issues and by working with them companies can determine which social needs best align with their strategy."
For more information about the 2016 Business Impact Challenge, click here.
Social Enterprise UK welcomes conclusions of Freedom of Information Commission
A new report published by the Independent Commission on Freedom of Information last week has been received warmly by Social Enterprise UK (SEUK) – the national membership body for social enterprises in the UK. CEO of SEUK Peter Holbook said: "We are pleased that this report from the Independent Commission asserts that all providers – including private companies, charities and social enterprises – delivering contracts worth more than £5m (per financial year) should be subject to the Act. Whilst this is not an official recommendation we hope the Government will act on it.
"The Independent Commission received consultation responses from 29,000 members of the public as well as organisations, who all said that new FoI laws should be extended to private companies. Taxpayers spend close to £200bn every year on goods and services with third party providers, the majority of which goes to private companies – they really do need to be accountable."
Australian social enterprise Thankyou Group expands to New Zealand
Set up in 2008, Thankyou Water has gone on to become one of Australia's most well known social enterprises. The model is simple: the company sells bottled water and gives 100% of its profits to food, water and health and sanitation programmes around the world. Customers can track the social impact of their purchase on the company's website.
Over the past eight years the social enterprise branched out into new food and body care products, changing its name to the Thankyou Group. According to the New Zealand Herald, plans are now underway for a launch in New Zealand. As of January 2016, the Thankyou Group had donated over AU$3.7m to programmes around the world.
Local businesses back children's writing charity in Yorkshire
Grimm & Co, a charity in Rotherham, has launched a new writing and mentoring centre for children and young people with the support of local businesses. Grimm & Co's mission is to help young people to think in new ways and learn new skills through storytelling and by being encouraged to use their imagination. It is expected that over 1,300 young people will be able to take part in writing classes in the first year of Grimm & Co through story making workshops, school writing programmes, after school clubs and holiday camps for 7-18 year olds.
Grimm & Co founder Deborah Bullivant said: "Rotherham has been through the mill in recent years in terms of perceptions, and the latest convictions for child abuse last week have made matters worse. What we aim to show is that there is much more to Rotherham."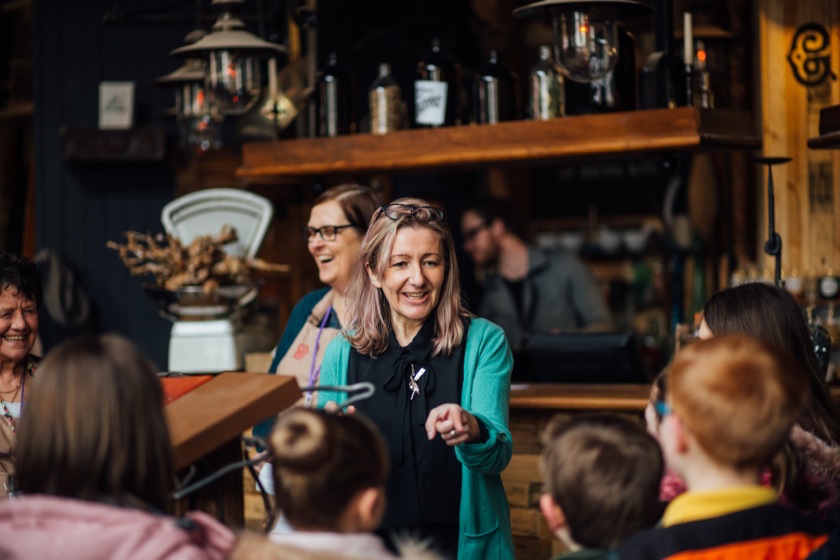 Launch event for Grimm & Co in Rotherham, Yorkshire. Photo credit: Grimm & Co
The project been created with support from local businesses, including Side by Side which has gifted over £90,000 of their time to create the branding, design and keep it true to the background story. Grimm & Co supporters include Arts Council England and the Big Lottery, as well as Sir Bob Geldof, who is a patron of the charity and author Joanne Harris.
Harris, whose novels include Chocolat, told social enterprise radio programme host and friend of Pioneers Post Jamie Veitch: "Children are full of all kinds of interesting questions that I haven't had elsewhere… they are absolutely fizzing with enthusiasm and ideas and all they need is a little bit of encouragement to write their own stories which is exactly what they're getting here."
Social Finance UK appoints new chair
Social Finance UK, the organisation accredited for structuring the world's first social impact bond has announced  that David Blood is to replace Bernard Horn as its new chair. Blood is one of the co-founders of Social Finance and has been a leading advocate for impact investment both in the UK and internationally.
Social Finance CEO David Hutchison said: "David Blood has been a tremendous supporter of Social Finance over many years both here and in the US. We are delighted that we will benefit from his guidance and leadership in the years ahead. At the same time, we will be very sorry to say farewell to Bernard Horn. His contribution to Social Finance has been invaluable. Bernard has given of his time unfailingly and he has always been the most effective advocate for our approach in tackling complex social issues."
Header photo credit: Jared Erondu