Global social innovation round-up #32
Raise your #handsupforCB
A campaign has been launched by Power To Change calling on community businesses in England to celebrate their success and the positive impact they have had on their local areas. The #handsupforCB campaign, which encourages community businesses to share pictures of their teams celebrating their success, coincides with the launch of Power to Change's £10m Community Business Fund. The fund will provide financial support to existing community businesses to help them grow, increase their social impact and become more sustainable.
Recent research shows community businesses across England grew 9% in 2015, generating £900 million income on £1.4 billion of assets and engaging with 170,000 volunteers. One example of a community business in action is Kiveton Park and Wales CDT (pictured above) in South Yorkshire. It is transforming derelict land into a state-of-the-art football pitch using a £300,000 grant from Power to Change. The trust is led by local people and has 200 members and community groups that feed into development plans.
Vidhya Alakeson, CEO of Power to Change, urged: "If you know or run a great community business in your area, tweet about it using #handsupforCB and join in the discussion and celebration."
Rockefeller announces fossil fuel divestment  
The Rockefeller Family Fund has publicly stated it aims to divest from fossil fuels as quickly as possible and "eliminate holdings" of the oil company Exxon Mobil Corp. In a statement on their website, the Family Fund said: "The process will be completed as quickly as possible, as we work around the complications of modern finance… The field of Socially Responsible Investing is dynamic and growing and we are confident that a variety of options will soon emerge for mid-sized endowments such as ours."
The Rockefeller family has historical ties to the fossil fuel industry – a century ago John D. Rockefeller Sr. ran Standard Oil (a precursor to Exxon Mobil). The statement continues: "Needless to say, the Rockefeller family has had a long and profitable history investing in the oil industry, including ExxonMobil. These are not decisions, therefore, that have been taken lightly or without much consideration of their import. But history moves on, as it must."
According to Reuters, in response to the divestment announcement many oil industry leaders have warned against the impact on "millions people in the developing world" who would be "condemned to darkness and poverty if society were to halt the burning of fossil fuels before there is ample supply of cleaner energy sources".
£1m social investment saves Bristol sports centre from closure
Bristol and Bath Regional Capital CIC (BBRC) has successfully raised £1m to invest in the South Bristol Sports Centre in the south west of England. BBRC is a recently launched not-for-profit investment intermediary. It worked with partners including social finance intermediary Resonance to raise the capital, which will fund six new five-a-side football courts and secure the sports centre's long term future.
Mike Innes, chair of the South Bristol Sports Centre, which is a registered charity, said: "Our new state-of-the-art football courts, with FIFA 2016 approved surfaces, provide the people of South Bristol with a fantastic sports centre that we can all feel extremely proud of."
South Bristol Sports Centre football club training
Social Investment Tax Relief makes strides in Scotland
Social Investment Scotland (SIS) has invested between £25,000 and £100,000 into seven Scottish social enterprises through the SIS Community Capital fund. The fund provides investees with affordable unsecured finance over a six year term, enabling them to develop their business and focus on delivering social impact before repayments of the loan capital begin. SIS Community Capital was the first Social Investment Tax Relief fund in the UK, offering investors a 30% relief on their investment from their income tax liability.
One of the seven social enterprises to receive investment was Dundee Gymnastics Club 2K, which will use the £44,000 investment to finance a new lease, redecorate and purchase new gymnastics equipment, encouraging young people from all backgrounds to participate in gymnastics and advance health and well-being, education and employment in the city.
London charities receive £1.6m investment readiness funding
The City Bridge Trust and UBS have given 32 charities and social enterprises a share of £1.6m through their social investment readiness programme following the closure of the second round of funding last week. The Stepping Stones Fund was launched by the Trust and UBS two years ago to support socially driven organisations that wish to access the social investment market.
Charities funded through Stepping Stones cover a wide range of welfare issues from domestic violence, to social care and educational attainment. One grantee, West London Zone, is using funding to kick-start coordinated work delivered by a number of youth charities who will support 13,000 children and young people up to the age of 25. A further round of funding from the Stepping Stones programme will launch in Summer 2016.
House of Lords welcomes Big Issue vendors
Last week, the founder of the Big Issue Lord Bird invited some of the magazine's vendors to a reception at the House of Lords. He described the men and women as "the backbone of The Big Issue" and said it was "a great privilege to be with people who are struggling to get out of the grief that I personally left behind many decades ago".
Among those joining Bird at the reception were many who used their time selling The Big Issue to transform their lives, including Mark Dempster, who is now a Harley Street therapist, and James Bowen, author of the best-selling series of books called A Street Cat Named Bob.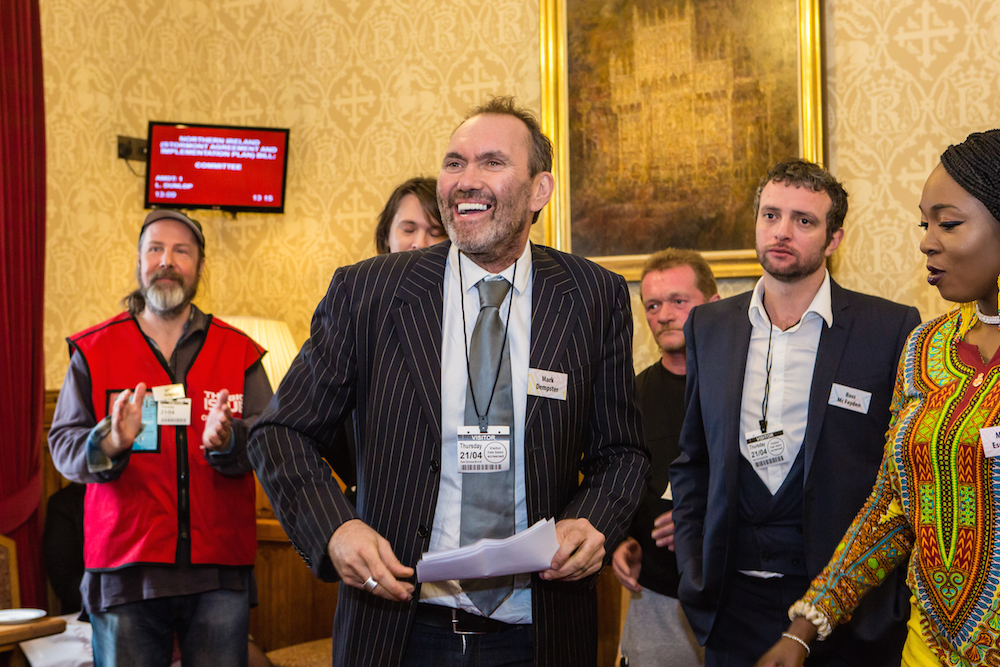 Mark Dempster at the House of Lords reception. Photo credit: Louise Haywood-Schiefer