New international development agenda makes waves in Italy
"While everybody agrees with the general statement that we need to bring public and private together, so far it's just a statement." On board the 2016 Social Enterprise Boatcamp, Laura Frigenti talks to Ellie Ward about the strategy and objectives of the Italian government's new international development agency – of which she is the boss.
In November last year Italy's Prime Minister Matteo Renzi appointed Laura Frigenti as director of the new Agenzia Italiana per la Cooperazione allo sviluppo (AICS). The newly created agency is responsible for implementation of the government's international development activities, which previously came under the Ministry of Foreign Affairs.
AICS is essentially the Italian equivalent of the Department for International Development (DFID) in the UK or the United States Agency for International Development (USAID). The Italian government commits 0.2% of its gross national income to development, which compares with 0.7% in the UK, 0.13% in Spain and 0.17% in the US. The introduction of AICS comes at a critical time, with this year marking the launch of the United Nation's Sustainable Development Goals (SDGs).
Taking on the responsibility of structuring AICS and ensuring it delivers on its objectives to promote economic and social development around the world, and ultimately reduce global inequality, is Laura Frigenti. Previously, Frigenti spent almost 20 years at the World Bank, where she held a number of senior positions including chief of staff and director of the President's office.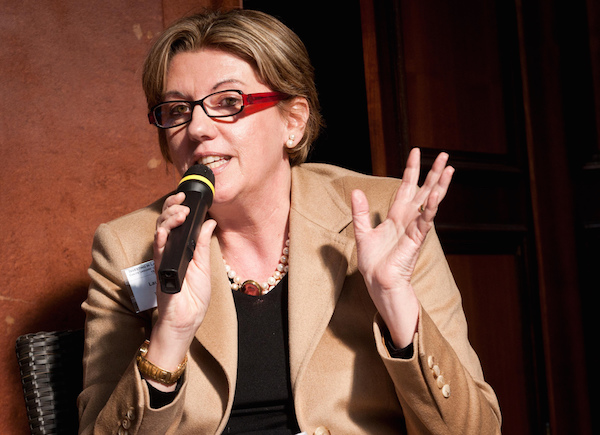 Laura Frigenti at the 2011 World Bank Latin America Policy Forum
Photo credit: Friends of Europe
Pioneers Post: Why is the introduction of AICS significant in terms of Italy's commitment to international development?
Laura Frigenti: This is the first time Italy has been equipped with a dedicated agency for international development. Its introduction is in recognition of the fact that the issues of development are increasingly more and more complex in their nature. It's also important because it comes at a time when the need for the work of a whole host of players is crucial in order to meet the UN 2030 agenda.
PP: What specific mandate has the agency been given?
LF: The responsibility of the agency is to take care of the design, interpretation and management of all the international development programmes that the government finances.
The first objective for us is to really think about the kind of changes we have to make to respond to the 2030 agenda. The second is to identify ways of engaging with different actors – from traditional ones who are very active in development to others that are less so, to see how we can bring them together into a more coherent network.
PP: What brought you to the 2016 Social Enterprise Boatcamp and to what extent does AICS see the role of social enterprise as important in the international development space?
LF: This segment of players is where I think the greatest innovation is coming from. And so I think it is important that a representative of the agency responsible for coordinating development activities would dedicate the time to sit with as many social entrepreneurs as possible here and then go on to internalise how we can be of help to them.
PP: In what ways can the agency support the development of social enterprises?
LF: There is in Italy and in other countries too I think, a separation wall between profit and non-profit. I think that is an old fashioned stereotype that comes from the old era, which results in the private sector acting in a certain way and the non-profits in another.
For us it is important to gain a better understanding of how we can facilitate the blossoming of all this Italian innovation and creativity and put it at the service of the countries we wish to serve. For example, by providing entrepreneurs with access to resources and connecting them with appropriate partners and financers.
The 2030 objectives are not going to be achieved only with public money
I sense that the 2030 agenda is only going to be achieved if we find ways of bringing together non-profit and for-profit… Thinking about all these actors in one framework is ultimately what will help us develop a truly effective system of development.
PP: What key lessons have you taken on board from more established agencies around the world?
LF: I have particular admiration for DFID's approach to grounding operational choices in very strong analytics. You have to really be able to do your homework and understand the foundations in which you embed your programmes. This is what I hope for us to achieve.
The second is the courage to play an advocacy role. At times multilateral agencies are quiet... It's important that we do not forget why we are doing what we are doing. This is a government agency but we should never lose sight of the development objectives we have been set.
PP: What are your biggest concerns that will prevent the SDGs from being achieved?
LF: The 2030 objectives are not going to be achieved only with public money. Even if countries were to get to the 0.7% spend on development that would not be enough. While everybody agrees with the general statement that we need to bring public and private together, so far it's just a statement.
The second big thing is data. In a lot of countries we still do not have enough information… If we do not accurately measure, how will we know if we reach what we intend to achieve?
The third thing that is very important is that a precondition for the agenda to succeed is that we have very strong, independent, local institutions that monitor how resources are used and ensure that they are being used to achieve important development objectives… We must not assume that just sending the money is sufficient to meet these objectives because history should have told us otherwise.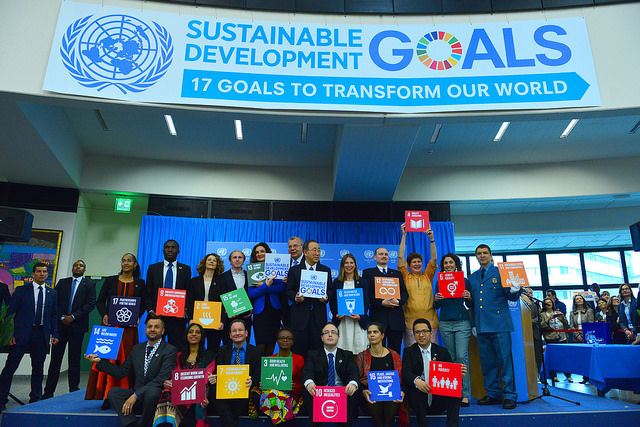 Secretary General of the UN Ban Ki Moon and volunteers promoting the SDGs.
Photo credit: IAEA Imagebank
PP: Across Europe and in other parts of the world including the US, we are seeing a rise in popularity of nationalist political groups and agendas, in part as a response to the mass migration of refugees from regions experiencing conflict. How much does this concern you in terms of international development?
LF: We should all be concerned when discussions become too polarised as a general principle. These issues are incredibly complex and nothing is as easy or simple as saying 'let's open the door' or 'let's close the door'. There are implications of both decisions.
Of course we see that there's a very important role that development resources have in creating conditions that will make it less desirable to leave their countries. This is why a big chunk of our resources is going to countries like Jordan and Lebanon where the vast majority of Syrian refugees are, for example into education programmes… It's vital that as soon as children reach a safe place that they go back to school.
The reality is that these people are going to be staying in these new countries for a while. This is not something that can be addressed by keeping them alive in a camp and hoping that at some point they will go back. It may take more than a decade before they can go back. That's enough time to de-stabilise situations that are already irritated.
The 2016 Social Enterprise Boatcamp took more than 400 social entrepreneurs, students and development practitioners from Rome to Barcelona, providing them with practical workshops and inspiring talks along the way. To find out more, click here.