Social entrepreneurs all at sea
Whilst many in the UK kicked back and enjoyed the long bank holiday weekend, the 2016 Social Enterprise Boatcamp set sail – with Pioneers Post on board. Ellie Ward reports.
More than 400 social entrepreneurs, international development practitioners, students and civil servants from all over the world sailed together from Port Civitavecchia on the coast of Italy to the Spanish city of Barcelona over the weekend.
The inaugural 2016 Social Enterprise Boatcamp took place over four days, offering practical workshops on business basics, discussions around greater integration amongst development practitioners with the social enterprise sector and plenary speeches from entrepreneurs.
The Boatcamp was organised by ACRA, an Italian NGO on a mission to eliminate poverty through market-based solutions, and a number of partners including the Opes Impact Fund, which raises philanthropic capital and deploys it as investments in social enterprises around the world. Last year ACRA was the driving force behind the 2016 Social Enterprise World Forum (SEWF) and thus the Boatcamp was created as a legacy event to continue to promote the development of social entrepreneurship in Italy.
Elena Casolari, CEO of ACRA, explained: "We were thinking for a long time about what sort of legacy we wanted the SEWF to have. It was very much about what Professor Yunus (pictured below) said on the last day of the forum – that young people should engage in creating jobs and not looking for jobs. They should be engaged in setting up their own enterprises.
"We felt that in most traditional conference settings there is always the same boundary – the ones on stage and the ones off stage. In the majority of cases young people are not on stage, so we wanted to create something that would allow the participants to be on stage." With the support of the Enel Group, a multinational power company, students and aspiring entrepreneurs with ideas to form social enterprises were offered scholarships to join the Boatcamp.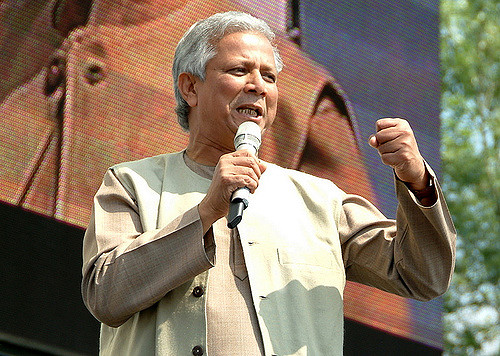 Photo credit: Matthias Muehlbradt
Setting sail
Before leaving the Italian shores delegates watched a presentation by photojournalist Marcello Carrozzo, displaying images of crowded boats filled with desperate people trying to escape war torn countries. In the following days at sea conversations around the mass movement of people to Europe were recurrent. The idea of a few hundred social entrepreneurs setting sail on the Mediterranean arguably seems at odds with the reality facing the many thousands of people fleeing to European shores.
Casolari said: "Last summer I experienced what is happening and saw first hand many migrants looking for a place on a boat. I was thinking about how we could do something on the sea, something positive – not to remove those images from our mind because of course those images are very much part of our lives – but to try to send a positive message. The sea is meant to allow people to reach another place. It shouldn't divide, it should unify. We decided it could be an important socio-political message to spread."
Martin Burt, founder of Fundacion Paraguay, emphasised this point around changing perceptions further. "Migrants – we are seeing them in one perspective. If we look at them from another perspective, maybe they could be bringing with them money and jobs, but we do not see this," he said.
Global views
Among the many sessions to take place on the boatcamp was a 'Social Entrepreneur's Roundtable', which offered snapshot perspectives from around the world. Simran Grover is the chief technology officer of Boond Engineering and Development. Boond is a social enterprise based in India that is working to provide remote communities with access to renewable energy, whilst simultaneously tackling other social issues, for example by improving energy and technology access for rural healthcare centres.
Grover painted a positive picture of the social enterprise landscape in India: "We are now five years in business and during this time I have seen the social enterprise ecosystem in India grow and become stronger."
Joining Grover in the roundtable was Sebastian Mitchell from Ushahidi, which is an organisation initially developed to 'map reports of violence in Kenya after the post-election violence in 2008'. Since it was founded, Ushahidi has worked on a number of projects with organisations, including Making All Voices Count, centred around increasing access to information about marginalised communities and in turn empowering those people.
For Mitchell, the sector demonstrating the most potential for social entrepreneurs is technology. He said: "In Kenya we've been focussing on building technology ecosystems, which will enable communities to solve their own problems through technology. We've set up iHub in Nairobi, which is a technology co-working space. From that many initiatives have grown… they've built their own consulting arm and with that have become financially self-sufficient."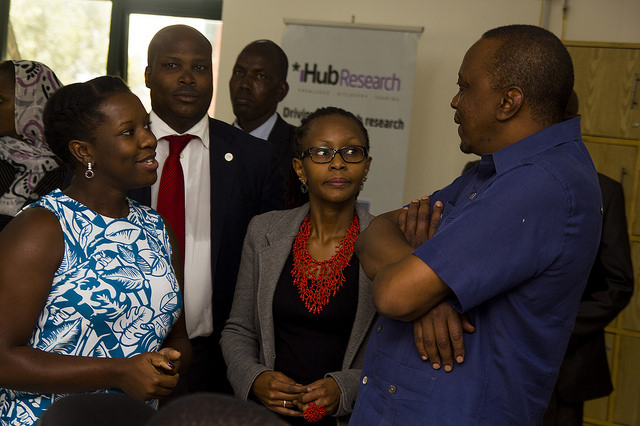 President Kenyatta at iHub in Nairobi. Photo credit: iHub
To ensure that the legacy of the 2015 SEWF continues beyond the moment the Boatcamp reaches the dock, ACRA also announced the launch of a new Social Enterprise Academy. It has been developing the concept with the support of the Scottish Social Enterprise Academy since the two organisations came together in Milan last year – more details about the initiative are expected to follow in the coming weeks.