Miss Macaroon sets sights on national domination
Rosie Ginday is on a mission to 'change the world one macaron at a time'. Ellie Ward caught up with her to talk corporate clients, social enterprise in Birmingham and five year plans.
Earlier this month it was announced that the UK's leading social investment conference Good Deals is partnering with the Social Finance Fair and uprooting itself from the capital to Birmingham for the first time. Historically, Birmingham was known for being one of Britain's manufacturing powerhouses during the industrial revolution era. Today it is the largest and most populous city outside of London. But what does Birmingham's social enterprise offering look like?
Rosie Ginday (pictured below left), the founder of Birmingham-based social enterprise Miss Macaroon, takes time out of the kitchen to offer her perspective. She set up her catering business – which sells premium and personalised macarons whilst simultaneously offering personal development and employability skills training to unemployed individuals – in early 2011.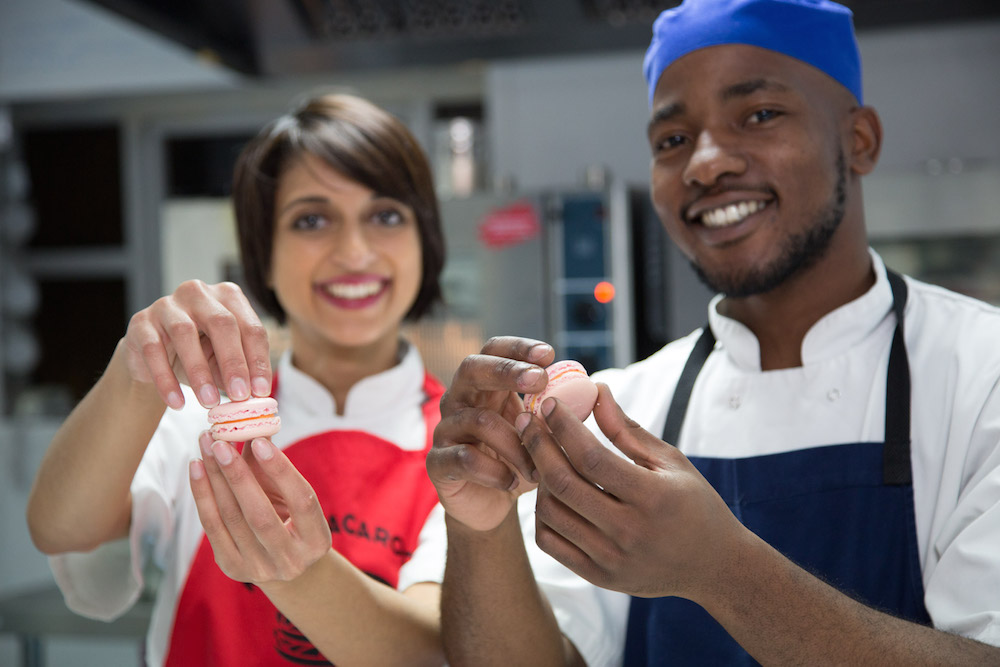 Ginday explains: "Our mission is to reduce youth unemployment through positive work experience programmes in a catering workspace so we can improve young people's employability and personal development skills through the power of food."
The 'Macaroons That Make a Difference' programme offered by Miss Macaroon is a four week pastry training course for long-term unemployed people between the ages of 18 and 35 in the Midlands. After the four week course, participants then receive three months of one-to-one mentoring and opportunities to do further work experience with Miss Macaroon and partner restaurants and hotels. As part of the mentoring individuals create personalised five year plans that contain a number of achievable goals.
"A lot of these people are trying to overcome quite a few self limiting beliefs and feelings of unworthiness… Trying to create that five year plan is a big deal for them. We have to look at the psychological barriers they are putting in their own way and try to break those down," says Ginday.
This plan is also one of the ways Miss Macaroon is measuring its impact as a social enterprise, along with other success measures including; "self reporting, wellbeing sessions and the percentage of participants who go onto further training and employment".
It's the quality that counts; if the quality is poor people won't buy from you.
Ginday initially trained as a high-end pastry chef at University College Birmingham and in Michelin starred restaurant Purnell's in the city. She had dabbled with social enterprise prior to embarking on the Miss Macaroon journey whilst working as a teacher in Taiwan. Rather than bringing the vegetarian and vegan restaurant model she'd development there she decided to focus on the less risky venture of developing one product and ensuring that social impact remained at the core of the enterprise's activities.
Miss Macaroon is a Community Interest Company Ltd by Shares. This was a conscious decision because from an early stage Ginday has had great plans for expansion. Having received a couple of relatively small grants to set up a kitchen, Miss Macaroon has gone on to raise £70,000 in investment, which was matched with £50,000 by the Big Venture Challenge. The loan will be repaid once the enterprise's next endeavour starts to make money.  
Ginday reveals more: "Our growth plan is to open 100 retail spaces across the country in five years – that's Miss Macaroon branches in-store concessions and franchises. Going forward, we will probably go out for a round of investment next year. We are currently working with KPMG to define what our investment requirements are… We will probably be open to taking on equity investment to get the kind of skills we really need to do this on board."
The vision doesn't seem so far off when you look at the impressive list of clients Miss Macaroon has already supplied to, from Karl Lagerfeld to Adidas. "When we work with the big corporates, generally they know they want branded macarons and they just do a Google search, they see us on the first page and they compare our prices to two or three other companies… for people like that it's really about the quality of the product and the price compared to other retailers. They buy on that."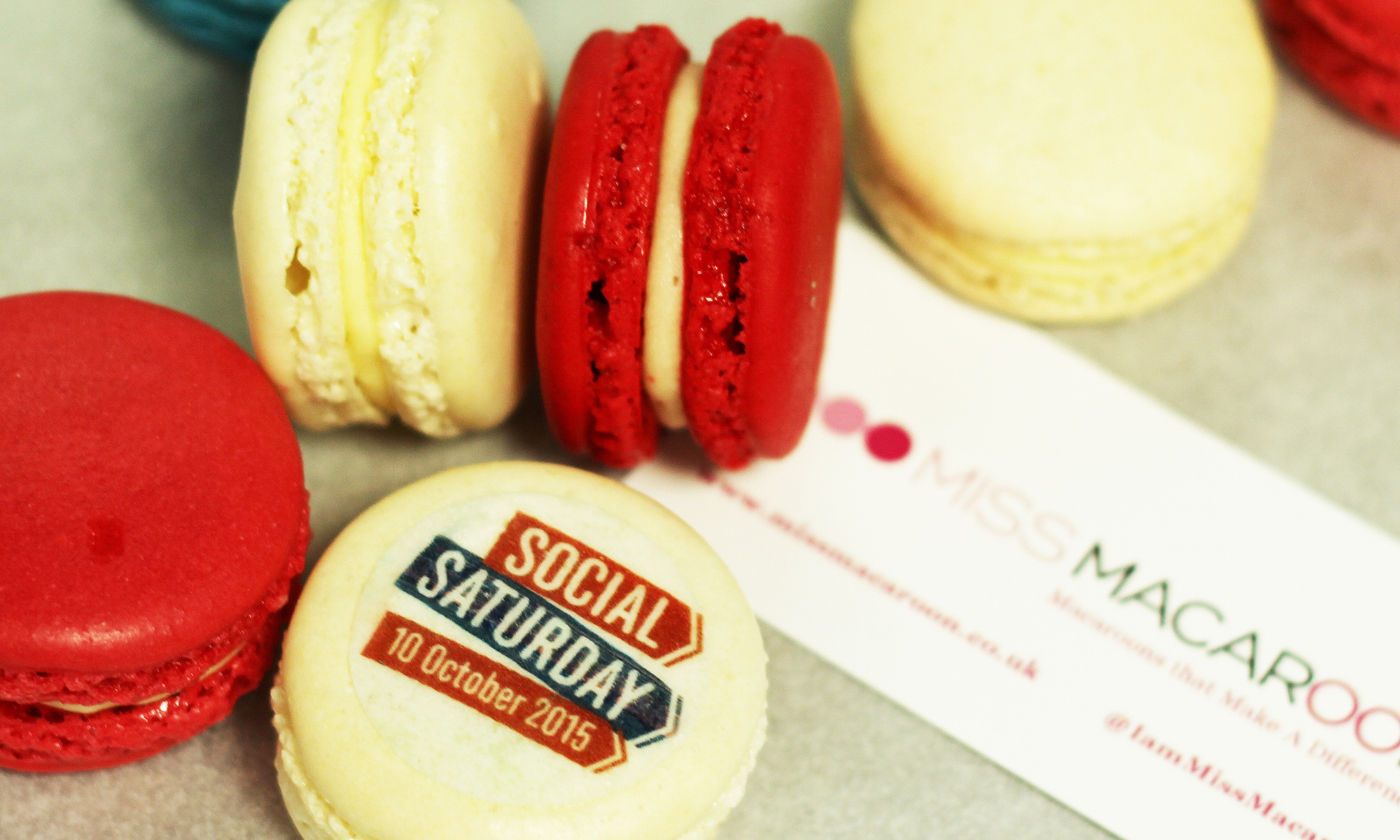 Social Saturday special edition macarons
One of Ginday's biggest frustrations about the social enterprise sector more generally is the limited number of ventures "marketing to mainstream consumers" and "having a product that can stand head to head with any product or service run by a private company". She continues: "It's the quality that counts; if the quality is poor people won't buy from you."
Whilst plans to expand nationally are on the horizon, it doesn't look like Miss Macaroon HQ is going to be moving away from Birmingham any time soon. "The social enterprise community here is absolutely amazing," raves Ginday. She explains how the advice and connections other social entrepreneurs based in the city have being willing to share has been invaluable. "You don't get that kind of openness in some industries but I think in the start-up community you do," she says.
Among the support on offer in Birmingham that Ginday highlights is the Initiative for Social Entrepreneurs (iSE) organisation and the annual social enterprise city drive, which takes place to raise awareness about social enterprise.  
On 14th-15th November this year, the Good Deals conference, in partnership with the Social Finance Fair, will be putting the spotlight on businesses like Miss Macaroon and much more. Keep an eye on the Good Deals website for programme updates and information about tickets.
Photo credit: Miss Macaroon