Bridges must be built between the social sector and the state
The relationship between the social and public sector in the UK is in need of repair. Ellie Ward reports from NPC Ignites.
It is time to address the pressing relationship issues that exist between the social sector and the state. This was one of the key messages from the NPC Ignites conference, which was held in London this week.
During a panel discussion at the event, which brings together individuals from the worlds of policymaking, charity and social finance annually, CEO of Children in England Kathy Evans said: "If we're serious about partnership with the public sector, we need a completely different conversation that doesn't start with contracts."
Evans warned that the social sector's relationship with the state had in recent years been reduced to one of contracting, in which charitable organisations were viewed as a marketplace.
In the 20th century, it was influential thinkers who were removed from party politics, such as William Beveridge, Joseph Rowntree and Michael Young, who shaped societal values, the charity sector and ideas about politics in the UK. Today, Evans argued that charities were more concerned about winning contracts and debating the extent to which they should lobby for policy change, than with ensuring they influence society at large.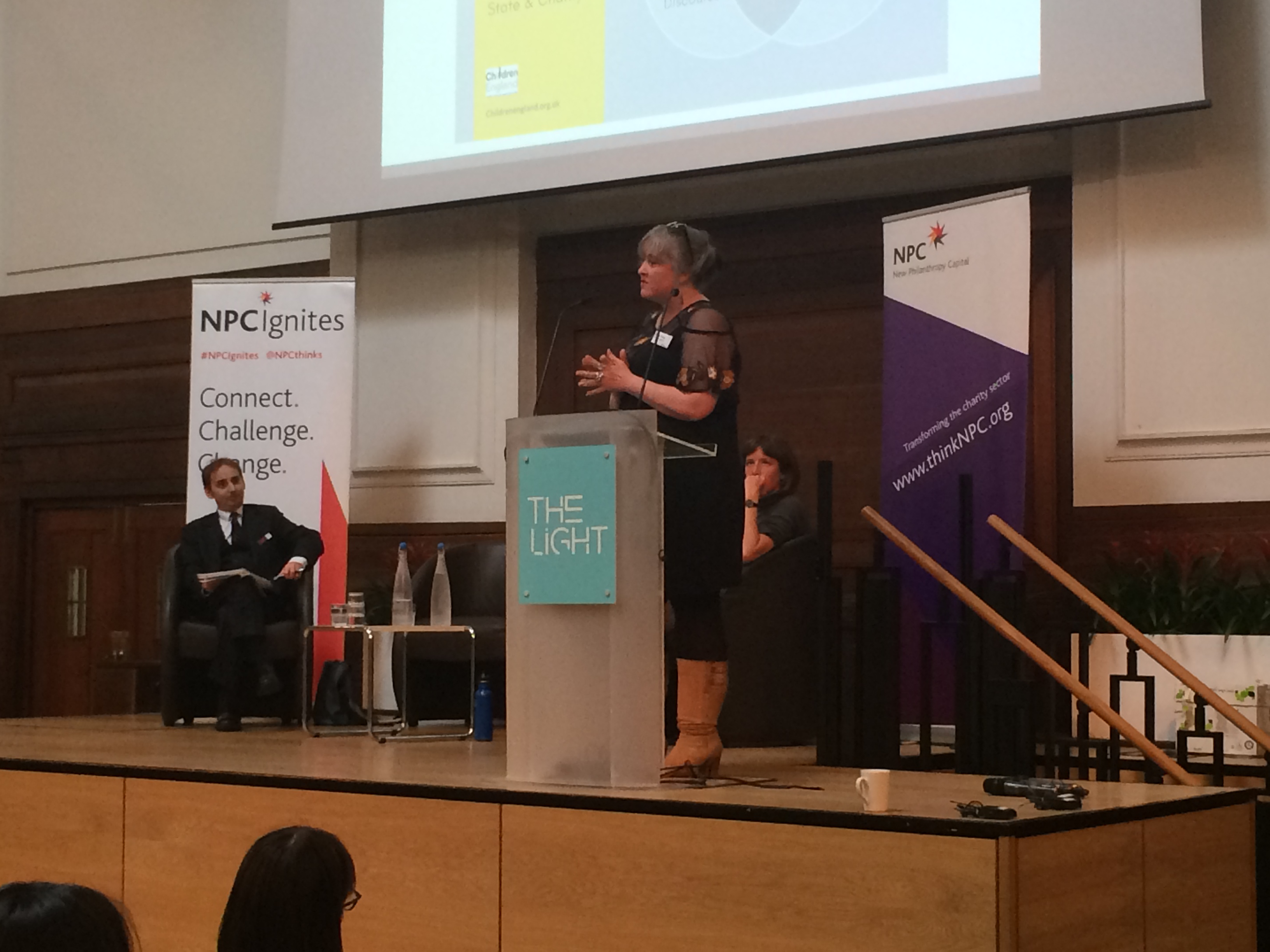 Kathy Evans addresses the NPC Ignites audience​
Sharing the stage with Evans was Fiona Sheil, who is the lead on strategic commissioning and market making for the London Borough of Bexley. Sheil urged the charity sector to more actively reach out to local government.
"The charity sector has a conscience and it's really important to bring that into the local government sector… We need people from outside to come in and remind us of our principles and values and social conscious," she said.
Sheil also said that the charity sector must more actively recognise and promote it's unique proposition.  "Its aspiration and research and development standards are I think far higher than the public sectors… It's really important to bring in your aspirations and say – this is what good enough looks like.
"We [local government] manage the status quo. We don't know what's better than the status quo unless you come and tell us."
Evans concluded with what she believes are the fundamental values that will help improve the relationship between the state and the charity sector:
Strong partnerships are founded on both parties acknowledging their own flaws and limitations: understanding what is in, or beyond, their control, when and why they need the other to lead; when to compromise; and, when it's best to just leave each other alone for a bit without interfering.
Ethics matter: 'For the public, 'how' things are done are as important as 'what is done' (Lord Paul Bew). The charity sector needs to constantly be asking who is really driving what we do and are we answering to the public?
Brands, service specifications and payment mechanisms do not achieve social change, people do. There is no food chain coming up of young people looking at careers in helping people, whether that's teaching, social work or the other routes by which people come into a vocation specified on helping people.
It is essential to recognise that price and value are different things.
Remember that innovation is not innovative if everyone is doing it. Some things never change – and that includes much of 'the human condition'. For example, people suffer grief, they fall on hard times, they get lonely. There is a risk that people will be abandoned in the constant pursuit of new ideas, while existing, effective services are cut.
What is our responsibility with regard to the creeping 'charitisation' of citizens' human rights? For example, schools asking for routine donations from parents to keep running in a country where primary and secondary education is an expected right.
The NPC Ignites conference also featured panel discussions, lectures and 'Q and A' sessions with Lord David Sainsbury, founder of The Gatsby Charitable Foundation, Polly Neate, the CEO of Shelter, and Deborah Mattinson, a founding partner of Britain Thinks. Pioneers Post is the official media partner for NPC Ignites, which took place on Wednesday 11th October. 
NPC is one of the UK's leading charity think tanks and consultancy provider. This week it also launched a new report providing advice on how charities can use evidence effectively. To read the 'Towards an Evidence-led Social Sector' report in full, click here.
Photo credit: John Lloyd