How to have the most ethical supply chain in your market
Last year's SE100 Trailblazing Newcomer award-winner Change Please is going from strength to strength and will shortly pitch for a share of the $1m Chivas Venture prize for social enterprises worldwide. We discussed the importance of ethical supply chains with founder Cemal Ezel.
Few social enterprises seem to infuse ethics through the whole supply chain and find themselves thriving like coffee company Change Please.
Running 17 coffee sites around the country, the business trains and employs people who are homeless to be its baristas, paying them the London Living Wage and providing housing and therapy support.  In 18 months, it has won multiple awards and lifted 55 people off the streets. The latest news is that Change Please will pitch for a share of $1m in the Chivas Venture final later this month in Amsterdam against 26 other social enterprises from around the world.
At the other end, it pays suppliers more than the big players in its sector - Direct Trade rather than Fair Trade; uses renewable energy; 100% compostable cups which are made from plants where most cafes don't, and recycles its coffee grounds into biofuel.
What is social enterprise if we don't share and support each other? 
"How do I make it all balance?" says founder Cemal Ezel (pictured below right). "The latest increase in the London Living Wage is a tough one," he admits to Pioneers Post. "Going from £9.75 to £10.20 an hour – that adds up to a full time wage for another member of staff (they have 23 baristas). The big coffee chains are paying about £7.20, so we're paying £3 more an hour. But that's the commitment we've made."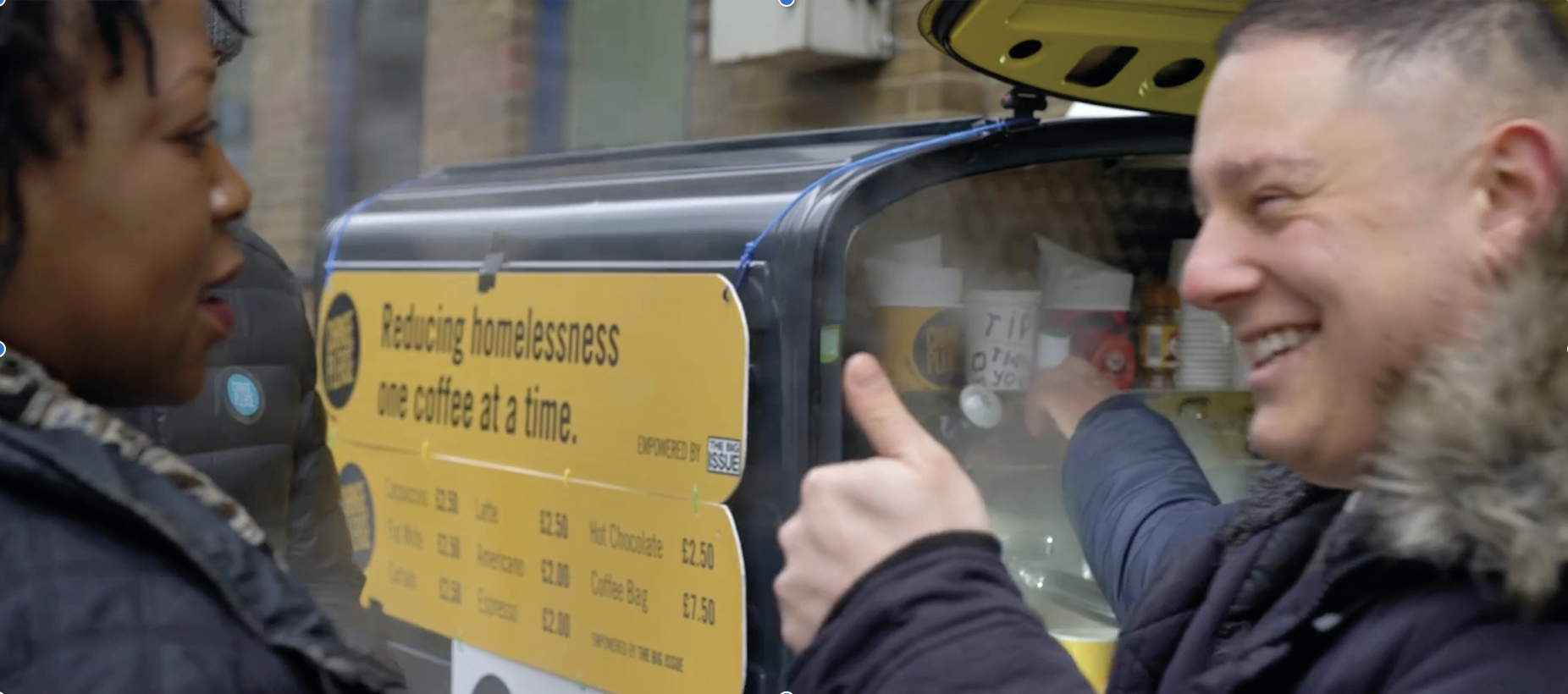 Its solar-panelled vans sell coffee at corporate buildings, including the Shard, Kraft Heinz and Time Inc. He says the price paid by corporates to have the vans on-site is key to meeting costs. 
The Bank of New York Mellon was selling Starbucks and Costa coffee at its sites, but has replaced them all with Change Please coffee. UBS, Knight Frank MMC, Linklaters and a range of other corporates have done the same.
Another major corporate win should help the business keep growing as its initial grant funding from Comic Relief comes to an end. Last September, Sainsbury started stocking home-use packets of Change Please in more than 300 of its stores.
Ezel says he's been surprised by the amount of free marketing the supermarket has given in-store and online. "For a few weeks after they started stocking us, if you typed in 'ground coffee' on Sainsbury's site, algorithms were fixed so that we were the first listed. They gave us prominent space to advertise in store too." Ocado and Waitrose could be the next stockists. 
"The corporate vans and goodwill (such as that from Sainsbury's) stops us having to squeeze an extra 5p or 10p out of each coffee to make things add up," explains Ezel. "Earlier this year we put the top price up to £2.70 and are selling 1,500 cups a day. If we charged customers what it actually cost to provide the coffee, it'd be about £3.50 a cup. But there's a limit to what people are willing to pay."
In November, Ezel won the School for Social Entrepreneurs and Lloyds Bank Social Entrepreneur of the year award, picking up a £10,000 cash prize. The money could've gone a decent way in helping to manage rising costs, but his decision around what to do with it stunned everyone at the awards - he shared it with his four fellow finalists.
"Society is struggling so much because the top one or two percent cream off all the profits," he says. "What is social enterprise if we don't share and support each other? It was the only thing to do." 
Ezel says he is keen to find more time to mentor other social entrepreneurs over the coming years and share his learnings.