Big Business v Social Enterprise round 1: UK recruitment giant boss demands public contracts overhaul
The boss of one of the UK's biggest recruitment firms is campaigning for fundamental changes in company law and public sector contracting to force both big business and government to take 'social value' seriously.
Phillip Ullmann, executive chair and 'chief energiser' of Cordant Group, which became a social enterprise last year, says British business needs to fundamentally change its approach in response to growing public distrust.
In a paper published by the Social Market Foundation think-tank today, Ullmann says public sector contracts should no longer be given to the lowest bidder but awarded to 'social business' companies that agree to share profits with staff and employ local workers.
Public services should be delivered by accountable social businesses that employ locally, share profits, and cap pay and dividends
Company rules should also be overhauled to put executives under a legal duty to consider the interests of workers and local communities alongside those of shareholders, he argues.
Ullmann, who has capped his own pay and is setting up a 'profit pool' to share with his staff, said that only radical changes in the rules for companies and public procurement can address populist arguments that the market economy is 'rigged'.
Highlighting the collapse of public sector delivery giant Carillion Group earlier this year, Ullmann said public sector contracts that appear to favour companies must be ditched.
He said: "Flawed public procurement deals that leave taxpayers bearing all the risk are the best way anyone has yet devised to persuade voters that the modern economy really is a rigged game. New rules are overdue.
"Public services should be delivered by accountable social businesses that employ locally, share profits, and cap pay and dividends."
Ullmann announced in October 2017 that Cordant was to change its own constitution to become the UK's biggest social enterprise.
In favour of sustainability
In his paper published today, he sets out how the Public Services (Social Value) Act, which covers government contracts, can be reformed to favour sustainable businesses over those who simply promise to deliver most cheaply.
He also proposes reform of the Companies Act to put new duties on executives to look after the interests of people and groups affected by their firm's actions, including workers. Companies should be required to draw up a 'Social Mission Statement' and then face statutory audits to assess how well they are doing in reflecting stakeholders' interests, he suggests.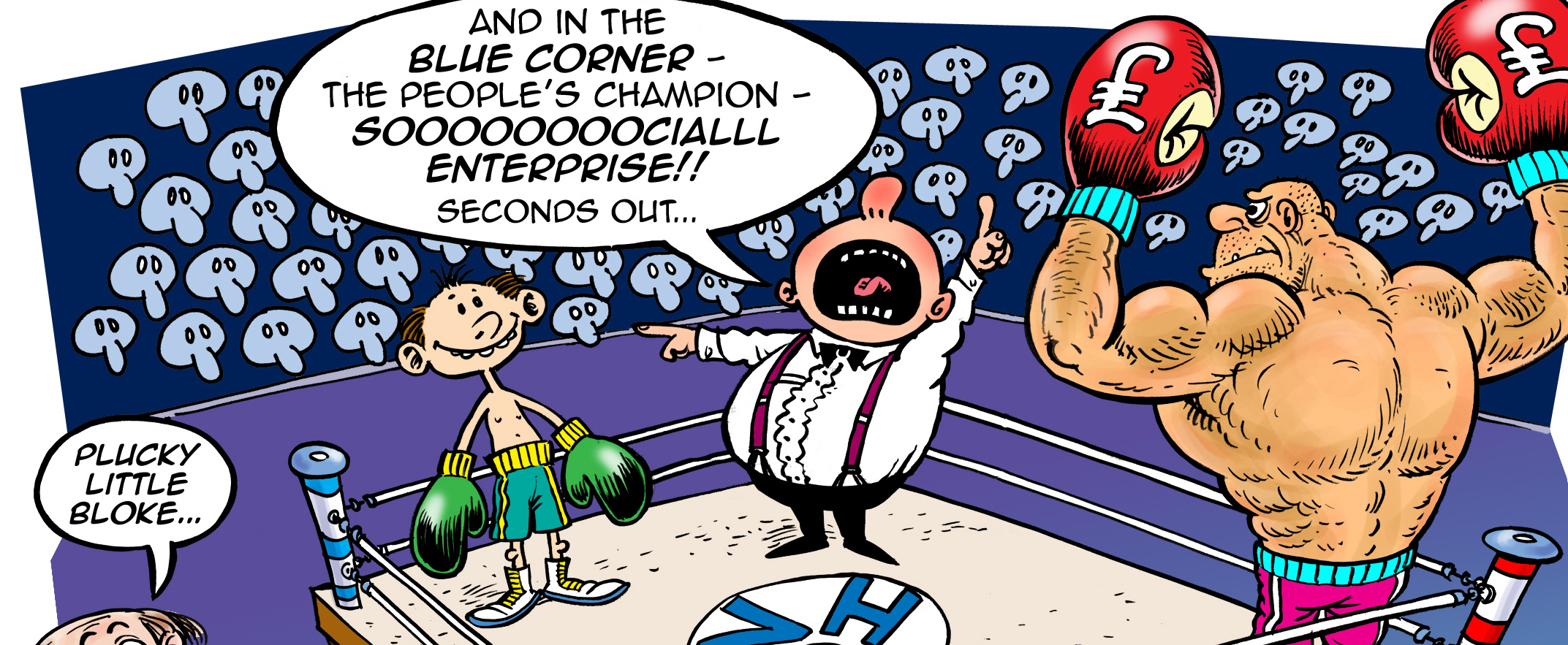 Ullmann insisted that a new approach to business and society is the best way for firms to protect their long-term profits.
He said: "Profit is and must remain one of the key driving forces of business, but who receives that profit? If it is only a remote few, the cost in public trust will become unsustainably high and our licence will be withdrawn.
"The days of companies driven by "shareholder value" and nothing else are over. We must start to share our profits more fairly, or there will be no profit for anyone."
Ullmann's paper comes as growing numbers of business leaders acknowledge the need for major change to win back public trust.  Larry Fink of BlackRock, one of the world's biggest investors, this year wrote to CEOs telling them: "Without a sense of purpose, no company, either public or private, can achieve its full potential. It will ultimately lose the license to operate from key stakeholders."
The days of companies driven by "shareholder value" and nothing else are over
According to the 2018 Edelman Trust Barometer, trust in business has fallen to 43% and 60% of people expect business leaders to take action to make their companies more responsible, instead of being forced to change by politicians or regulators.
James Kirkup, director of the Social Market Foundation, said: "Phillip Ullmann isn't a commentator or a politician. He's a business leader running a major company. So when he says that business needs to do things differently, focussing on social impact and sharing its profits, people should listen.
"Making companies and their leaders more mindful of its duties to society is essential to rebuilding trust in business and a market-based economy. Any politician or leader who wants to defend Britain's open economy from populist anger should read this paper carefully."
Cordant Group was founded in 1959 and has become the UK's second largest recruitment and services firm with revenues of £850m, employing 125,000 people. Cordant offers integrated services including recruitment, security, cleaning and technical electrical services.
The Social Market Foundation (SMF) describes itself as a non-partisan think tank that believes fair markets, complemented by open public services, increase prosperity and help people to live well.
 
The report, From Mission to Impact, How social business can create a fairer, more robust economy and improve the wellbeing of society, can be accessed here.
Phillip Ullmann has also written an article in the Daily Telegraph about his paper:  Companies should use profits for the good of society
Illustration by Hunt Emerson