Where tradition, commerce and support meet
Working with traditional weavers in Indonesia, the social enterprise LAWE has become a thriving business – and its founder has big ambitions to take it further
"We're not just building a business, we're building people," says Adinindyah Arya Wisnutama.  It's now nearly 14 years since she and four colleagues set up LAWE, a social enterprise based in Yogyakarta which combines traditional Indonesian handweaving with commercial design. Today, the weavers, product designers, tailors and craftspeople involved in LAWE – most of whom are women – produce clothes, bags, soft toys, home furnishings and accessories. 
"The majority of weavers in Indonesia are women living in rural areas," Adinindyah explains. "They need to bring food to the table, send their children to school and improve their living conditions overall. We aim to maximise their potential, starting from what they have now – the traditional patterns and techniques for dyeing and weaving. From there we create new patterns and new colour combinations, we improve their techniques and the quality of their work, and we develop new products."
The organisation is on the cusp of a big change as next week it will be pitching for support at the largest social investment conference in Asia to take the enterprise in a new direction.
Mixing the traditional with the modern
The idea for the enterprise started when Adinindyah and a colleague in a previous organisation were travelling around Indonesia for work. They met a lot of women handweavers who were unable to keep themselves in work – despite the fact that in a number of neighbouring countries handweaving is a main source of income for many people. The two decided to try to find a way to use traditional skills to make modern, functional products that would sell to today's consumers. Using contributions and loans from friends and family, this core team of five set up a small enterprise working with a couple of tailors, 
Since that beginning, LAWE has grown to become a business which now works with 38 tailors as well as a whole range of other groups and organisations, from local weavers' groups to international NGOs. It started selling nationally in 2007, and reached business sustainability in 2010. This year it has also finally started to use some of its revenue to fund its training and support programmes, in addition to the grant funding it has received from funding agencies since 2006.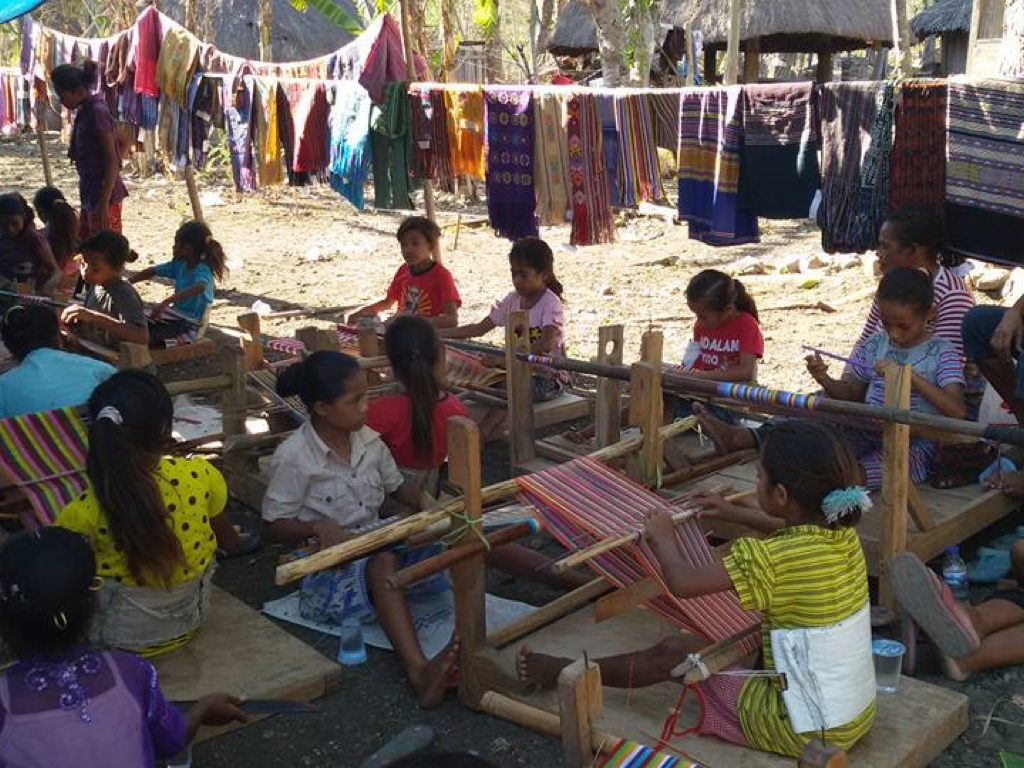 It hasn't all been easy. The first challenge was developing products that would actually sell, and then to market them. On top of that, building a healthy cashflow was just the start; once it found funding and markets, LAWE had to work out how to increase its capacity to produce enough goods – and goods that met strict quality control standards – in a very short time.
"It was usually trial and error," Adinindyah says frankly, pointing out that she and her colleagues all had a background in NGOs and community development rather than in business or design. "We took a lot of business courses and yes, we did make some mistakes along the way. We've learned we cannot do everything on our own and now we work with mentors and mentoring programmes." But today all salaries are paid regularly and on time, the stock of raw materials and finished products are sufficient, and 10 per cent can be tithed towards the other programmes.
Ari Sutanti, who is senior programme manager at the British Council in Indonesia, is certainly impressed. "It isn't easy for organisations that are led by women and work with women, and LAWE has a sound business model as well as the support for women that it provides through training and capacity-building,' she says.
"We really appreciate the amount of work they must have put in to produce products that sell, while working with the weavers and the artisans. There are so many stages that require not just hard work but thorough craftsmanship, and alongside that they have to think about what the market wants, about the latest designs and about how to approach the big stores. They're even on sale at Jakarta airport. The fact that this women's enterprise is doing all that really deserves the spotlight."
A pitch for support
In March this year, the British Council launched a new programme called 
DICE
 to support social and creative enterprises. Under this, it is supporting LAWE to participate in the 
Deal Share Live
World Cafe session
 at the AVPN conference in Singapore on 5 June. LAWE wants to develop its AYA Special Program, which provides skills training and small business coaching for young people with disabilities.
"Children and young people with disabilities get quite a lot of good training in schools, but usually after leaving school they're kept at home," Adinindyah explains. "This is a route to a sustainable livelihood." She and her colleagues would also like to offer something for young people – both to provide them with an occupation but also to show how traditional weaving is an art form in its own right.
For me, the most important things are passion and big dreams
LAWE is seeking US$250,000 from an angel investor to develop this project along with new mentors to help inspire more developments. Adinindyah points out that the enterprise's projections show that they should be able to repay the investment within five years.
And this isn't their only ambition. There are also plans to develop an integrated facility which combines handweaving, textile production, a training centre for artisan groups and a 'living museum' of traditional Indonesian weaving.
"For me, the most important things are passion and big dreams," Adinindyah concludes. "That was why we started our mission and that's what has sustained us, regardless of everything that we have to deal with. We love what we are doing and we'll just keep going."