Inside the social enterprise sisterhood
If you're a woman (or know one) making a tangible difference in social enterprise, impact investment and mission-driven business, nominate for WISE100 2019 now!
Last October saw hundreds of social enterprise advocates gathering in London, keen to discover who had made the 2018 WISE100 list.
The theme of the event, which celebrated the UK's leading women in social enterprise, was "sharing the stage", with discussions exploring how women in mission-driven enterprises can share their influence and support others in their journey.
Pioneers Post asked some of those attending to reveal who (or what) has shared a stage and given them the headstart they needed to succeed in social enterprise.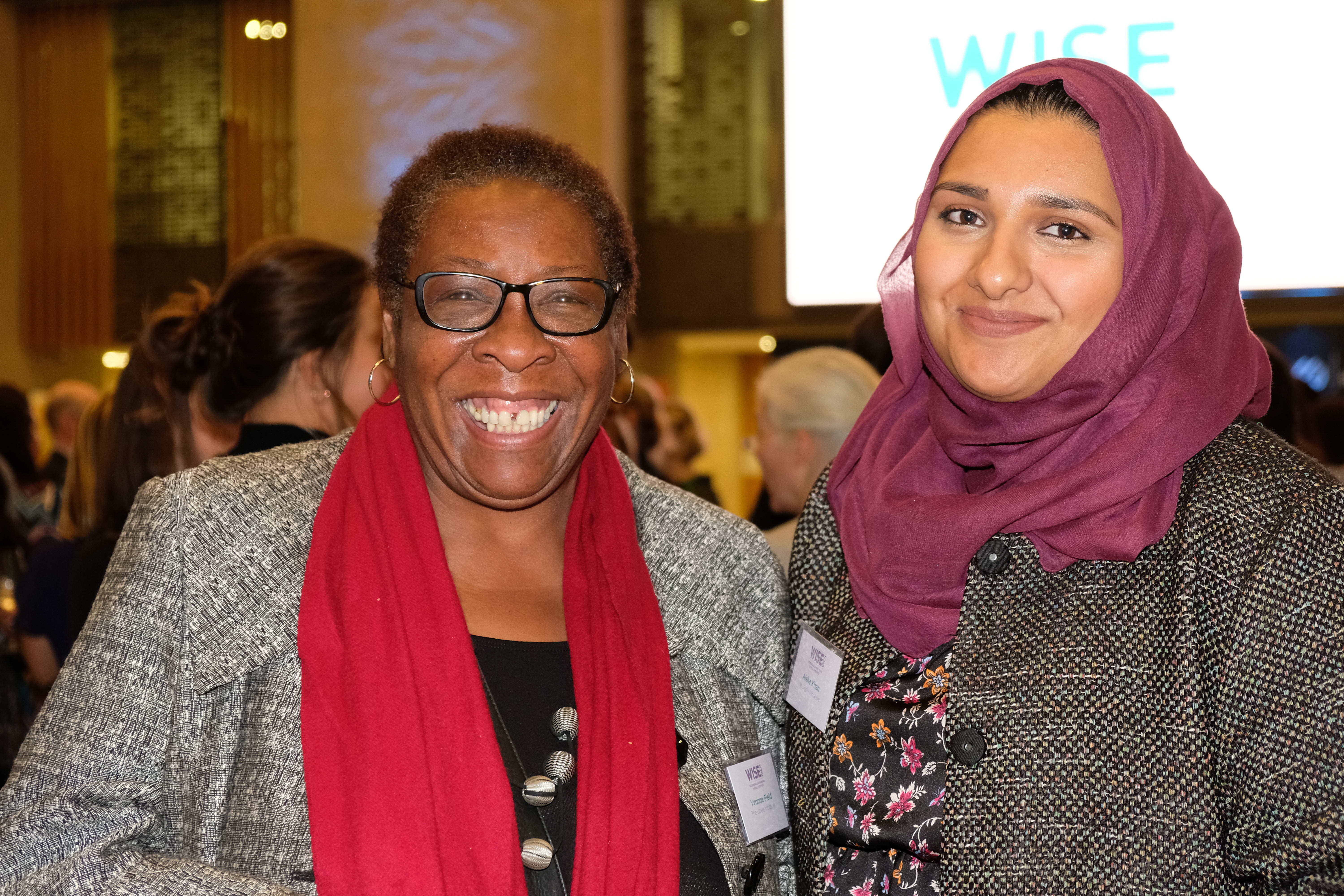 Yvonne Field (L) and Aisha Khan (R) are both from The Ubele Initiative, a social enterprise that develops community spaces and leadership for the African Diaspora community in the UK. It is named after the Swahili word for 'future'.
Yvonne Field: "My mum was always looking for ways to make money but also create social good. She did lots of private sector stuff but she was also a foster mother, and one of the first black foster mothers in the 60s in our Borough, Lewisham.
"I'm one of ten children, and she shared the stage with us. Now all ten of us are entrepreneurs thanks to the fact that she was always encouraging all of us to get involved in business.
"Today I'm sharing the stage with Aisha, because she just delivers. She walks the talk. I think women leaders should remember not to pull the ladder up behind us, and that we can always learn things from younger women."
Aisha Kahn: "I'm so thankful to Yvonne and others in my life who have encouraged and supported me. If you have a skill or interest, you should coach people where you can, because not everyone has an older person or a mum they can speak to.
"Ubele means 'the future' in Swahili, and this whole idea of sharing the stage among generations is pivotal to what we do."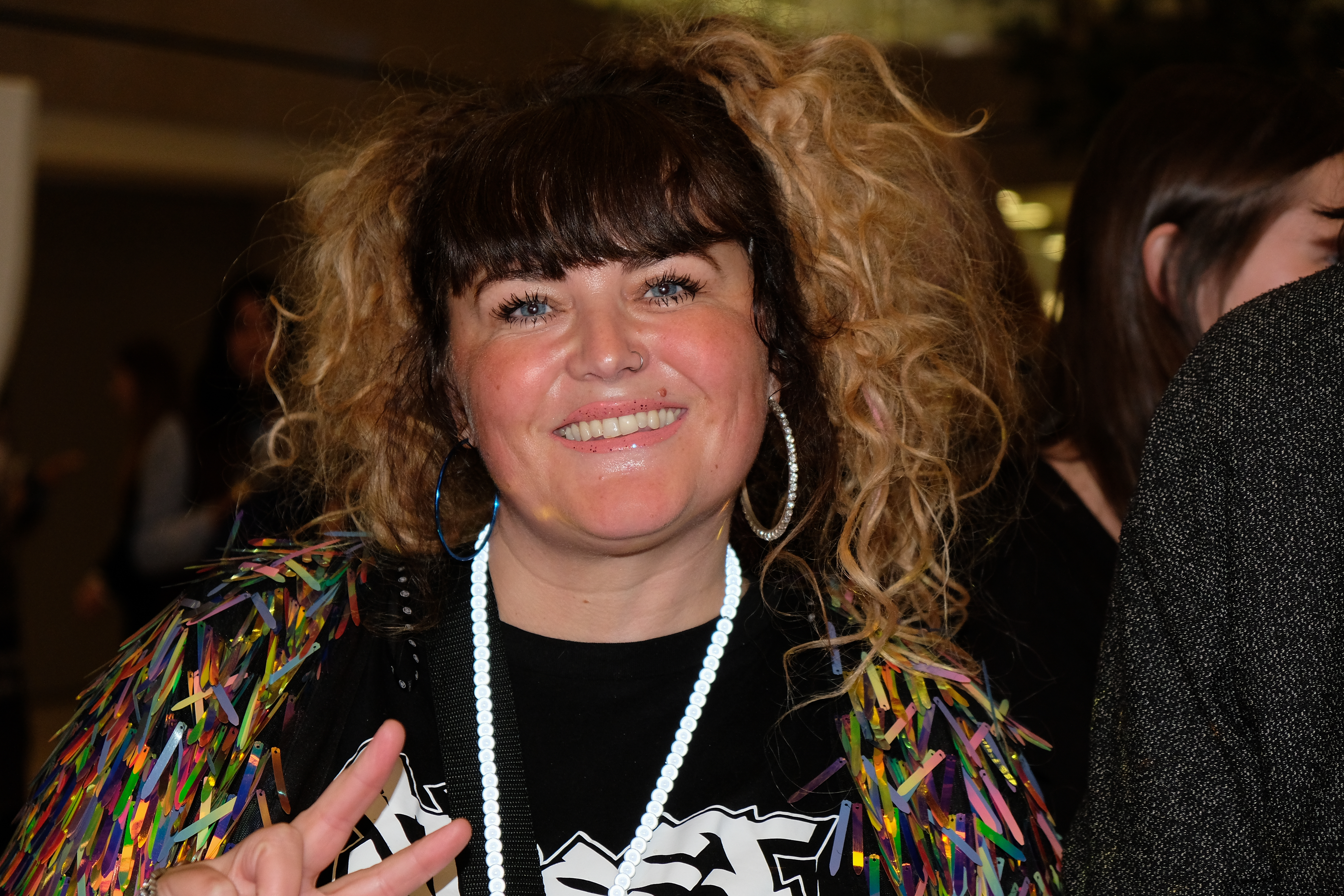 Joanna Gorniak is a co-founder of Street Factory, a Plymouth-based project that teaches dance, hip-hop and performance skills to develop confidence in young people and build community.
"At Street Factory we work with young people who feel there's no hope. It's about discovering where their genius is and taking the next steps to develop it, which we call 'teach to teach'. When your cup is full, share it with everyone and fill it back up.
"Our city of Plymouth shared its stage with me. We have this big advisory where you can go and ask questions when you are starting a new venture, and you can go and pick their brains. One woman who shared the stage with me is Eleanor Eaton, who told me that she believed I was an amazing businesswoman. I had always seen myself as an actor and a creator, so that was the biggest turning point for me, because I thought "god, Street Factory is a business, we're not just a creative hub." I have always been thankful that she shared that with me."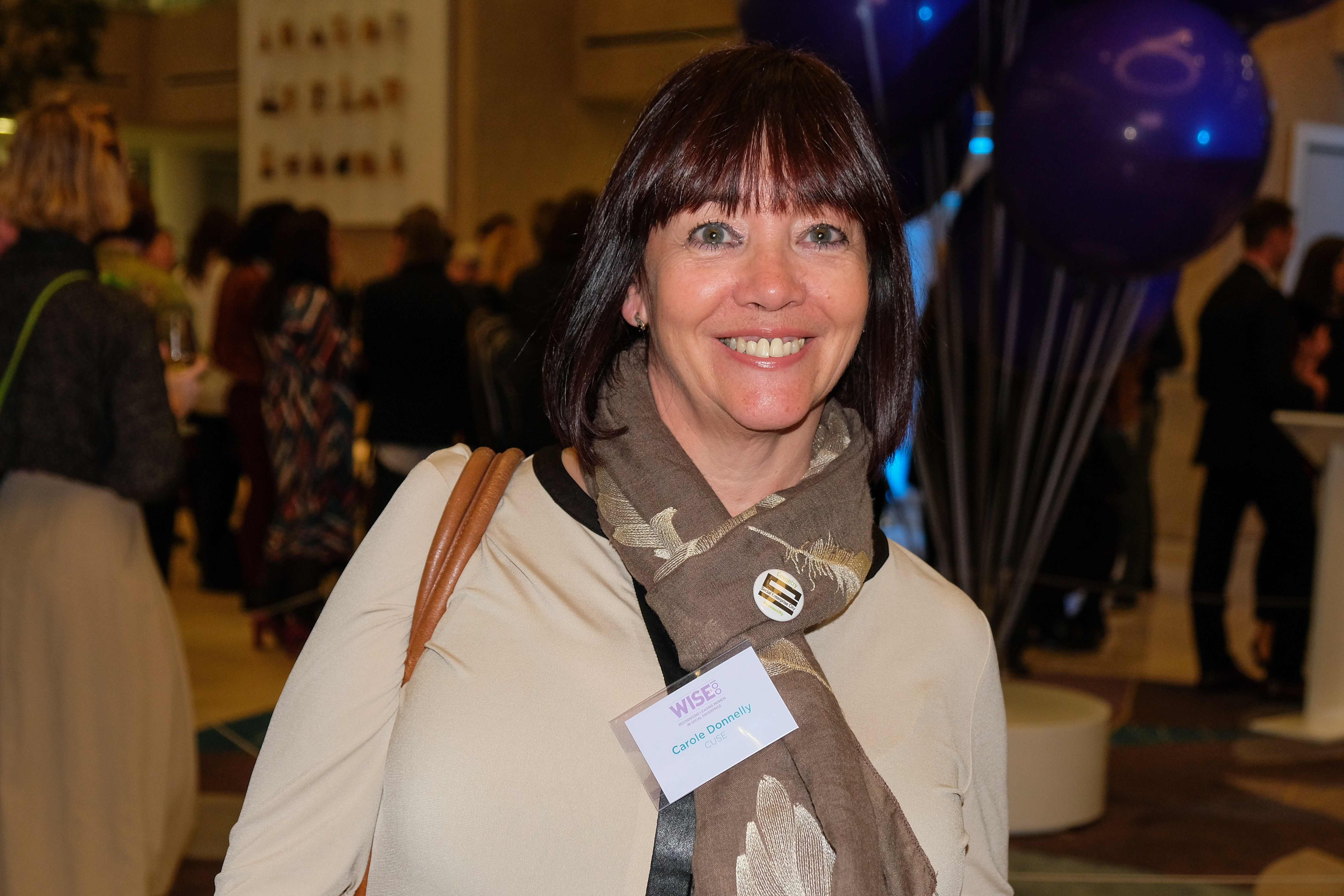 Carole Donnelly is a director at Coventry Priory CIC, a visitor's centre and social enterprise showcasing the historical value of Coventry. She also represents Coventry University of Social Enterprise, the only UK social enterprise set up by a university to promote innovation and entrepreneurship.
"I'd like to share the stage with Karren Brady [business woman best-known for being a judge in UK reality TV show The Apprentice] because she's really entrepreneurial and she gets the social enterprise sector as well. I think she really understands what women are about.
Lots of people have shared the stage with me. But the main one is my daughter Natasha, who is a really good social entrepreneur in her own right."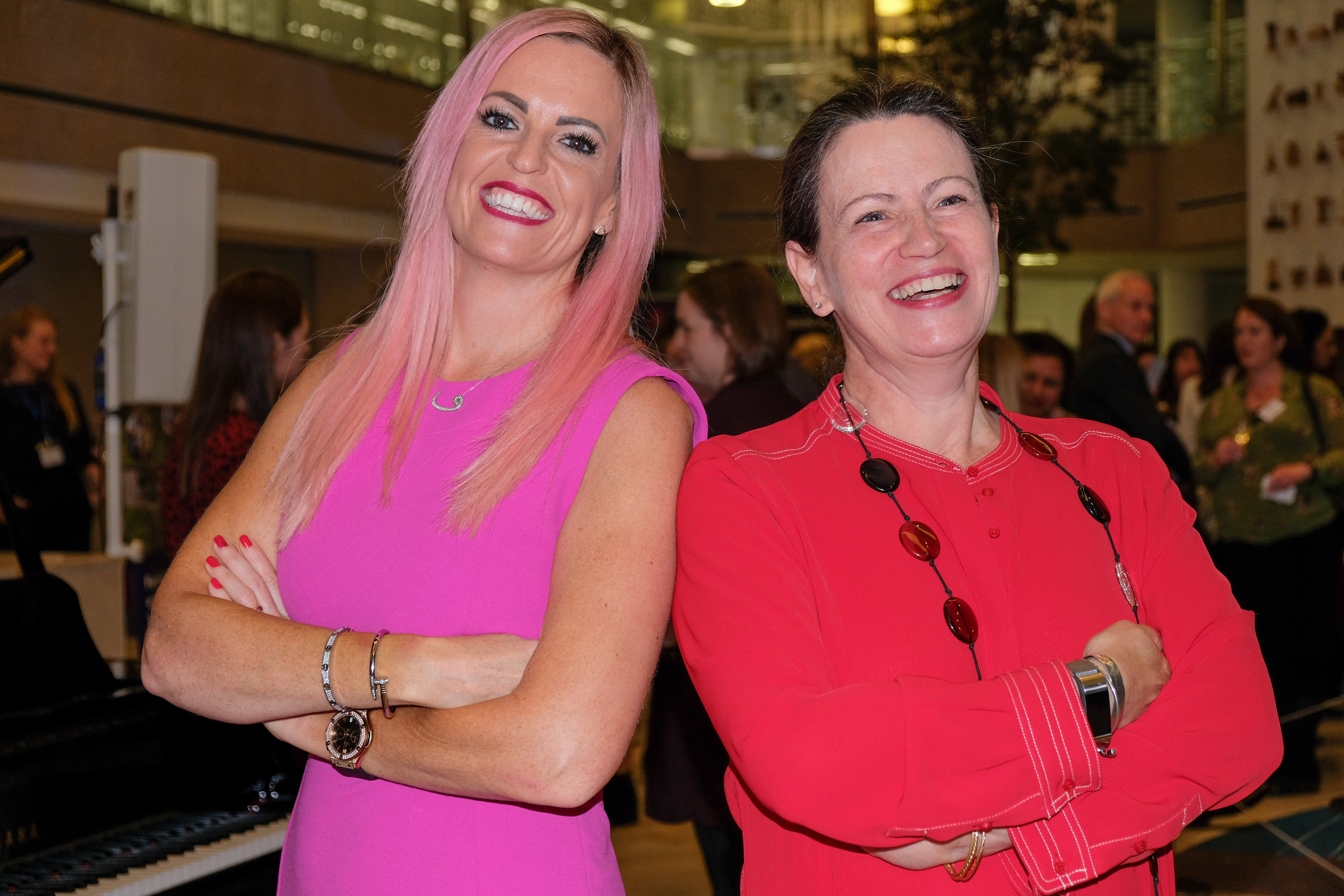 Reynette Roberts (R) runs a charity called Oasis in Cardiff, which aims to help refugees and asylum seekers integrate into the city. She told us why she would like to share the stage with Lisa Marie Brown (L), founder at Pinkspiration, an organisation that promotes and supports women in the construction industry.
"I want to share the stage with Lisa because isn't afraid to speak out, she promotes women in construction through her organisation Pinkspiration, and she is an amazing networker.
I think women shouldn't be afraid to try something different and if they've got an idea they should just go for it."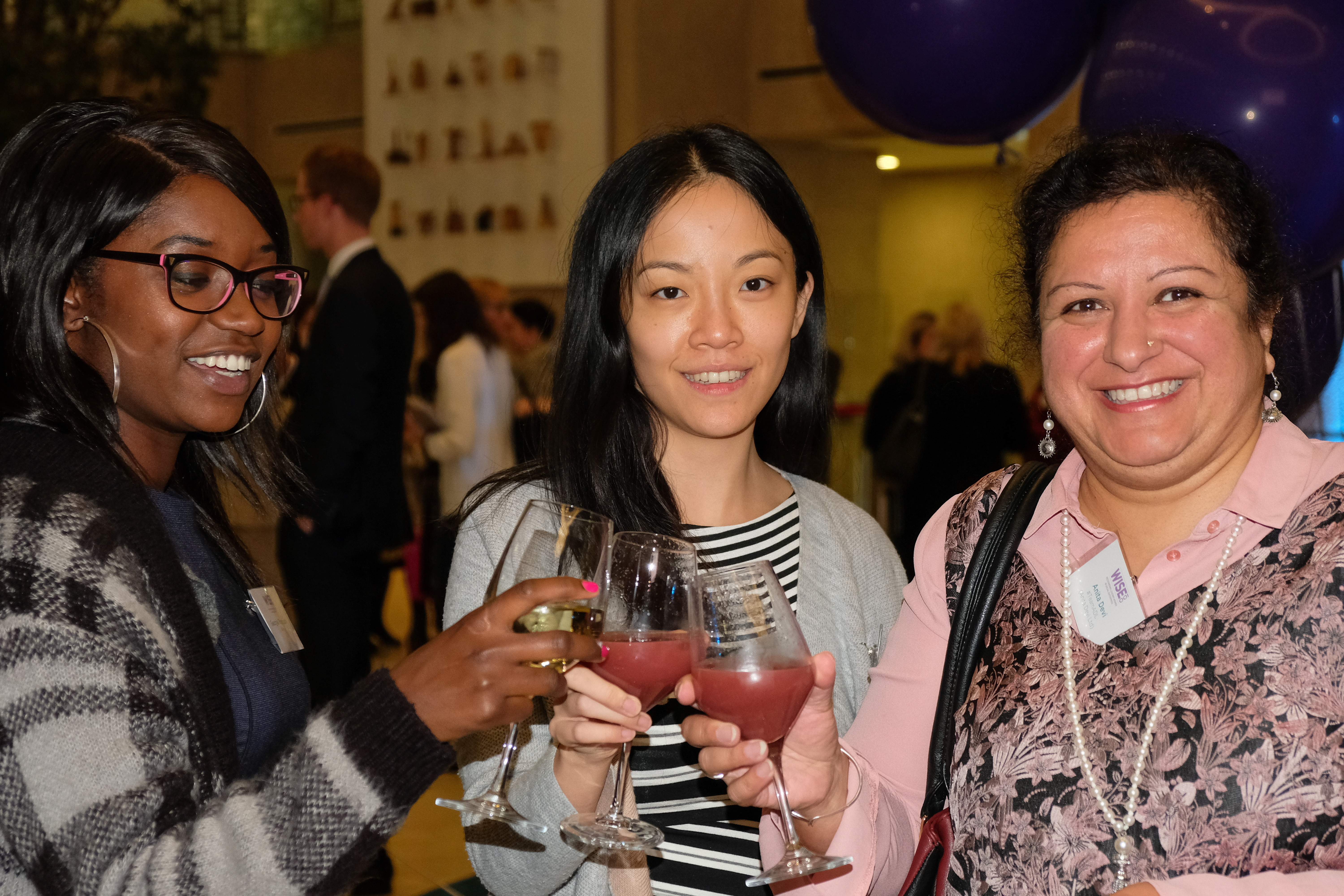 Anita Devi (R), Georgia Thompson (L) and Karen Lam (centre) had just met when we spoke to them. They told us why they might want to share the stage with each other, and who may have opened up space for them in their own careers.
Karen Lam: "I have just met Georgia, who is a civil engineer at Kier. That's really awesome to me because that represents more women in STEM (science, technology, engineering and maths), which is really important. I've also just met Anita who works for TeamADL which is all about education and health. Meeting women who work in these fields is really important to me because I'm just starting out, and it inspires me to keep going.
Esther, my CEO at the Social Change Agency, and my director Betsy have shared the stage with me. They're always encouraging me to take opportunities."
Whether male or female, creating a culture of encouraging each other is one step towards creating a more inclusive society
Anita Devi: "At TeamADL we very much have a culture of encouraging each other, which I think hasn't been done historically in this country. We're often very shy and either respond to compliments with 'no, no, no' or wonder what people want from us. But why wouldn't we want to encourage others? I think, whether male or female, creating a culture of honouring each other is one step towards creating a more inclusive society."
Georgia Thompson: "I'm not sure if it's particularly a female thing, but often we are very shy to tell others about what we do. If we start putting out there the things we are doing and starting the conversation, it would be a great start.
"Claudine Reed has shared the stage with me, and given me lots of strength in the social enterprise world. She is always striving for more, and always willing to give me advice. Lots of people are happy with what they have done, and sometimes you need someone to remind you that there's more in you."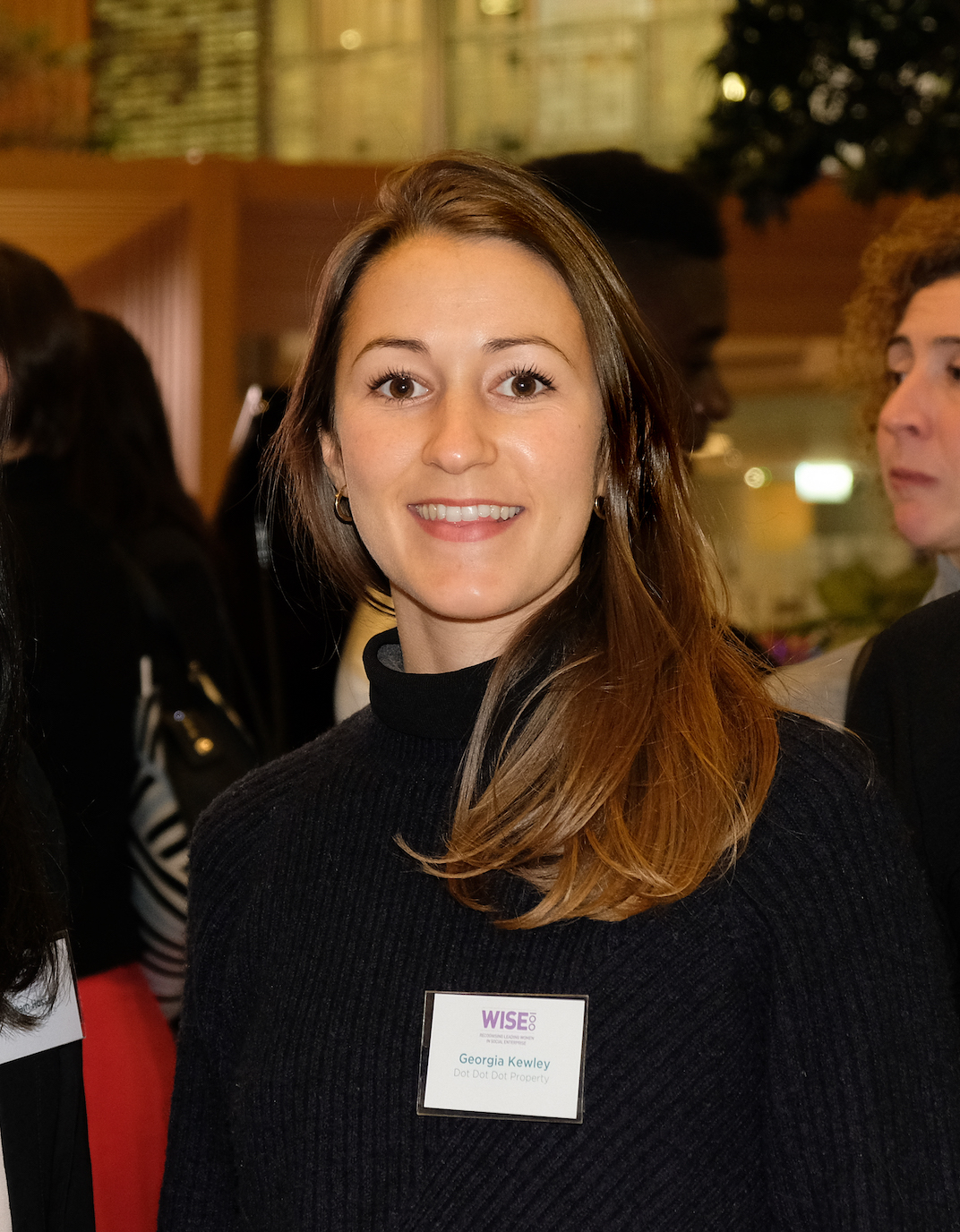 Georgia K (R) a marketing manager at DotDotDot property, the property guardian social enterprise, gave her view of what it means to share the stage.
Georgia K: "It's an honour to be here with Camilla, co-founder of the Soap Co. It was reading an interview with her that made me think about getting into social enterprise in the first place. She's quite an inspiration to me, so I'd like to share the stage with her.
"She is a good example of someone who used her influence and shared her story to inspire a new generation. Shout louder!"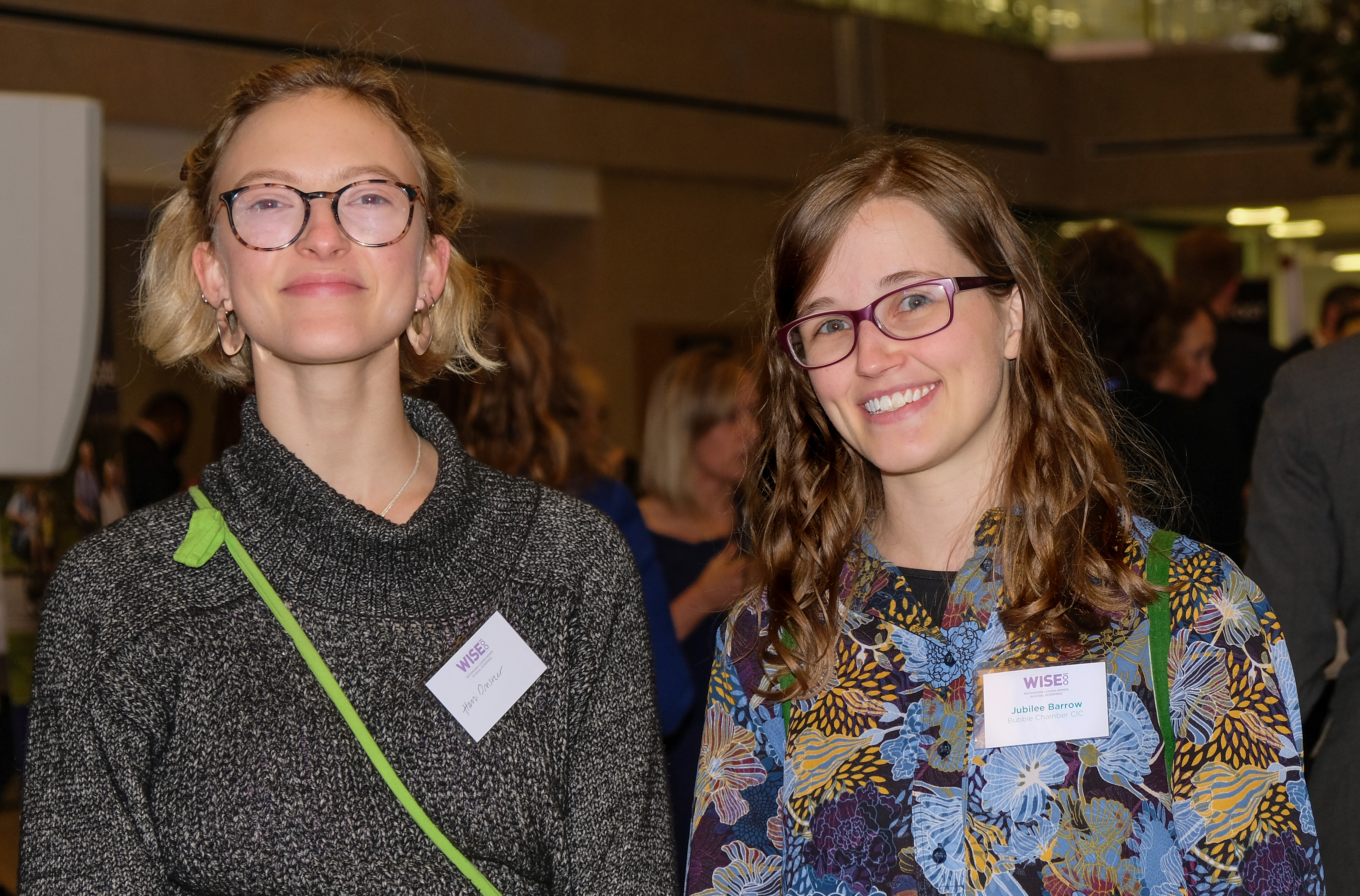 Hani Dresner (L) from Creative Conscience and Jubilee Barrow (R) from Bubble Chamber CIC also met at the event, and Hani told Pioneers Post:
Hani Dresner: "I'm working for an organisation called Creative Conscience, which helps creative people with networking and collaboration as well as job opportunities. I have found that in design, collaboration gives people a leg up, so is one way to share the stage with others."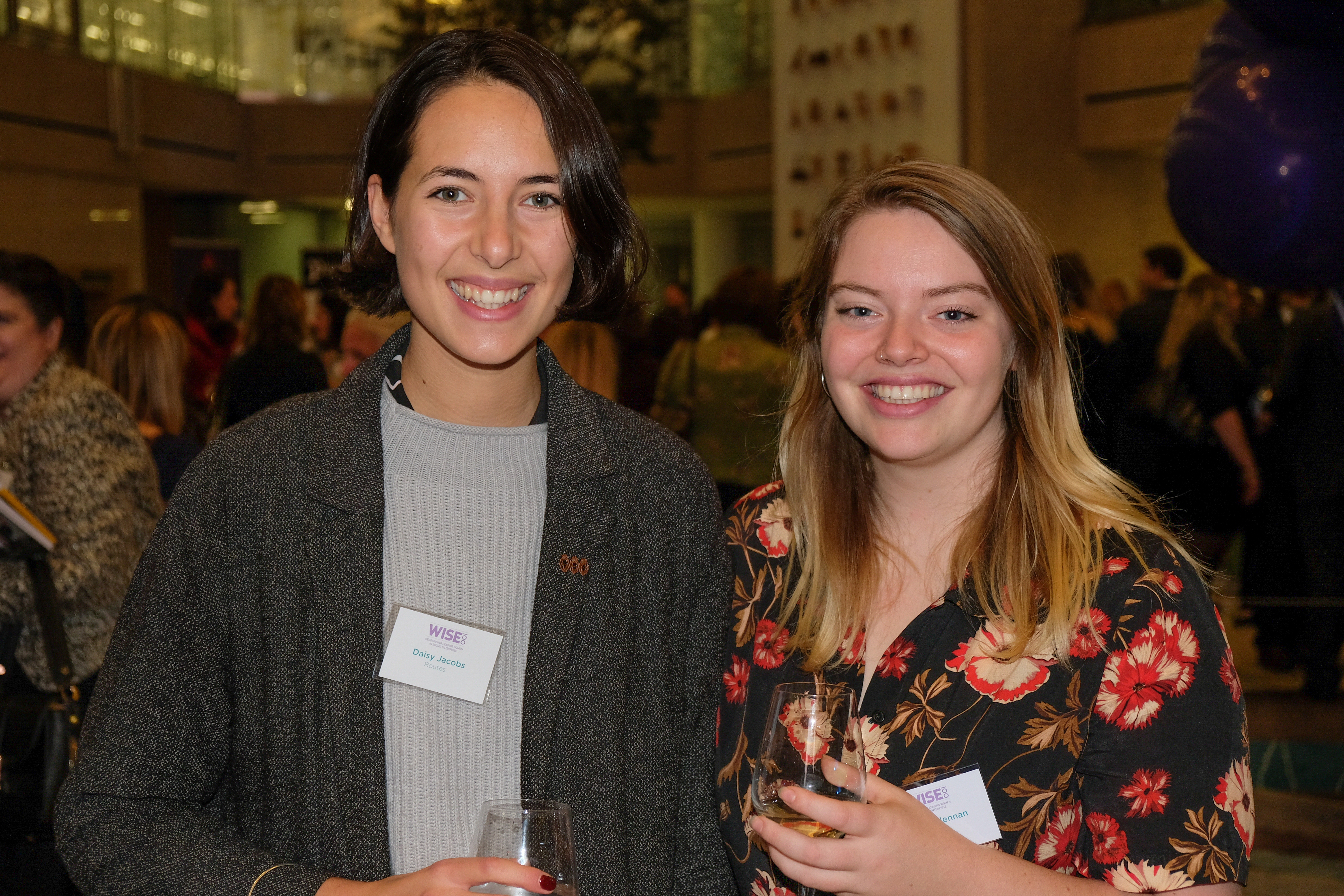 Leyla Mclennan (R) and Daisy Jacobs (L) are the co-founders of Routes, which uses theatre to help refugee and asylum seeking women improve their English and build their networks.
Leyla Mclennan: "I want to share the stage with Daisy, my co-founder, because she is brilliant, articulate and very inspirational. We met doing Year Here which is a course in social enterprise. She gave me a leg up by agreeing to start a business with me. That's a big show of confidence in me.
"We need to make sure that any time that we are offered the privilege of being on stage we open it up with other people who may be less privileged than ourselves. From literally speaking at events, to job opportunities to any kind of paid opportunities."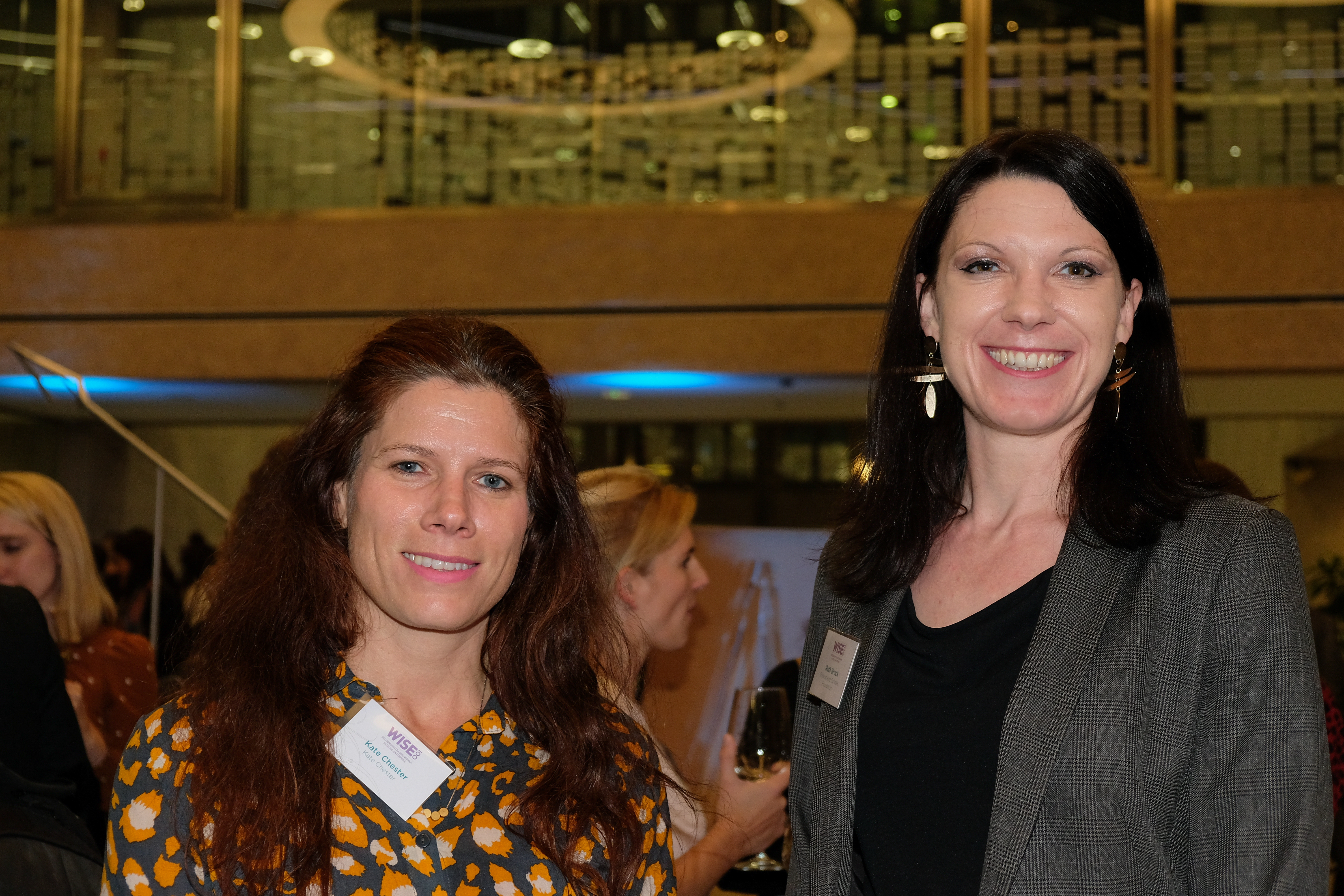 Ruth Brock (R) is CEO at Shakespeare Schools Foundation, and Kate Chester (L) runs her own mentoring business. Though from different spheres, both share interest in the importance of coaching as a tool for women to share their stage.
Kate Chester: "Ruth is CEO of the Shakespeare Schools Foundation. They're working in 1,000 schools across the UK supporting young children to find their voice. And to find a platform – physically on the stage. We've only just met, but I was inspired by the impact her programmes had. I'm so inspired I want her to work in my daughter's school.
"I think we need to support each other a bit more. Probably every woman we have come across will have experienced some sort of barrier in equality and we need to be mindful of that. Together we can achieve much more.
Probably every woman you come across will have experienced some sort of barrier in equality and we need to be mindful of that
"A boss of mine for many years, Helen, shared her stage with me. Her belief in me made a huge difference in my personal confidence. Without her backing me, I'm not sure I would have been as successful as I have been."
Ruth Brock: "Kate is a professional coach, and it reminded me of the power of coaching in workplace. I've had a brilliant coach, Tracey, who has empowered me to find solutions within myself. Finding ways through knotty problems. Without her, there's no way I could do the job that I'm doing. I'm grateful every day for the insight she gives me. She has helped me to be open about difficulties and to be honest about the fact that leadership can be isolating."
Photos by Nathan Ndefo.