In case you missed it: Big Society Capital independent review closes (probably) this week
The organisation tasked with carrying out the first independent review of Big Society Capital has said it will be 'flexible' with the deadline for accepting submissions - currently set for Thursday this week - following criticism that nobody knew about it.
The review by Big Society Trust, which is BSC's major shareholder, has been criticised for a lack of publicity at a time when most members of the UK's social enterprise and social investment community are focused on surviving the Covid-19 crisis.
Big Society Capital, the UK's social investment wholesaler, was established in 2012 with funds from dormant bank accounts and four of the UK's biggest banks.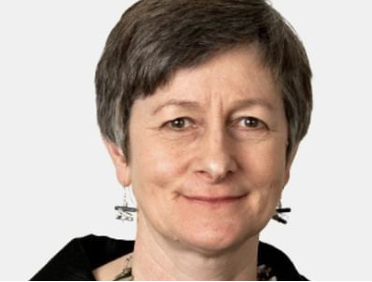 The review was launched on 20 March. It was initially due to be open for submissions for three weeks, with stakeholder interviews continuing after the submission deadline. It is being led by Nicola Pollock (right), one of Big Society Trust's seven board members and previously director of the John Ellerman Foundation. The Trust's board members include several figures with a strong record supporting frontline social ventures, such as Peter Holbrook, CEO of Social Enterprise UK, and Sir Stuart Etherington, former CEO of the National Council for Voluntary Organisations.
Responding to questions from Pioneers Post, Big Society Trust defended going ahead with the review at this time, since an "indefinite delay" would mean that it would be unable to fully perform its oversight role. It pointed out that interviews would continue into May, after which the panel would write its report. It added that if insufficient responses were received, the timetable could be amended to allow further contributions. So far, 51 stakeholders have been invited to interview by the review panel.
We hope that you alerting people will lead to additional, unsolicited responses. The panel will be flexible about the timing for final contributions, and is keen to get input from a good range of stakeholders
Earlier this month, Susan Aktemel, director of social enterprise Homes for Good, highlighted on Twitter that she had only just noticed that the review was taking place and questioned whether the deadline for responses – initially planned for the next day, 10 April – was due to be extended. Dr Aktemel is herself part of a broader review of social investment in the UK, led by Social Enterprise UK chair Lord Victor Adebowale.

Alastair Davis, CEO of Social Investment Scotland, responded that he hadn't known about the review either. "Review is always welcome, but not sure this is the right time when, as social investment intermediaries, our focus is supporting our customers," he said.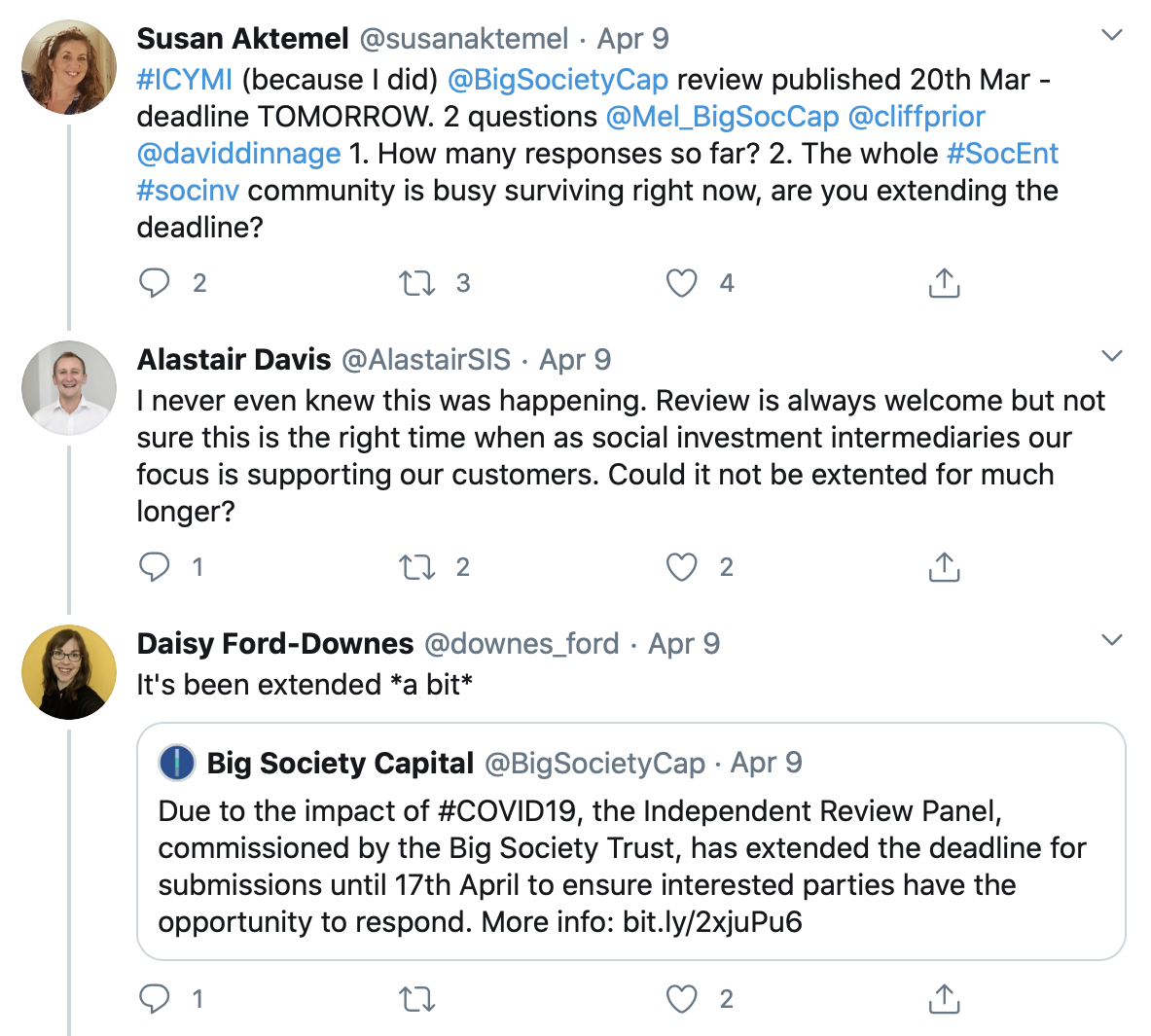 Big Society Capital tweeted that day that "due to the impact of Covid 19" the deadline for submissions had been extended by Big Society Trust to 17 April. Later, the submissions deadline was further extended until 30 April.
Separately, Pioneers Post was contacted by another leading social investment figure, who commented that their organisation had not been aware that the review was taking place, nor the details of its scope.
The aims of the Big Society Trust review
An article on Big Society Capital's website written by Pollock gives an outline of the review. It says that this is the first independent, quadrennial review of Big Society Capital and it aims to review Big Society Capital in delivering against its stated object. This is: "To act as a social investment wholesaler and generally to promote and develop the social investment marketplace in the United Kingdom."
It sets out two questions which respondents are invited to answer, focusing upon Big Society Capital's "effectiveness in social investment system change and social impact", and its "cost-effectiveness and process". 
However, it indicates that any discussion around changing why Big Society Capital exists and how it is governed – both of which have been called into question at various points in its existence – are not in the scope of the review: "The review is not intended to be a comprehensive analysis of Big Society Capital's compliance with all relevant policies, or of its current governance and operations. Nor will it consider whether there should be changes to the organisation's mission," the article explains.
To find out more about the review, Pioneers Post last week requested an interview with Nicola Pollock or any of her colleagues at Big Society Trust. This was declined. Pioneers Post was told that the trust "felt that it would make more sense to do any interviews once the process is complete and the report published". 
Big Society Trust did, however, respond to a series of questions by email from Pioneers Post (see below) and said it welcomed the enquiry: "We welcome the interest from Pioneers Post, and hope that you alerting people will lead to additional, unsolicited responses," it said. "The Panel will be flexible about the timing for final contributions, and is keen to get input from a good range of stakeholders."
In addition to the review by Big Society Trust, Lord Victor Adebowale, chair of Social Enterprise UK, recently announced a separate Commission on Social Investment, which will look at the future of this £3.5bn market and how it can support the growth of the social enterprise movement. The Commissioners, who also include Dr Aktemel, Dr Jessica Daggers, Chris Murray and James Broderick, aim to publish their report in the autumn of this year.
Big Society Trust's full answers to our questions are reproduced below:
Is this the first quadrennial review of BSC? If so, have any other independent reviews been carried out of its work? What other independent scrutiny is it subject to? 
Yes. The process of a review every four years – a quadrennial review – was introduced in December 2019 when the Big Society Trust (BST) took on additional responsibility for oversight of two new Operating Companies receiving dormant account monies so that it now has responsibility for oversight of four organisations: Big Society Capital (BSC), the Access Foundation for Social Investment, the Youth Futures Foundation and Fair4All Finance. 
When Big Society Capital was launched in 2012, BST was established as its majority shareholder to provide independent oversight with the overarching role of ensuring that BSC stayed true to its mission. This has been and remains the system for independent scrutiny. The board's meetings and minutes are published and BSC is further subject to an annual audit and publishes a full financial report as well as being subject to regulation by the Financial Conduct Authority. 
Since then BST widened its responsibilities to oversee Access in 2014 and, at the end of 2019, two more organisations (Fair4All Finance and Youth Futures Foundation). It has undertaken as part of the new arrangements to commission an independent quadrennial review of each operating company, starting with BSC, followed annually by each of the other operating companies. BSC was selected for the first review as it is the longest established company in the group.
Who is on the review panel and how were these people selected?
The Panel comprises: Keith Leslie, Neil Sherlock and Claire Brown. They were selected by the BST Nominations Committee, chaired by Stephen Howard, from a longlist of names provided by the Department for Digital, Culture, Media & Sport (DCMS) and the BST Board from their networks of individuals with relevant qualifications and experience.
Keith Leslie is chair of the Mental Health Foundation and a former partner at McKinsey and Deloitte
Neil Sherlock is former chair of Working Families, a former partner at PwC and KPMG, and former deputy advisor to Nick Clegg
Claire Brown is former finance and investment director at the Esmée Fairbairn Foundation and currently holds a trustee role at various charities
What is the role of Moorhouse Consulting and how was this organisation selected?
Moorhouse provides the secretariat function to the review panel and was recommended by DCMS having done similar work for them in the past. 
How was the focus of the review established? (We have heard some criticism that it is rather limited in its scope.)
The scope of the Review was drafted jointly by BST and DCMS as part of the new arrangements for oversight of the four companies. The overarching purpose of the Review is to examine the impact and effectiveness of each organisation in delivering against its Objects and Mission, in such a way that complements BST's existing regular oversight. BST's role is to ensure the operating companies stay true to their mission; their Objects are defined in their governing documents. The review panel's brief is to produce a high level report of some 20 pages, which is intended to be focused on addressing the objectives rather than a full organisational review. As this is the first time BST has commissioned such a review, the directors expect to learn from the process, which will then inform future quadrennial reviews.
When will the report of the review be published?
The target timeframe for completing the report is mid-year and so we hope to publish it in the summer.
What will happen after the report is published, ie what power to effect change will the outcomes of the report have?
The report itself is delivered to BST which, as the majority shareholder in BSC, will discuss the findings with BSC and agree any actions and/or next steps.
As you've seen on Twitter, some leading people in the sector have highlighted that they didn't know about this review. How has it been publicised? Do you think you have publicised it enough?
The Panel has directly contacted more than 50 stakeholders to ask for input through individual interviews, and put out an open call for contributions which was published on the front pages of the BSC and BST websites in late March. At the Panel's request BSC has additionally sent a request for input directly to several thousand subscribers to its newsletter. As the Coronavirus pandemic will have affected the capacity of some stakeholders to respond, the panel extended the deadline for responses by two weeks to the end of April. We welcome the interest from Pioneers Post, and hope that you alerting people will lead to additional, unsolicited responses. The Panel will be flexible about the timing for final contributions, and is keen to get input from a good range of stakeholders.
How many stakeholders have been approached to respond?
As above in total 51 stakeholders selected by the panel have been approached directly for interview.
Some have also questioned whether this is the right time for such a review to take place when so many social enterprises and other BSC stakeholders are simply focused on survival. What is your response to this?
BST is conscious that when we embarked on the Review things were very different. As the process was under way when the lockdown was imposed, BST and the Panel discussed whether it should continue. The Panel's assessment was that, as the plan was under way, it should be possible to continue with remote meetings using Zoom rather than face-to-face interviews; the response rate to invitations for interview had been good, but this would be monitored. If in the final assessment the Panel considers that there has not been sufficient engagement, the report could be delayed to allow further time for people to contribute. There is also the concern that, with so many unknowns about the virus recovery period, there is no immediately obvious alternative timetable. An indefinite delay would also mean that BST is not able to fully perform its oversight role.