'We can't see ourselves' – Yvonne Field on the hazy picture for BAME social enterprise
Yvonne Field has no time for box-ticking. The social entrepreneur and long-time advocate of more support for ethnic minority communities tells Pioneers Post what drove her recent resignation from the National Emergencies Trust, why her own organisation has entered centre-stage on race and equality discussions, and what needs to happen now if we're to see a thriving BAME-led social enterprise movement. 
Corporates have long been accused of paying lip service to diversity. But the UK social sector hasn't escaped accusations of box-ticking either. One outspoken critic is Yvonne Field, who was appointed to a working group of the National Emergencies Trust (NET) – a charity that coordinates fundraising in response to specific emergencies. That working group was meant to ensure equitable funding of charities and community organisations, including those supporting minorities, during the Covid-19 pandemic. 
"From the get-go, there was a lack of clarity," Field explains. It was unclear "what the purpose of the group was, what the remit was and what decision making powers it had". She soon felt "pretty disillusioned" and that there was "no space in the agenda for any real meaningful dialogue", resigning from the group in late May along with two others representing the BAME (Black, Asian and minority ethnic) community, Derek Bardowell and Sado Jirde. 
Speaking to Third Sector magazine, NET responded to the criticism by claiming that "areas of the country with high BAME populations have received proportionally more funds", but admitted there was more to do to address the "inequalities that exist in the distribution network".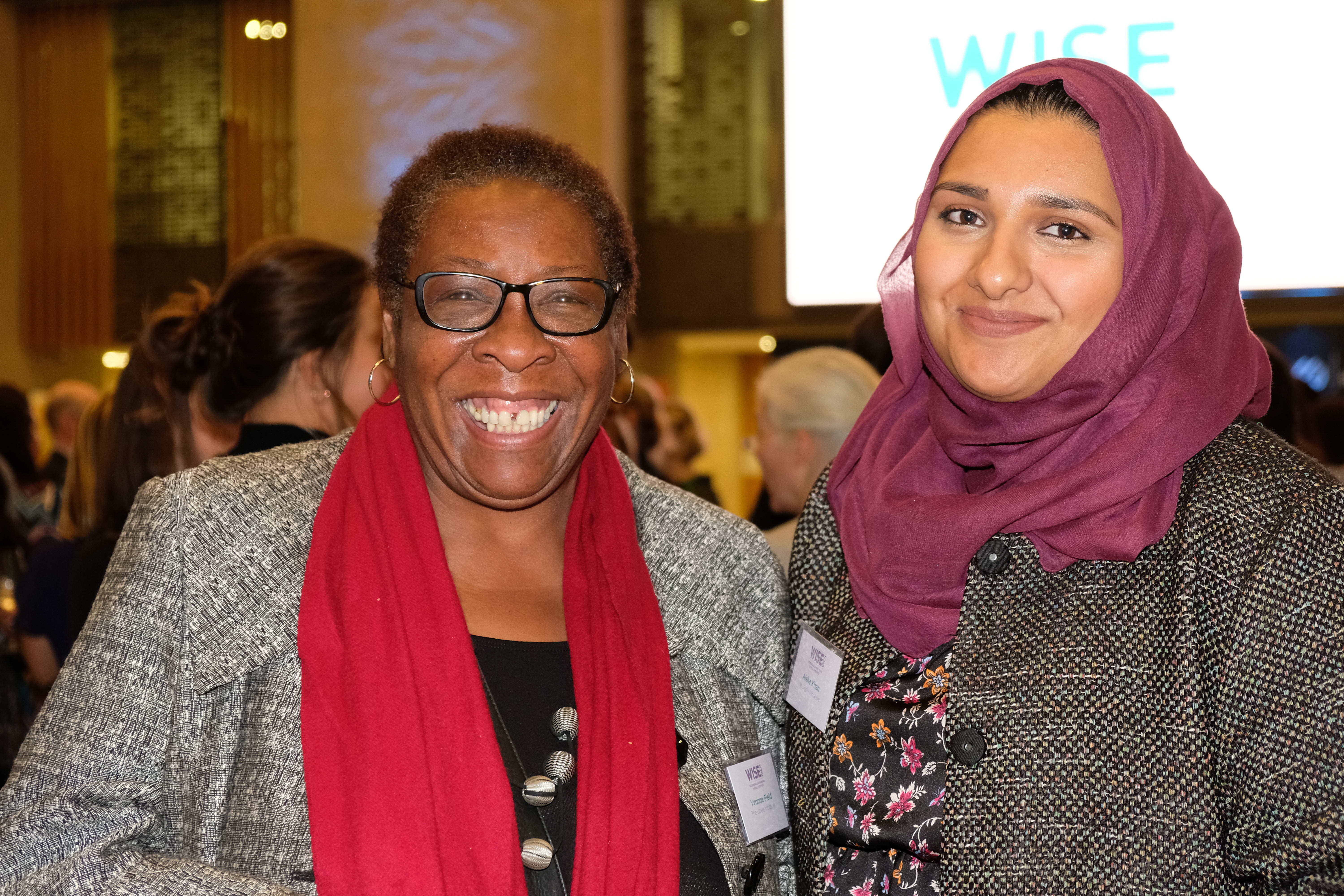 Yvonne (left), pictured with colleague Aisha Khan at the 2018 WISE100 awards. Yvonne was named among the top 100 women in social enterprise
'Complete disinvestment'
These inequalities reflect a historical lack of funding to the BAME community. In 2015, a report found that voluntary and charitable sector BAME groups in the UK lost more than 25% of state funding, compared to 5% of funding cuts in the sector overall. This disparity is one of the reasons The Ubele Initiative, which supports projects led by the African diaspora in the UK, was set up in 2014. Now employing four (3.8 full time equivalent) staff and a team of more than 20 associates, the social enterprise, which functions on a combination of grants, aid and trade, helps to incubate projects through social leadership development, community enterprise and social action.
"Ubele is taken from Swahili – it means 'a future'. So it's always been about thinking about sustainable communities," says Field. A former WISE100 nominee – the NatWest/Pioneers Post list of top 100 Women in Social Enterprise in the UK – Field's commitment to addressing BAME issues has led her to building partnerships with 23 different countries through EU-funded Erasmus+ projects, and increasing competencies and professional skills for at least 800 people internationally, primarily from BAME communities, through Ubele. 
Over the past 15 years, there's been complete disinvestment [from BAME projects] – no core costs, no infrastructure costs
"Over the past 15 years, there's been complete disinvestment [from BAME projects] – no core costs, no infrastructure costs," says Field. As a result, in February, Ubele was one of five 'specialist civil society infrastructure organisations' appointed to deliver programmes to promote equality across London, through a programme called Civil Society Roots. A partnership between the Mayor of London, City Bridge Trust and the National Lottery Community Fund, it provided each of the five organisations a £100,000 grant for two years.
Stepping in and up
But only a few weeks after the funding was confirmed, the global pandemic hit the UK, forcing it into lockdown. 
"There was an immediate switch to centre stage. There hadn't been an infrastructure group for the BAME sector before, and so we found ourselves having to step in and step up – which was not part of our plan," says Field. 
Suddenly, Ubele was coordinating a national group of regional infrastructure organisations to discuss distribution of emergency funding, and involved in meetings with important decision-makers, including the CEO of The National Lottery, which was distributing some of the government's emergency funding for charities. The team also started mobilising the community at a grassroots level through 'emergency online conversations' about how Covid-19 had impacted individual businesses and sectors, and organising and publishing research on the impact of Covid-19 on the BAME community and voluntary sector. 
A profound idea has been put in people's conscience. Once you plant a different thought in someone's mind, they can't not think that again
The social enterprise also had to "pivot around our campaigning voice", says Field, meaning that they "stepped into advocacy and campaigning as well". This has involved launching its #weneedanswers campaign, calling for an independent public inquiry into the impact of Covid on BAME communities.
Her disappointment in a UK government report published in June – criticised by many for its missing detail and lack of recommendations – is echoed in another area. 
"There's been a complete lack of research and mapping [of BAME social enterprises]," explains Field. The last piece of comprehensive research about the BAME community and social enterprise sector in the UK as a whole came out more than 10 years ago, and although Field welcomes the recent release of the Social Black Southwest Network research about BAME enterprises under Covid-19, it doesn't paint a full picture: "The problem is that, because there's not been the research and intelligence gathering, we can't really see ourselves," says Field. It should be the responsibility of organisations such as Social Enterprise UK to "take leadership around this" believes Field: "It is their sector and raison d'etre!"
Grassroots survival 
As we begin to emerge from (hopefully) the worst of the pandemic, Field's fears are focussed on the sustainability of the grassroots organisations that Ubele traditionally works with.
"The biggest community organisational risk is that they won't be there," she says. And if they are there? "What's going to be needed for the recovery period? How do you help organisations reassess where they are?" 
Croydon BME Forum, for instance – whose network Ubele has been providing with targeted funding advice and support – opened a London-based wellness hub in February, and had to close it in March and refund all those who had made bookings. "They'd just started on this journey. So [our work] is going to be about helping services and organisations with redesigning and redeveloping." Field explains this as taking forward some of the positive elements of homeworking, while getting people safely back into community buildings. 
As if the past few months have not been exhausting enough, Field has also been directly impacted by the virus itself: her brother was in hospital with Covid-19, and three other family members contracted it too. "You're trying to support people and then you have to deal with loss and shock. I think a lot of people are just in shock, actually."
You're trying to support people and then you have to deal with loss and shock. I think a lot of people are just in shock, actually
And then, among all the turbulence, the wave of Black Lives Matter protests hit in response to George Floyd's death in the US. How has she been feeling about it all? "People talk about the looting," says Field. "We've been looted, and we continue to be looted.
"Someone said to me quite a long time ago: 'In order to have change, you have to have friction'. And I think that we need not just friction, but abrasion. We need bravery. We need people to stand up and be counted."
Is change here to stay? Field eloquently articulates the way she sees the world shifting: "A profound idea has been put in people's conscience. Once you plant a different thought in someone's mind, they can't not think that again." 
Ubele Initiative's Majonzi bereavement fund is raising money to support people from BAME backgrounds who have lost someone to Covid-19. Find out more.
Thanks for reading our stories. As somebody working in the impact economy, you'll know that producing quality work doesn't come free. We rely on paid subscriptions and partnerships to sustain our purpose-led journalism – so if you think it's worth having an independent, specialist media platform to share your news, insight and debate across the globe, please consider subscribing. You'll also be buying social: Pioneers Post is a social enterprise itself, reinvesting all profits to help you do good business, better.