Incubated or irritated? How not to run a startup support programme for women
Startup support programmes have boomed in recent years, but how useful are they for women participants? In the second of a new series on women's experiences of entrepreneurship and social leadership, our columnist hears uncomfortable truths from some seasoned female founders – and suggests a new focus for nurturing women-led startups.

Startup support programmes have boomed in recent years. A 2017 Nesta directory identified 205 incubators and 163 accelerators in the UK alone. But there's mixed evidence about their value – and data on women's participation in these programmes is poor. Despite the well-known issues with unequal representation in the startup world (under-investment in female-founded ventures, fewer women leading startups), the 2019 government review of incubator and accelerator effectiveness doesn't reference gender or diversity once. So, how well served are women by such programmes? To try to answer this, I spoke to a number of female founders – and learned about some of the things programmes are getting wrong. 
Designed with a certain persona in mind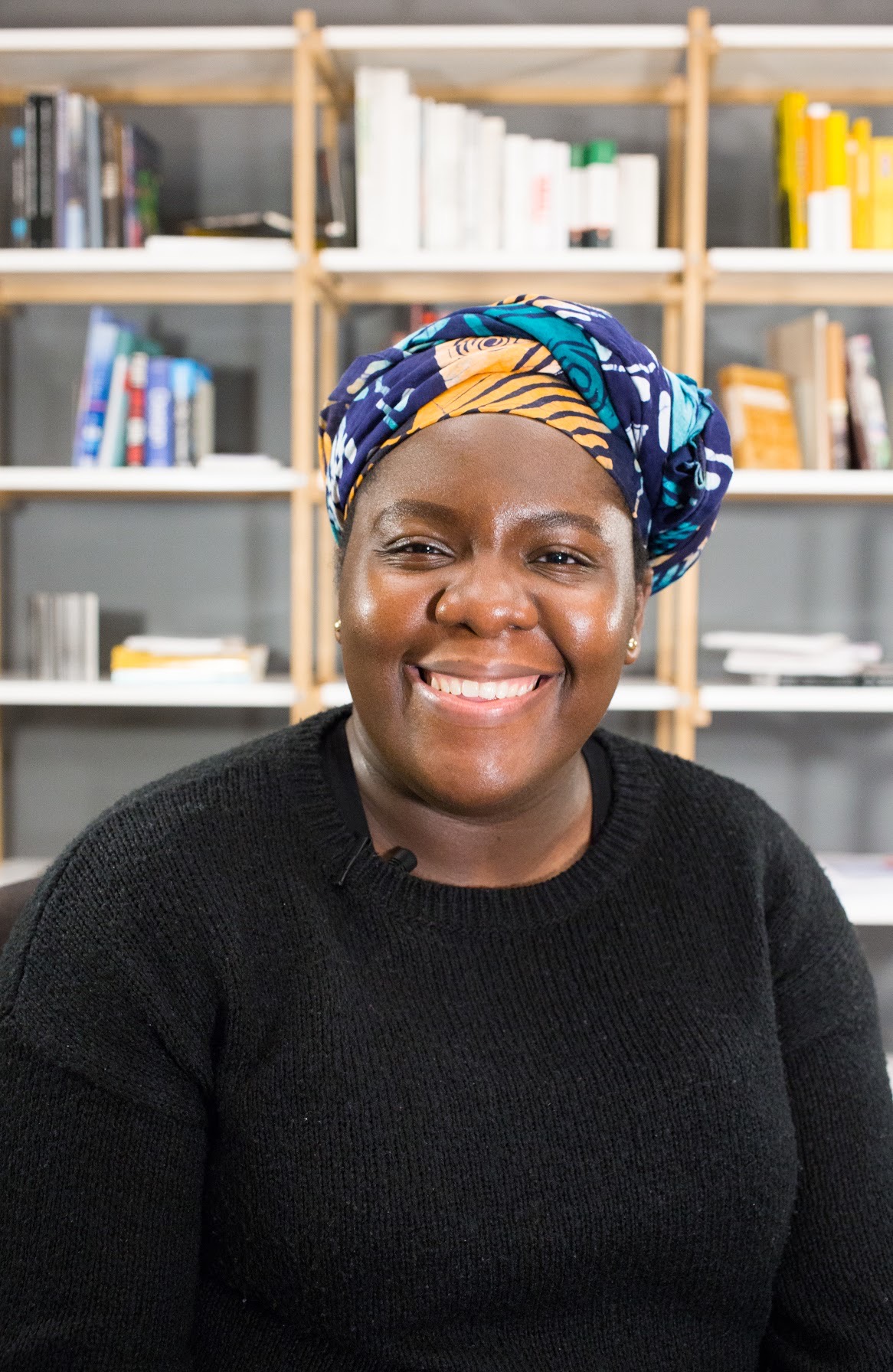 When one polling company asked young people to think of entrepreneurs, 85% of respondents named a man. Some are trying to change this perception. When Bayo Adelaja (pictured) started Do it Now Now, a leadership, entrepreneurship and innovation support ​enterprise in 2016, she made it her mission to engage with black women as the most underrepresented group in the UK's business ecosystem. In 2018, she went on to design and run the country's first ever business incubator for women of colour.
Before that, during her time managing other programmes, Bayo saw that they were designed with a certain type of entrepreneur in mind (male, white, privileged, straight, able-bodied).
"There's always a hierarchy, even in learning spaces," she says. Workshops would often be all-day events, starting at 9am. "Most women of colour have full-time jobs, if they're setting up a business they're usually bootstrapping." It costs twice as much to travel at peak time, so Bayo moved programming back by 30 minutes. She observed other "design faults" – no prayer rooms, non-diverse faculty and mentors. Making small changes in these areas can alleviate financial hardship and enable access.
An obsession with youth
Meuthia Endrojono-Ellis spent 20 years working in the NHS and left her role as a senior health and social care commissioner to co-found Aequum Health, a digital healthcare startup. A judge on many startup hackathons herself, Meuthia had had the idea for a long time, but felt the language of the startup world targeted the "young and fresh", alienating anyone over 40. "I don't want to just be a mentor, I want to do something. But is this only for millennials?"
Meuthia applied to a global STEM (science, technology, engineering and maths) focussed accelerator. It was challenging. She recalls the obsession with "bells and whistles" innovation, arrogant investors who said everything had "been done" (to which she wondered what the point of the programme was, in that case), and "experts" who seemed to be at odds with her own extensive healthcare experience. Ultimately, she felt she wasn't being heard. "Because I knew they weren't listening, I let Javier [her male co-founder] say the stuff I couldn't."
I don't want to just be a mentor, I want to do something. But is this only for millennials?
The pair withdrew from the programme and are now setting up a Covid-19 pre-screening pilot in Indonesia. Meuthia was disappointed by the lack of diversity and emphasis on youth, even though evidence suggests businesses that survive tend to be founded by people in their 40s and 50s. "Would I do an accelerator again? I don't know. [As a business] we haven't learned, we haven't moved forward."
Offering access – but not much more
Giselle Frederick is the co-founder of Sonaaar, a digital platform connecting black diaspora communities through culture. After starting her career in investment banking, she's now an established tech entrepreneur. On a talent accelerator that helps people find their co-founders, Giselle noticed the lack of diversity. Women and people of colour had to go to extraordinary levels to "convince other people that they were 'worth' forming a company with," and even then, overwhelmingly they did not make it to the final round. Disappointed, Giselle left after a few weeks.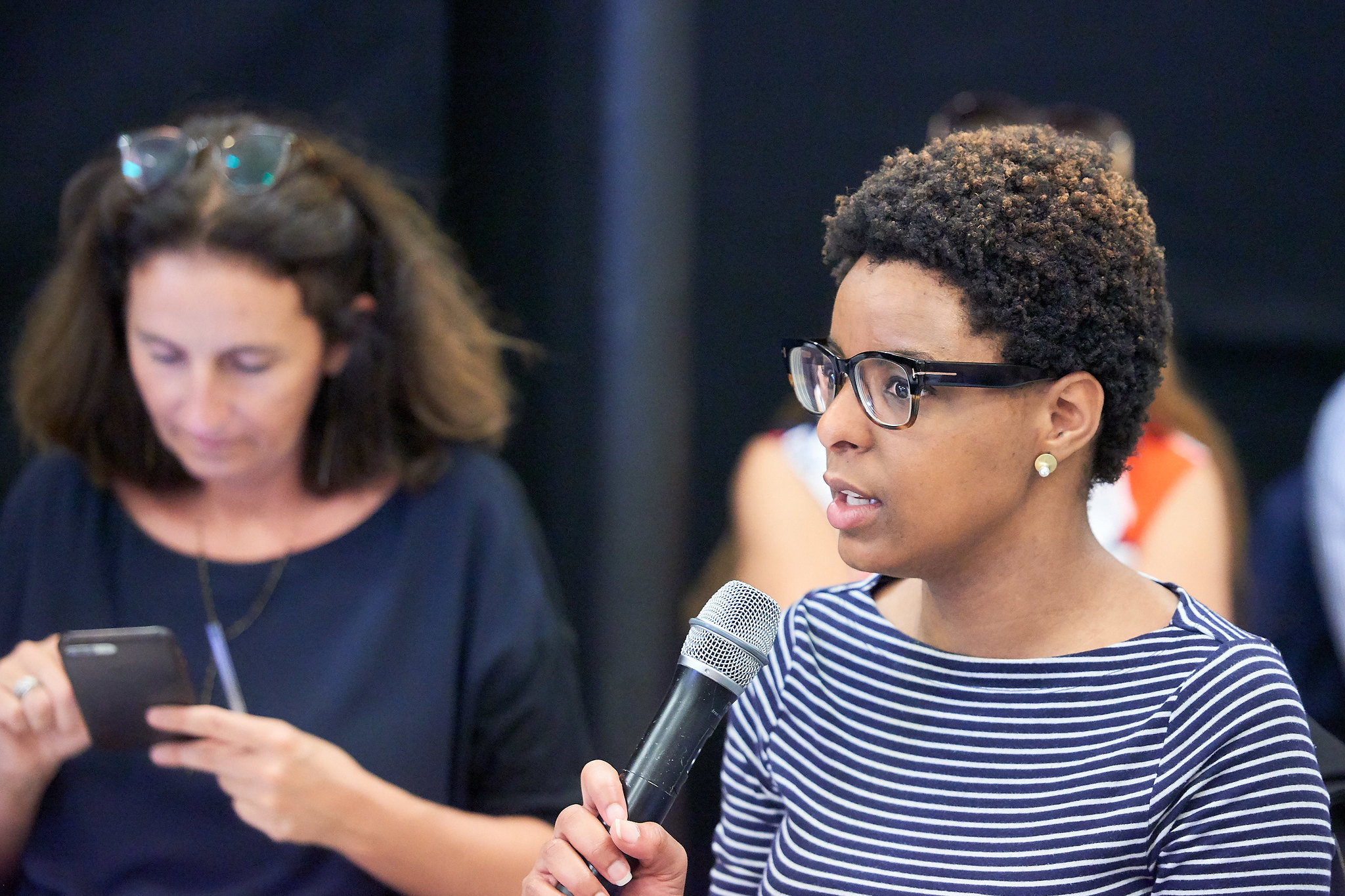 Above: Giselle Frederick speaking at an event in 2018 (photo credit: Friends of Europe)
She also made it through to the final round of a tech female founders programme, but was ultimately unsuccessful. The feedback that they "weren't a tech startup" (despite having an app in the market and demonstrable data capability), was baffling to Giselle. But following the recent Black Lives Matter actions, the programme got back in touch, saying they wanted to work with black founders.
"I couldn't believe it. We'd been talking to them about this for over a year, and now because of BLM they want to." Why is it that suddenly, when the world is scrutinising racism, Giselle and her venture now fulfil the criteria for being a tech entrepreneur?
Many black female founders feel more like data points than entrepreneurs, accepted onto incubators to tick a box
Giselle is an advocate for representation and inclusive startup support. For her, the solutions can be implemented through engagement and conversation: "Get people in the room, rather than using theories." She says many black female founders in the tech ecosystem "feel more like data points than entrepreneurs", accepted onto incubators to "tick a box, not vie for investment." Access to a programme isn't enough – all founders must be able to participate fully.

Putting funders, not founders, first
Isabel Van De Keere founded Immersive Rehab in 2016 following her own experience with rehabilitation after an accident. Her business creates interactive programmes using virtual reality to improve patient recovery. She joined a London tech for good programme and appreciated that the team were "very hands-off." Their founder-centric approach respected that it was her business and, compared to other accelerator programmes Isabel had joined – where the social impact angle wasn't strong and she felt they were pushing their own agenda – this was refreshing.
For Bayo, the founder-centric approach needs to start from programme recruitment. "We say black in everything," she says. "We specifically use the word black in our communication, otherwise black women won't know this is for them. You have to market directly. I'm used to being the only black person in the room, but it's scary for some of the women we support."
Many women building businesses in communities – especially outside London and south east England, those who don't have degrees or corporate backgrounds, or who don't fulfill the 'founder' persona – don't self-identify as entrepreneurs. As a result they're not going to apply for grants or accelerators, no matter how much they mention diversity and inclusion on their website, or invite women to join the assessment panel. "If we don't act now [to recruit these social entrepreneurs], in 18 months we're going to see a gap in services in the most deprived areas," warns Bayo. For her programmes it's about looking at the system. "It's not about lowering the barrier or shifting the goalposts. It's about realising we need to start playing on a completely different field."
Straight to investment instead?
If incubators and accelerator programmes aren't designed for women, is it better to go straight for investment instead?
Sam Short (pictured) is the co-founder of financial wellbeing startup Moneyed. With a PhD in particle physics and a career in data science, she's always worked in male-dominated industries. Sam and her co-founder Phil decided not to apply for incubators and to bootstrap instead. Her experience of the investment process so far has been gendered. During pitches she's the one who typically presents; Phil is more comfortable focussing on the tech and product – they make a great team. But Sam found that, although she led the pitch, questions from VCs were directed at Phil. They've even been questioned about what their "relationship" is, something she's sure two male co-founders would never be asked.
Although she led the pitch, questions from VCs were directed at her co-founder Phil. They've even been questioned about what their "relationship" is, something she's sure two male co-founders would never be asked
As a solo female founder, Isabel also found it hard, particularly scrutiny of her motivation. All-male investor panels asked, "It's just a side project right, it's not your main focus?" Or they suggested it was "a fun project" but would "never make any money". Would they have said that to a man pitching? Even though she quit her job from the beginning Isabel found that she wasn't taken as seriously as male peers. Why is it so hard for the VC community to imagine that a woman would see her business as a full-time commitment, and back herself by taking risks to pull it off?
A solution: the power of community
There are positive stories and amazing programmes, many that I know and have worked with, that break the mould. Yet it's ironic that for all the 'birthing' analogies – incubating, growing, hatching – these women's stories suggest that many incubators and accelerators seem to be designed for men. Was I surprised to hear this? No. Another article showcasing how female entrepreneurs are getting a raw deal isn't new. But there's a thread that runs through these women's experiences that is exciting – the power of community.
Some of Sam's most valuable experiences as a new founder have been through connections with other women. Asked about her advice to other women entrepreneurs starting out, she says: "The community is there, especially among women, there will be a lot of support." Similarly, says Isabel: "There is no barrier to starting, the barriers start after, so surround yourself with people that support you and build a group of female founders in your network."
Community has also been indispensable for Bayo – both in terms of what she builds for black women, and for her own career. "There's a difference between a mentorship and championship." A handful of amazing women she knows, when they're invited to be on a panel, ask if there's a woman of colour, and if there's a gap, send these opportunities her way. This idea of championing others, or as she puts it, "using your plus one effectively" is a powerful counter to the more paternalistic (or maternalistic) nature of traditional mentoring roles.
Among the women I spoke to, those who had positive experiences of startup support often found the collaborative community of other female founders most beneficial. For those that had bleaker stories, or who didn't choose to join programmes, informal female founder networks have been an essential part of their startup journey.
Is this self-organising model of female founders supporting each other the future of 'incubating' women-led businesses?
The power of women's networks and communities in the startup world should not be underestimated. They're not new – from official groups with subscription models, to informal collectives, they're helping to build startups organically. Unlike incubators and accelerators, these diverse communities don't need a brand, a website or swathes of famous speakers. Introductions, funding, partnerships and mentoring have been happening through these communities for a long time.
Is this self-organising model of female founders supporting each other the future of 'incubating' women-led businesses? A mutualistic model without lengthy application forms or giving up equity? If the best thing about established accelerators is community, can women and underrepresented founders create that themselves? What if Meuthia had met Isabel, another healthtech founder, and fostered that inclusive support she longed for? Imagine if Giselle had applied to Bayo's programme instead? What if Giselle had met Sam and introduced her to the tech funders she knows? Imagine if, instead of being incubated, female founders could be liberated and accelerate each other?
We're working hard to provide the most up-to-date news and resources to help social businesses and impact investors share their experiences and get through the Covid-19 crisis. But we need your support to continue. As a social enterprise ourselves, Pioneers Post relies on paid subscriptions and partnerships to sustain our purpose-led journalism – so if you think it's worth having an independent, mission-driven, specialist media platform for the impact movement, please click here to subscribe.