Spain sets out its 'Road to Impact'
Spain's impact investment community celebrates first anniversary of GSG membership with plan of action to grow impact investment economy during its Camino al Impacto event.
Spain announced on Tuesday an "exponential increase" in impact investment during just one year, taking its total assets invested for impact to €229m at the last count.
The Spanish impact investment community this week celebrates the first anniversary of the country joining the Global Steering Group for Impact Invesment (GSG). An online event is taking place from 15-17 September called 'Camino al Impacto' or 'The Road to Impact', hosted by the Spain National Advisory Board on Impact Investment (SpainNAB), featuring national as well as global speakers including Sir Ronald Cohen, chair of the GSG, and Amit Bouri, CEO of the Global Impact Investing Network. 
The SpainNAB said its ambition was to reach €360m of impact investments during 2021. 
We want an economy that is more social, more just – Juan Bernal, CaixaBank Asset Management
It also launched a manifesto pledging to build an impact economy in Spain, and set out a plan of action to stimulate more impact investment which includes an aim to develop its own social investment wholesaler within the next few years – a Spanish version of Big Society Capital, and to push forward social impact bonds ('contratos de impacto social').
Speaking on Tuesday 15 September at the Camino al Impacto event, Jose Luis Ruiz de Munain, director of the SpainNAB (pictured above right), emphasised that the Covid-19 crisis meant that "we need to mobilise now more than ever".
Juan Bernal, president of the SpainNAB and director general of CaixaBank Asset Management (pictured above left), said: "We are part of the solution…We want an economy that is more social, more just. We have a responsibility not to look the other way."

Ambitions for a Spanish Big Society Capital
At the event, the SpainNAB revealed findings from new research led by Lisa Hehenberger, director of the Esade Entrepreneurship Institute in Barcelona. 
It showed that impact investments in Spain had grown from €93m in 2018 to €229m in 2019 – "exponential growth", according to the SpainNAB. The Spanish impact investment market is nascent compared with markets in countries such as the UK, which has £3.5bn committed to impact investments, according to the Impact Investing Institute.
The ESADE study will be used as a benchmark to measure progress every year. 
Ruiz de Munain outlined the steps that SpainNAB will take to create a Spanish impact economy. One of the key ambitions, he said, was to develop a national strategy for impact investment and a wholesaler, following the examples of countries such as the UK's Big Society Capital, France's Le French Impact and Portugal's Inovacao Social.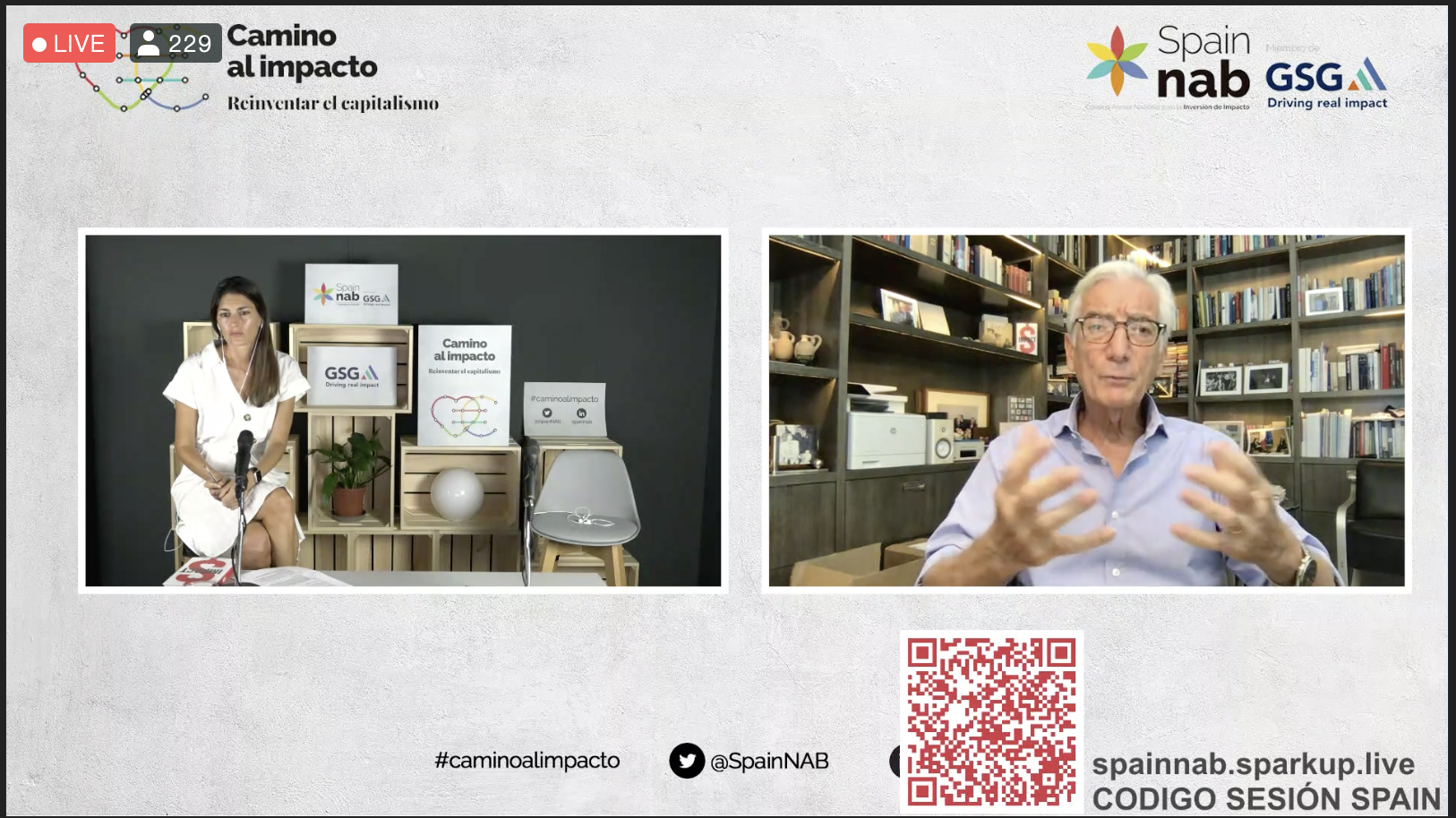 Sir Ronald Cohen agreed that an impact wholesaler would be vital. Asked by Rebeca Minguela, CEO of consultancy Clarity, what advice he had to increase the focus on impact in the Spanish economy, he said: "An impact wholesaler is crucial." 
Sir Ronald outlined the development of Big Society Capital in the UK, which he helped to found, and added: "An impact wholesaler is a huge force in helping the social sector to grow. It is also a very important champion with government."
Editor's note: this article was updated on 29 September to amend the estimate for impact investments in the UK from £5bn to £3.5bn, which is the latest figure from the Impact Investing Institute